IAN MILLER appears to sign his collected artworks THE ART OF IAN MILLER, at the Forbidden Planet London Megastore on Saturday 22nd March from 1 – 2pm!
Featuring over 300 pieces of artwork spanning decades of Ian's work, this collection is a treat for all lovers of great fantasy art from Lovecraft novel covers to Tolkien bestiaries to Warhammer 40K concept at, through a veritable trove of gothic humour, fantasy battles, dragons, beasts and a world of nightmarish visions.
IAN MILLER is a fantasy illustrator and writer best known for his quirkily etched gothic style and macabre sensibility, noted for his book and magazine covers and interior illustrations, including SF fiction covers, a host of illustrations for the Realm of Chaos supplement and the first edition of Warhammer 40K, work for Fighting Fantasy gamebooks and covers for Terror of the Lichmaster, Death on the Reik, and Warhammer City.
Forbidden Planet London Megastore
179  Shaftesbury Avenue, London, WC2H 8JR
Tim Lebbon signs STAR WARS DAWN OF THE JEDI: INTO THE VOID, at the Forbidden Planet London Megastore on Thursday March 20th from 6 – 7pm!
A stand-alone hardcover tie-in to the successful comic book series, Star Wars: Dawn of the Jedi, written by fantasy novelist, Tim Lebbon
Taking place thousands of years before the time of Luke Skywalker and Darth Vader. On the remote world Tython ancient philosophers and scientists share their mystical knowledge and study the ways of the Force. They establish the order of the Je'daii–which, in years to come, will become the Jedi. But first these visitors from so many different planets must colonize a dangerous new homeworld and surmount societal conflicts as the burgeoning Rakatan Empire prepares to conquer the known galaxy.
Tim Lebbon is a New York Times-bestselling writer from South Wales. He's had over twenty novels published to date, as well as dozens of novellas and hundreds of short stories. Recent books include The Secret Journeys of Jack London: The Wild (co-authored with Christopher Golden), Echo City, The Island, The Map of Moments (with Christopher Golden), and Bar None. He has won four British Fantasy Awards, a Bram Stoker Award, and a Scribe Award, and has been a finalist for International Horror Guild, Shirley Jackson, and World Fantasy Awards
Forbidden Planet London Megastore
179  Shaftesbury Avenue, London, WC2H 8JR
PETER DAVID appears for an X-FACTOR THE COMPLETE COLLECTION VOLUME 1 signing, at the Forbidden Planet London Megastore on Monday 17th March from 6 – 7pm!
Relive the gripping, noir-esque launch of Peter David's most memorable concept: X-Factor Investigations!
Jamie Madrox sets up shop in the heart of Mutant Town but with so many duplicates out in the world, who is the real Madrox? Does he even know anymore? Then, when the fallout from the House of M depowers most of the world's mutants, X-Factor must find answers fast! With Guido, Wolfsbane, Siryn, M and Rictor by his side as well as the stuff-knowing Layla Miller Madrox must take on the manipulative prescient Mr. Tryp's rival group Singularity Investigations, navigate a superhuman Civil War, learn why the X-Men lied to his team, deal with the unbalanced Quicksilver's new ability to reboot mutant powers for a price and discover the deadly traitor in X-Factor's midst! Collecting Madrox #1-5 and X-Factor (2006) #1-12.
PETER DAVID is a prolific author whose career spans nearly two decades. He's worked in every conceivable media: television, film, books (fiction, non-fiction and audio), short stories, and comic books, and acquired followings in all of them.
Forbidden Planet London Megastore
179  Shaftesbury Avenue, London, WC2H 8JR
Writer Alan Moore and artist Kevin O'Neill appear at Gosh! Comics to close out their British Comics Month of signings on Saturday, March 29, 2014 from 2:00 pm until 6:00 pm! The latest comic is Nemo: Roses Of Berlin, out from Knockabout. ROB is a continuation of the League of Extraordinary Gentlemen series, following last year's Nemo: Heart of Ice tale, which focuses on the adventures of science-fiction brigand Janni Nemo. This time Janni has to travel to a Berlin occupied by the dictator Adenoid Hynkel to save her loved ones, who have been taken hostage by a mysterious but familiar enemy. Heavily influenced by Expressionist German Cinema of the Weimar Republic, this Nemo is a thrilling ride through shadows, totalitarian nightmares, and mechanical monsters.
Due to the sheer volume of demand at this events, Alan and Kevin will only be able to sign four items per person, and only books in the League of Extraordinary Gentlemen series – that way, everyone has a chance to have a chat as well as getting their LOEG books signed! Look out for a special release on the day, too.
The signing takes place on Saturday, March the 29th, and will be running from 2pm to 6pm. It is advised to get there early, as the queue tends grow to huge proportions and often has to be capped! Also please note that due to the anticipated popularity of this event, we will not be able to take reservations for signed books.
Gosh Comics
1 Berwick St, SoHo, London W1F0DR
United Kingdom
Writer Simon Furman, artists Andrew Wildman and Geoff Senior, inker Stephen Baskerville, colourist John-Paul Bove and cover colourist Jason Cardy will be at Orbital Comics on Saturday 29th March from 2-4pm, where you can pick up a copy of The Transformers Regeneration One #100, get it signed and have a chat with the team behind the book!
Orbital Comics
8 Great Newport Street, London WC2H 7JA, United Kingdom
020 7240 0591
Dan Abnett, Tom Eglington, Simon Coleby, Simon Davis and Smudge sign at Gosh Comics on Wednesday, March 26th, 2014 from 6:00 till 7:00 pm!
Press Release:
British Comics Institution 2000AD doesn't really need an introduction to all you comics lovers out there, and so, without further ado, here's the facts: Dan Abnett, Tom Eglington, and Simon Coleby, Simon Davis and Smudge will be here to sign for fans, and 2000AD will ALSO be launching the PROG 1874 issue – billed as a jumping-on point for new readers! So if you've always wanted to read 2000AD and never have, or used to and fell out of the habit, here's a chance for you to make good on that promise to yourself and start picking up the magazine without any confusion. JOB DONE.
The signing takes place on Wednesday, March 26th, and runs from 6pm to 7pm. From the 24th through to the 30th of March, customers will be able to get 25% off all Rebellion titles!
Gosh Comics
1 Berwick St, SoHo, London W1F0DR
United Kingdom
Superstar artist SEAN PHILLIPS appears at Travelling Man in Manchester along with 2000 AD author John Smith and artist Peter Doherty for a signing on Saturday, March 22, 2014 from 2:00 pm until 4:00 pm!
Travelling Man
4-4A Dale Street, M1 1JW Manchester, UK
Director Gareth Edwards signs at Forbidden Planet on Friday 28th February at the Forbidden Planet London Megastore from 6:00 till 7:00 pm!
Press Release:
Forbidden Planet in association with Empire Magazine are delighted to welcome Godzilla director GARETH EDWARDS, signing copies of Empire to celebrate the magazine's exclusive cover reveal of Godzilla, on Friday 28th February at the Forbidden Planet London Megastore from 6-7pm.
In Summer 2014, the world's most revered monster is reborn as Warner Bros. Pictures and Legendary Pictures unleash the epic action adventure Godzilla.
From visionary new director Gareth Edwards ("Monsters") comes a powerful story of human courage and reconciliation in the face of titanic forces of nature, when the awe-inspiring Godzilla rises to restore balance as humanity stands defenceless. The film stars Aaron Taylor-Johnson, Ken Watanabe, Elizabeth Olsen, Juliette Binoche and Sally Hawkins, with David Strathairn and Bryan Cranston. Edwards directs from a screenplay by Max Borenstein, story by David Callaham, based on the character "Godzilla" owned and created by TOHO CO., LTD. Thomas Tull and Jon Jashni are producing with Mary Parent and Brian Rogers. Patricia Whitcher and Alex Garcia are serving as executive producers, alongside Yoshimitsu Banno and Kenji Okuhira.
Forbidden Planet London Megastore
179  Shaftesbury Avenue, London, WC2H 8JR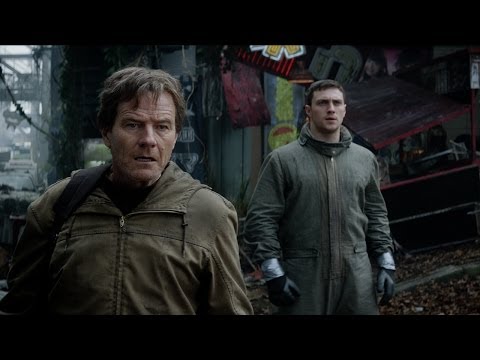 Duncan Fegredo, Laurence Campbell, and Mick McMahon appear at Gosh! Comics to celebrate Hellboy Day on Saturday, March the 22nd, and the signing runs from 2:00 pm till 3:00 pm!
Press Release:
March 22nd is International Hellboy Day! Dark Horse is celebrating the 20th Anniversary of Mike Mignola's creation with a hardcover retrospective, a sampler issue for new readers, and events across the world. At Gosh!, we're joining the celebrations by having all British Hellboy creators under one roof! Laurence Campbell, Duncan Fegredo, and Mick McMahon will be here to sign YOUR copies. Some more information on Hellboy Day here! Gosh! will also announce an exclusive print to come soon!
Gosh Comics
1 Berwick St, SoHo, London W1F0DR
United Kingdom
Writer DAN SLOTT will be signing SUPERIOR SPIDER-MAN: NECESSARY EVIL, at the Forbidden Planet London Megastore on Wednesday 19th March 6 – 7pm.
Back by popular demand – Spider-Man 2099 returns!
But when the future Spidey and the Superior Spidey clash, who will be the most superior Spider-Man in the multiverse?
It may not matter, because the end of the battle brings about a moment that will alter the world of Spider-Man and the Marvel Universe for years to come! But which Spider was responsible for this shocking change? Then, from the ashes of battle comes the first team-up between the Superior Spider-Man and the Black Cat. Felicia Hardy always cared for the Spider more than the man, but what happens when that man is Otto Octavius? And as an Osborn we haven't seen in a while returns, Otto celebrates a milestone! Is the world ready for 'Dr. Peter Parker' or what he plans to do next?
Dan Slott is an American comic-book writer best known for Avengers: initiative, Might Avengers, She-Hulk and The Amazing Spider-Man. He's currently the sole writer of the controversial Superior Spider-Man, where Peter Parker has been replaced by Doctor Otto Octavius, and the upcoming Silver Surfer. He's renowned for injecting humour into typically serious superhero books.
Forbidden Planet London Megastore
179  Shaftesbury Avenue, London, WC2H 8JR