Director Chuck Powers hosts the premiere screening of Ribbit with a special Skype appearance by star Sean Astin on Saturday, June 21 at 3:30 PM! The screening will be at Landmark Cinemas as part of the Niagara Film Fest.
Synopsis: Ribbit is the proverbial "fish out of water" or in our case, "frogs out of water". Simply put, Ribbit is a dreamer. With a serious dislike of water and of jumping, Ribbit is the antithesis of everything it means to be a frog. Ribbit longs to fit in, to belong, but not at the cost of being true to himself. Since fitting in to normal life is difficult for Ribbit, he loves to go to his "clubhouse", a dilapidated, old airplane that had crashed in the jungle, and lose himself looking at old copies of National Geographic. There he sees all these other animals that belong, who have a purpose in life. He dreams of being like them and he longs for answers – even when he's not sure of the real question. Even with all his doubts, Ribbit is never lacking in bravery, when things get tough Ribbit always steps up and becomes a hero – even though he doesn't realize it. Watch the trailer below!
Tickets are available at the link!
Landmark Cinemas
221 Glendale Ave, Pen Centre Mall, St Catharines, ON L2T 2K9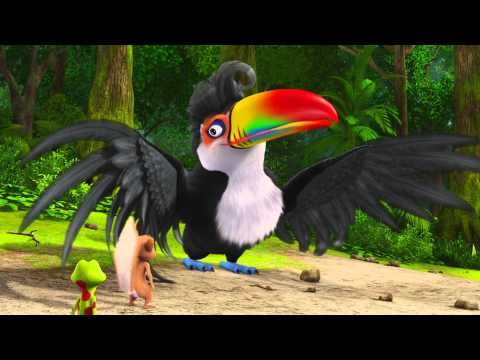 Tony Gray and Jason Fabok appear at Paper Heroes on Saturday June 28th from 1:00 pm until 4:00 pm for a special in-store signing!
Paper Heroes Comic Book Lounge & Collectibles
2857 Howard Avenue, Windsor, ON N8X3Y4, Canada
519-969-7277
Marvel Comics artist Nick Bradshaw appears at Strange Adventures' Fredericton Shop to sign comics and stuff from 11:00 AM to 3:00 PM on Saturday, June 28th!! Nick has illustrated the adventures of Wolverine and the X-Men, Ash and the Army of Darkness, and is currently working on the Guardians of the Galaxy!
Strange Adventures
68 York Street, Fredericton, NB E3B 3N4, Canada
(506) 450-3759
Marco Rudy, artist of Uncanny X-Men, Swamp Thing, and more, appears at The Beguiling to sign his newest illustrated work: New Avengers Annual #1! Marco will be in store signing for fans on Wednesday June 25th from 6:00 pm-8:00 pm, and all are welcome.
The Beguiling
601 Markham Street, Toronto, ON M6G 2L7
416-533-9168
Chip Zdarsky, the fantastic artist behind Sex Criminals appears at Big B Comics on Wednesday, June 18th from 11am-4pm!
Big B Comics
241 Essa Road, Barrie, ON, Canada
(705) 739-1513
Ed Brubaker and Darwyn Cooke appear at the Bloor Cinema on Saturday May 10th at 5:00 pm for a screening. A signing will follow at the Beguiling!
Press Release:
Join two of comics' greatest crime noir authors and Featured Guests of the Toronto Comic Arts Festival, Ed Brubaker (Criminal, Fatale) and Darwyn Cooke (Parker, Selina's Big Score), in a special evening of comics and noir! The two will discuss their work and influences with special guest interviewer Cameron Ashley (Crime Factor), and they'll cover their love of all things down, dirty, and mean. Cooke and Brubaker will then introduce a special screening of one of their favourite crime films, Stanley Kubrick's The Killing. Tickets are $7 in advance, $10 at the door, and are available now online at the link… 
His first feature film, Kubrick's The Killing chronicles a racetrack heist that goes terribly wrong. Widely regarded as one of Hollywood's greatest noir achievements, The Killing has influenced generations of crime writers, including Brubaker and Cooke.
Admission to this event is $7 in advance, $10 at the door. The doors for the event will open at 5:00 pm, with the talk beginning at 5:30 pm. If you're buying through Eventbrite, you will be able to have your ticket verified and exchanged for a general-admission ticket at the theatre beginning at 4:00 pm. Please arrive early and bring a printed ticket to speed entry.
A signing session with both authors will follow the screening. It will be held at The Beguiling Books & Art, 601 Markham Street, a short distance from the event space.
Nick Bradshaw, Danica "Karibu" Brine, Kraig Nicol, and Allan Spinney appear at The Comic Hunter on Saturday May 3rd for Free Comic Book Day!
Press Release:
Saturday, May 3rd is the biggest comic book day of the year, FREE COMIC BOOK DAY!
Join us all day long, starting at 8am, for tons of giveaways, big sales, BBQ, meet and greats with local artists, and just tons fun!
Some of the fun stuff happening will be…
-Meet and Great with local artists: Nick Bradshaw, Danica "Karibu" Brine, Kraig Nicol, and Allan Spinney!
-First 100 people get an exclusive Nick Bradshaw Print for Free to get signed! We'll be giving away the original to a lucky customer at the end of the day!
-Tons of giveaways!
-Free Comics For Everyone (10 per person)
-All Back Issues 15-75% off!*
-All Graphic Novels 15-90% off!*
-All Toys, Statues, and Tshirts on sale!*
*Full details to be revealed on FCBD
The Comic Hunter (Moncton)
465 Main Street, Moncton, NB E1C 1C2, Canada
506-855-4950
Press Release:
Hero Initiative Stampedes to Calgary Comic Expo!
LOS ANGELES, CA (April 9, 2014) Hero Initiative, the non-profit organization that aids comic creators in medical and financial need, travels to Calgary Comic Expo for the first time ever, April 24-27! (www.calgaryexpo.com).
Stop on by our creative ambassadors located all over the con floor who will be collecting donations for Hero: Reilly Brown, Brian Haberlin, Mark McKenna, Michael Oeming, Riley Rossmo, Greg Rucka, Fiona Staples, Arthur Suydam, and Jim Zub are all on the job. So do the right thing and DONATE!
And check out our con specials at our booth, Y-19 and Y-20! We're blowing out Violent Messiahs #1 and Cyberforce #2 for$1 each! Ultimate Spider-Man 100 Project and ACTOR Comics Presents are $2 each! What a deal!
See you there!
About The Hero Initiative
The Hero Initiative is the first-ever federally chartered not-for-profit corporation dedicated strictly to helping comic book creators in need. Hero creates a financial safety net for yesterday's creators who may need emergency medical aid, financial support for essentials of life, and an avenue back into paying work. It's a chance for all of us to give back something to the people who have given us so much enjoyment.
Since its inception, The Hero Initiative has had the good fortune to grant over $500,000 to the comic book veterans who have paved the way for those in the industry today. For more information, visit www.heroinitiative.org or call 626-676-6354.
TRANSLUCID #1 C2E2 Exclusive Cover by Khary Randolph
Press Release:
BOOM! STUDIOS HEADED TO CALGARY EXPO AND C2E2 TO MEET WITH FANS IN TWO COUNTRIES!
April 16, 2014 – Los Angeles, CA – Well on its way to earning elite status for its frequent flier miles, publisher BOOM! Studios announced today it will exhibit both at Calgary Expo in Alberta, Canada, from April 24-27, and Chicago Comic and Entertainment Expo (C2E2) in Chicago, Illinois, from April 25-27.
BOOM! can be found at Calgary Expo, held at the BMO Center in the city of Calgary, Alberta, at booth number 119. They will host the following creators all weekend:
Ed Brisson (SONS OF ANARCHY, ROBOCOP)
Megan Hutchison (WILL O' THE WISP)
Mike Kunkel (HEROBEAR AND THE KID)
In addition, the BOOM! Studios booth will host sketch artists all weekend, including:
Brooke Allen (LUMBERJANES)
Ian McGinty (ADVENTURE TIME: CANDY CAPERS)
Kate Leth (ADVENTURE TIME OGN VOL. 3: SEEING RED, LUMBERJANES)
Wook-Jin Clark (ADVENTURE TIME: THE FLIP SIDE)
Zack Sterling (ADVENTURE TIME OGN VOLS. 1, 2, and 3)
BOOM! will also have two Calgary Expo Exclusive Variants:
LUMBERJANES #1 cover illustrated by Megan Hutchison (available for purchase at the BOOM! booth)
ADVENTURE TIME #27 cover illustrated by Tait Howard (available for purchase only through the Convention). Starring baby versions of Fionna and Cake, this is the first-ever horizontal ADVENTURE TIME issue!
For tickets and more information on Calgary Expo, visit calgaryexpo.com.
At C2E2, which will be held in the South Building at McCormick Place in Chicago, Illinois, BOOM! Studios can be found at booth number 616. They will host the following creators at the booth all weekend:
Caleb Monroe (PEANUTS, STEED AND MRS. PEEL)
Jeff Dyer (PEANUTS)
Michael Alan Nelson (DAY MEN, 28 DAYS LATER, PROTOCOL: ORPHANS)
Paul Jenkins (FAIRY QUEST, DEATHMATCH, REVELATIONS)
In addition, the following signings at the booth are scheduled:
FRIDAY, April 25
4-5 p.m. James Tynion IV (THE WOODS) (Note: This signing takes place after the We Are BOOM! Panel)
SATURDAY, April 26
12-1 p.m. James Tynion IV (THE WOODS)
4-5 p.m. Ben Acker, Ben Blacker, and Marc Evan Jackson (THE THRILLING ADVENTURE HOUR)
5:15-6:15 p.m. Claudio Sanchez and Chondra Echert (TRANSLUCID, AMORY WARS, KEY OF Z, KILL AUDIO)
This is a ticketed signing. Tickets are available only at the BOOM! Studios booth while supplies last starting Saturday when the show opens.
SUNDAY, April 27
1-2 p.m. James Tynion IV (THE WOODS)
In addition, the BOOM! Studios booth will host sketch artists all weekend, including:
Mad Rupert (REGULAR SHOW: SKIPS)
Coleman Engle (STEVEN UNIVERSE)
For $20, fans can request and purchase custom sketches to be drawn on blank ADVENTURE TIME and REGULAR SHOW Get-A-Sketch covers.
Special C2E2 exclusive variants will be available for purchase for:
THE WOODS #1 cover illustrated by Tyler Jenkins
TRANSLUCID #1 cover illustrated by Khary Randolph
ADVENTURE TIME 2014 ANNUAL #1 cover illustrated by Mad Rupert
BOOM! will also present the following panel at C2E2:
We Are BOOM!
Fri., April 25, 2:45 – 3:45 p.m., Room S402
Last year was a banner year for BOOM! highlighted by the release of our first feature 2 GUNS (starring Denzel Washington and Mark Wahlberg) and new first-look deal with 20th Century Fox. Archaia joined us as a new imprint, we expanded the all-ages KaBOOM! lineup, and launched our newest imprint, BOOM! Box. Join BOOM! Studios Editor-In-Chief Matt Gagnon and VP of Development Stephen Christy as we share our mission to create the future of comics…now. We are BOOM! Come Innovate With Us.
For tickets and information for C2E2, visit c2e2.com.
ABOUT BOOM! STUDIOS
Founded by Ross Richie in 2005, Diamond Gem Award-winning "Best Publisher" BOOM! Studios (boom-studios.com) generates a constellation of best-selling Eisner and Harvey Award-winning original and licensed comic books and graphic novels with the industry's top talent. BOOM! Studios is the home of Mike Carey's SUICIDE RISK, Clive Barker's NEXT TESTAMENT and HELLRAISER, Paul Jenkins and Humberto Ramos' FAIRY QUEST, PLANET OF THE APES, Max Bemis' POLARITY and Mark Waid's IRREDEEMABLE. Steven Grant's graphic novel 2 GUNS was recently released as a feature film from Universal Pictures, starring Denzel Washington and Mark Wahlberg. BOOM!'s all-ages imprint KaBOOM! publishes Charles Schulz' PEANUTS, Jim Davis' GARFIELD, Cartoon Network's ADVENTURE TIME and REGULAR SHOW, Mike Kunkel's HEROBEAR AND THE KID, and Roger Langridge's Eisner Award-winning SNARKED. In June 2013, BOOM! acquired Archaia Entertainment (archaia.com). Archaia is the Eisner and Harvey Award-winning graphic novel publisher of MOUSE GUARD, COW BOY, GUNNERKRIGG COURT, RUST, SPERA, JIM HENSON'S TALE OF SAND, and many other great titles. In October 2013, BOOM! Studios entered into a unique first-look relationship with 20th Century Fox, giving the studio access to its library of titles and giving the publisher access to Fox's vast catalog of films.
Artist Dave Johnson appears at The Silver Snail for a signing on Saturday May 3rd from noon till 7:00 pm to celebrate the store's 38th Anniversary and Free Comic Book Day!
The Silver Snail
329 Yonge Street, Toronto, ON M5B 1R7
416-593-0889