Kazu Kibuishi appears at Chapters on Saturday, August 23rd from 2:00 – 3:00 PM to sign his latest book Amulet Book Six: Escape from Lucien. Get it here first on August 23rd before the offical on-sale date!
RSVP on Facebook!
Chapters Brampton
52 Quarry Edge Dr Bovaird/Hwy 10, Brampton, ON L6V 4K2
Author Ray Fawkes, and interviewer Jeff Lemire appear on Wednesday August 13th, 2014 from 7:00-9:00 PM at The Lillian H. Smith Auditorium!
Press Release:
The Beguiling is proud to present a special event, celebrating the release of Ray Fawkes' new graphic novel THE PEOPLE INSIDE! In much the same vein as Fawkes' amazing ONE SOUL, THE PEOPLE INSIDE tells the story of 24 different people in a way that only the medium of comics can! Compelling, intertwining narratives and formalist experimentation meld to create a graphic novel that absolutely shouldn't be missed.
Joining author Ray Fawkes will be acclaimed writer and graphic novelist Jeff Lemire (Trillium, Essex County), who will interview his friend and colleague Fawkes on this new graphic novel.
Presented by The Beguiling, with thanks to The Friends of The Merril Collection and Oni Press.
Lillian H. Smith Public Library
239 College Street, Toronto, M5T 1R5, ON
416-393-7746
Meags Fitzgerald appears at Happy Harbor Comics on Wednesday July 30th at 6:30 pm!
Happy Harbor Comics
12226 Jasper Ave Northwest, Edmonton, AB T5J 3K1
Phone Number: 780-452-8211
Fiona Staples (Saga) and Riley Rossmo (Drumhellar) appear on Saturday, August 2nd from 11:00 am – 3:00 pm to celebrate Alpha Comics' third year of business.
Alpha Comics 
Lynnwood Shopping Centre #9
7005 18th Street S.E., Calgary, AB T2C 1Y1, Canada
Chris Peterson appears at Alpha Comics on July 16th from 12:30 till 6:00 pm.
Alpha Comics 
Lynnwood Shopping Centre #9
7005 18th Street S.E., Calgary, AB T2C 1Y1, Canada
Bryan Lee O'Malley appears on Wednesday, July 30th at 9:00 pm at The Bloor Hot Docs Cinema!
Admission $10/door or FREE with Advance Purchase of SECONDS at The Beguiling
Press Release:
One and all! Please welcome Bryan Lee O'Malley, author of the bestselling Scott Pilgrim graphic novel series, as he celebrates the release of his new graphic novel SECONDS in Toronto! O'Malley will be interviewed on stage at The Bloor Hot Docs Cinema about SECONDS, the massive success of Scott Pilgrim, and the transition between the two.
Admission to this event will be ticketed. Tickets are $10 each at the door or FREE with the Advance Purchase of SECONDS.
SECONDS is officially on sale beginning July 15th. Pre-purchase your copy at The Beguiling, including a FREE event ticket, beginning June 23rd.
Bloor Hot Docs Cinema
506 Bloor Street West, Toronto, M5S 1Y3, ON
Director Chuck Powers hosts the premiere screening of Ribbit with a special Skype appearance by star Sean Astin on Saturday, June 21 at 3:30 PM! The screening will be at Landmark Cinemas as part of the Niagara Film Fest.
Synopsis: Ribbit is the proverbial "fish out of water" or in our case, "frogs out of water". Simply put, Ribbit is a dreamer. With a serious dislike of water and of jumping, Ribbit is the antithesis of everything it means to be a frog. Ribbit longs to fit in, to belong, but not at the cost of being true to himself. Since fitting in to normal life is difficult for Ribbit, he loves to go to his "clubhouse", a dilapidated, old airplane that had crashed in the jungle, and lose himself looking at old copies of National Geographic. There he sees all these other animals that belong, who have a purpose in life. He dreams of being like them and he longs for answers – even when he's not sure of the real question. Even with all his doubts, Ribbit is never lacking in bravery, when things get tough Ribbit always steps up and becomes a hero – even though he doesn't realize it. Watch the trailer below!
Tickets are available at the link!
Landmark Cinemas
221 Glendale Ave, Pen Centre Mall, St Catharines, ON L2T 2K9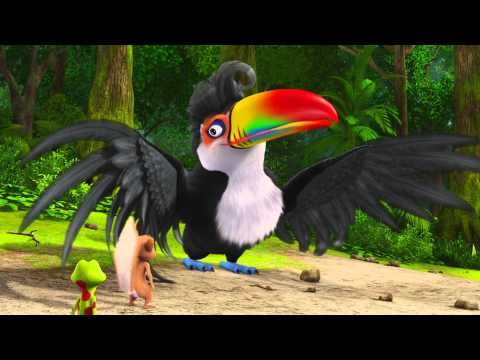 Tony Gray and Jason Fabok appear at Paper Heroes on Saturday June 28th from 1:00 pm until 4:00 pm for a special in-store signing!
Paper Heroes Comic Book Lounge & Collectibles
2857 Howard Avenue, Windsor, ON N8X3Y4, Canada
519-969-7277
Marvel Comics artist Nick Bradshaw appears at Strange Adventures' Fredericton Shop to sign comics and stuff from 11:00 AM to 3:00 PM on Saturday, June 28th!! Nick has illustrated the adventures of Wolverine and the X-Men, Ash and the Army of Darkness, and is currently working on the Guardians of the Galaxy!
Strange Adventures
68 York Street, Fredericton, NB E3B 3N4, Canada
(506) 450-3759
Marco Rudy, artist of Uncanny X-Men, Swamp Thing, and more, appears at The Beguiling to sign his newest illustrated work: New Avengers Annual #1! Marco will be in store signing for fans on Wednesday June 25th from 6:00 pm-8:00 pm, and all are welcome.
The Beguiling
601 Markham Street, Toronto, ON M6G 2L7
416-533-9168