Press Release:
COMIC-CON ANNOUNCES FIRST WAVE OF GUESTS FOR 2015 SHOW
Additional Guests To Be Announced In The Coming Weeks
SAN DIEGO- Comic-Con International (Comic-Con), the nonprofit educational organization dedicated to creating awareness of and appreciation for comics and popular art, today announced the first wave of special guests for its venerated summer show. The event will again be held in San Diego beginning on Thursday, July 9, and running though Sunday, July 12, 2015, at the San Diego Convention Center.
"Comic-Con is grateful to feature such talented individuals from comics and popular art," commented David Glanzer, spokesperson for the nonprofit organization.  Indeed 2015 is shaping up to be another spectacular year in terms of talent joining the four-day extravaganza.
The first round of guests include
Writer Kelly Sue DeConnick: Captain Marvel, Pretty Deadly, Bitch Planet.
Artist Carlos Ezquerra: Co-creator, Judge Dredd, Stontium Dog.
Author Lev Grossman: The Magicians.
Writer/director/producer Reginald Hudlin: Django Unchained, Black Panther animated series.
Artist/illustrator William Stout: The Dinosaurs.
For up-to-date information on guests and all aspects of the huge summer show be sure to visit www.comic-con.org and check out Toucan Blog, the only OFFICIAL blog of Comic-Con International.
About Comic-Con International:
Comic-Con International (CCI) is a nonprofit educational organization dedicated to creating awareness of, and appreciation for, comics and related popular artforms, primarily through the presentation of conventions and events that celebrate the historic and ongoing contribution of comics to art and culture.  In addition to its San Diego convention each summer (the world's largest comics convention of its kind), CCI organizes the Anaheim-based WonderCon Anaheim each spring. On the web: Comic-Con.org, Facebook.com/comiccon, Twitter.com/comic_con.
Press Release:
Comic-Con a Significant Impact on Region's Economy Says SDWP
San Diego Workforce Partnership affirms Comic-Con's value at San Diego Convention Center
SAN DIEGO, Nov. 5, 2014 /PRNewswire-USNewswire/ — San Diego Workforce Partnership (SDWP), which serves as a vital source of information on the San Diego region's labor market, has recently published an article reviewing Comic-Con's impact on San Diego's workforce and the San Diego Convention Center's staffing in particular.  Comic-Con, held annually in San Diego and organized by a nonprofit educational organization, is a convention celebrating the historic and ongoing contribution of comics to art and culture.
SDWP's article calls attention to the estimated $320,000 in wages Comic-Con brings to the Convention Center's 500-member staff.  In addition to those staffers, the Convention Center hires temporary employees and posts job listings prior to Comic-Con to cover needs that the regular staff cannot.  These positions include engineers, laborers, electricians, and International Alliance of Theatrical Stage Employees (IATSE) union workers, to name a few.
According to the San Diego Convention Center Corporation, Comic-Con's 2014 show has been projected to have an impact of almost $178 million on the local economy. The actual economic impact may be larger as it has since been speculated that the factors used to calculate the figure did not take into account ancillary spending by locals, out-of-town visitors and corporations, and companies that buy advertising on buildings, lamp posts, restaurant buyouts and activations of local park space and private venues.
"Year after year, it is not lost on me the amazing number of talented people it takes to make this show happen," said David Glanzer, spokesperson and director of marketing and public relations for Comic-Con.  "In addition to Comic-Con's thousands of invaluable volunteers and staff, local businesses and organizations hire additional workers who make sure the event and the city are represented in the best possible light. It really is a terrific collaborative effort."
What is not measured in the workforce study is the economic benefit of worldwide media attention focused on America's Finest City during the four days of the convention and throughout the year.  "We never dreamed that our local annual convention would evolve over its forty-plus years into the worldwide celebration that it is today," said Glanzer.
The entire article can be found on SDWP's website at http://workforce.org/news/comic-con-impact-san-diego-convention-center-workforce.
About Comic-Con International:
Comic-Con International: San Diego is a nonprofit educational corporation dedicated to creating awareness of, and appreciation for, comics and related popular artforms, primarily through the presentation of conventions and events that celebrate the historic and ongoing contribution of comics to art and culture. In addition to its San Diego convention each summer, CCI organizes WonderCon Anaheim each spring. On the web: Comic-Con.org, Facebook.com/comiccon, Twitter.com/comic_con.
We will continue to add more videos and links here for SDCC 2014 as we come across them but for now here is our final compilation.
On July 23-27th, San Diego was host to the 2014 San Diego Comic Con! After 10 years of attending this show, I was definitely looking forward to seeing what sort of amazing spectacles Comic Con had in store for me this year. After a week of recovery from the show, I had to admit, compared to all the other Comic Cons, this one was a bit more low key. There weren't many major announcements on the movie front, and while there were some exciting TV shows on hand, I definitely didn't feel the major buzz I typically do at SDCC.
However, like all previous Comic Cons, it's a great time to mingle with artists, writers, and friends you never get to mingle with anywhere else outside of SDCC. It was fun watching the stars come on the show floor, watching artists draw some amazing commissions, and seeing the amazing exhibits some of the booths displayed, including all of the Batman cowls celebrating the Caped Crusader's 75th birthday, as well as some very cool props from the latest movies. While it lacked that extra spark that San Diego usually brings to the table, it still was, is and always will be THE place to be. And now, on to some of the sights I saw during the weekend.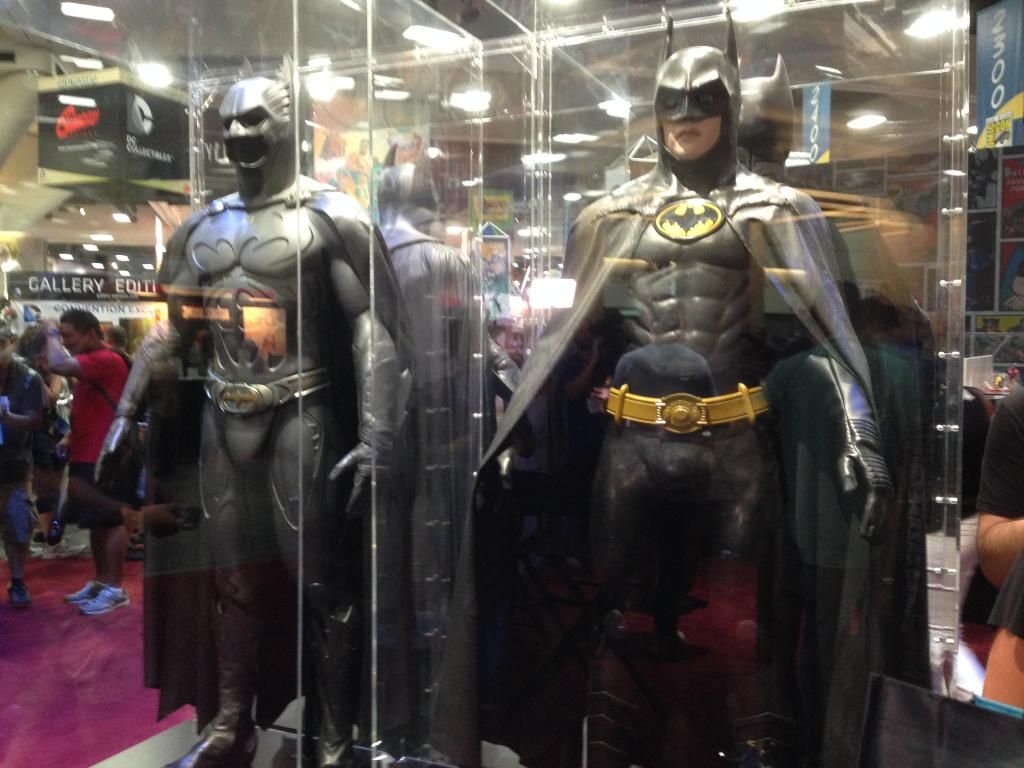 I didn't take a lot of cosplay pics this year, but here's a few that stood out!
A look at some of the cosplayers of Comic-Con, videos of The Avengers: Age of Ultron panel and Zack Snyder and friends, plus lots of more.
Get a glimpse of the Batman v. Superman footage from Comic-Con plus a Mad Max trailer, Wonder Woman revealed, the complete Age of Ultron poster, and more.
Sting shows up at the WWE panel, Matthew McConaughey shows up to push Interstellar, and Microsoft releases a trailer for HALO Nightfall.
Press Release:
VIRTUAL REALITY MEETS MIDDLE EARTH — AND THE MUPPETS (!) AT WARNER BROS.' STAR-PACKED BOOTH FOR COMIC-CON 2014
Go Into the Storm with the 4D Oculus Rift Experience and Get Up Close and Personal with Stars, Smaug, Sesame Street and Soft Kitty
Full Signing Schedule Released for Warner Bros. Booth
BURBANK, Calif. (July 22, 2014) — With Comic-Con 2014 only days away, the behind-she-scenes team at the Warner Bros. booth (#4545) is working its magic creating another must-see environment, including a 4-D immersive Oculus Rift experience allowing fans into the heart-stopping excitement of Warner Bros. upcoming Into the Storm film (unleashed on August 8, 2014); an epic-sized LEGO® Smaug, the legendary dragon from Warner Bros. trilogy of The Hobbit films; a personal appearance by some of Sesame Street's most familiar faces; and an exclusive Soft Kitty giveaway for fans of The Big Bang Theory, only in San Diego. Always a destination for Comic-Con fans, the Warner Bros. booth will be a constant flux of activity, including giveaways, autograph signings and more.
For a closer look at this year's Warner Bros. booth activities, read on:
INTO THE STORM: THE 4D OCULUS RIFT EXPERIENCE
Prepare to go #IntoTheStorm with an intense experiential booth featuring a 4-D immersive Oculus Rift experience that puts fans directly into a recreated scene from the upcoming tornado survival film.
Releasing on August 8th, Into the Storm, from New Line Cinema, in association with Village Roadshow Pictures, stars Richard Armitage (The Hobbit films), Sarah Wayne Callies (The Walking Dead), Matt Walsh (Ted), Alycia Debnam-Carey (Where the Devil Hides) and Arlen Escarpeta (Final Destination 5).
In the span of a single day, the town of Silverton is ravaged by an unprecedented onslaught of tornadoes. The entire town is at the mercy of the erratic and deadly cyclones, even as storm trackers predict the worst is yet to come. Most people seek shelter, while others run towards the vortex, testing how far a storm chaser will go for that once-in-a-lifetime shot. Told through the eyes and lenses of professional storm chasers, thrill-seeking amateurs, and courageous townspeople, Into the Stormthrows viewers directly into the eye of the storm to experience Mother Nature at her most extreme.
Fans who survive the storm will have their reactions to the experience captured on camera, and once they exit the booth, they will be able to immediately share their experience from a social wall on Facebook, Tumblr, Twitter and YouTube.
FIND YOURSELF FACE TO FACE WITH SMAUG
 The LEGO Group's large-scale LEGO brick model of Smaug from The Hobbit Trilogy will be on
display in the Warner Bros. booth #4545 at San Diego Comic-Con. Pictured: designer Erik Varszegi.
The creative MasterBuilders at The LEGO Group are at it again with a Comic-Con exclusive: a life-sized recreation of the legendary Dragon Smaug (that's "human" life-sized vs. "dragon" life-sized), from The Hobbit Trilogy.
Standing at more than six feet tall and weighing in excess of 400 pounds, the large-scale dragon is constructed from 83,433 LEGO® bricks and took over 625 hours to design and build. Featuring a (to Dragon scale) Hobbit-sized Bilbo Baggins and shining Arkenstone, the epic LEGO Smaug stands guard at the Warner Bros. booth!
This December, Oscar®-winning filmmaker Peter Jackson will unleash the epic final film in The Hobbit Trilogy, based on the timeless masterpiece by J.R.R. Tolkien, from New Line Cinema and Metro-Goldwyn-Mayer Pictures. In The Hobbit: The Battle of the Five Armies, Bilbo's journey culminates in a desperate and dangerous choice as darkness converges on the Lonely Mountain and the races of Dwarves, Elves and Men must decide — unite or be destroyed. Ian McKellen returns as Gandalf the Grey, with Martin Freeman as Bilbo Baggins, and Richard Armitage as Thorin Oakenshield. The ensemble cast is led by Evangeline Lilly, Lee Pace, Luke Evans, Benedict Cumberbatch, Ken Stott, James Nesbitt, with Cate Blanchett, Ian Holm, Christopher Lee, Hugo Weaving, and Orlando Bloom.
MUPPETS TAKE SAN DIEGO!
In celebration of its upcoming 45th season, Sesame Street is sending a Muppet delegation to the Con for a Meet & Greet on Sunday, July 27th from 2:00–3:00 p.m. at the Warner Bros Booth.
Fans of all ages will have the chance to meet Cookie Monster, Bert, Grover and Murray Monster and their performers in a one-of-a-kind get together at the Warner Bros. booth.
IN addition, the first 100 fans will walk away with the latest Sesame Street and Warner Bros. DVD – Learning Rocks!
THE CAT'S OUT OF THE BAG!
COMIC-CON EXCLUSIVE: SOFT KITTY PREVIEW GAME PIECE FROM
MONOPOLY® THE BIG BANG THEORY EDITION GAME
The cat's out of the bag — and can be found at the Warner Bros. booth!
In a Comic-Con exclusive, Warner Bros. is offering fans of hit comedy The Big Bang Theory the chance to get their hands on a Soft Kitty preview game piece from the MONOPOLY®: The Big Bang Theory edition game, which will be available at retailers nationwide next month.
Available only at Comic-Con and not included in the actual game, a limited number of the Soft Kitty mover tokens will be distributed at the Warner Bros. booth Wednesday, July 23–Sunday, July 27. In-the-know fans can ask for the token at the redemption window at the booth.
STARS & SIGNINGS AND MORE!
From Thursday through Sunday, a cavalcade of talent — including producers and stars from Warner Bros. Television shows, HBO, Warner Bros. Animation, Warner Home Entertainment and Warner Bros. Pictures — will be signing for fans at the Warner Bros. booth.  Talent to be announced. The signing schedule is as follows:
THURSDAY, JULY 24, 2014

3:30pm-4:00pm           Into the Storm
4:45pm-5:30pm           Childrens Hospital
FRIDAY, JULY 25, 2014

10:15am-11:00am       iZOMBIE
11:45am-12:30pm       The Originals
2:15pm-2:45pm           The 100
3:30pm-4:30pm           Game of Thrones
5:00pm-5:45pm           Mike Tyson Mysteries
5:30pm-6:30pm           Batman: Assault on Arkham
6:15pm-6:45pm           Banshee
SATURDAY, JULY 26, 2014

11:15am-11:45am       Mad Max:  Fury Road
11:45am-12:30pm       Arrow
12:30pm-1:00pm         The Hobbit:  The Battle of the Five Armies
1:30pm-2:00pm           Constantine
2:00pm-3:00pm           True Blood
2:45pm-3:30pm           The Vampire Diaries
4:00pm-4:45pm           Gotham
5:00pm-5:45pm           Person of Interest
5:45pm-6:15pm           The Flash
SUNDAY, JULY 27, 2014

10:30am-11:15am       Teen Titans Go!
11:30am-12:15pm       Supernatural
12:00pm-12:45pm       Scooby-Doo! Frankencreepy
12:30pm-1:15pm         The Following
12:45pm-1:15pm         Tom and Jerry:  The Lost Dragon
For continuing info on the Studio's plans at Comic-Con, please visit comiccon.thewb.com and follow @warnerbrostv on Twitter (hashtag #WBSDCC).
Press Release:
LEGENDARY AT SDCC 2014
At Comic-Con 2014, we invite our fans to 'step inside our worlds'.
We will be at San Diego Comic-Con 2014 hosting a booth on the show floor, holding a panel in Hall H, and much more.  Follow us on Twitter and Instagram for the latest announcements and updates.  We know everyone can't make it to Comic-Con so we will be covering all the activities through photos & videos, and hosting fan giveaways on our social accounts during and after Comic-Con.  Keep an eye out!
Legendary Booth
Booth Location: #3920
We have worked with master filmmaker Guillermo del Toro to bring his incredible imagination to life, delivering two unique fan experiences for Pacific Rim and Crimson Peak.  The booth hosts unique physical props from the hotly anticipated Warcraft, giving fans an exclusive first look right out of the world of the film.  Additionally the booth offers previews of Legendary's upcoming psychological thriller As Above/So Below and the new catalogue of titles from Legendary Comics.
Crimson Peak Gothic Gallery
Step inside the imagination of Guillermo del Toro with The Gothic Gallery, an immersive handcrafted exhibit from master filmmaker. This exclusive fan experience offers a glimpse behidnd the curtain of Crimson Peak, through an intimate set piece of the gothic haunted house he is creating… Beware Crimson Peak!
Head to facebook.com/CrimsonPeakMovie to view images of the Gothic Gallery and sign up for a chance to win an exclusive tour of the Gothic Gallery with the visionary filmmaker Guillermo del Toro.
Visit the Legendary Booth to experience the Gothic Gallery.
Pacific Rim Jaeger Pilot
We have worked closely with the leading pioneers of virtual reality, Oculus VR, to deliver a new benchmark in Oculus Rift experiences.
Fans will experience what it feels like to pilot a 250-story robot as they step into a fully-realized Jaeger Combat Simulator.  Strapping on the Oculus Rift headset, fans will 'Drift with the Rift' and experience the beloved universe of Pacific Rim in a whole new way.
Watch this video and visit the Legendary Booth at 9 am daily for tickets.  First come, first served.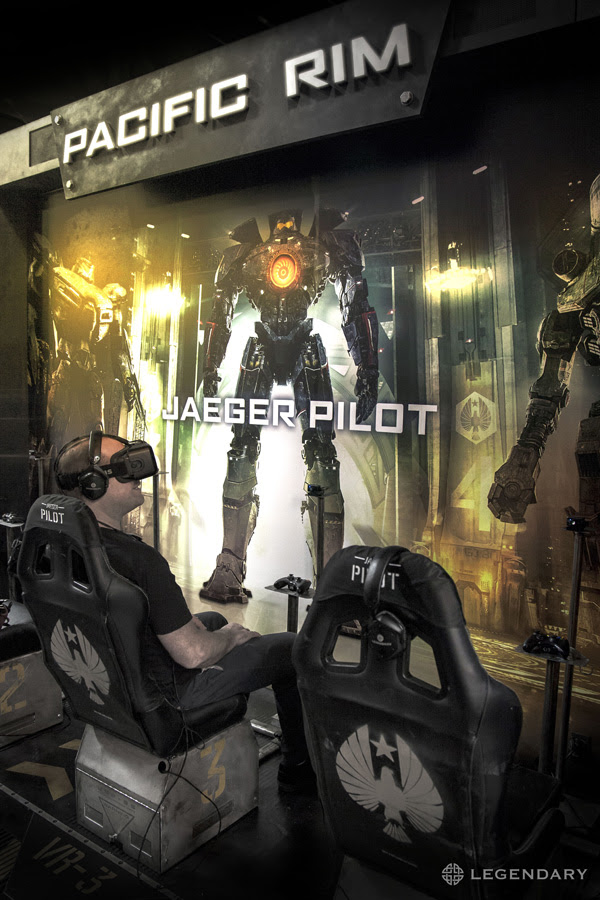 Signing with Warcraft Director Duncan Jones
Legendary and Warcraft fans now have the chance to meet director Duncan Jones, the man responsible for bringing Warcraft to the big screen.  Duncan Jones will be doing a signing on Saturday 7/26 at 2 pm at the Blizzard Booth (#115). Tickets will be handed out that morning at 11 am on a first come, first served basis at the Blizzard Booth.
Legendary's Film Panel – Hall H
Date: Saturday, July 26
Time: 12:35 pm
During our panel, we will be live tweeting from Hall H.  Follow along here:@Legendary.
The Batfleck costume, Avengers and Ant-Man posters, a tour of the Sideshow Collectibles booth and a lot more in our first SDCC Digest for 2014.