Press Release:
REVOLUTION DIGITAL CARDS DEBUT AT COMIC-CON®
REVOLUTION FANS "FLOCK TO UNLOCK" NEW SERIES OF DC COMICS DIGITAL CHARACTER CARDS AT HIT SHOW'S COMIC-CON 2013 SESSION
Miles Matheson Character Profile Is First to Be Revealed by Show Creator/Executive Producer Eric Kripke
SAN DIEGO and BURBANK, Calif. (July 20, 2013) — Revolution's resident anti-militia rebel Miles Matheson has been freed from digital lockdown in today's packed Comic-Con panel session! Warner Bros. Worldwide TV Marketing, DC Entertainment and NBC have teamed up to create a series of seven original digital trading cards — one for each of Revolution's series regulars — that can be unlocked when fans tweet the #RevolutionCon hashtag. After more than 1,500 attendees at the Revolution Comic-Con panel tweeted while using the designated #RevolutionCon hashtag, the first card (for Miles Matheson) was revealed in the room by show creator/executive producer Eric Kripke. Subsequent cards will be revealed as fans continue hitting further social media thresholds.
Created by a DC Comics artist in conjunction with Revolution producers, each profile card features an illustrated graphic of each of the seven series regulars — Miles Matheson (Billy Burke), Tom Neville (Giancarlo Esposito), Jason Neville (JD Pardo), Sebastian Monroe (David Lyons), Aaron Pittman (Zak Orth), Rachel Matheson (Elizabeth Mitchell) and Charlie Matheson (Tracy Spiridakos) — as well as a brief summary of the characters.

 
In addition to the original illustration and overview of the characters' journeys, each card contains a hidden letter which, when combined with the hidden letters on the other cards, reveals a written clue about the show's second season. Fans must collect all seven to unlock the hidden message.

 
The cards were unveiled to the Revolution fandom at the show's Comic-Con panel session on Saturday afternoon. Soon after introducing the "Flock to Unlock" initiative and a collective call to action, members of the audience began tweeting en masse to the #RevolutionCon hashtag, prompting the release of the first digital profile (Miles Matheson).

 
Upon reaching announced Twitter thresholds for each subsequent character, the remaining cards will be released on Revolution's Facebook,Twitter and Tumblr pages throughout the weekend and into next week, as fans continue tweeting. As each of the cards is unveiled, fans can find the hidden letters, leading to the season two message. After being unlocked, all of these digital profiles will live on an NBC.com microsite at www.nbc.com/revolution/cards, with links to the Revolution show homepage at www.nbc.com/revolution.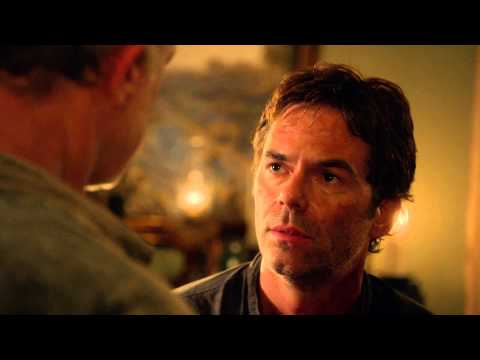 NBC's #1 scripted television series returns for its second season on Sept. 25, airing on a new day and time: Wednesdays at 8/7c. Starring Billy Burke (Twilight movies), Tracy Spiridakos (Being Human), Giancarlo Esposito (Breaking Bad), Zak Orth (Melinda and Melinda), David Lyons (ER), JD Pardo (The Twilight Saga: Breaking Dawn – Part 2) and Elizabeth Mitchell (Lost), Revolution was created by Eric Kripke (Supernatural) and is executive produced by Kripke, J.J. Abrams (Lost, Fringe, Person of Interest), Bryan Burk (Lost, Fringe, Person of Interest), Rockne S. O'Bannon (Defiance, V) and Jon Favreau (Iron Man movies).
From Bonanza Productions Inc. in association with Bad Robot Productions, Kripke Enterprises and Warner Bros. Television, Revolution is an epic adventure that follows a family's struggle to reunite in a post-apocalyptic American landscape where every piece of technology had mysteriously blacked out worldwide. Setting in motion a swashbuckling journey that led to the reason the lights went out, the season one finale found the show's heroes at the Tower and the switch to turn the lights back on — but the mystery of the blackout is just the beginning.
Become a fan of the show on Facebook at www.facebook.com/Revolution and follow the show on Twitter at @NBCRevolution. For additional information about Warner Bros. Television activities at Comic-Con, please follow us on Twitter @TheWBdotcom (hashtag #WBSDCC) and visitwww.thewb.com/comiccon.
There was a lot going on at SDCC today…Hunger Games, X-Men: Days of Future Past, Guardians of the Galaxy, the announcing of the subtitle (and protagonist) for the next Avengers movie…but the announcement that stole the show was for the Man of Steel's follow-up…Batman and Superman together in one movie!
Keenspot has a live feed from their SDCC booth, and you can watch it right here.


Streaming live video by Ustream
Another day…another digest! Get all the latest SDCC photos, reports, videos, and more. Updates throughout the day.
Marvel is providing live coverage from SDCC.
MTV is live from SDCC with hosts Josh Horowitz and Steven Smith, and we have the live stream for you right here.
Thursday Schedule:
11:00 "RWBY" Exclusive
11:15 Workaholics Cast
11:30 Bill Paxton
11:45 Gravity Director
12:00 Valiant Comics
12:15 Matty Collector Exclusive Giveaways
12:30 The To Do List Cast
12:45 Superman Unchained
1:30 Jeph Loeb for Marvel TV
2:00 Ender's Game Cast
2:30 Rick Remender
2:45 Divergent Full Cast Exclusive
3:30 Teen Wolf Cast & Exclusive Trailer
4:15 Game of Thrones John Bradley
4:30 Gale Anne Hurd
5:00 Gametrailers Takeover
(And remember, all times are PST!)
You ready for another SDCC digest? Of course you are!
Splash Page Comic Art has announced their plans for Comic Con International in San Diego!
Press Release:
Comic Con is this week and Splash Page will be set up at booths 4400-4408 at SDCC. This year we will host signings by Dave Gibbons (Watchmen), Ken Kristensen, Sina Grace (Not My Bag, The L'il Depressed Boy) and Don Kramer.
Dave Gibbons's schedule
Saturday from 3-4PM [He is NOT sketching]
We will have limited edition Watchmen S/N Prints and Proofs available for sale. Limit 2 items signed per person.
Sina Grace's schedule
Friday 1-3PM & Sunday 11AM – 1PM.
We'll have his Adventure Time San Diego Comic Con Variant Comic for sale for him to sign.
Don Kramer's schedule
Friday 10AM – 12PM & Saturday 10AM – 12PM
Ken's schedule will be announced as soon as we have it.
New art has been posted to the following galleries and will have them for sale at the San Diego Comic Con:
Charlie Adlard Gallery Added the interiors to Walking Dead Issue 112.
Cliff Chiang Gallery Added interior pages from Wonder Woman issues 20 & 21.
Sina Grace Gallery Will have covers from The Regular Show at SDCC.
Michael Lark Gallery Added interior pages to Lazarus Issue 1 AND I'll have Issue 2 pages for sale at SDCC.
Ryan Ottley Gallery Added interior pages Invincible Issue 88 and 11 different Invincible Covers.
Goran Sudzuka Gallery Added interior pages to his new Image Comics book Ghosted Issue 1.
We will also have a limited number of the Splash Page Comic Art & Comic Asylum Retailer Variant Lazarus Issue 1 Comic shown on our website and the 2013 Michael Lark Signed & Numbered Sketchbook. We will be carrying some of the SDCC Diamond Comics Exclusives at our booth at Comic Con.
Stop by and say hi! Mark Hay
Press Release:
WHO ARE THOSE CAPED DEMON-HUNTERS?
SUPERNATURAL'S JARED PADALECKI AND JENSEN ACKLES GET IN TOUCH WITH THEIR INNER SUPER HEROES IN PREPARATION FOR COMIC-CON 2013 WITH THE SIGNATURE WARNER BROS. CAPED BACKPACK
BURBANK, Calif. (July 17, 2013) — Men in … Capes? In preparation for Comic-Con 2013, Supernatural's Jared Padalecki and Jensen Ackles got in touch with the super hero within by modeling Warner Bros. signature caped Comic-Con backpacks. With production on the ninth season of the hit series just beginning and an appearance at 2013 Comic-Con International: San Diego this Sunday, series stars Padalecki and Ackles took a moment to show off the Supernatural bag and more importantly, to road-test its fashion cape accessory!
To get a closer look at the Supernatural bag as well as images of all the Warner Bros. TV series Comic-Con bags, click here: http://bit.ly/12H1gXG

 
Supernatural returns to Hall H at Comic Con on Sunday, July 21, from 10:00–11:00 AM with a special video presentation as well as a cast/producer Q&A. Recurring guest star Mark A. Sheppard joins series stars Padalecki, Ackles and Misha Collins alongside executive producers Jeremy Carver and Robert Singer. Additionally, the cast and executive producers will be signing for fans at the Warner Bros. booth (#4545) afterward at 12:45–1:30 PM.

 
Supernatural returns for its ninth season on October 15, 2013, airing on a new day this fall: Tuesdays at 9/8c on The CW.

 
For continuing info on the Studio's plans at Comic-Con, please visit www.thewb.com/comiccon and follow us on Twitter at @TheWBdotcom (hashtag #WBSDCC).
Keep checking back for more setup images as the day leads into Preview Night! Also, if you are on Flipboard, don't forget to check out our SDCC mag there as well: http://flip.it/5IXc9