Michael Stock, Sina Grace, and Hope Larson sign Penny Dora and The Wishing Box on Wednesday, November 5th at 7:00 PM.
Image Comics' PENNY DORA & THE WISHING BOX – Once upon a time, "Part Time Punks" DJ and writer Michael Stock and artist Sina Grace (BURN THE ORPHANAGE, LI'L DEPRESSED BOY) conjured up a story about the ever-curious Penny Dora and the unexpected gift that arrives on her doorstep in PENNY DORA & THE WISHING BOX. This new fantasy adventure series will begin in November from Image Comics with a special 28-page first issue.
One day, a young girl named Penny Dora discovers a mysterious box on her front doorstep. It is a magic box with the power to grant wishes…but what she's about to unwrap is the darker and creepier meaning behind the old adage, "be careful what you wish for."
Stock cited his daughter for first inspiring him to write about Penny Dora's adventures. "Penny Dora is actually based on a story my daughter Nico wrote when she was 8 years old for her school paper. The first issue is basically an expansion of her original story. S
ince then the story has grown through talks we had in the car on the way to school in the mornings via a playful papa/daughter back and forth game of 'what if.' The cat in the book, Iggy, is based on our cat (also named Iggy, and also a great lover of ham)."
Grace added: "The minute I read Michael's scripts for the series, I was absolutely enchanted by Penny Dora and her world. It's been a dream to breathe life into the adventures of fantastic and charming characters. I can't wait for the world to see!"
PENNY DORA & THE WISHING BOX is an whimsical retelling of the Pandora myth and an all-ages fantasy adventure perfect for fans of Neil Gaiman's Coraline and Ted Naifeh's Courtney Crumrin. Eisner Award winning cartoonist Hope Larson (A Wrinkle In Time, Mercury) provides the alternate cover for the 1st issue and lettering for the series.
Meltdown Comics
7522 Sunset Blvd, Los Angeles, CA 90046
(323) 851-7223
Jeff Kinney appears at Brookline Booksmith on Sunday, November 16th at 4:00 pm to present the latest Diary of a Wimpy Kid: The Long Haul
Greg Heffley and his family hit the road in author-illustrator Jeff Kinney's latest installment of the phenomenal bestselling Diary of a Wimpy Kid series.
This will be a ticketed event for up to 800 people. To make this a fun and safe event, everyone in line will be required to have a ticket (no exceptions!). Tickets are free with the purchase of Diary of a Wimpy Kid: The Long Haul. Each book purchase is good for up to three tickets per family. Nobody will be admitted to the event without a ticket. Tickets will be available on a first come, first served basis.
Brookline Booksmith
279 Harvard Street, Brookline, MA 02446
(617) 566-6660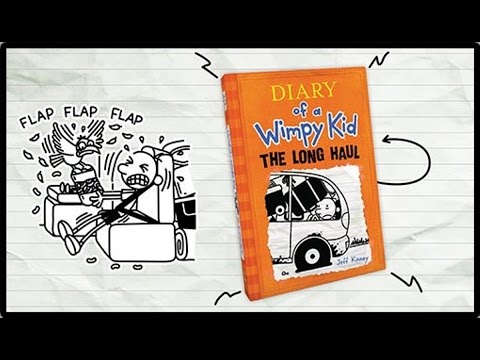 Author, actor and literacy advocate LeVar Burton (Reading Rainbow, Roots, Star Trek: The Next Generation) appear at Barnes & Noble on Friday November 21, 2014 at 7:00 PM to read his new children's book and sign copies. He'll also be hosting a Q&A after the signing.
Special Instructions
This event will be updated with special instructions for reserving your copy of The Rhino Who Swallowed a Storm in the next week. Please check back with the store for instructions.
Barnes & Noble
4001 California Avenue, Bakersfield, CA 93309
661-631-2575
Brennan Lee Mulligan and Molly Ostertag bring their webcomic Strong Female Protagonist in print for the first time to Bergen Street Comicson Friday, November 20th at 7:00 PM!
Bergen Street Comics
470 Bergen Street, Brooklyn, NY 11217
(718) 230-5600
Author Leigh Bardugo appears at the Cambridge Public Library on Monday, November 3rd, 2014 at 6:00 PM to sign the final book in her Grisha series RUIN AND RISING! Porter Square Books will have books available for purchase and autographing at the event.
Cambridge Public Library
449 Broadway, Cambridge, MA 02138
Writer Brian K. Vaughan (Y the Last Man, Ex Machina) appears at Comix Experience on Saturday, November 22, 2014 from 3:00-8:00 pm to celebrate the release of the first SAGA hardcover collection! There will be a THREE ITEM LIMIT on items signed.
While all are welcome, priority line access will be given to those who purchase a hardcover from Comix Experience or Comix Experience Outpost. See link for details; or call 415-863-9258 or email brian@comixexperience.com with any questions.
Comix Experience
305 Divisadero Street, San Francisco, CA 94117
(415) 863-9258
Artist Andy MacDonald appears at Barnes & Noble to sign The Way of Shadows: The Graphic Novel on Saturday November 22, 2014 at 6:00 PM!
Barnes & Noble – Park Slope
267 7th Avenue, Brooklyn, NY 11215
718-832-9066
Andrew Dice Clay appears at Barnes & Noble to sign his new book The Filthy Truth on Sunday November 16, 2014 at noon!
Barnes & Noble – Prudential Center
800 Boylston Street Suite 179, Boston, MA 02199
617-247-6959
Gene Simmons appears at Barnes & Noble to sign his latest book Me, Inc. on Friday November 21, 2014 at 6:00 PM!
About this Author
Known as the fire breathing, blood splitting and larger than life co-founders of hard rock super group KISS, Gene Simmons and Paul Stanley founded the band in the early 1970s. Since then, KISS has gone on to sell over 80 million albums and to perform over 2,000 shows around the world. Currently preparing their new album, the band is still touring and performing today. Gene Simmons also stars in A&E's hit reality show, Family Jewels.
Barnes & Noble – Rainbow Promenade
2191 N Rainbow Blvd., Las Vegas, NV 89108
702-631-1775
Russell Brand appears at Barnes & Noble to sign The Pied Piper of Hamelin on Thursday November 20, 2014 at 7:00 PM!
About this Author
Russell Brand is a comedian, journalist, TV and radio host, and actor. He captivated audiences in Forgetting Sarah Marshall and hosted the 2008 MTV Video Music Awards. He has won numerous awards in Britain, including Time Out (London)'s "Comedian of the Year," "Most Stylish Man" at GQ's Men of the Year Awards, and the Sun's "Shagger of the Year." He is a frequent guest on nighttime television.
Special Instructions
Event space seating will open at 5:00 pm on 4th floor. Priority seating with book purchase.
Barnes & Noble – Union Square
33 East 17th Street, New York, NY 10003
212-253-0810