Brian K. Vaughan, Marcos Martin, and Muntsa Vincente appear at Midtown Comics Downtown on Saturday, December 5, 2015 at 1:00 PM to sign hardcover copies of their sci-fi mystery comic hit, The Private Eye! The Eisner Award-winning digital comic takes place in a future where everyone's secrets were exposed, so each person feels the need to come up with a secret identity. The story will still remain in its original widescreen format in the hardcover collection (which contains issues #1-10).
Purchase of the Private Eye HC is required to attend and everyone is limited to having only two items signed.
Midtown Comics Downtown
64 Fulton Street, New York, New York 10038
(212) 302-8192
Voice actors Rob Paulsen and Maurice LaMarche (Pinky and the Brain) appear on Tuesday December 8, 2015 at 8:00 PM at the Hollywood Improv for a special holiday episode of Talkin' Toons LIVE! Bring an unwrapped toy to donate to Toys for Tots and receive a special gift!
Hollywood Improv
8162 Melrose Ave, Los Angeles, CA 90048
Join Stephen Colbert, host of CBS' The Late Show with Stephen Colbert, for an evening of conversation and fun with director J.J. Abrams (Star Wars: The Force Awakens, Star Trek, Lost) on ​Saturday, November 21 at 8:00 PM​. This event features the pair in a wide-ranging, onstage discussion of their influences, ideas and creative work. See which geek shall inherit the Earth!
Proceeds from this event benefit The Montclair Film Festival, New Jersey's leading film non-profit.
Co-Presented with NJPAC
New Jersey Performing Arts Center
1 Center St, Lodi, New Jersey 07102
(973) 642-8989
Press Release:
Linda Perry and wife Sara Gilbert have teamed up to create a band called Deer Sounds, and under the moniker, the couple will release their first album of children's music.
Linda Perry and Sara Gilbert will perform songs from the CD and sign copies afterwards at Barnes & Noble on Saturday, November 14, 2015 at 2:00 PM.
This is a wristbanded event. A wristband will be issued to customers who purchase "DEER SOUNDS" at Barnes & Noble at The Grove beginning November 14th at 9am.
They will only be signing "DEER SOUNDS"
Barnes & Noble – The Grove
189 The Grove Dr, Los Angeles, CA 90036
(323) 525-0270
Clermont Comic Con Jimmy Dempster and Grace Smith!
Meet Jimmy Dempster from the CW series The Originals and Swamp Murders on the ID Network.
We are proud to announce Grace Smith the lovely and proud mother of Kevin Smith as our guest this year at the Clermont Comic Con. You listen to her on SMODCAST now you can meet her in person.
For more info on Clemont comic con visit the website!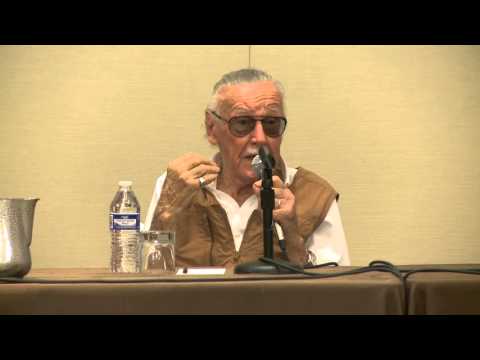 Watch The Man himself Stan Lee speak to a captivated audience at Boston Comic Con 2015 in a panel moderated by comic creator Jimmy Palmiotti and Stan's manager Max Anderson. The event featured a special appearance by Stan's best friend Ken Bald, Guinness World Record holder as the oldest living comic artist, and a phone call from Stan's wife Joanie.
Video courtesy of Ihungerproductions
Bill Nye the Science Guy appears at Brookline Booksmith on Monday, November 16, 2015 at 6:00 PM!
In Unstoppable: Harnessing Science to Change the World, the New York Times bestselling author of Undeniable and former host of "Bill Nye the Science Guy" issues a new challenge to today's generation: to make a cleaner, more efficient, and happier world. As Bill shares his vision, he debunks some of the most persistent myths and misunderstandings about global warming. When you are done reading, you'll be enlightened, empowered and ready to join Bill and change the world.
This is a signing-only event. Purchase of Unstoppable from Brookline Booksmith is required to attend.
Brookline Booksmith
279 Harvard Street, Brookline, MA 02446
(617) 566-6660
Press Release:
The Michigan State University Comics Forum is an annual event that brings together scholars, creators, and fans in order to explore and celebrate the medium of comics, graphic storytelling, and sequential art. This year's event is scheduled to take place February 26-27, 2016 at the Residential College in the Arts and Humanities in Snyder/Phillips Hall on the campus of Michigan State University.
This year, the Forum is proud to announce that Sergio Aragonés will be our Guest of Honor and Keynote Speaker on Friday, February 26, 2016. Aragonés is the most honored cartoonist, having won every major award in the field including the National Cartoonists Society's Reuben Award and the Will Eisner Hall of Fame Award. He is widely known for his contributions to Mad Magazine and his long-running comic book series, Groo the Wanderer. Aragonés recently completed a Groo v. Conan crossover with artist Tom Yeates and continues his more than 50 years of contributions to Mad Magazine.
Comedian Judah Friedlander (30 Rock, Wet Hot American Summer, American Splendor) appears at Anderson's Bookshop on Tuesday, November 24, 2015 at 7:00 PM to sign his new book of cartoons!
EVENT DETAILS
This in-store event is free and open to the public. To join the signing line, please purchase the author's latest book, If the Raindrops United from Anderson's. To purchase your book, please call the Anderson's Naperville location at (630) 355-2665 or order the book online at andersonsbookshop.com.
Anderson's Bookshop
123 W Jefferson Ave, Naperville, IL 60540
(630) 355-2665
Jeremy Sorese, writer of the Steven Universe comic, appears at Mission: Comics & Art on Thursday, December 3, 2015 at 5:00 PM to celebrate the release of NOBROW's newest graphic novel, CURVEBALL.
Mission: Comics & Art
2250 Mission Street, San Francisco, CA 94110
(415) 695-1545