Actor Peter Facinelli (Twilight series and newly announced Maxwell Lord on Supergirl) and co-author Barry Lyga sign their new book After the Red Rain at Barnes & Noble on Thursday August 6, 2015 at 7:00 PM!
Barnes & Noble – The Grove at Farmers Market
189 The Grove Drive Suite K 30, Los Angeles, CA 90036
323-525-0270
Actress Alyssa Milano (Charmed, Who's the Boss?) appears with writers Jackson Lanzing and Collin Kelly at The Comic Bug in Manhattan Beach on Wednesday, July 29, 2015 at 6:00 PM to sign HACKTIVIST!
The Comic Bug
1807 Manhattan Beach Boulevard, Manhattan Beach, CA 90266
(310) 372-6704
Nick Offerman, the star of Parks and Recreation and author of the New York Times bestseller Paddle Your Own Canoe, appears at Chapters on Saturday, July 18th at 2:00 PM. His second book, Gumption: Relighting The Torch Of Freedom With America's Gutsiest Troublemakers, humorously highlights twenty-one figures from America's history. From George Washington to Willie Nelson, he describes why they inspire in him such great meaning.
Event Protocol:
*Line-up will be available on a first-come, first-served basis.
*Individuals must have a purchased copy of Gumption: Relighting The Torch Of Freedom With America's Gutsiest Troublemakers to be in line.
*Proof of purchase required from any Indigo, Chapters, WBB, Indigospirit or Coles location.
*Nick Offerman will personalize copies of his new book, Gumption and will autograph all other books.
*NO memorabilia or additional items will be permitted for the signing.
*Candid photos can be taken from the line-up only. No posed photography or selfies will be permitted while fans are getting their books signed.
Chapters Books
4700 Kingsway, Metropolis at Metrotown, Burnaby, BC V5H 4M1, Canada
+1 604-431-0463
Felicia Day (The Guild, Geek & Sundry) appears at Bookends on Tuesday, August 11th at 7:00 PM! The online entertainment mogul, actress, and "Queen of Geeks" will  sign her new book, You're Never Weird on the Internet (almost). Each person attending must purchase one or more books.
Bookends
211 E. Ridgewood Avenue, Ridgewood, NJ 07450
201-445-0726
Press Release: 
Boston Comic Con is partnering with the Red Sox to host the first ever Boston Comic Con Night at Fenway Park on Thursday, July 30. Fans are invited to watch the Red Sox take on the Chicago White Sox (game time 7:10
p.m.) to kick off Boston Comic Con weekend (July 31 – August 2) at the Seaport World Trade Center. Boston Comic Con Night at Fenway Park will feature a pre-game ceremony with celebrity guests Manu Bennett of the hit TV series "Arrow" and cosplayers BelleChere as Captain Marvel, Bethany Maddock at Batgirl, Brian Anderson as Deathstroke, and Pat Covey as Captain America.
There's a special ticket rate for the Red Sox game for Boston Comic Con guests: Red Sox-BostonComicCon tickets and a pre-game party on the Budweiser Roof Deck in right field from 5:40pm – 7:10pm. All guests of Boston Comic Con who come to the game come dressed in costume will receive a free hot dog during the pre-game party. Details on redemption will be shared with guests who purchase tickets. During the game, there will be live shots of costumed guests on the Jumbotron.
"Boston Comic Con and the Red Sox are a great match. People are passionate about their fandom, whether they are fans of comic books and pop culture or of baseball," said Nick Kanieff, co-founder of Boston Comic Con. "We started as a small show nine years ago and have grown to become New England's premier comic convention. The partnership with the Red Sox further solidifies Boston Comic Con's local focus and our commitment to truly being part of the Boston entertainment and tourism community."
Boston Comic Con is not only drawing interest from the area's extensive comic book fan base, but it is also growing into a destination event that brings thousands of tourists to Boston. During the three-day convention, A-list celebrities from science fiction, fantasy, and horror will participate in panel discussions, Q&As, photo-ops, and autograph signings, alongside comic book creators who are showcasing their work. There are also auctions, cosplay shows and competitions, gaming tournaments, workshop sessions and a film festival.
For up to date information on Boston Comic Con Night at Fenway Park, and all Boston Comic Con events visit www.bostoncomiccon.com and follow on Facebook and Twitter.
About Boston Comic Con
The 2015 Boston Comic Con enters its 8th year with comic industry icon Stan Lee, 92, co- creator of Marvel Comics, leading the celebrity appearances over the three-day convention at the Seaport World Trade Center Friday, July 31 through Sunday, August 2. Other celebrity guests include Billie Piper of "Doctor Who," Hayley Atwell of Marvel's "Agent Carter," Thomas Jane of The Punisher, Robin Lord Taylor of the hit television show "Gotham," Brett Dalton of Marvel's "Agents of S.H.I.E.L.D." Manu Bennett of the hit TV series "Arrow," Elvira, the one and only Mistress of the Dark, Bob Morley of "The 100," Kat Graham of "The Vampire Diaries," and Scott Ian of the heavy metal group Anthrax.
New this year – on Friday, July 31 is an opening kick-off party and "Drink and Draw" where comic book artists are on hand to draw for their fans who are enjoying a beverage. Other events include: 2nd annual Cosplay dinner cruise, an after-party at Laugh Boston, a comic film festival, a comic art auction on Saturday, August 1 with proceeds going to the Mike Wieringo scholarship fund for aspiring comic artists, and the annual Boston Comic Con Cosplay Costume Contest will be held on Sunday, August 2 from 2 pm to 5 pm. Tickets are only being sold online through Boston Comic Con. There will be no tickets purchased at the door.
Be sure to keep coming back for more as we curate the best videos from the 2015 San Diego Comic-Con.
Join Magers & Quinn Booksellers for a talk and reading with Nick Offerman on Saturday, July 25th at 2:00pm at Uptown Church (1219 W. 31st St., Minneapolis – corner of 31st St. & Fremont Ave. S.).
Nick Offerman is the star of the television show Parks and Recreation and author of two books, Paddle Your Own Canoe: One Man's Fundamentals for Delicious Living and his latest, Gumption: Relighting the Torch of Freedom with America's Gutsiest Troublemakers.
**Tickets will be available Monday, July 13.**
Tickets cost $26.95 plus tax, which includes a complimentary signed copy of Gumption. Mr. Offerman will be available to inscribe books after the talk. Ticket purchase is limited to 2 per customer.
After purchasing a ticket, please use your printed confirmation email and a photo I.D. to pick your ticket up in the bookstore until 12:45pm the day of the reading, or at Uptown Church after 1:00pm. Ticket is required for entry and to receive your copy of Gumption. Tickets between the 7:00pm event and 2:00pm event are not interchangeable.
Doors open at 1:00pm. General seating.
As requested by Mr. Offerman, no photography is allowed during the book signing. Only your complimentary copy of Gumption and copies of Paddle Your Own Canoe purchased at the event will be signed.
Press Release:
"BEST. WEEKEND. EVER."
WARNER BROS. TELEVISION TALENT DESCRIBE COMIC-CON IN THREE WORDS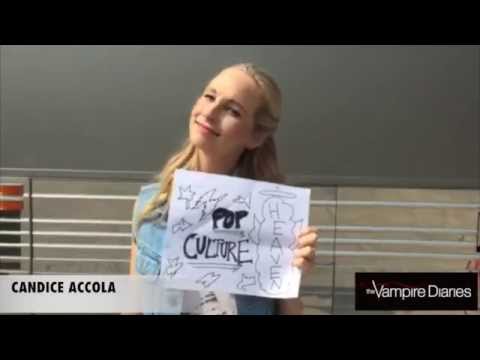 It's finally Comic-Con week and Warner Bros. Television talent are just as excited as the fans! They'll have lots to say at their panels at SDCC, but for now…they're expressing their excitement in just three words.
Left to their own devices with little instruction and only a cell phone for filming, some of TV's biggest stars embraced the challenge: Share your Comic-Con experience in three words.The team at WBTV assembled the fun challenge in one super video.
Stars that participated in the rogue camera challenge include:
Supernatural's Jared Padalecki and Jensen Ackles
The Vampire Diaries' Ian Somerhalder, Paul Wesley, Candice Accola and Michael Malarkey
Mike Tyson Mysteries' Mike Tyson
The Flash's Candice Patton, Carlos Valdes and Danielle Panabaker
Arrow's Katie Cassidy and Paul Blackthorne
The 100's Eliza Taylor
The Originals' Charles Michael Davis
Person of Interest's Kevin Chapman
Gotham's Ben McKenzie, David Mazouz and Camren Bicondova
Blindspot's Jaimie Alexander
and the entire cast of iZOMBIE: Rose McIver, Malcolm Goodwin, Rahul Kohli, Robert Buckley and David Anders.
And feel free to share YOUR three words for Comic-Con on social media! Use #WBSDCC so we won't miss it.
Writer/director Kevin Smith appears at the Atlanta Improv on Sunday, August 9, 2015 at 9:30 PM!
A writer, comedian, podcaster, and film director, KEVIN SMITH has written and directed numerous films, including Clerks, Mallrats, Chasing Amy, Dogma, Jay & Silent Bob Strike Back, Red State, and Tusk; Creator of AMC's Comic Book Men; authored Silent Bob Speaks, Shootin' the Sh*t with Kevin Smith, My Boring-Ass Life and most recently Tough Sh*t: Life Advice from a Fat,Lazy Slob Who Did Good. He can be heard daily at Smodcast.com, a vast network of podcasts.
An Evening with Kevin Smith is a chance to get up close and personal with the man who brought the world these films.
Atlanta Improv Comedy Club
56 E Andrews Dr NW, Atlanta, Georgia 30305
(678) 244-3612
Meet Chris Colfer, star of GLEE, in person at Copperfields Books on Friday, July 17, 2015 at 6:00 PM and get the latest in his Land of Stories series.The Masked Man is on the loose and it's up to Alex and Conner Bailey to stop his secret scheme to use a powerful magic potion that turns every book it touches into a portal and he recruits an army of literature's greatest villains!
Get your ticket (free with book purchase) at the link…
Copperfields Books
140 Kentucky Street, Petaluma, CA 94952