Alan Tudyk, PJ Haarsma, and Shannon Eric Denton sign the comic Spectrum #0 from the web-series Con Man at Earth-2 Comics on Saturday May 7, 2016 from 4:30 PM till 5:30 PM for Free Comic Book Day!
Note: Alan, PJ, and Shannon will only be signing the Free Comic Book Day Spectrum Issue #0. So please refrain from bringing other items to sign to make sure there is time to sign everyone's Spectrum Comic! Thanks!
**UPDATE**
Shea Fontana (DC Superhero Girls Writer), Sterling Gates (Adventures of Supergirl Writer) and Cat Staggs (Adventures of Supergirl, Wonder Woman '77  artist) sign from 11:00 AM till 1:00 PM.
Ryan Benjamin (Suicide Squad New 52 Cover Artist,  Batman Beyond) and Adam Glass (writer Suicide Squad New 52, Rough Riders, Supernatural TV Series) sign from 1:00 till 3:00 PM.
Sebastian Kadelcik and John Bring (Creators of Penguins vs Possums) sign from 2:00 till 4:00 PM.
Earth-2 Comics
15017 Ventura Blvd, Sherman Oaks, CA 91403
(818) 386-9590
Ian Condry (MIT) and Jennifer Fu (Funimation) host a discussion and screening of the anime THE BOY AND THE BEAST at the Massachusetts Institute of Technology in Building 34-101 on Tuesday April 26, 2016 at 7:00 PM! Admission is FREE on open to the public!
Latest feature anime film from award-winning Japanese director Mamoru Hosoda (Summer Wars, Wolf Children)
When Kyuta, a young orphan living on the streets of Shibuya, stumbles into a fantastic world of beasts, he's taken in by Kumatetsu, a gruff, rough-around-the-edges warrior beast who's been searching for the perfect apprentice. Despite their constant bickering, Kyuta and Kumatetsu begin training together and slowly form a bond as surrogate father and son. But when a deep darkness threatens to throw the human and beast worlds into chaos, the strong bond between this unlikely family will be put to ultimate test—a final showdown that will only be won if the two can finally work together using all of their combined strength and courage.
Massachusetts Institute of Technology
50 Vassar Street, Cambridge, MA 02139
Press Release:
Boston Comic Con is excited to announce actor Seth Gilliam as our latest Celebrity Guest! He currently appears on both The Walking Dead as Father Gabriel and Teen Wolf as Dr. Deaton. Previously Seth starred on the acclaimed television series The Wire and Oz, as well as film roles in Starship Troopers, Courage Under Fire, and Still Alice. He will be on hand all three days to meet fans, sign autographs, and take photos.
He joins our previously announced media guests William Shatner, Jenna Coleman, Karen Gillan, Karl Urban, and Vic Mignogna.
Tickets are on-sale now at the link!
About Boston Comic Con:
The Boston Comic Con is a 100% independently run comic book show committed to bringing the biggest and best comic creators to New England. Run by fans for fans, Boston Comic Con is not affiliated with any other convention tour or corporate interests. Hosting over 120,000 square feet of vendors selling comic books, toys, posters, trading cards, and other pop culture memorabilia, this is a destination event for geeks of any stripe. This year's convention will be held Friday August 12th, Saturday August 13th, and Sunday August 14th at the Seaport World Trade Center, 200 Seaport Blvd, Boston, MA 02210. For more information please go to our website at www.bostoncomiccon.com and follow us on Twitter (@BostonComicCon) and Facebook!
Artist Jill Thompson (Scary Godmother, The Sandman) returns to Challengers Comics for a release day signing for the brand new BEASTS OF BURDEN one-shot "WHAT THE CAT DRAGGED IN" on Wednesday, May 4, 2016 from 5:00 till 7:00 PM!
Challengers Comics
1845 N. Western Ave, Chicago, IL 60647
(773) 278-0155
Iconic actor William Shatner appears at Thalia Mara Hall on Wednesday May 4, 2016 at 8:00 PM for a live performance of SHATNER'S WORLD!
Press Release:
In SHATNER'S WORLD…a one man force of nature delivers a larger than life performance complete with his laugh-out-loud humor, signature storytelling and musical selections in his inimitable style.
Through anecdotes, songs, jokes and even some poignant moments, you will experience William Shatner's phenomenal path from classically trained Shakespearean actor to cultural icon, brilliantly creating the larger-than-life and most important character he has ever played, William Shatner.
Tickets available at the link…
NBA legend Shaquille O'Neal appears at Barnes & Noble on Wednesday April 27, 2016 3:30 PM to sign his new children's book Little Shaq Takes a Chance!
This is a two hour event. We will issue tickets to customers on a first come, first served basis for this event beginning at 9:00 AM on Wednesday April 27. You must purchase at least one copy of Little Shaq Takes a Chance to receive a ticket. The author will sign Little Shaq Takes a Chance only. Photos may be taken while in line. Shaq will not pose for photographs. Event details subject to change.
Barnes & Noble – Edgewood Retail District
1217 Caroline Street at Moreland Ave, Atlanta, GA 30307
404-522-0212
Comic creator Sean G. Murphy appears at Newbury Comics' Portland store in the Maine Mall on Saturday, April 30, 2016 from 2:00 PM till 4:00 PM to sign the store's limited edition exclusive cover of Tokyo Ghost Volume 1!
A graduate of SCAD and Massachusetts College of Art in Boston, Sean Gordon Murphy is known for his work on Hellblazer, Joe the Barbarian,Batman/Scarecrow, American Vampire, The Wake, Tokyo Ghost, Chrononauts, made his debut as a writer on Punk Rock Jesus. He was just recently announced as the artist for All-Star Batman.
Newbury Comics – Portland Store
220 Maine Mall Road, Ste 115, South Portland, ME 04106
(207) 774-2117
Alan Tudyk, PJ Haarsma, and Shannon Eric Denton sign the comic Spectrum #0 from the web-series Con Man at Blastoff Comics on Saturday May 7, 2016 from 3:00 PM till 4:00 PM for Free Comic Book Day!
Note: Alan, PJ, and Shannon will only be signing the Free Comic Book Day Spectrum Issue #0. So please refrain from bringing other items to sign to make sure there is time to sign everyone's Spectrum Comic! Thanks!
Blastoff Comics
5118 Lankershim Blvd, North Hollywood, CA 91601
(818) 980-2665
SPOILERS: I do get into spoiler-territory here, so if you haven't seen it yet, you might want to skip this part.
I have to say… I have very mixed feelings about Star Wars: The Force Awakens. I go way back with Star Wars… all the way back to 1977. Because my cousin wanted to see it, our whole family went to our local theater and saw the original. I was hooked. Naturally, I've seen every Star Wars movie since. But… like a lot of fans, I found the prequels a little wanting and felt that they tarnished Star Wars's reputation. I was eager to see what Director J.J. Abrams and the folks at Disney had cooked up to take the bad taste of the prequels out of our mouths. For months as the trailers rolled out, I crossed my fingers and said, "Let it be good… let it be good… let it be good." Having seen it, though, I came away disappointed. While I loved the new characters, especially Daisy Ridley's Rey, I felt like the original characters really got the short end of the stick. All these years later, and either everything is the same or changed for the negative. Han and Leia broken up? Say it ain't so! Stormtroopers running around…still?! Han back to being a smuggler…. really?! After becoming a military leader? And the movie robs us of the chance to see Han, Leia, and Luke all sharing the screen again.
So as far as the older characters go, I almost wish they had just set it farther into the future and just said the originals died happy deaths. Despite all my misgivings, I am still looking forward to Episode VIII. Hopefully, the next movie will be more about charging forward and less about looking back. I want to see the next chapter of Rey, Finn, Poe, and Kylo Ren, and I want to see Luke Skywalker kick some butt!
Although I did not love the new movie, I still jumped at the chance to receive a copy of the Blu-ray Combo Pack to review. Deleted scenes, behind-the-scenes stuff, it's packed with goodies!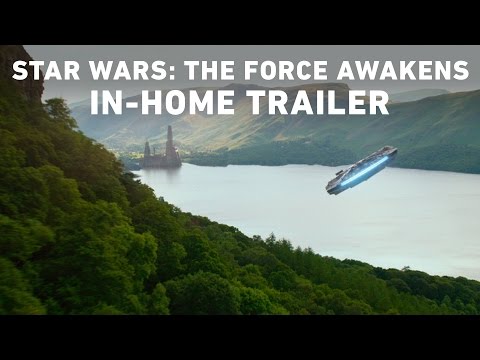 Arriving early on Digital HD April 1, 2016
Bring it home on Blu-ray™ Combo Pack and DVD on April 5, 2016
Including new in-depth bonus offering fans the chance to experience more
BURBANK, Calif. (March 3, 2016)—Star Wars: The Force Awakens shattered box office records upon its debut to become the cinematic event of a generation with over $926 million domestic and $2.05 billion worldwide. As announced this morning by Chairman and Chief Executive Officer Robert A. Iger at The Walt Disney Company's Annual Meeting of Shareholders, the epic movie will be available to own early on Digital HD and Disney Movies Anywhere on April 1. It comes home on Blu-ray Combo Pack and DVD on April 5.
Discover the complete story behind the making of Star Wars: The Force Awakens with in-depth documentary and bonus material that will take fans on an exciting journey behind the scenes.  Secrets will be revealed through extensive footage, never-before-seen deleted scenes, and exclusive interviews with the actors and filmmakers. Bonus features include*:
Secrets of The Force Awakens: A Cinematic Journey – For the first time, discover the complete story behind the making of The Force Awakens, revealed through in-depth footage and exclusive interviews with the actors and filmmakers in this feature documentary.
The Story Awakens: The Table Read – Cast members familiar and new reflect on the memorable day they all first came together to read the movie's script.
Building BB-8 – See how the filmmakers brought the newest droid to the screen, creating an instant fan favorite in the Star Wars universe.
Crafting Creatures – Watch movie magic as the filmmakers bring a cast of new creatures to life.
Blueprint of a Battle: The Snow Fight – Go deeper into the epic, climactic lightsaber battle between Rey and Kylo Ren.
John Williams: The Seventh Symphony – The legendary composer shares personal insights of his work on Star Wars and The Force Awakens.
ILM: The Visual Magic of The Force – An insider's look into the remarkable digital artistry of the movie's visual effects.
Force For Change – Heroes come in all shapes and sizes. See how the Star Wars: Force for Change initiative has united Star Wars fans all over the globe to help others.
Plus Deleted Scenes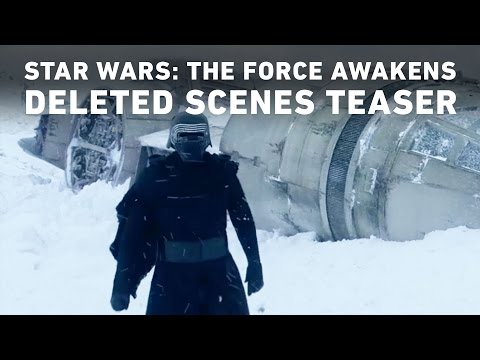 * Digital bonus offerings may vary by retailer
Star Wars: The Force Awakens saw the eagerly anticipated reteaming of original Star Wars stars Harrison Ford, Carrie Fisher, and Mark Hamill, along with Anthony Daniels, the only actor to have been in all seven Star Wars films, and Peter Mayhew. The returning cast was joined by newcomer Daisy Ridley, who beat out fierce competition to take the principal role of Rey; BAFTA Rising Star Award winner John Boyega (Attack the Block, Imperial Dreams) as reluctant stormtrooper Finn; Emmy® nominee Adam Driver (Lincoln, Girls) as the villainous Kylo Ren, and Golden Globe® winner Oscar Isaac (Inside Llewyn Davis, The Bourne Legacy) as Resistance pilot Poe Dameron.
Star Wars: The Force Awakens was directed by J.J. Abrams and written by Lawrence Kasdan & J.J. Abrams and Michael Arndt. Lucasfilm president and eight-time Academy Award® nominee Kathleen Kennedy and J.J. Abrams, along with his longtime producing partner Bryan Burk, are the film's producers.
Having established a musical legacy with his iconic scores for the previous six films in the Star Wars Saga, acclaimed composer John Williams returned to score Star Wars: The Force Awakens, ultimately garnering his 50th Oscar® nomination for it. 
DISC SPECIFICATIONS:
FEATURE RUN TIME:                            Approximately 136 min.
RATING:                                                 PG-13 in U.S.; PG in CE; G in CF
ASPECT RATIO:                                     Blu-ray Feature Film = 2.40:1
DVD Feature Film = 2.40:1  
AUDIO:                                                   Blu-ray = English 7.1 DTS-HDMA, English 2.0 Descriptive Audio, French and Spanish 5.1
Dolby Digital Language Tracks
DVD = English, French and Spanish 5.1 Dolby Digital, English 2.0 Descriptive Audio Language Tracks
LANGUAGES:                                        English, French & Spanish
SUBTITLES:                                            English SDH, French & Spanish
SOCIAL MEDIA:
Facebook: http://www.facebook.com/StarWarsMovies
Twitter: https://twitter.com/StarWars
Website:  http://www.starwars.com/the-force-awakens/
Instagram: http://instagram.com/StarWarsMovies
ABOUT STAR WARS: THE FORCE AWAKENS:
Lucasfilm and visionary director J.J. Abrams join forces to take you back again to a galaxy far, far away as Star Wars returns to the big screen with Star Wars: The Force Awakens. The film stars Harrison Ford, Mark Hamill, Carrie Fisher, Adam Driver, Daisy Ridley, John Boyega, Oscar Isaac, Lupita Nyong'o, Andy Serkis, Domhnall Gleeson, Anthony Daniels, Peter Mayhew and Max Von Sydow. Kathleen Kennedy, J.J. Abrams and Bryan Burk are producing with Tommy Harper and Jason McGatlin serving as executive producers. The screenplay is written by Lawrence Kasdan & J.J. Abrams and Michael Arndt.
ABOUT LUCASFILM LTD.
Lucasfilm Ltd., a wholly-owned subsidiary of The Walt Disney Company, is a global leader in film, television and digital entertainment production. In addition to its motion-picture and television production, the company's activities include visual effects and audio post-production, cutting-edge digital animation, interactive entertainment software, and the management of the global merchandising activities for its entertainment properties including the legendary STAR WARS andINDIANA JONES franchises. Lucasfilm Ltd. is headquartered in northern California.
Lucasfilm, the Lucasfilm logo, STAR WARS and related properties are trademarks and/or copyrights, in the United States and other countries, of Lucasfilm Ltd. and/or its affiliates. © & TM 2015 Lucasfilm Ltd. All rights reserved.
ABOUT DISNEY MOVIES ANYWHERE (DMA):
Disney Movies Anywhere (DMA) is an engaging and family-friendly cloud-based digital movie service that makes it simple to buy your favorite Disney, Pixar, Marvel and Star Wars movies once and watch them anywhere.  With DMA you can explore Disney's library of over 450 eligible digital movies, discover hours of new and exclusive short-form content, and watch your digital movies from the comfort of the living room or across multiple mobile devices.  Using the free DMA apps and website, you can connect your DMA account with participating providers including iTunes, Amazon Video, VUDU, Microsoft Movies and TV and Google Play and unlock access to your eligible movie collections across platforms and devices –  iPhone, iPad, iPod Touch, Apple TV/Airplay, Amazon's Fire tablets, Fire TV and Fire TV Stick, Microsoft Movies and TV service on Windows and Microsoft Xbox devices, Android mobile and tablet devices and Android TV, Chromecast and the Roku®platform.  In addition, you can redeem Digital Copy codes found in Disney, Pixar and Marvel Blu-rays and DVDs, as well as earn Disney Movie Rewards points with every digital purchase.
ABOUT THE WALT DISNEY STUDIOS:
For over 90 years, The Walt Disney Studios has been the foundation on which The Walt Disney Company was built. Today, the Studio brings quality movies, music and stage plays to consumers throughout the world. Feature films are released under the following banners: Disney, including Walt Disney Animation Studios and Pixar Animation Studios; Disneynature; Marvel Studios; Lucasfilm; and Touchstone Pictures, the banner under which live-action films from DreamWorks Studios are distributed. The Disney Music Group encompasses the Walt Disney Records and Hollywood Records labels, as well as Disney Music Publishing. The Disney Theatrical Group produces and licenses live events, including Disney on Broadway, Disney On Ice and Disney Live!.
Alan Tudyk, PJ Haarsma, and Shannon Eric Denton sign the comic Spectrum #0 from the web-series Con Man at Collector's Paradise on Saturday May 7, 2016 from 1:30 PM till 2:30 PM for Free Comic Book Day!
Note: Alan, PJ, and Shannon will only be signing the Free Comic Book Day Spectrum Issue #0. So please refrain from bringing other items to sign to make sure there is time to sign everyone's Spectrum Comic! Thanks!
Collector's Paradise
7131 Winnetka Ave, Winnetka, CA 91306
818-999-9455