Event Details:
Convention Name
Metropolis Comic Con
Convention Website Address
http://www.metrocomiccon.com
This convention will take place:
Start Date (Format mm/dd/yyyy)
01/23/2016
End Date (Format mm/dd/yyyy)
01/24/2016
About This Convention
Metropolis Illinois the home of Superman …
Venue Name and Address
Metro Comic con
103 Front st
Metropolis, il 62960
United States
Map It
Number of Dealer/Exhibitor Tables
70
Projected Attendance
5,000
Please select the Category that best describes the convention
Collectibles
Additional Categories

Comic Books
Gaming
Horror
Science Fiction and Fantasy

Guests
Jerry Lawler, TBA
Writer Greg Pak (Astonishing X-Men, Skaar, Kingsway West) appears for a special event at Midtown Comics Downtown on Wednesday, December 2, 2015 at 7:00 PM to sign the first issue of Totally Awesome Hulk!
Midtown Comics Downtown
64 Fulton Street, New York, New York 10038
(212) 302-8192
BRIAN FROUD signs GOBLINS! at the Forbidden Planet London Megastore on Thursday 3rd December from 6:00 – 7:00 PM!
The bestselling team of artist Brian Froud and scholar Ari Berk have continued their exploration of the goblin realm, with a new and noxious version of the world-famous Goblins. For the uninformed, goblins are those maleficent creatures who cause all manner of havoc in the human realm. Now, thanks largely to Froud's and Berk's continuing carelessness, the viscid and largely nonsensical NEW volume has been unleashed on an unsuspecting public.
Among its pages are new letters of apologies and disclaimers complete with new, never-before-seen goblin art; a list of Gargle's new titles, grants, entitlements, and responsibilities; and, sadly, much more! Also included is an envelope containing a new talisman that is guaranteed to ward off goblins.
Brian Froud is an award-winning illustrator, author, and faery authority. With his wife, Wendy, he has written Brian Froud's Faeries' Tales and Trolls. He is also the author of The World of the Dark Crystal and The Goblins of Labyrinth. He lives in Devon, England.
Forbidden Planet London Megastore
179 Shaftesbury Avenue, London, WC2H 8JR
0207 420 3666
Brian K. Vaughan, Marcos Martin, and Muntsa Vincente appear at Midtown Comics Downtown on Saturday, December 5, 2015 at 1:00 PM to sign hardcover copies of their sci-fi mystery comic hit, The Private Eye! The Eisner Award-winning digital comic takes place in a future where everyone's secrets were exposed, so each person feels the need to come up with a secret identity. The story will still remain in its original widescreen format in the hardcover collection (which contains issues #1-10).
Purchase of the Private Eye HC is required to attend and everyone is limited to having only two items signed.
Midtown Comics Downtown
64 Fulton Street, New York, New York 10038
(212) 302-8192
Voice actors Rob Paulsen and Maurice LaMarche (Pinky and the Brain) appear on Tuesday December 8, 2015 at 8:00 PM at the Hollywood Improv for a special holiday episode of Talkin' Toons LIVE! Bring an unwrapped toy to donate to Toys for Tots and receive a special gift!
Hollywood Improv
8162 Melrose Ave, Los Angeles, CA 90048
Join Stephen Colbert, host of CBS' The Late Show with Stephen Colbert, for an evening of conversation and fun with director J.J. Abrams (Star Wars: The Force Awakens, Star Trek, Lost) on ​Saturday, November 21 at 8:00 PM​. This event features the pair in a wide-ranging, onstage discussion of their influences, ideas and creative work. See which geek shall inherit the Earth!
Proceeds from this event benefit The Montclair Film Festival, New Jersey's leading film non-profit.
Co-Presented with NJPAC
New Jersey Performing Arts Center
1 Center St, Lodi, New Jersey 07102
(973) 642-8989
Actor/writer Ethan Hawke appears at Barnes & Noble on Tuesday, November 17, 2015 at 7:00 PM to sign his new book RULES FOR A KNIGHT!
A knight, fearing he may not return from battle, writes a letter to his children in an attempt to leave a record of all he knows. In a series of ruminations on solitude, humility, forgiveness, honesty, courage, grace, pride, and patience, he draws on the ancient teachings of Eastern and Western philosophy, and on the great spiritual and political writings of our time. His intent: to give his children a compass for a journey they will have to make alone, a short guide to what gives life meaning and beauty.
This is a wristbanded event.
A wristband will be issued to customers who purchase
RULES FOR A KNIGHT at Barnes & Noble at The Grove beginning November 17th at 9am
Limit 1 wristband per book
Barnes & Noble – The Grove
189 The Grove Dr, Los Angeles, CA 90036
(323) 525-0270
Author Leigh Bardugo appears at Barnes & Noble on Tuesday November 17, 2015 at 7:00 PM to sign her new book, Six of Crows.
About this author:
Leigh Bardugo was born in Jerusalem, raised in Los Angeles, and graduated from Yale University. She is fond of glamour, ghouls, and costuming, and gets to indulge all of these fancies in her other life as a makeup artist. She can occasionally be heard singing with her band, Captain Automatic.
Barnes & Noble – Long Gate Shopping Center
4300 Montgomery Road, Ellicott City, MD 21043
410-203-9001
Clermont Comic Con Jimmy Dempster and Grace Smith!
Meet Jimmy Dempster from the CW series The Originals and Swamp Murders on the ID Network.
We are proud to announce Grace Smith the lovely and proud mother of Kevin Smith as our guest this year at the Clermont Comic Con. You listen to her on SMODCAST now you can meet her in person.
For more info on Clemont comic con visit the website!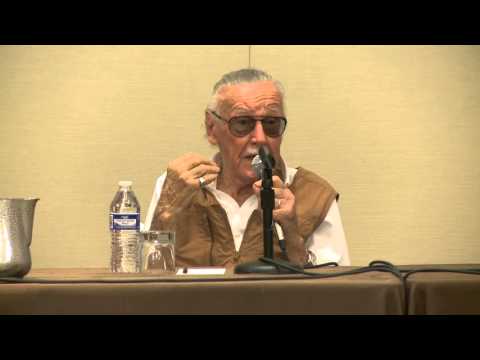 Watch The Man himself Stan Lee speak to a captivated audience at Boston Comic Con 2015 in a panel moderated by comic creator Jimmy Palmiotti and Stan's manager Max Anderson. The event featured a special appearance by Stan's best friend Ken Bald, Guinness World Record holder as the oldest living comic artist, and a phone call from Stan's wife Joanie.
Video courtesy of Ihungerproductions