Press Release:
The next Comic Art Con is just two months away and will be held on Sunday, April 3, 2016 at the Clarion Empire Meadowlands Hotel in Secaucus, NJ. Admission is only $10 and bring your children for no additional charge!
Now in its eighth year, Comic Art Con will once again take place in the hotel's massive 5,000 square foot main ballroom. The room will have 45 tables jammed packed with original comic book art… and only art. No comic books here! Whether you are a big time collector or just getting your feet wet, Comic Art Con is THE can't miss event for original art.
Show hours are 10:00 AM – 4:00 PM so be sure to arrive early and plan on spending the day. Over the upcoming weeks we will be announcing our vendor roster as well as our guest artists so stay tuned! For more information please go to www.comicartshowcase.com or email us directly at dgallo1291@aol.com
Click the link to view photos from a previous show!
TNT's Epic Drama Falling Skies Wages Its Final Battle On Blu-Ray and DVD Feb. 2, 2016
Falling Skies: The Complete Fifth Season and Falling Skies: The Complete Series Debut with Hours of Exclusive Content, a Lapel Pin and Collector's Coin
Growing up, television during the warmer months was a time to catch up on your favorite series. Reruns were everywhere. Then, we were bombarded with reality shows. Thankfully, though, TNT changed the game for everyone by introducing exciting new programs that would have us eagerly anticipating the summer. The network has produced hit after hit over the years, but for me this one was a stand-out. Here's what you need to know about Falling Skies:
"Falling Skies – TNT's epic alien-invasion saga from Amblin Television and executive producer Steven Spielberg – will land on Blu-ray™ and DVD Feb. 2 for the final time. All 10 action-packed episodes of Falling Skies: The Complete Fifth Season will be available as a two-disc Blu-ray™ release and a three-disc DVD set. The fifth season set features farewell interviews with the cast and crew, including Noah Wyle, Colin Cunningham, Doug Jones and more, as well as "A Look Back," an exclusive group interview with Doug Jones, Colin Cunningham and Sarah Carter.
Falling Skies chronicles the extraordinary story about life and survival in the wake of a catastrophic alien invasion that leaves most of the world completely deliberated. Noah Wyle stars as college professor Tom Mason, who becomes an unlikely resistance leader following the alien attack. As season five opens, all breed of beast and mutant are running rampant on earth. The Espheni's power core has been destroyed, and humans are now ready to fight on their terms. And after four years of being tortured, Tom and the 2nd Mass are filled with rage, ready to destroy the enemy in an all-out battle to determine the fate of Earth. Falling Skies: The Complete Fifth Season will be available for the suggested retail price of $49.99 on Blu-Ray and $39.99 on DVD."
We watched Falling Skies from the premiere episode and never missed a week. For a television show, I was always impressed with the visual effects which were comparable to those of full-length feature films. Though, I admit that every season had at least one lull point for me in which things moved a bit slow, overall Falling Skies maintained a steady pace and nice balance between action and suspense. There were a few nods to alien invasion films of the past, but I suppose the saying 'imitation is the sincerest form of flattery' holds some truth.
Wyle portrays the everyman-turned-soldier Tom with the sort of passion you'd expect from a parent protecting his children. The supporting cast of recognizable character actors are suitably put through the wringer both physically and emotionally. But, if season five's stand-out belongs to John Pope, played to psychotic perfection by Colin Cunningham. Pope is Tom's antagonist from the very start, sometimes more so than the actual aliens. Fearing humanity is a mainstay of dystopian and apocalyptic stories, don't you think? Throughout the series we witness Pope transform from bad to good and back again. Desperation and loss of hope allow Cunningham to shine in this role. I was actually disappointed with how quickly the writers wrapped up the final season, as I could have watched Pope's journey continue longer.
Falling Skies is a top notch sci-fi adventure for all to enjoy!
Here are some clips from their WonderCon panel: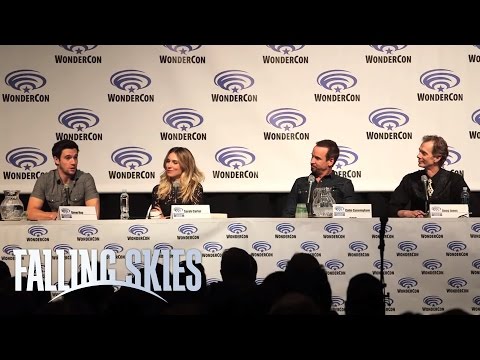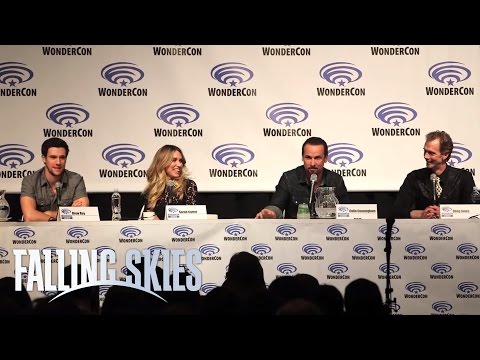 "Since premiering as basic cable's #1 new series of 2011, Falling Skies has ranked as one of basic cable's Top 15 original dramas with total viewers and key adult demos. In its fifth season, more than 12.6 million people tuned in to watch the first six episodes, and the show ranked among basic cable's Top 5 programs with key adult and male demos."
Falling Skies is executive-produced by Steven Spielberg and Amblin Television heads Justin Falvey and Darryl Frank, along with David Eick.
For fans looking to have the entire series in one complete set, the Falling Skies: The Complete Series 10-disc Blu-ray and 15-disc DVD box set will feature the entire 52-episode series run. In addition, the box set will package hours of bonus content including behind-the-scenes features, commentaries, character interviews and "Inside the Episodes," plus WonderCon and Comic-Con 2014 panel features. Both the Blu-ray and DVD release of the complete series include a special collector's coin on-pack, and the Blu-ray also features an exclusive lapel pin. Falling Skies: The Complete Series will be available for the suggested price of $139.99 on Blu-ray and $129.98 on DVD.
Falling Skies: The Complete Fifth Season Basics
Street Date: February 2, 2016
Feature Running Time: 440 minutes
SRP for Two-Disc Blu-ray Set: $49.99
SRP for Three-Disc DVD Set: $39.98
Audio: English
Rating: TV-14-DLSV
Blu-ray UPC Code: 883929523924
Blu-ray Catalog #: 1000585785
DVD UPC Code: 883929523931
DVD Catalog #: 1000585786
Falling Skies: The Complete Series Basics
Street Date: February 2, 2016
Feature Running Time: 2,228 minutes
SRP for Ten-Disc Blu-ray Set: $139.99
SRP for Fifteen-Disc DVD Set: $129.98
Audio: English
Rating: TV-14-DLSV
Blu-ray UPC Code: 883929524174
Blu-ray Catalog #: 1000586192
DVD UPC Code: 883929523962
DVD Catalog #: 1000585793
About TNT
TNT is basic cable's #1 network. Seen across multiple platforms in 94 million households, TNT is home to such original drama series as The Last Ship, The Librarians, Major Crimes, Murder in the First, Rizzoli & Isles and the upcoming Animal Kingdom, Good Behavior and The Alienist. TNT also features the unscripted investigation series Cold Justice and Cold Justice: Sex Crimes. In addition, TNT is the cable home to popular dramas like Castle, Bones, Supernatural and Grimm; primetime specials, such as the Screen Actors Guild Awards®, the Live Nation Music Awards and the iHeartRadio Music Awards; and championship sports coverage, including the NBA and the NCAA Division I Men's Basketball Championship.
TNT is part of Turner, a Time Warner company. Turner creates and programs branded news; entertainment; kids and young adult; and sports media environments on television and other platforms for consumers around the world.
Press Release:
Broadway Books is thrilled to welcome back Portland's grand dame of the literary world, Ursula K. Le Guin, who will read from her newest collection of poetry, Late in the Day: Poems 2010-2014, published by PM Press. The reading will take place at 7 pm on Wednesday, February 24th.
Le Guin is a remarkably prolific writer, even given the fact that she is in her 80s. She has published twenty-one novels (including her 1969 breakthrough novel, The Left Hand of Darkness), eleven volumes of short stories (including the 2014 Oregon Book Award winner The Unreal and the Real, Volumes 1 and 2), four collections of essays, twelve books for children, six volumes of poetry and four of translation, and Steering the Craft: A Twenty-First-Century Guide to Sailing the Sea of Story, a guide to the essentials of the writer's craft – of which she knows a thing or two.
Le Guin was born in Berkeley and grew up in a family of academics and writers. She moved to Portland in 1958 when her husband, the historian Charles A. Le Guin, took a position at Portland State University, and they raised their three children here.
She has won numerous awards, including the Hugo, Locus, and Nebula Awards, the PEN-Malamud, the National Book Award for Young People's Literature, the Oregon Book Award, and the Library of Congress Living Legends Award. In 2014 she was presented the National Book Foundation Medal for Distinguished Contribution to American Letters, where she took the world by storm with her bold truth-telling about the over-commercialization of literature: "I don't want to watch American literature get sold down the river." The video of Le Guin's speech became an internet sensation, making her for a time, as she likes to put it, "as popular as Maru the cat." [Good news: that speech is reprinted at the end of her new collection of poems.]
Her new collection, , seeks meaning in an ever-connected world, attempting to give voice to objects that may not speak a human language but communicate with us nevertheless.
Broadway Books
1714 Broadway Blvd, Portland, Oregon 97232
(503) 284-1726
Writer/director Kevin Smith appears at the Stress Factory Comedy Club on Sunday, May 1, 2016 at 7:00 PM!
A writer, comedian, podcaster, and film director, KEVIN SMITH has written and directed numerous films, including Clerks, Mallrats, Chasing Amy, Dogma, Jay & Silent Bob Strike Back, Red State, Tusk, and Yoga Hosers; Creator of AMC's Comic Book Men; authored Silent Bob Speaks, Shootin' the Sh*t with Kevin Smith, My Boring-Ass Life and Tough Sh*t: Life Advice from a Fat, Lazy Slob Who Did Good. He can be heard daily at Smodcast.com, a vast network of podcasts.
An Evening with Kevin Smith is a chance to get up close and personal with the man who brought the world these films.
Stress Factory Comedy Club
90 Church St, New Brunswick, NJ 8901
732-545-4242
Press Release:
The Society of Illustrators is proud to share this year's stellar list of Guests of Honor for the MoCCA Arts Festival in New York City. They are:
* Cece Bell, author of the phenomenal middle grade graphic memoir El Deafo (winner of the Newberry Honor and an Eisner Award)
* R.O. Blechman, Emmy Award-winning illustrator, animator, cartoonist and author.
* Phoebe Gloeckner, whose subversive classic The Diary of a Teenage Girl was recently adapted into a critically acclaimed film of the same name.
* Sonny Liew, whose graphic novel The Art of Charlie Chan Hock Chye was censured by the National Arts Council of Singapore and is forthcoming from Pantheon Books.
* Rebecca Sugar, creator of the quietly radical animated cartoon series Steven Universe.
This diverse group of artists exemplifies the limitless aesthetic and social power of comics and cartooning. The MoCCA Arts Festival will take place on April 2 – 3rd from 11:00AM – 6:00PM at our brand new location at Metropolitan West (636 W. 46th St.) with programming mere steps away at Ink48 (653 11th Ave.).
Price of admission is $5 per day and will grant attendees access to the Fest including the Exhibitors Hall, on-site Gallery space, and programming. Tickets will be available for purchase at the door. Children under twelve are free. Further scheduling information regarding our Guests of Honor will be available in future announcements.
ABOUT THE GUESTS OF HONOR
Cece Bell
Children's book author and illustrator Cece Bell attended the College of William and Mary where she studied Art History, and later attended Kent State University, earning a graduate degree in illustration and design. Her colorful, fun and quirky drawings can be found in her best-selling books Rabbit & Robot: The Sleepover, Crankee Doodle, Bug Patrol, Itty Bitty, Bee-Wigged, and the Sock Monkey series. In 2015, Bell received the Newbery Medal Honor for her graphic novel El Deafo, a story based on her own experiences growing up deaf.
R.O. Blechman
R.O. Blechman is a multiple award-winning and influential animator, illustrator, children's book author, graphic novelist and editorial cartoonist. His many books include the groundbreaking 1953 graphic novel The Juggler of Our Lady and the forthcoming Amadeo & Maladeo: A Musical Duet. His work in animation includes The Soldier's Tale and unforgettable advertisements for products like Alka Seltzer. He has received multiple recognitions including a Lifetime Achievement Award from The National Cartoonists Society in 2011, was inducted into the Society of Illustrators' Hall of Fame in 2012. His work has been shown at The Norman Rockwell Museum, The School of Visual Arts, and MoMA.
Phoebe Gloeckner
Phoebe Gloeckner began cartooning after moving to San Francisco in the 1970s, and was greatly influenced by the underground comix movement led by artists including Robert Crumb, Aline Kominksy, Bill Griffith, Diane Noomin, and Terry Zwigoff. Her early work appeared in anthologies including Wimmen's Comix, Weirdo, and Twisted Sisters. Both her 1998 collection A Child's Life and Other Stories and the 2002 novel The Diary of a Teenage Girl: An Account in Words and Pictures received notable recognition as well as controversy for its honest portrayal of teenage sexuality with themes of drug use and childhood traumas. The book has been adapted into a theatrical production and a critically acclaimed feature film of the same name. She is the recipient of the 2000 Inkpot Award, received the Guggenheim Fellowship in 2008, and is currently the Faculty Fellow at the University of Michigan Institute for the Humanities.
Sonny Liew
Sonny Liew is a comics artist, painter, and illustrator whose work includes the New York Times bestseller The Shadow Hero (with Gene Yang), Doctor Fate (with Paul Levitz), Malinky Robot and titles for Marvel Comics, DC Vertigo, and Image Comics. He has been nominated for multiple Eisner Awards for his collaborations on The Shadow Hero, Wonderland, and Liquid City, a multivolume comics anthology featuring creators from Southeast Asia. He lives and works in Singapore.
Rebecca Sugar
Animator, composer and director Rebecca Sugar's groundbreaking career started as a writer and storyboard artist on the animated television series Adventure Time. She later went on to create the Cartoon Network series Steven Universe, and became the first woman to independently create a series for that network. She has received numerous Emmy and Annie Award nominations for her work on both series.
About the Society of Illustrators and the Museum of Comic and Cartoon Art (MoCCA)
Founded in 1901, the Society of Illustrators is the oldest nonprofit organization dedicated to the art of illustration in America. Notable Society members have been N.C. Wyeth, Rube Goldberg, and Norman Rockwell, among many others. Our Museum of Illustration was established in 1981. We offer year-round themed exhibits, art education programs and annual juried competitions. Our Permanent Collection houses 2,500 pieces that are cataloged for scholarly use and displayed periodically. In 2012, we created the MoCCA Gallery with a focus on curated exhibits of comic and cartoon art.
The MoCCA Arts Festival is a 2-day multimedia event, Manhattan's largest independent comics, cartoon and animation festival, drawing over 7,000 attendees each year. With 400 exhibiting artists displaying their work, award-winning honorees speaking about their careers and artistic processes and other featured artists conducting workshops, lectures and film screenings, our Festival mission accelerates the advancement of the Society's broader mission to serve as Manhattan's singular cultural institution promoting all genres of illustration through exhibitions, programs and art education.
William Shatner appears at Barnes & Noble in Union Square on Monday February 15, 2016 at 7:00 PM to sign his new memoir Leonard: My Fifty-Year Friendship With a Remarkable Man.
Over the course of half a century, Shatner and Nimoy saw each other through personal and professional highs and lows. In this powerfully emotional book, Shatner tells the story of a man who was his friend for five decades, recounting anecdotes and untold stories of their lives on and off set, as well as gathering stories from others who knew Nimoy well, to present a full picture of a rich life.
Special Instructions
Must provide proof of purchase from this Barnes & Noble retail location or BN.com to receive a wristband. A limited amount of wristbands will be distributed beginning at 9:00AM on the day of the event. No memorabilia. More information coming soon.
Barnes & Noble – Union Square
33 East 17th Street, New York, NY 10003
212-253-0810
Author Matt Mikalatos appears at Flying Color Comics on Saturday, February 13, 2016 at 1:00 pm to sign SKY LANTERN!
Flying Colors Comics
2980 Treat Blvd (at Oak Grove Rd), Concord, CA 94518
(925) 825-5410
Writer Chris Sebela, whose works include the two-time Eisner nominee HIGH CRIMES, DEAD LETTERS and WE(L)COME BACK — and books like ESCAPE FROM NEW YORK, GHOST and FIRE & STONE: ALIEN VS PREDATOR, appears at Gabi's Olympic Cards & Comics on Wednesday, February 10, 2016 for a signing from noon to 2:00 PM!
Gabi's Olympic Cards & Comics
4230 Pacific Ave SE, Lacey, WA 98503
(360) 459-7721
Writer Joe Kelly appears at Comic Book Jones on Wednesday February 10th from 3:30 till 7:00 PM! It has been a few years since Joe has been to CBJ. Right now he is writing Spider-Man/Deadpool. The day of the signing is when the 2nd printing to #1 and issue #2 come out!
Some other great books that Joe has written are: Big Hero 6, I Kill Giants, Four Eyes, JLA, Amazing Spider-Man, Ben 10, Deadpool, Bad Dog, Action Comics, Green Lantern: Legacy, etc.
Comic Book Jones
2220 Forest Avenue, Staten Island, NY 10303-1700
781-448-1234
Press Release:
Come hear the concept artists of Star Wars: The Force Awakens share stories from behind the scenes and see their development work for the movie at Gallery Nucleus on Saturday February 20, 2016. Bring your questions for the Q&A session and meet the artists one-on-one as they sign copies of the Art of Force Awakens!
Featured Artists:
Ryan Church – Concept Artist
James Clyne – Concept Artist
…more to be announced
Event Schedule:
2:00 – 3:00 pm Panel Presentation
3:00 – 3:30 pm Q&A moderated by Ben Zhu
4:00 – 5:00 pm Signing
5:00 pm Raffle Giveaway
Front Row VIP Reserved Seats available for $20 (does not guarantee availability of book for "seats only" option).
Guaranteed seat in the first 2 rows, only 20 seats available.
No need to wait in line or get to the event early just to get a good seat.
Comes with a free bottle of water.
Guaranteed first in line during the artist signing time.
Gallery Nucleus
210 East Main Street, Alhambra, CA 91801
626.458.7477