Press Release:
Gallery Nucleus and Square Enix are proud to invite you to the North American release of FINAL FANTASY X/X-2 HD Remaster, a dual console high-definition launch of the FFX series in one wistful collection commemorating its 10 year anniversary. Welcoming two of the games' creators on opening night, this launch event also boasts over 50 works of development artwork. Select artworks will be available through an online art auction benefiting those immediately affected by Typhoon Haiyan. In addition to the new releases, fans can also shop the Final Fantasy X Pop-Up Shop featuring PLAY ARTS KAI Tidus and Yuna action figures and much more!
Be the first to own the game days before anyone else! Come early to be sure to get your game signed! Chairs are permitted, but tents are prohibited.
OPENING NIGHT HIGHLIGHTS:
-Free admission includes raffle tickets for a chance to win prizes
-First 300 attendees receive an exclusive FFX art print
-Meet Producer Yoshinori Kitase and Art Director Yusuke Naora as they sign the first 200 games sold (signing at 3pm & 5pm)*
OPENING NIGHT ACTIVITES:
-Themed photo booth
-Enter for a chance to win a framed art print by voting on the most memorable scenes
-Write a personal message to the FFX development team
-Demo the new releases
EXHIBITION / AUCTION FEATURES
-Artwork will be on display until March 26.
-All sales of auctioned artwork will benefit the Hurricane Haiyan disaster relief effort.
-Select pieces from the exhibit will be available for auction online.
more details to be announced…
GAME FEATURES:
-Remastered HD versions of FINAL FANTASY X and FINAL FANTASY X-2
-Includes the International versions of both games, featuring 20 hours of bonus gameplay never released in North America
-Bonus Audio Drama that continues the story
-Cross save functionality between PlayStation®3 and PS Vita versions
For the latest news and updates, visit the official Facebook page…
#listentomystory
© 2001-2004, 2013 ,2014 SQUARE ENIX CO., LTD. All Rights Reserved.
CHARACTER DESIGN: TETSUYA NOMURA
FINAL FANTASY, SQUARE ENIX and the Square Enix logo are registered trademarks or trademarks of the Square Enix Group.
Gallery Nucleus
210 East Main Street, Alhambra, CA 91801
Press Release:
Anime Boston is proud two announce two Japanese Guests of Honor today: Screenwriter Dai Sato and seiyuu Yuu Asagawa!
Dai Sato started his career as a TV script writer/program planner and a lyricist at the age of 19, and later ventured into the video game and music industries. Today, he is first and foremost an animation scriptwriter, with side projects creating scripts and concepts for various media. In 2007 he created Storyriders Inc., Ltd. of which he is the president and CEO.
As scriptwriter, his credits include Eternal Family, Cowboy Bebop, Ghost in the Shell -Stand Alone Complex,  Eternal Family, Cowboy Bebop, Ghost in the Shell  -Eureka Seven, Ergo Proxy, Freedom, Eden of the East, and Space?Dandy
Yuu Asakawa is a Japanese seiyuu (or voice actress). Yuu is the voice of Crypton Future Media's Vocaloid, Megurine Luka, providing all her vocal samples. Yuu is also the co-host of the Internet web show Otaku Verse Zero, alongside Otaku USA editor-in-chief Patrick Macias.
A talented veteran voice actress, Yuu has been performing for over seventeen years for some of the most popular anime and video games. Among her many roles in anime are Motoko Aoyama from Love Hina, Sakaki from Azumanga Daioh, Rider from Fate/stay night, Yuuki Mitani from Hikaru no Go, and Jura Basil Elden from Vandread. Yuu's video games roles include Lebreau from the Final Fantasy XIII trilogy, Eime in Baten Kaitos, Nel Zelpher in Star Ocean: Till the End of Time, and various characters for the Super Robot Wars franchise of games.
About Anime Boston:
Anime Boston is an annual three-day Japanese animation convention held in Boston, Mass. Anime Boston 2014 is scheduled for Friday, March 21 through Sunday, March 23 at the Hynes Convention Center and Sheraton Boston Hotel. More information about Anime Boston can be found at www.animeboston.com.
About New England Anime Society:
The New England Anime Society was founded in 2001. Based in Massachusetts, The New England Anime Society, Inc. is an organization dedicated to furthering public education and understanding of the Japanese language and culture through visual and written media. More information about The New England Anime Society is available at www.neanime.org.
Mike Mignola appears at Meltdown Comics on Saturday March 22nd at 2:00 pm to celebrate the twentieth anniversary of HELLBOY!
Press Release:
March 2014 marks the twentieth anniversary of Mike Mignola's career-defining release of Hellboy: Seed of Destruction #1. After the character's somewhat humble beginnings as an eight-page feature in Dark Horse's San Diego Comic Con Comics special, Seed of Destruction would begin the long life of the beloved "beast of the apocalypse."
To celebrate, Dark Horse Comics is proclaiming March 22, 2014 as "Hellboy Day," with events happening in comic shops around the country! Dark Horse is inviting our retail partners to celebrate with us, by offering up exclusive promotional materials, as well as ordering discounts on all Hellboy and BPRD backlist titles.
Additionally, Dark Horse will produce an all-new sampler comic featuring two classic Mignola tales: "The Ghoul" and "Another Day at The Office," as well as two new stories by Mignola, Fabio Moon, and R. Sikoryak!
Dark Horse is also pleased to announce that Meltdown Comics and Collectibles in West Hollywood, CA will be hosting Mike Mignola on March 22! Look for more details to come on the event.
Meltdown Comics
7522 Sunset Blvd, Los Angeles, CA 90046
Director Gareth Edwards signs at Forbidden Planet on Friday 28th February at the Forbidden Planet London Megastore from 6:00 till 7:00 pm!
Press Release:
Forbidden Planet in association with Empire Magazine are delighted to welcome Godzilla director GARETH EDWARDS, signing copies of Empire to celebrate the magazine's exclusive cover reveal of Godzilla, on Friday 28th February at the Forbidden Planet London Megastore from 6-7pm.
In Summer 2014, the world's most revered monster is reborn as Warner Bros. Pictures and Legendary Pictures unleash the epic action adventure Godzilla.
From visionary new director Gareth Edwards ("Monsters") comes a powerful story of human courage and reconciliation in the face of titanic forces of nature, when the awe-inspiring Godzilla rises to restore balance as humanity stands defenceless. The film stars Aaron Taylor-Johnson, Ken Watanabe, Elizabeth Olsen, Juliette Binoche and Sally Hawkins, with David Strathairn and Bryan Cranston. Edwards directs from a screenplay by Max Borenstein, story by David Callaham, based on the character "Godzilla" owned and created by TOHO CO., LTD. Thomas Tull and Jon Jashni are producing with Mary Parent and Brian Rogers. Patricia Whitcher and Alex Garcia are serving as executive producers, alongside Yoshimitsu Banno and Kenji Okuhira.
Forbidden Planet London Megastore
179  Shaftesbury Avenue, London, WC2H 8JR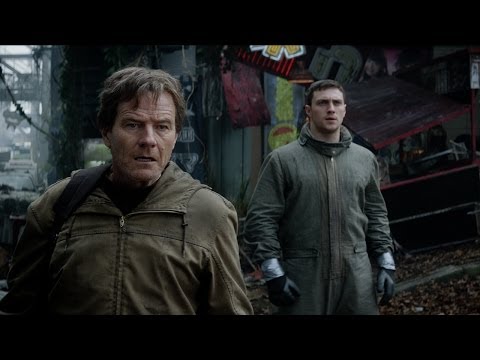 Press Release:
LOS ANGELES COMIC BOOK AND SCIENCE FICTION CONVENTION PRESENTS
JAIMIE ALEXANDER (THOR: THE DARK WORLD)
J. AUGUST RICHARDS (MARVEL'S AGENTS OF S.H.I.E.L.D.)
MARCH 16, 2014
Los Angeles, CA-February 20, 2014-The LOS ANGELES COMIC BOOK AND SCIENCE FICTION CONVENTION presents JAIMIE ALEXANDER, the "Lady Sif" in MARVEL'S THOR and THOR: THE DARK WORLD Movies and J. AUGUST RICHARDS who stars as "Mike Peterson/Deathlok" on the ABC-TV Series MARVEL'S AGENTS OF S.H.I.E.L.D. among the Special Guests appearing at the show being held on SUNDAY, MARCH 16, 2014.
JAIMIE ALEXANDER stars as Lady Sif in MARVEL'S THOR and THOR: THE DARK WORLD Movies and reprises this role in a special episode of MARVEL'S AGENTS OF S.H.I.E.L.D. airing on ABC-TV during March. JAIMIE ALEXANDER also starred as Jessi in the ABC Science Fiction series Kyle XY and had a memorable arc on Nurse Jackie. She next stars for Ryan Murphy in his HBO drama series, OPEN. JAIMIE recently starred with Arnold Schwarzenegger in the movie The Last Stand, and next appears with Amber Heard and Billy Bob Thornton in LONDON FIELDS. JAIMIE ALEXANDER will be signing autographs in this one hour appearance from 12:00 P.M.-1:00 P.M. There's a charge for each autograph but it includes a photo of JAIMIE ALEXANDER as LADY SIF (any other items are subject to approval).
J. AUGUST RICHARDS is known for starring as Vampire Hunter Charles Gunn in Joss Whedon's Angel TV Series for four seasons. J. AUGUST RICHARDS went on to guest star in several series such as The Mentalist, Warehouse 13, The 4400, CSI: Miami, Arrow and was a regular on Raising the Bar as Marcus McGrath. J. AUGUST RICHARDS is now a regular on MARVEL'S AGENTS OF S.H.I.E.L.D. and it's recently been revealed that his character is DEATHLOK, which adds a superhero element to this series. J. AUGUST RICHARDS will appear from 2:00 P.M.-3:00 P.M. to sign autographs (there is a charge but it includes choice of photo).
JOHN KRICFALUSI (also known as JOHN K) is the creator of REN AND STIMPY and THE RIPPING FRIENDS animated series, and the founder of Spumco Animation Studio. JOHN K is currently working with Miley Cyrus as artistic director for her Bangerz tour. JOHN K will be doing caricature and character sketches and signing his new Spumco Hardcover book from 10:00 A.M.-5:00 P.M.
LISA LORING is known for her role as Wednesday Addams in the Classic 1964-1966 ABC-TV Series THE ADDAMS FAMILY. 2014 is the 50th Anniversary of THE ADDAMS FAMILY so come visit LISA on this special Anniversary where she will be signing autographs from 11:00 A.M.-4:00 P.M. There's a charge for each autograph but it includes a choice of photo. The Convention will be posting some rare behind the scenes photos from THE ADDAMS FAMILY at the Convention facebook page at www.facebook.com/comicbookscifi leading up to the show date.
RUBEN PROCOPIO is one of the Artists for DC Comics BATMAN '66 which continues the adventures of the Adam West and Burt Ward Batman TV series. BATMAN '66 #8 (release date late February) is an all interior art by RUBEN PROCOPIO issue as he draws two stories for this issue featuring King Tut and Shane (20 pages each). RUBEN worked for Walt Disney's Animation Department for 25 years on such features as The Little Mermaid, Beauty and the Beast and The Lion King. RUBEN founded Masked Avenger Studios to expand his sculpting, design and comic book illustration services to a wider array of clients. RUBEN will take sketch commissions at the Convention from 12:00 P.M.-5:00 P.M.
ROGER CRAIG SMITH is the Voice Actor behind CAPTAIN AMERICA in Marvel's Avengers Assemble animated series, BRUCE WAYNE/BATMAN in the Batman: Arkham Origins Video Game, and SONIC THE HEDGEHOG in Sonic Boom TV Series and Video Games such as Sonic Lost World, Sonic Generations, Sonic Free Riders, Sonic Colors and many others. ROGER'S other voice roles include starring as Forge/Hellion/Kamal in Wolverine and the X-Men, Duke/Lift Ticket in G.I. Joe: The Rise of Cobra Video Game, Chris Redfield in Resident Evil Video Game, Ezio Auditore da Firenze in Assassin's Creed Video Game and Thomas on the Cartoon Network's Regular Show. ROGER has also done many anime related voices such as Keiichi Gotoh in Patlabor: The Movie, Raiga Kurosuki/Idate Morino/Kota in Naruto, Shinji Hirako/Ryusei Kenzaki/Noba in Bleach. ROGER signs autographs from 11:00 A.M.-4:00 P.M. There's a charge for each autograph but it includes a choice of photo.
OLIVIA HACK starred as CINDY BRADY in the 1995 Movie A Very Brady Sequel, as PICARD'S DAUGHTER in Star Trek: Generations, and as TANA SCHRICK in the Gilmore Girls TV Series. OLIVIA has also done Voice Acting portraying KATOONI in Star Wars: The Clone Wars, MAO/IRENE in Blood+, TY LEE in Avatar: The Last Airbender, CHLOE in Bratz: Go To Paris The Movie, and the voice of CINDY BRADY in Family Guy. OLIVIA signs autographs from 11:00 A.M.-4:00 P.M. There's a charge for each autograph but it includes a choice of photo.
The LOS ANGELES COMIC BOOK AND SCIENCE FICTION CONVENTION will take place SUNDAY, MARCH 16, 2014 at the Shrine Auditorium Expo Center, 700 West 32nd Street, in Los Angeles, across the street from USC College. Show Hours are 10:00 A.M.-5:00 P.M. Regular Admission is only $10.00, five years and under are free. Early Admission is $12.00. The Dealers Room features over one hundred tables full of Old and New Comic Books, Toys, Action Figures, Trading Cards, Trade Paperbacks, Graphic Novels, DVDs, Movie Memorabilia and many other collectibles! Check www.comicbookscifi.com and www.facebook.com/comicbookscifi for more information!
Event Details:
Convention Name

DALLAS COMIC BOOK SHOW – Saturday April 19th w/ Delbo, Raney, Lark, Hanna, & Kristensen

Convention Website Address
http://comicbooksdallas.com
This convention will take place:
Date (Format mm/dd/yyyy)

04/19/2014

About This Convention
Great guests, cosplay, and toys at the next North Texas Comic Book Shows event in Dallas.
Comic book guests include:
Silver age artist Jose Delbo.
Michael Lark Image Comics artist on the hot new title Lazarus.
Todd the Ugliest Kid on Earth writer Ken Kristensen.
Scott Hanna one of the hardest working inkers in the business.
Tom Raney noted artist on titles including the X-Men, Warlock & The Infinity Watch, and now HARDcorps and Bloodshot.
Samantha Newark, the voice of Jem in the cult popular TV series Jem & The Holograms. Samantha also worked on The Transformers cartoon.
Cosplay special guests Marie Doll and Taffeta Darling.
The event will be held Saturday April 19th, 2014 (Easter Weekend).
Admission is just $10. Kids 11 and under are free.
Event location: Doubletree Hotel Dallas Market Center
2015 Market Center Blvd., just off I-35 near Medieval Times.
Event hours: 9:30 am till 5 pm.
There will be over 60 dealers at the event offering everything from silver age comics to vintage Star Wars toys. Mark this comic con in Dallas on your calendar and make sure to make it out!
Venue Name and Address
Doubletree Hotel Dallas Market Center
2015 Market Center Blvd.
Dallas, Texas 75207
United States
Map It
Number of Dealer/Exhibitor Tables

62

Projected Attendance

500

Please select the Category that best describes the convention

Comic Books

Additional Categories

Science Fiction and Fantasy
Collectibles

Guests

Michael Lark,Tom Raney, Scott Hanna, Jose Delbo, Ken Kristensen, Samantha Newark, Marie Doll, Taffeta Darling
Brian Posehn signs at Austin Books & Comics on Saturday, March 1, 2014 from noon until 2:00 pm.
Press Release:
Meet the actor, comedian, and writer of Marvel Comics' Deadpool at Austin Books & Comics!
Saturday, March 1st from Noon to 2pm, Brian Posehn will be at Austin Books signing his Deadpool comics and graphic novels! We're thrilled to have the comedian join us for an early afternoon of fun worthy of the Merc with a Mouth!
Due to time restraints, there will be no more than one outside item allowed in the store per person. If you plan on bringing in an outside item, please check it in with the Austin Books employee at the door.
Austin Books & Comics
5002 N. Lamar Blvd, Austin, TX 78751
KEVIN EASTMAN, co-creator of the Teenage Mutant Ninja Turtles and longtime publisher of Heavy Metal, kicks off a year of touring across the United States and abroad this weekend with an appearance at Jared's Epic Party in Dallas, TX! Visit Kevin's website for full details of all his original art available for sale and regular updates about his schedule. And stay in touch with Kevin on Facebook and Twitter!
Upcoming 2014 appearances and signings …..

February 22 -  Jareds Epic Party – Dallas, TX

March 2   - Sac Con – Sacramento, CA

March 28 and 29 – DLUX Expo – Detroit, MI

April 5 and 6 – Gem City Comic Con – Dayton, OH

April 25 & 26 - Calgary Comic Con, Canada

May 3 - Free Comic Book Day, Jetpack, Rochester, NH

May 9 & 10 - WAP! Comic Con, Ft. Lauderdale, FL

May 31 & June 1 - Indy Pop Con, Indianapolis, IN

June 6 & 7 - Niagara Falls CC, Niagara Falls, Canada

June 21 - Heroes Con, Charlotte, NC

July 12 & 13 - Capitol City Comic Con – Austin, TX

July 24-27 - San Diego Comicon – San Diego, CA

Sept 12 & 13 - Wizard World – Richmond, VA

Sept 26-27 - Alamo City – San Antonio, TX

October – Australia and New Zealand TBA
Sir Ben Kingsley and director Drew Pearce appear at the Arclight Hollywood on Monday February 24th for a special screening of ALL HAIL THE KING with a Q&A to follow! Read on to find out how to win tickets!
Press Release:
This Saturday February 22nd Golden Apple Comics will give away passes to an exclusive Marvel Fan Event with special screening of the MARVEL ONE SHOT: ALL HAIL THE KING!
The film stars Sir Ben Kingsley as "Trevor Slattery, who after the events in Marvel's Iron Man 3 is locked up in a high security prison. Slattery is now an infamous celebrity who is about to be given an in-depth profile with a documentary filmmaker."
After the screening of "ALL HAIL THE KING," Director Drew Pearce and Sir Ben Kingsley will be present for a live Q&A session with the audience. This one hour event takes place Monday, February 24th at 7pm at the ArcLight in Hollywood
Looking for another way to win tickets in?
Before the February 24th screening, there will be a Life-Size THOR HAMMER set up outside the ArcLight Hollywood theater. You and friends can take a stab at pulling it out of the rocks for a chance to win last-minute entry into the "ALL HAIL THE KING" Q&A and screening, as well as additional prizes!
"MARVEL ONE-SHOT: ALL HAIL THE KING" is available to download on MARVEL'S THOR: THE DARK WORLD Digital HD and on Blu-Ray™ and DVD Feb 25!
Arclight Hollywood Cinema
6360 Sunset Blvd, Los Angeles, CA 90028
(323) 464-1478
Screenwriter Jonathan Nolan, brother to the director Chris Nolan,appears at the Cocteau for a live discussion with George R. R. Martin. They will get comfy and talk of the many mysteries involved in The Prestige. Come to the 4:00 PM show on Sunday February 23rd and bring your own questions for Jonathan.
Jean Cocteau Cinema
418 Montezuma Ave Santa Fe NM 87501