Ralph Garman & Kevin Smith appear at the Stand Up Live Comedy Theater on Saturday, May 7, 2016 at 7:00 PM for a live recording of their podcast HOLLYWOOD BABBLE ON!
Kevin Smith and Ralph Garman take a twisted look at showbiz news and bite the Hollywood hand that feeds them. Sometimes, they feel bad and give Hollywood a tetanus shot and some Neosporin, but, even then, they usually just turn around and bite Hollywood's other hand. They can't help it. It's their nature. It's like that "scorpion and frog" story. But, deep down, they're just two nice East Coast boys… who happen to have a heavy dependence on drugs and alcohol, respectively.
Stand Up Live Comedy Theater
50 W Jefferson St, Ste 200, Phoenix, Arizona 85003
(480) 719-6100
I went to Rhode Island to see John and Chris. John is my best friend of 25 years. We have been through it all: four divorces (two each), five marriages (he can make it six), new careers, new houses, and the almost-death of his first son, Jonathan, back in 2000. John and I have been to a number of conventions together (see here, for example), and it was time to add the Rhode Island Comic-Con to our roll.
Chris is Chris Claremont. I love John like a brother, but let's be clear: Chris is what drew me, a lifelong Southerner, to New England on the cusp of winter (November 5-8). I have been a fan of Chris since high school, when my friend Margot introduced me to a pretty cool comic called The Uncanny X-Men. The first issue I bought was #216. I read it, was hooked, and started buying it each month. My father noticed my zeal, and realizing he could teach investment skills while doing something fun with his soon-to-be-too-old-for-him son, he started advancing me allowances to buy back issues. I learned to grade comics and spot value, and within a year, I owned issues as far back as #12, the first appearance of Juggernaut.
I just realized: that was when Stan Lee was still writing the series.
Eventually, I let my collection stagnate, and then I sold it in 1999 for a couple thousand bucks so I could marry wife #2. (Now I don't have her or the comics, and guess which I miss more?) But I never forgot my adoration of Chris Claremont. Then I saw he would be in Rhode Island, and I called John, with whom I hadn't planned a trip all year. John said, "I'm in," and I thought, You better be.
Rhode Island Comic-Con isn't as large as San Diego or C2E2, and it isn't as venerable as, say, DragonCon. But it is on the rise. I had this brought home to me when I talked to Susan Soares, the director of media. She told me she was expecting 60,000 attendees. In 2012, there were 16,000. This is an increase of 275%—in only three years! It is the "largest and most income-generating event in the state," according to Susan, who expects the convention to keep growing because (1) Rhode Island is not a saturated market, (2) the staff is professional and easy-going, and (3) they advertise the heck out of it.
The growth hasn't been easy to manage, however. In 2014, the convention made headlines for the wrong reasons, overselling and getting shut down for half a day by the Providence fire marshal (see this link for the full story). I asked Susan how that contretemps would be avoided this year, and she outlined a three-part strategy:
Expansion. Last year's event was confined to the convention center in downtown Providence. This year, they planned to situate some elements (like the dealer room) in the adjacent Dunkin Donuts Center.
Day 3. Instead of being Saturday and Sunday only, this year's convention would start on Friday.
Scanned badges. Using the New York Comic-Con model, convention employees would scan badges as people enter and exit. This would allow them to track how many people are in the convention center at any time, thereby not exceeding capacity and getting shut down.
Overall, the strategy was a success. They had sold out of Saturday one-day tickets by 11:00am on Saturday, but I heard no other accounts of people being turned away. There were, however, navigation problems. In a convention spread across two buildings, I was surprised by the dearth of directional signs. Plus there were no printed maps—the only map was on the mobile app—so all weekend, I heard people murmuring "Where is the dealer room?" or "I can't find Vic Mignogna's table!"
After two circumnavigations of artist alley, I found Chris Claremont, who had been gracious enough to agree to an interview.
Me: Chris, I want you to know: you are the reason I am at this convention. I wanted to see you. Princess Leia? Pssssh. Besides, she cancelled.
Chris: Oh, really? She cancelled?
Me: Yeah. [And she wasn't the only one. Nearly a dozen celebrities were quietly flensed from the web site as of Friday morning. I'm used to one or two no-shows, but double digits?]
Chris: The funniest thing I've heard is the projected opening weekend gross for that film global is one billion. I saw the very first show of Star Wars at the Astor Plaza in New York, and it was empty. It gradually filled up, but there were empty seats, and we figured, nice movie when it started, but when it finished, it was like, holy shit. We walked out the door, and the line was four-deep around the block, and it didn't go away for about three months.
Me: Speaking of movies, what do you think about Marvel's movies, especially X-Men?
Chris: So far, Marvel has done very, very well. Kevin Feige is a brilliant film exec. Lauren Shuler-Donner is a brilliant film exec. Between the two of them, they have nailed the Marvel pantheon. The X-Men movies maybe aren't as financially lucrative as The Avengers. On the other hand, the casting of them is breathtaking, from the first X-Men to Days of Future Past—and, from all accounts, Apocalypse. Kevin, by the same token, starting with Iron Man, it's been an incredible ride. I mean, Ant-Man? Who would have thought Ant-Man?
Me: Ant-Man was good.
Chris: That's the point. It was good. And, more importantly, the actors playing the roles seem to enjoy the experience. They want to come back for more.
Me: Did you have any involvement in the X-Men movies?
Chris: Well, I helped crystallize the deal that got it all started back in the beginning, when I was briefly an executive at Marvel. I provided north of 80 percent of the source material for the characters. I mean, they're all my guys and gals. And two-thirds of them are pretty much straight adaptations of my work. I suppose you could honestly say it was all my fault.
Me: And we're very grateful.
Chris: Actually, the funny part is, every so often I sneak into the Marvel movies. Scarlett Johannson's secret identity in Iron Man 2, when she walks into Tony's house and is introduced as Natalie Rushman . . . well, Natalie Rushman is a secret identity that I invented for the Black Widow when she did a four-part team-up where she had lost her memory as the Black Widow and thought she was a schoolteacher from Boston named Natalie Rushman [this takes place in Marvel Team-Up #82-85, and the alias is actually Nancy Rushman].
Me: Cool. Switching gears a little, you've written comic books, and you've written prose novels. What's the difference in writing the two?
Chris: When you're writing comics, the writer's job is to tell the story to the visual artist. All the work that goes into writing a novel goes into describing the scene. [He opens a copy of Marada the She-Wolf. A Red Sonja-like character, Marada was created by Chris and the English artist John Bolton.] So it's describing this scene so that John Bolton could bring it to life brilliantly. Which he does. It's giving him the sequence of events and allowing him to do what he does best, which is draw a picture that makes you go, wow! When I first drafted this scene, there was going to be lots of dialogue about how she lost her father, lost her mother, yadda yadda yadda, blah blah blah. But when I got to the scene, when you see the images, when you get to this image, you don't need any words. I mean, if you can't figure out what's going on, if you can't figure out the emotional relationships just from looking at it, then neither of us is doing our job. John did his job brilliantly, unlike me talking now. The key to being a writer in comics is to know when to shut the hell up and let the artist do the work.
Me: So would your instructions for that panel be "Have someone lying on the bed," or would you describe exactly how it should look?
Chris: Well, depends on the scene. Marvel did a 9/11 remembrance book [Heroes, released December 2001] where a writer and an artist would team up to do a poster commemorating what happened and how they felt about it, and when my page came around, I spent about 2,000 words describing the scene, and Salvador [Larocca] just drew this brilliant, brilliant picture, and as far as I was concerned, it didn't need anything more from me. I had done my work, he had done his work, and the end result was brilliant.
Me: Very good. So you were inducted into the Comic Book Hall of Fame earlier this year. What was that like?
Chris: A lot of fun. One of the more unexpected things in my life. It's way too cool for the likes of me.
Me: It doesn't surprise me at all.
Chris: Well, you can think that. I'm not supposed to because I'm supposed to be shy and modest. But it's way cool.
Me: When did you start doing conventions?
Chris: When they started asking me. How else can you meet the fans? In the old days, it was more fun because people would write letters, and the nice thing about them is it tells you what they were thinking of and how they were reacting to specific issues. Now it's all posted online, and you seriously have to go looking for it. There aren't that many hours in a day. But conventions are a really nice way of putting a face on the readership.
Me: What are a couple of your more memorable convention experiences?
Chris: Just meeting people. It's a weird sensation when you run into creators, actors, people you've respected, and they tell you how cool you are, and you go, "No no no, that's my line."
Me: Do fans ever just go to pieces meeting you? Do they cry? Hyperventilate?
Chris: Oh yeah. But the cool thing is that now I'm starting to see a lot more young kids coming, which leads one to believe there's hope.
Me: What advice would you give to aspiring writers?
Chris: Get a day job [laughs]. Being a writer is like being an artist: if you've got the bug, you do it. You don't argue. You can't argue. Then it's just a matter of kicking at the wall until something sells. And then, once you make the first sell, you go for the second, then the third, then the fourth, and so on. There's no real secret to being a writer. There's just having an idea and then having the madcap determination to see it through to fruition.
You might assume this is an excerpt from the interview. It is not. This short conversation lasted over 20 minutes because we were sitting at Chris's table in artist alley, and he was signing books all the while. My recording of the interview is peppered with crowd noise, his sidebars with other fans, and announcements blasted over the PA system. Chris had trouble getting into the convention—apparently, his vendor badge could not be located—and the interview started late, when he already had more people waiting for him than a Soviet bread line. Yet it was one of my best interviews ever. Chris is articulate and witty, and he cares a lot for his fans. Though I didn't hyperventilate, meeting Chris Claremont is one of the highlights of my life. And it happened at Rhode Island Comic-Con.
The rest of the convention was as you might expect. Dunkin Donuts Center is a basketball arena, which makes it an odd venue for a convention. The dealer room was on the court, which was roomy, but some of the celebrities were tucked away in what looked like janitor closets. Know who had the longest signing lines that I saw? Tom Kenny and Bill Fagerbakke—you know, SpongeBob and Patrick, which confirms my theory that the next growth market for collectors is 1990s memorabilia.
There were few fan-led panels, which disappointed John. Such panels were the seed of conventions back in the 1970s, but they are in danger of disappearing in this bigger-is-better era. John likes the panels. He considers himself a fan but not a super-fan. The super-fan award goes to the girl I saw at Jim Beaver's table. Tears streaked her teenaged face, and after she and her mother walked away, they stopped and hugged as though a dog had died.
Friends, that is fandom. That is love. Wil Wheaton says that the defining characteristic of being a nerd is that "we love things. Some of us love Firefly and some of us love Game of Thrones, or Star Trek, or Star Wars, or anime, or games, or fantasy, or science fiction. Some of us love completely different things. But we all love those things SO much that we travel for thousands of miles … we come from all over the world, so that we can be around people who love the things the way that we love them."
Rhode Island was a great place to go for love. The convention is young, so I have no doubt they will work out the problems of limited space and no maps and unreliable celebs. Every staff member I saw, every volunteer I talked to, was a delight, which confirms what Susan Soares told me in the beginning.
So if you have the chance, go to Rhode Island Comic-Con next November. Buy your badge early. Study the schedule. Stay hydrated. It will be one of your best shows all year.
_______________________
John and I weren't the only attendees.
This guy was also there. Wait, he's at every convention!
Due to the no-weapons policy, this guy wasn't allowed to be armed.
Chris Claremont signs my comic.
The Fonz tells me to leave the convention.
Whoops! This isn't the way to the men's room.
An angel just below my shoulder.
Various winners from Saturday night's costume contest, which had 70-80 total entries.
"You scratch my back, I'll scratch yours."
Jim Beaver asked me where I am from. "North Carolina," I said. He nodded and said, "That explains it." I wanted to say, "Right. Like Bobby Singer doesn't have a rural accent!"
John and Groot, not seeing eye-to-eye.
"Uh, Doctor? I think you regenerated a little too far back."
This gal is a great little Kidder.
Not something you see at most conventions, but a good idea.
This guy also shows up at every convention. It's like he has a time machine or something.
Press Release:
The next Comic Art Con is just two months away and will be held on Sunday, April 3, 2016 at the Clarion Empire Meadowlands Hotel in Secaucus, NJ. Admission is only $10 and bring your children for no additional charge!
Now in its eighth year, Comic Art Con will once again take place in the hotel's massive 5,000 square foot main ballroom. The room will have 45 tables jammed packed with original comic book art… and only art. No comic books here! Whether you are a big time collector or just getting your feet wet, Comic Art Con is THE can't miss event for original art.
Show hours are 10:00 AM – 4:00 PM so be sure to arrive early and plan on spending the day. Over the upcoming weeks we will be announcing our vendor roster as well as our guest artists so stay tuned! For more information please go to www.comicartshowcase.com or email us directly at dgallo1291@aol.com
Click the link to view photos from a previous show!
TNT's Epic Drama Falling Skies Wages Its Final Battle On Blu-Ray and DVD Feb. 2, 2016
Falling Skies: The Complete Fifth Season and Falling Skies: The Complete Series Debut with Hours of Exclusive Content, a Lapel Pin and Collector's Coin
Growing up, television during the warmer months was a time to catch up on your favorite series. Reruns were everywhere. Then, we were bombarded with reality shows. Thankfully, though, TNT changed the game for everyone by introducing exciting new programs that would have us eagerly anticipating the summer. The network has produced hit after hit over the years, but for me this one was a stand-out. Here's what you need to know about Falling Skies:
"Falling Skies – TNT's epic alien-invasion saga from Amblin Television and executive producer Steven Spielberg – will land on Blu-ray™ and DVD Feb. 2 for the final time. All 10 action-packed episodes of Falling Skies: The Complete Fifth Season will be available as a two-disc Blu-ray™ release and a three-disc DVD set. The fifth season set features farewell interviews with the cast and crew, including Noah Wyle, Colin Cunningham, Doug Jones and more, as well as "A Look Back," an exclusive group interview with Doug Jones, Colin Cunningham and Sarah Carter.
Falling Skies chronicles the extraordinary story about life and survival in the wake of a catastrophic alien invasion that leaves most of the world completely deliberated. Noah Wyle stars as college professor Tom Mason, who becomes an unlikely resistance leader following the alien attack. As season five opens, all breed of beast and mutant are running rampant on earth. The Espheni's power core has been destroyed, and humans are now ready to fight on their terms. And after four years of being tortured, Tom and the 2nd Mass are filled with rage, ready to destroy the enemy in an all-out battle to determine the fate of Earth. Falling Skies: The Complete Fifth Season will be available for the suggested retail price of $49.99 on Blu-Ray and $39.99 on DVD."
We watched Falling Skies from the premiere episode and never missed a week. For a television show, I was always impressed with the visual effects which were comparable to those of full-length feature films. Though, I admit that every season had at least one lull point for me in which things moved a bit slow, overall Falling Skies maintained a steady pace and nice balance between action and suspense. There were a few nods to alien invasion films of the past, but I suppose the saying 'imitation is the sincerest form of flattery' holds some truth.
Wyle portrays the everyman-turned-soldier Tom with the sort of passion you'd expect from a parent protecting his children. The supporting cast of recognizable character actors are suitably put through the wringer both physically and emotionally. But, if season five's stand-out belongs to John Pope, played to psychotic perfection by Colin Cunningham. Pope is Tom's antagonist from the very start, sometimes more so than the actual aliens. Fearing humanity is a mainstay of dystopian and apocalyptic stories, don't you think? Throughout the series we witness Pope transform from bad to good and back again. Desperation and loss of hope allow Cunningham to shine in this role. I was actually disappointed with how quickly the writers wrapped up the final season, as I could have watched Pope's journey continue longer.
Falling Skies is a top notch sci-fi adventure for all to enjoy!
Here are some clips from their WonderCon panel: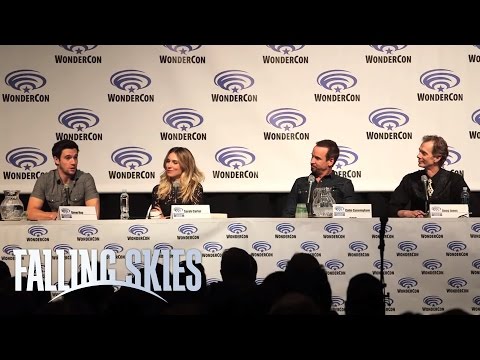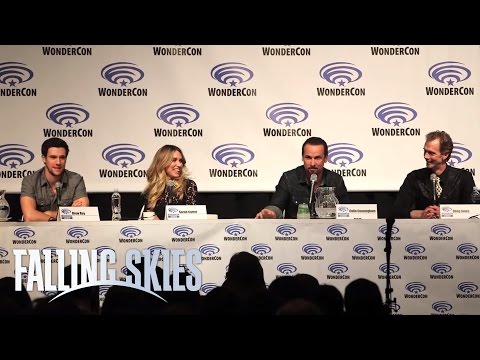 "Since premiering as basic cable's #1 new series of 2011, Falling Skies has ranked as one of basic cable's Top 15 original dramas with total viewers and key adult demos. In its fifth season, more than 12.6 million people tuned in to watch the first six episodes, and the show ranked among basic cable's Top 5 programs with key adult and male demos."
Falling Skies is executive-produced by Steven Spielberg and Amblin Television heads Justin Falvey and Darryl Frank, along with David Eick.
For fans looking to have the entire series in one complete set, the Falling Skies: The Complete Series 10-disc Blu-ray and 15-disc DVD box set will feature the entire 52-episode series run. In addition, the box set will package hours of bonus content including behind-the-scenes features, commentaries, character interviews and "Inside the Episodes," plus WonderCon and Comic-Con 2014 panel features. Both the Blu-ray and DVD release of the complete series include a special collector's coin on-pack, and the Blu-ray also features an exclusive lapel pin. Falling Skies: The Complete Series will be available for the suggested price of $139.99 on Blu-ray and $129.98 on DVD.
Falling Skies: The Complete Fifth Season Basics
Street Date: February 2, 2016
Feature Running Time: 440 minutes
SRP for Two-Disc Blu-ray Set: $49.99
SRP for Three-Disc DVD Set: $39.98
Audio: English
Rating: TV-14-DLSV
Blu-ray UPC Code: 883929523924
Blu-ray Catalog #: 1000585785
DVD UPC Code: 883929523931
DVD Catalog #: 1000585786
Falling Skies: The Complete Series Basics
Street Date: February 2, 2016
Feature Running Time: 2,228 minutes
SRP for Ten-Disc Blu-ray Set: $139.99
SRP for Fifteen-Disc DVD Set: $129.98
Audio: English
Rating: TV-14-DLSV
Blu-ray UPC Code: 883929524174
Blu-ray Catalog #: 1000586192
DVD UPC Code: 883929523962
DVD Catalog #: 1000585793
About TNT
TNT is basic cable's #1 network. Seen across multiple platforms in 94 million households, TNT is home to such original drama series as The Last Ship, The Librarians, Major Crimes, Murder in the First, Rizzoli & Isles and the upcoming Animal Kingdom, Good Behavior and The Alienist. TNT also features the unscripted investigation series Cold Justice and Cold Justice: Sex Crimes. In addition, TNT is the cable home to popular dramas like Castle, Bones, Supernatural and Grimm; primetime specials, such as the Screen Actors Guild Awards®, the Live Nation Music Awards and the iHeartRadio Music Awards; and championship sports coverage, including the NBA and the NCAA Division I Men's Basketball Championship.
TNT is part of Turner, a Time Warner company. Turner creates and programs branded news; entertainment; kids and young adult; and sports media environments on television and other platforms for consumers around the world.
Press Release:
Broadway Books is thrilled to welcome back Portland's grand dame of the literary world, Ursula K. Le Guin, who will read from her newest collection of poetry, Late in the Day: Poems 2010-2014, published by PM Press. The reading will take place at 7 pm on Wednesday, February 24th.
Le Guin is a remarkably prolific writer, even given the fact that she is in her 80s. She has published twenty-one novels (including her 1969 breakthrough novel, The Left Hand of Darkness), eleven volumes of short stories (including the 2014 Oregon Book Award winner The Unreal and the Real, Volumes 1 and 2), four collections of essays, twelve books for children, six volumes of poetry and four of translation, and Steering the Craft: A Twenty-First-Century Guide to Sailing the Sea of Story, a guide to the essentials of the writer's craft – of which she knows a thing or two.
Le Guin was born in Berkeley and grew up in a family of academics and writers. She moved to Portland in 1958 when her husband, the historian Charles A. Le Guin, took a position at Portland State University, and they raised their three children here.
She has won numerous awards, including the Hugo, Locus, and Nebula Awards, the PEN-Malamud, the National Book Award for Young People's Literature, the Oregon Book Award, and the Library of Congress Living Legends Award. In 2014 she was presented the National Book Foundation Medal for Distinguished Contribution to American Letters, where she took the world by storm with her bold truth-telling about the over-commercialization of literature: "I don't want to watch American literature get sold down the river." The video of Le Guin's speech became an internet sensation, making her for a time, as she likes to put it, "as popular as Maru the cat." [Good news: that speech is reprinted at the end of her new collection of poems.]
Her new collection, , seeks meaning in an ever-connected world, attempting to give voice to objects that may not speak a human language but communicate with us nevertheless.
Broadway Books
1714 Broadway Blvd, Portland, Oregon 97232
(503) 284-1726
Writer/director Kevin Smith appears at the Stress Factory Comedy Club on Sunday, May 1, 2016 at 7:00 PM!
A writer, comedian, podcaster, and film director, KEVIN SMITH has written and directed numerous films, including Clerks, Mallrats, Chasing Amy, Dogma, Jay & Silent Bob Strike Back, Red State, Tusk, and Yoga Hosers; Creator of AMC's Comic Book Men; authored Silent Bob Speaks, Shootin' the Sh*t with Kevin Smith, My Boring-Ass Life and Tough Sh*t: Life Advice from a Fat, Lazy Slob Who Did Good. He can be heard daily at Smodcast.com, a vast network of podcasts.
An Evening with Kevin Smith is a chance to get up close and personal with the man who brought the world these films.
Stress Factory Comedy Club
90 Church St, New Brunswick, NJ 8901
732-545-4242
Press Release:
The Society of Illustrators is proud to share this year's stellar list of Guests of Honor for the MoCCA Arts Festival in New York City. They are:
* Cece Bell, author of the phenomenal middle grade graphic memoir El Deafo (winner of the Newberry Honor and an Eisner Award)
* R.O. Blechman, Emmy Award-winning illustrator, animator, cartoonist and author.
* Phoebe Gloeckner, whose subversive classic The Diary of a Teenage Girl was recently adapted into a critically acclaimed film of the same name.
* Sonny Liew, whose graphic novel The Art of Charlie Chan Hock Chye was censured by the National Arts Council of Singapore and is forthcoming from Pantheon Books.
* Rebecca Sugar, creator of the quietly radical animated cartoon series Steven Universe.
This diverse group of artists exemplifies the limitless aesthetic and social power of comics and cartooning. The MoCCA Arts Festival will take place on April 2 – 3rd from 11:00AM – 6:00PM at our brand new location at Metropolitan West (636 W. 46th St.) with programming mere steps away at Ink48 (653 11th Ave.).
Price of admission is $5 per day and will grant attendees access to the Fest including the Exhibitors Hall, on-site Gallery space, and programming. Tickets will be available for purchase at the door. Children under twelve are free. Further scheduling information regarding our Guests of Honor will be available in future announcements.
ABOUT THE GUESTS OF HONOR
Cece Bell
Children's book author and illustrator Cece Bell attended the College of William and Mary where she studied Art History, and later attended Kent State University, earning a graduate degree in illustration and design. Her colorful, fun and quirky drawings can be found in her best-selling books Rabbit & Robot: The Sleepover, Crankee Doodle, Bug Patrol, Itty Bitty, Bee-Wigged, and the Sock Monkey series. In 2015, Bell received the Newbery Medal Honor for her graphic novel El Deafo, a story based on her own experiences growing up deaf.
R.O. Blechman
R.O. Blechman is a multiple award-winning and influential animator, illustrator, children's book author, graphic novelist and editorial cartoonist. His many books include the groundbreaking 1953 graphic novel The Juggler of Our Lady and the forthcoming Amadeo & Maladeo: A Musical Duet. His work in animation includes The Soldier's Tale and unforgettable advertisements for products like Alka Seltzer. He has received multiple recognitions including a Lifetime Achievement Award from The National Cartoonists Society in 2011, was inducted into the Society of Illustrators' Hall of Fame in 2012. His work has been shown at The Norman Rockwell Museum, The School of Visual Arts, and MoMA.
Phoebe Gloeckner
Phoebe Gloeckner began cartooning after moving to San Francisco in the 1970s, and was greatly influenced by the underground comix movement led by artists including Robert Crumb, Aline Kominksy, Bill Griffith, Diane Noomin, and Terry Zwigoff. Her early work appeared in anthologies including Wimmen's Comix, Weirdo, and Twisted Sisters. Both her 1998 collection A Child's Life and Other Stories and the 2002 novel The Diary of a Teenage Girl: An Account in Words and Pictures received notable recognition as well as controversy for its honest portrayal of teenage sexuality with themes of drug use and childhood traumas. The book has been adapted into a theatrical production and a critically acclaimed feature film of the same name. She is the recipient of the 2000 Inkpot Award, received the Guggenheim Fellowship in 2008, and is currently the Faculty Fellow at the University of Michigan Institute for the Humanities.
Sonny Liew
Sonny Liew is a comics artist, painter, and illustrator whose work includes the New York Times bestseller The Shadow Hero (with Gene Yang), Doctor Fate (with Paul Levitz), Malinky Robot and titles for Marvel Comics, DC Vertigo, and Image Comics. He has been nominated for multiple Eisner Awards for his collaborations on The Shadow Hero, Wonderland, and Liquid City, a multivolume comics anthology featuring creators from Southeast Asia. He lives and works in Singapore.
Rebecca Sugar
Animator, composer and director Rebecca Sugar's groundbreaking career started as a writer and storyboard artist on the animated television series Adventure Time. She later went on to create the Cartoon Network series Steven Universe, and became the first woman to independently create a series for that network. She has received numerous Emmy and Annie Award nominations for her work on both series.
About the Society of Illustrators and the Museum of Comic and Cartoon Art (MoCCA)
Founded in 1901, the Society of Illustrators is the oldest nonprofit organization dedicated to the art of illustration in America. Notable Society members have been N.C. Wyeth, Rube Goldberg, and Norman Rockwell, among many others. Our Museum of Illustration was established in 1981. We offer year-round themed exhibits, art education programs and annual juried competitions. Our Permanent Collection houses 2,500 pieces that are cataloged for scholarly use and displayed periodically. In 2012, we created the MoCCA Gallery with a focus on curated exhibits of comic and cartoon art.
The MoCCA Arts Festival is a 2-day multimedia event, Manhattan's largest independent comics, cartoon and animation festival, drawing over 7,000 attendees each year. With 400 exhibiting artists displaying their work, award-winning honorees speaking about their careers and artistic processes and other featured artists conducting workshops, lectures and film screenings, our Festival mission accelerates the advancement of the Society's broader mission to serve as Manhattan's singular cultural institution promoting all genres of illustration through exhibitions, programs and art education.
William Shatner appears at Barnes & Noble in Union Square on Monday February 15, 2016 at 7:00 PM to sign his new memoir Leonard: My Fifty-Year Friendship With a Remarkable Man.
Over the course of half a century, Shatner and Nimoy saw each other through personal and professional highs and lows. In this powerfully emotional book, Shatner tells the story of a man who was his friend for five decades, recounting anecdotes and untold stories of their lives on and off set, as well as gathering stories from others who knew Nimoy well, to present a full picture of a rich life.
Special Instructions
Must provide proof of purchase from this Barnes & Noble retail location or BN.com to receive a wristband. A limited amount of wristbands will be distributed beginning at 9:00AM on the day of the event. No memorabilia. More information coming soon.
Barnes & Noble – Union Square
33 East 17th Street, New York, NY 10003
212-253-0810
Author Matt Mikalatos appears at Flying Color Comics on Saturday, February 13, 2016 at 1:00 pm to sign SKY LANTERN!
Flying Colors Comics
2980 Treat Blvd (at Oak Grove Rd), Concord, CA 94518
(925) 825-5410
Writer Chris Sebela, whose works include the two-time Eisner nominee HIGH CRIMES, DEAD LETTERS and WE(L)COME BACK — and books like ESCAPE FROM NEW YORK, GHOST and FIRE & STONE: ALIEN VS PREDATOR, appears at Gabi's Olympic Cards & Comics on Wednesday, February 10, 2016 for a signing from noon to 2:00 PM!
Gabi's Olympic Cards & Comics
4230 Pacific Ave SE, Lacey, WA 98503
(360) 459-7721