This was the inaugural year for Con-Gregate, a general sci-fi convention held in Winston-Salem, NC on July 11-13. The guest of honor was New York Times bestselling author Larry Correia, known for his Monster Hunter series, though he does have other writing credits, including "The Christmas (Noun)" and "The Christmas (Noun) 2: The Nounening." (What's next? "How the Gerund Stole Christmas"?) Other guests included writers A.J. Hartley and Faith Hunter; Magic: The Gathering artist Mark Poole; and movie make-up professional Jennifer McCollom.
The con was led by a team of veterans, including folks from RavenCon, Stellar Con, and DragonCon. Yet, as with any first-time event, there were hiccups. Larry Correia's first book signing was held on Saturday morning, when a lot of convention goers weren't yet up and at 'em. The lighting was poor in the vendor room, and though much was made in the convention program about name badges (even vendor badges bore individuals' names), I never saw a staffer checking them.
Still, it was a fun weekend, with a costume contest, a book launch party (D.B. Jackson's A Plunder of Souls), a charity auction (I won a signed photo of Avery Brooks as Capt. Benjamin Sisko), and some fascinating panels. Plus one of my favorite groups, the Carolina Ghostbusters (www.carolinaghostbusters.com), made an appearance. On Friday, I got a chance to talk to three team members–"Doc" Geressy, Chuck Carte, and Mikki Smith.
Me: How did the Carolina Ghostbusters get started?
Doc: About 5 years ago, I got divorced and laid off from work in the same week. I got a great severance package and didn't have anyone to spend it on, so I was like, I'm gonna build a Ghostbusters car. That was five years ago. It took about 2½ years to get everything together. Once the car was built, we started getting requests for conventions, charity events, car shows, baseball games, birthday parties, weddings . . . we do a lot of weddings, oddly enough. We spend about 70-80 days a year on the road now, with the vehicle, and I never would have imagined, but it has been the most awesome thing ever. We got to meet Dan Aykroyd. He signed the car. We met Ernie Hudson from the film. So it's been a lot of fun.
Me: How did you meet Dan Aykroyd?
Chuck: He was on his Crystal Head Vodka tour, doing signings of the bottles when the liquor had first come out. And we got treated really well by the Aykroyd camp as soon as they saw us in our car. He ushered us to the front of the line, took photos with us, signed the car, and he was just a real . . . I look at it as my favorite moment of getting to do this, getting to meet him, and just how cool he was to us.
Me: Why Ghostbusters?
Doc: I am a big fan of movie cars, always have been, and when I was originally going to build a movie car, I had thought about doing a classic Batmobile. I had some people looking for a late model Lincoln to use as the base for it, and we ended up finding this hearse first, and one of the guys called me and was like, hey, would you be interested in doing a Ghostbusters car? I was like, sure, love to, and so we ended up doing a Ghostbusters car instead. And it is actually, interestingly enough, the most recognizable movie car with the least amount of screen time. It is only in the film for 5 minutes and 28 seconds. But everyone knows it. We have had people drive 20-30 miles out of their way to take pictures with us.
Me: And you also have the Men in Black car, right?
Doc: That is our new one. We're about a year into that build, and it was another one where the car kind of found me. We ended up getting it at a really good deal. It had low miles and was in excellent condition. So we started the build on that. We should have it done in the next year. It is actually roadworthy now, but there are a lot of things we want to do to it, and a lot of props we need to build. It's probably about 80% done.
Me [to Mikki]: Tell me about your involvement with the group.
Mikki: Honestly, I asked. That sounds kind of like a boring way. Basically, I originally hired the Carolina Ghostbusters for a very small, one-off convention that I ran called Jax Con that happened in my hometown of Jacksonville, Florida—
Doc: It was an awesome convention.
Mikki: Thank you so, so much. That's what people say now. That's not what people said right after it happened.
Chuck: That's what I said right afterward.
Mickey: Me booking [the Ghosbusters] was literally the best thing I ever did for that convention. After that, I was still really into cons, and I started going to them more and more, especially local cons. I became really good friends with the team, became pretty good friends with Doc and Chuck and Cher [Cheralyn Lambeth, another group member]. That was kind of how I got involved. I think at XCon 2013 was my first official event, and I worked that one. I was an intern for about 6 months, and now I have been moved up to Acting Ensign of the Deck Department, and I serve under Chuck Carte, who is a fantastic immediate boss.
Chuck: Thank you. I don't get that often.
Me: I was reading on your web site that you also do paranormal investigations. Tell me a little about that.
Doc: About 30% of what we do is paranormal investigations. We are the only Ghostbusters group in the country that actually does paranormal investigations as well. Sometimes we joke that the Ghostbusters car is our dog and pony show, but we have a lot of fun going out and actually not just dressing up as Ghostbusters but actually being Ghostbusters to an extent.
Me: How do you measure your success as paranormal investigators?
Chuck: Whether or not the check clears.
Doc: Yeah, that's a good answer! [Laughs] We approach things from a very scientific viewpoint, very much like the Ghostbusters did in the film. We don't employ or work with any mediums or psychics because we can't quantify that information. We try to be as empirical as possible, and we have captured some amazing photographs, we've got some awesome EVPs [electronic voice phenomenon], and just the experiences of being able to travel around. One of the things that being Ghostbusters has provided us is a lot of access to places that other paranormal groups can't get into. People see the car or they see us, and they're like, oh, you guys are like legit! There are so many other paranormal groups out there that are just as legitimate as we are, but just that knowledge of Ghostbusters affords us the ability for people to just wave us in and be like, yeah, come investigate this place.
Me: What are you working on next? What are your goals?
Doc: Oh god. Replenishing my bank account is what I'm working on right now.
Chuck: The speedboat from Thunder in Paradise.
Doc: Yeah, I gotta buy a boat trailer first.
Mikki: You've been talking about the Blues Brothers car lately.
Doc: I would love to find a Blues Brothers car. That would be the next thing on the list. I also really like the ambulance from Cannonball Run. That would be another one.
Me: I guess it's time to wrap up. Can you say a few words about your podcast?
Doc: Our podcast is called Sci-Fried Eggs, and we get to travel to all these conventions and meet all these cool guests, and we bring that to the rest of the people. So if you miss the convention, or even if you're at the convention and you didn't get to meet that person you wanted to meet, we may have interviewed them [on the podcast], so you can check them out.
And while you're at it, check out the photos below.
Carolina Ghostbusters: they're ready to believe you.
No, this isn't a promo poster for Avengers 2. It's the winners of the Con-Gregate costume contest.
Must . . . not . . . make . . . bird-brain joke.
"Good evening, Clarice."
Get a glimpse of the Batman v. Superman footage from Comic-Con plus a Mad Max trailer, Wonder Woman revealed, the complete Age of Ultron poster, and more.
July 28, 2014 by Colin Solan
Filed under Animation, Comic Books, Comic Strips, Convention News, Cosplay, Gaming, Horror, Massachusetts, Movies, Other, Science Fiction and Fantasy, Television, Top Stories, Video Games, Webcomics
Press Release:
Celebrity appearances, artist meet-and-greets, a film festival, a Cosplay costume contest, the first official after party and Cosplay Harbor Cruise are among many activities lined up for this year's Boston Comic Con. Boston Comic Con will bring its first three-day convention to the Seaport World Trade Center Friday August 8 through Sunday August 10, 2014. In the seven years since its founding, Boston Comic Con has grown from a one-day show that attracted an estimated 900 comic book enthusiasts to last year's record turnout of more than 23,000, which organizers expect to top this year.
"The community in Greater Boston that loves comic books and related television and film is tremendous and growing," said Nick Kanieff, a founder of Boston Comic Con. "We are home to some of the industry's most talented artists and devoted fans, all of which will join us in great numbers this August. Boston Comic Con has just enough of a celebrity touch to bring in ardent fans while still honoring the artists and writers who are the backbone of the industry."
The 2014 Boston Comic Con will feature celebrity appearances by Jason Momoa of "Game of Thrones"; John Barrowman of "Doctor Who," "Torchwood" and "Arrow"; Sean Astin of "The Goonies" and "The Lord of the Rings" trilogy; James Marsters of "Buffy the Vampire Slayer" and "Angel"; Katie Cassidy of "Arrow"; Eve Myles of "Torchwood"; Jewel Staite of "Firefly"; Sam Witwer of "Being Human"; and Darryl McDaniels, aka DMC, of Run-DMC, one of the founding fathers of the hip hop and rap movement, who is producing his own comic about a rap superhero. Celebrities will also participate in panel discussions, Q&As, photo ops, and signing autographs throughout the three-day convention.
Among the 200+ comic book creators taking part in the convention are well known artists such as artist Greg Capullo and writer Scott Snyder, who together produced legendary Batman story arcs as The Court of Owls, Death of the Family and Zero Year for DC Comics. Indie sensation Jeff Smith, creator of the fantasy epic Bone, makes rare appearance at this year's convention. Also featured is artist Adam Kubert, best known for his work with Marvel Comics on Wolverine, Incredible Hulk, Ultimate Fantastic Four, and X-Men. He is both a graduate of and an instructor at the famed Kubert School, founded by his father, legendary artist Joe Kubert. Other creators include Skottie Young, whose current project, Rocket Raccoon ties in with Marvel's summer blockbuster Guardians of the Galaxy, fan-favorite Gail Simone, writer of Batgirl, Birds of Prey, and Wonder Woman, and Mark Waid who is the most prolific writer of popular characters such as Superman, Spider-Man, and Daredevil.
Participating Boston-area artists include husband and wife team Shelli Paroline and Braden Lamb, Joe Quinones, Maris Wicks, Ming Doyle, Norman Lee, Sara Richard, and several others.
Boston Comic Con is especially proud of its showcase of 14 top women creators including: Christy Blanch, Danica Brine, Katie Cook, Danielle Corsetto, Ming Doyle, Dawn Griffin, Rebekah Isaacs, Shelli Paroline, Sara Richard, Gail Simone, Cat Staggs, Babs Tarr, Maris Wicks, and Chrissie Zullo.
"Boston Comic Con is at the forefront of supporting local artists, especially women creators. It is truly an organic, home-grown event that has gained popularity over the past few years," said Kanieff, a Framingham resident who is also an avid collector. "We welcome everyone, from families with young children, to college students, to older comic book fans. There is something for everyone at Boston Comic Con."
New This Year
The first Boston Comic Con Cosplay Harbor Cruise will take place on Saturday, August 9 from 8 p.m. to 11 p.m. The cruise will be hosted by Ivy Doomkitty, international costume designer and cosplayer, and features noted cosplayers including Nicole Marie Jean, Destiny Nickelsen, and Bethany Maddock. After the harbor cruise, Boston Comic Con will host the official "after party" at Laugh Boston, at the Westin Waterfront Hotel. Also new this year, a limited number of tickets will be sold to allow early entry on the first day of Boston Comic Con, Friday, August 8 at 1 p.m., one hour before the general admission at 2 p.m.
Additionally, Marvel editor C.B. Cebulski will be on hand to provide portfolio reviews for aspiring comic artists. And this year's exclusive t-shirt features Rocket Raccoon drawn by Guardians of the Galaxy artist Nick Bradshaw with colors by Rich Woodall.
"Not only is Boston Comic Con drawing interest from the area's extensive comic book community, but it's becoming a destination event that brings tourists to Boston," said Kanieff. "The growing excitement around this convention demonstrates the strength and vibrancy of the creative community we have here in Boston and in the surrounding region."
More information about events, artists and celebrity guests can be found on www.bostoncomiccon.com. General admission and VIP tickets are on sale now, as are tickets for celebrity photo ops. Boston Comic Con is also accepting entries for this year's film festival.
For information on ticket sales please visit: www.bostoncomiccon.com.
Press Release:
LEGENDARY AT SDCC 2014
At Comic-Con 2014, we invite our fans to 'step inside our worlds'.
We will be at San Diego Comic-Con 2014 hosting a booth on the show floor, holding a panel in Hall H, and much more.  Follow us on Twitter and Instagram for the latest announcements and updates.  We know everyone can't make it to Comic-Con so we will be covering all the activities through photos & videos, and hosting fan giveaways on our social accounts during and after Comic-Con.  Keep an eye out!
Legendary Booth
Booth Location: #3920
We have worked with master filmmaker Guillermo del Toro to bring his incredible imagination to life, delivering two unique fan experiences for Pacific Rim and Crimson Peak.  The booth hosts unique physical props from the hotly anticipated Warcraft, giving fans an exclusive first look right out of the world of the film.  Additionally the booth offers previews of Legendary's upcoming psychological thriller As Above/So Below and the new catalogue of titles from Legendary Comics.
Crimson Peak Gothic Gallery
Step inside the imagination of Guillermo del Toro with The Gothic Gallery, an immersive handcrafted exhibit from master filmmaker. This exclusive fan experience offers a glimpse behidnd the curtain of Crimson Peak, through an intimate set piece of the gothic haunted house he is creating… Beware Crimson Peak!
Head to facebook.com/CrimsonPeakMovie to view images of the Gothic Gallery and sign up for a chance to win an exclusive tour of the Gothic Gallery with the visionary filmmaker Guillermo del Toro.
Visit the Legendary Booth to experience the Gothic Gallery.
Pacific Rim Jaeger Pilot
We have worked closely with the leading pioneers of virtual reality, Oculus VR, to deliver a new benchmark in Oculus Rift experiences.
Fans will experience what it feels like to pilot a 250-story robot as they step into a fully-realized Jaeger Combat Simulator.  Strapping on the Oculus Rift headset, fans will 'Drift with the Rift' and experience the beloved universe of Pacific Rim in a whole new way.
Watch this video and visit the Legendary Booth at 9 am daily for tickets.  First come, first served.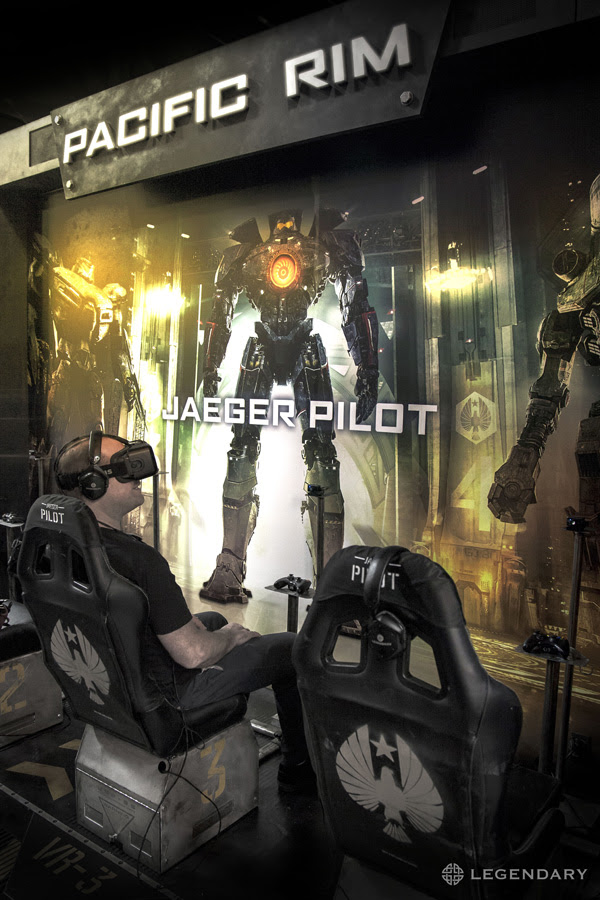 Signing with Warcraft Director Duncan Jones
Legendary and Warcraft fans now have the chance to meet director Duncan Jones, the man responsible for bringing Warcraft to the big screen.  Duncan Jones will be doing a signing on Saturday 7/26 at 2 pm at the Blizzard Booth (#115). Tickets will be handed out that morning at 11 am on a first come, first served basis at the Blizzard Booth.
Legendary's Film Panel – Hall H
Date: Saturday, July 26
Time: 12:35 pm
During our panel, we will be live tweeting from Hall H.  Follow along here:@Legendary.
The Batfleck costume, Avengers and Ant-Man posters, a tour of the Sideshow Collectibles booth and a lot more in our first SDCC Digest for 2014.
July 23, 2014 by Colin Solan
Filed under Animation, Anime, California, Comic Books, Comic-Con International, Convention News, Horror, Manga, Movies, Science Fiction and Fantasy, Television, Video Games, Webcomics
DARK HORSE COMICS SAN DIEGO COMIC-CON 2014 BOOTH #2615
SIGNING SCHEDULE
All creators signing in our booth offer their autographs for FREE. FREE prints, comics, or posters are provided for most of our signings (while supplies last). You may purchase or bring items to be signed; however, we may restrict the type or number of items to be signed as necessary.
Some signings require a wristband for entry, as noted on the schedule. Drawings for wristbands for these events will begin at show opening the day before and day of each signing. Come to the Dark Horse booth early for the best chance to join these events.
Lines may also be closed for some signings due to crowding or time restrictions.
We have two signing stages: one featuring the art of Mike Mignola's Hellboy; the other, the art of Guillermo del Toro and Chuck Hogan's The Strain. The location of each signing is indicated by the following abbreviations:
HB = Hellboy Signing Stage  ST = The Strain Signing Stage
All events are subject to change. Some restrictions apply. Please see Dark Horse Comics staff if you have questions.
THURSDAY, JULY 24
10:00 a.m.–10:50 a.m.  HB THE TRUE LIVES OF THE FABULOUS KILLJOYS: Becky Cloonan
11:00 a.m.–11:50 a.m.  HB ROBOCOP VS. THE TERMINATOR: Walter Simonson
11:00 a.m.–11:50 a.m.  ST  MASS EFFECT: Mike Gamble, Fabrice Condominas, Noel Lukasewich, Tony Parker
12:00 p.m.–12:50 p.m.  HB PICTURES THAT TICK 2: Dave McKean
12:00 p.m.–12:50 p.m.  ST BUZZKILL & THE GHOST FLEET: Donny Cates
1:00 p.m.–1:50 p.m. HB DRAGON GIRL AND MONKEY KING: Katsuya Terada
1:00 p.m.–1:50 p.m. ST THE WORLD OF THE WITCHER:  Rafal Jaki, Damien Monnier
2:00 p.m.–2:50 p.m. ST CREEPY & EERIE: Dan Braun, Uncle Creepy, Cousin Eerie
2:30 p.m.–3:20 p.m. HB THE STRAIN: Guillermo del Toro, Mike Huddleston, E. M. Gist (WRISTBAND REQUIRED)
3:00 p.m.–3:50 p.m. ST DRAGON AGE: Patrick Weekes, Nick Thornborrow, Ben Gelinas
3:30 p.m.–4:20 p.m. HB THE STAR WARS: Jonathan Rinzler
4:00 p.m.–4:50 p.m. ST THE GUNS OF SHADOW VALLEY: James Andrew Clark
4:30 p.m.–5:20 p.m. HB CRIMINAL MACABRE & BREATH OF BONES: Steve Niles
5:00 p.m.–5:50 p.m. ST THE FIFTH BEATLE: Vivek J. Tiwary, Andrew C. Robinson
5:30 p.m.–6:20 p.m. HB CONAN RED SONJA: Jim Zub
6:00 p.m.–7:00 p.m. ST CONCRETE PARK: Tony Puryear, Erika Alexander
FRIDAY, JULY 25
10:00 a.m.–10:50 a.m.  HB USAGI YOJIMBO 30TH ANNIVERSARY: Stan Sakai
10:00 a.m.–10:50 a.m. ST GROO VS. CONAN: Mark Evanier, Sergio Aragonés
11:00 a.m.–11:50 a.m. HB ELFQUEST: Richard Pini, Wendy Pini
11:00 a.m.–11:50 a.m.  ST THE BEST OF COMIX BOOK: Denis Kitchen, Trina Robbins
12:00 p.m.–12:50 p.m. HB THE GOON: Eric Powell
12:00 p.m.–12:50 p.m. ST PARIAH: Aron Warner, Brett Weldele
1:00 p.m.–1:50 p.m. HB SERENITY, BUFFY THE VAMPIRE SLAYER & ANGEL & FAITH: Georges Jeanty, Christos Gage, Nicholas Brendon (WRISTBAND REQUIRED)
1:00 p.m.–1:50 p.m. ST BLACKSAD: Juanjo Guarnido
2:15 p.m.–3:15 p.m. HB HELLBOY 20TH ANNIVERSARY: Mike Mignola
2:15 p.m.–3:15 p.m. ST THE WITCHER: Paul Tobin, Rafal Jaki
3:30 p.m.–4:20 p.m. HB RESURRECTIONISTS, ACTION PHILOSOPHERS, THE COMPLETE SILENCERS, 
     CONAN THE AVENGER & PROJECT BLACK SKY: Fred Van Lente
3:30 p.m.–4:20 p.m. ST BANDETTE: Paul Tobin, Colleen Coover
4:30 p.m.–5:20 p.m. HB BLACK HAMMER: Jeff Lemire
4:30 p.m.–5:20 p.m. ST THE MASSIVE: Garry Brown
5:30 p.m.–6:20 p.m. HB THE LAST OF US, THE ART OF NAUGHTY DOG & A SECOND CHANCE AT SARAH: Neil Druckmann
5:30 p.m.–6:30 p.m. ST STAR WARS: Randy Stradley, Doug Wheatley, Carlos D'Anda, Gabe Eltaeb, Dave Wilkins, Tim Siedell, Michael Heisler
6:30 p.m.–7:00 p.m. HB MASS EFFECT: Mike Gamble, Fabrice Condominas, Noel Lukasewich
SATURDAY, JULY 26
10:00 a.m.–10:50 a.m. HB DREAM THIEF: Jai Nitz, Greg Smallwood, THE BLACK BEETLE: Francesco Francavilla
10:00 a.m.–10:50 a.m. ST DRAGON AGE: Patrick Weekes, Nick Thornborrow, Ben Gelinas
11:00 a.m.–11:50 a.m. HB THE SHAOLIN COWBOY: Geof Darrow
11:00 a.m.–11:50 a.m. ST COLDER: Paul Tobin, Juan Ferreyra
12:00 p.m.–12:50 p.m. HB STAR WARS: Adam Hughes, Matt Kindt, Dan Parsons, Gabe Eltaeb, Wes Dzioba, Michael Heisler, Ariel Olivetti
12:00 p.m.–12:50 p.m. ST ELFQUEST: Richard Pini, Wendy Pini
1:00 p.m.–1:50 p.m. HB MIND MGMT: Matt Kindt, Sharlene Kindt
1:00 p.m.–1:50 p.m. ST: DARK HORSE SUPERHEROES: Christopher Sebela, Dan Parsons (Ghost);
Tim Seeley (The Occultist); Fred Van Lente (Brain Boy, Project Black Sky);
Michael Broussard (Project Black Sky); Joshua Williamson (Captain Midnight)
2:00 p.m.–4:00 p.m. HB AVATAR: THE LAST AIRBENDER & THE LEGEND OF KORRA: Michael Dante DiMartino, Bryan Konietzko, Gene Luen Yang, Gurihiru, Jessie Flower (WRISTBAND REQUIRED. In addition to  distribution by drawing on Friday and Saturday at show opening, there will be some wristbands given as prizes during the Avatar:  The Last Airbender—Legend and Legacy panel on Saturday, July 26, 10:30 a.m.–11:30 a.m. in Room 24ABC.)
2:00 p.m.–2:50 p.m. ST SUNDOWNERS: Tim Seeley
3:00 p.m.–3:50 p.m. ST DRAGON GIRL AND MONKEY KING: Katsuya Terada
4:00 p.m.–4:50 p.m. ST MASS EFFECT: Mike Gamble, Fabrice Condominas, Noel Lukasewich
4:15 p.m.–5:15 p.m. HB SIN CITY: A DAME TO KILL FOR: Frank Miller, Jessica Alba, Josh Brolin, Rosario Dawson, Robert Rodriguez (WRISTBAND REQUIRED. One poster per wristband will be provided. No other items allowed. No photos. Other restrictions may apply.)
5:30 p.m.–6:00 p.m. ST GRENDEL VS. THE SHADOW: Matt Wagner
5:30 p.m.–6:30 p.m. HB PROMETHEUS, ALIENS, PREDATOR & ALIENS VS. PREDATOR: Paul Tobin, Juan Ferreyra, Chris Roberson, Joshua Williamson, Ariel Olivetti, E. M. Gist, Christopher Sebela
6:00 p.m.–7:00 p.m. ST THE FIFTH BEATLE: Vivek J. Tiwary, Andrew C. Robinson
SUNDAY, JULY 27
10:00 a.m.–10:50 a.m. HB 47 RONIN & THE ATOMIC LEGION: Stan Sakai, Mike Richardson
10:00 a.m.–10:50 a.m. ST CONCRETE PARK: Tony Puryear, Erika Alexander
11:00 a.m.–11:30 a.m. HB STAR WARS: LEGACY, DEEP GRAVITY: Gabriel Hardman, Corinna Bechko
11:00 a.m.–11:50 a.m. ST PLANTS VS. ZOMBIES: Paul Tobin
11:30 a.m.–12:00 p.m. HB SERENITY, BUFFY THE VAMPIRE SLAYER & ANGEL & FAITH: Joss Whedon (WRISTBAND REQUIRED.)
12:00 p.m.–12:50 p.m. ST EMILY AND THE STRANGERS: Rob Reger, Mariah Huehner, Cat Farris
1:00 p.m.–1:50 p.m. ST BUZZKILL & THE GHOST FLEET: Donny Cates
1:30 p.m.–3:00 p.m. HB FIGHT CLUB 2: Chuck Palahniuk, Cameron Stewart, David Mack (WRISTBAND REQUIRED. One print per wristband will be provided. No other items
allowed. Other restrictions may apply.)
2:00 p.m.–2:50 p.m. ST MASS EFFECT: Mike Gamble, Fabrice Condominas, Noel Lukasewich
3:00 p.m.–3:50 p.m. ST THE STRAIN: Mike Huddleston
3:30 p.m.-4:30 p.m. HB FURIOUS: Bryan J. L. Glass
4:00 p.m.–4:50 p.m. ST AXE COP: Ethan Nicolle
PANELS
Thursday, July 24, 2014
10:00 a.m.–11:00 a.m.
The Witcher
Room 6A
A franchise spanning literature, comics, film and television, board games, and widely popular video games, The Witcher has touched millions with its engaging characters and exciting adventures. A diverse panel of experts discuss the many aspects of this renowned universe. Be the first to see new Dark Horse publications, view the first-ever live consumer demo of the upcoming The Witcher 3: Wild Hunt video game, and get a chance to meet the team behind Wild Hunt. Panelists include actors Doug Cockle (Geralt of Rivia, The Witcher franchise), Dark Horse Comics authorPaul Tobin (The Witcher: House of Glass), Nick McWhorter, CD Projekt RED's game developers Damien Monnierand Lukasz Wnek (The Witcher 3: Wild Hunt), and Rafal Jaki. Moderated by Spike TV's Geoff Keighley.
1:00 p.m.–2:00 p.m.
Drawing on Your Nightmares: Modern Horror in Comics 
Room 23ABC
Hot on the heels of the premiere of the Dark Horse comic turned television series The Strain, you are invited to explore the darker corners of comics. Horror has been one of the cornerstones of the Dark Horse publishing line for years, and 2014 will be no exception! Join panelists for an hour of all that is guaranteed to thrill and chill you, with resident horror junkies—editor in chief Scott Allie and PR director Jeremy Atkins—along with Eric Powell (The Goon), Mike Huddleston (The Strain), the first US appearance of Colder artist Juan Ferreyra, and more for sneak peeks, announcements, and other surprises along the way!
4:00 p.m.–5:00 p.m.
Breaking into Comics and Staying In
Room 30CDE
With the shifting landscape of comics today, this is your invaluable guide to breaking into the industry. Comics Experience founder Andy Schmidt (Marvel, IDW) is joined by writers Joshua Williamson (Ghosted, Nailbiter) andJoshua Hale Fialkov (The Ultimates, The Bunker), Dark Horse editor in chief Scott Allie (Hellboy), and IDW Publishing editor in chief Chris Ryall (Zombies vs. Robots) for what promises to be the best panel on breaking in ever!
6:00 p.m.–7:00 p.m.
A Universe of Terror Drawn to One Panel: Aliens, Predator, Prometheus, and Beyond
Room 9
Nearly thirty years ago, Dark Horse rewrote the rules of licensed comics with the release of Aliens, continuing the story lines of Ridley Scott's iconic film franchise. Predator and the iconic crossover Aliens vs. Predator followed, with each series a hit. Now, the publisher partners with Scott again, to bring sci-fi epic Prometheus to comics. With just under two months away from the launch of the ambitious and highly anticipated crossover Fire and Stone, Dark Horse editor in chief Scott Allie, writers Chris Roberson (Aliens), Joshua Williamson (Predator), Christopher Sebela (Aliens vs. Predator), and the Prometheus team of Paul Tobin and Juan Ferreyra reveal just what's in store for this grand universe!
Friday, July 25, 2014
12:30 p.m.–1:30 p.m.
Spotlight on Mike Mignola
Room 24ABC
Comic-Con special guest Mike Mignola celebrates the twentieth anniversary of his iconic creation Hellboy, star of comics, movies, and animation. Ask Mike about the Mignolaverse in this casual Q&A.4:00 p.m.–5:00 p.m.
The Art of Video Games
Room 7AB
A lot has changed since Dark Horse first released Mass Effect: Redemption #1 back in 2010. For the first time, video game franchises found a legitimacy in comics that had been practically unheard of. With a line of video game–related comics and deluxe art books, including the best-selling The Legend of Zelda: Hyrule Historia, the publisher now works with some of the biggest studios and brands in the business. Join Dark Horse PR director Jeremy Atkins and editorDave Marshall, Neil Druckmann (Naughty Dog), Jeremy Vanhoozer (PopCap), Rafal Jaki (CD Projekt RED), Nick Thornborrow (Dragon Age), and writer Paul Tobin (Plants vs. Zombies, The Witcher) for news and announcements on all your favorite video game tie-ins!
Comic Book Entrepreneurs: The Business of Comics
Room 9
A rare behind-the-scenes look as leading pop culture entrepreneurs share the secrets of building successful pop culture businesses! J. K. Parkin from Comic Book Resources and Robot 6 moderates an inspirational talk with comiXology co-founder and CEO David Steinberger, Harvey Award–nominated cartoonist Noelle Stevenson (Nimona, Lumberjanes), Dark Horse president and founder Mike Richardson, and Valiant CEO and chief creative officer Dinesh Shamdasani. It's an inside look at the business side of pop culture no future comics entrepreneur can miss!
Saturday, July 26, 2014
10:30 a.m.–11:30 a.m.
Avatar: The Last Airbender—Legend and Legacy 
Room 24ABC
For over five years, the Avatar Legacy Fan Panel has proudly organized this gathering. Moderator Avatar_Mom, Kevin Coppa (Puppetbenders), Elizabeth Furr (fan artist/Amira Ink!), Gene Luen Yang (writer/cartoonist), Angela Song Mueller (character designer), Josh Hamilton (writer), and Jessie Flower (voice actor for Toph) share stories and answer questions. Cosplayers, practice your stance for the cosplay contest! Cosplay prizes include titles from Dark Horse Comics.
1:30 p.m.–2:30 p.m.
The Whedonverse
Room 24ABC
Dark Horse's continuations of Joss Whedon's cult favorites (Serenity, Buffy the Vampire Slayer, Angel & Faith) remain some of the most-talked-about comics in the industry. Dark Horse is giving you an exclusive chance to hear all there is to tell about the current series of both Buffy the Vampire Slayer and Serenity from the series' top talent, with Dark Horse editor in chief Scott Allie, Buffy Season 10 writer Christos Gage and cowriter and actor Nicholas Brendon, Serenity artist Georges Jeanty, and TV and comics writer Jane Espenson.
2:00 p.m.–3:00 p.m.
Charting a Course: Developing the Next Mass Effect
Room 25ABC
Mass Effect developers from the Edmonton and Montreal studios discuss what it's like to expand on a well-established and beloved video game franchise. Panelists Carl Boulay (lead animator), Fabrice Condominas (producer), Mike Gamble (producer), Noel Lukasewich (senior artist), and Jessica Merizan (community manager) share their experiences in shaping the next Mass Effect game with new possibilities while staying true to the critically acclaimed series. Moderated by Nerdist.com.
2:50 p.m.–3:50 p.m.
Frank Miller's Sin City: A Dame to Kill For
Hall H
Dimension Films, in association with Aldamisa Entertainment, present exclusive footage from the highly anticipated sequel Frank Miller's Sin City: A Dame to Kill For from acclaimed codirectors Robert Rodriguez and Frank Miller. Fans will get to experience the Sin City universe and take part in a special discussion with Rodriguez, Miller, and members of the cast.
3:00 p.m.–4:00 p.m.
30 Years of Usagi Yojimbo!
Room 28DE
Comic-Con special guest Stan Sakai, creator of Usagi Yojimbo, is interviewed by Dark Horse editor Diana Schutzabout the upcoming Senso miniseries, The Sakai Project, and the return of the regular Usagi series after a two-year hiatus.
4:30 p.m.–5:30 p.m.
Creepy & Eerie: 21st Century Horror
Room 24ABC
A ghoulish panel of horror freaks discuss the impact and influence of the classic Warren horror titles Creepy and Eerie on modern horror creators in film, TV, and of course, comics. Some special guests will add to your discomfort as Dark Horse announces plans for the fiftieth anniversary of Creepy. Moderated by Gemstone's J. C. Vaughn (Overstreet Price Guide) and consulting editor and writer Dan Braun (Creepy). Panelists include sculptor Justin Mabry (Trick or Treat Studios), Chris Zephro (Trick or Treat Studios), and New Comic Company's Josh Braun (Eerie). Throw in a couple of surprise Creepy artists and writers, and there'll be quite a stew for you. Plus: awesome Creepy swag!
Sunday, July 27, 2014
10:00 a.m.–11:00 a.m.
The Fifth Beatle: The Beatles, the Big Screen, and Beyond
Room 24ABC
One of the hottest graphic novels of 2013, The Fifth Beatle: The Brian Epstein Story is now one of the most highly anticipated films, having secured the approval of Paul McCartney, Ringo Starr, Yoko Ono, and Olivia Harrison, along with unprecedented access to the entire Beatles music catalog. Fifth Beatle writer and producer Vivek J. Tiwary(Green Day's American Idiot) introduces a series of very special guests for a discussion of The Fifth Beatle's development and breaking news. Panel moderated by Patrick Reed (Depth of Field Magazine).
10:00 a.m.–11:00 a.m.
The Emily the Strange Panel
Room 32AB
Join Emily the Strange creator Rob Reger and his cast of Strangers for their annual panel experience and get the insider scoop on the all-ages Dark Horse comic book series Emily and the Strangers, including sneak peeks at new artwork and story lines from upcoming issues. Hear some snippets of new tracks from Emily and the Strangers and see behind-the-scenes footage of the making of the "Calling All Guitars" animated music video. As always, audience participation will be encouraged and perhaps enforced with plenty of rewards for being strange . . . Oh yeah, and some Q&A with updates on the feature film development. Be there or get lost!
12:00 p.m.–1:00 p.m.
Dark Horse Builds Characters: Tomorrow's Comics Today
Room 24ABC
Nearly thirty years ago, Dark Horse arrived with an agenda different from that of any other publisher in comics. The young company was founded on the belief that comics creators should have the option to retain the rights to their own work, and it continues to be a highly fertile breeding ground for new characters, concepts, and more! Now, the publisher is poised to make headlines again with some of the biggest news about new original work since Frank Miller brought Sin City to the pages of Dark Horse Presents! Join panelists for an exclusive look at upcoming and unannounced creator-owned work from some of the biggest names in and outside the industry! This will be the comics panel everyone will be talking about at this year's show!
1:45 p.m.–3:45 p.m.
The Strain
Hall H
Get a sneak peek at the third episode of FX's brand-new series, The Strain. In episode 3, "Gone Smooth," Eph and Nora fight to save Captain Redfern's life before coming face to face with the horrifying effects of the virus. A spike in rat attacks signals Fet that something inexplicable is happening deep below the city. Released from jail, Setrakian begins his own merciless plan to stop the spread of the disease. Written by Chuck Hogan; directed by David Semel. After the screening, join series creators Guillermo del Toro (Pacific Rim) and Chuck Hogan and show runner Carlton Cuse(Lost), along with the cast members Corey Stoll, David Bradley, Mía Maestro, Sean Astin, Kevin Durand,Jonathan Hyde, Richard Sammel, Miguel Gomez, Ben Hyland, and Jack Kesy.
Writer Peter David signs copies of his new book, answer questions and take photos at Barnes & Noble on  Saturday August 2, 2014 from 2:00 to 3:30 pm. Peter is an American writer of comic books, novels, television, movies, and video games.
Barnes & Noble
1819 Reisterstown Road, Baltimore, MD 21208
410-415-5758
This past weekend was ConnectiCon in Hartford, CT. Founded in 2002 primarily as a gaming convention, it has come to encompass multiple genres and attracts attendees from all over the country.  It roots in gaming are still clearly apparent as they host a gaming room equal the size of the main vendor/artist area which hosted hundreds if not thousands of gamers playing Magic: The Gathering, Yu-Gi-Oh, WarHammer, and many other table top games. Naturally there is also a large contingent of cosplayers dressed as their favorite characters from TV, moves, comic books and video games. The projected attendenace fo this year was 17,000 people and while there were certainly a lot of people in the Hartford Convention Center, it was laid out and organized so it never felt crowded. The autograph lines for guests moved surprisingly fast and, provided you showed up a little early, panels were easy to get into.
A big draw for this year's ConnectiCon was the wealth of guests from the voice acting industry. A growing trend at conventions across the country, these talented performers need only a microphone to display their gift for breathing life into characters. Guests included Invader Zim's Richard Horvitz and Rikki Simons, Pinky and the Brain's Maurice LaMarche and Rob Paulsen, Batman: The Brave and the Bold's Dietrich Bader, Mass Effect's Jennifer Hale, and Legend of Korra's Janet Varney. Speaking to the press, Horvitz and Simons said they love having meeting fans who grew up watching Zim and are now cosplaying as their characters. The also mentioned people sometime have full sleeve tattoos where they leave room to get autographed. Horvitz said, "We always ask them to please not get murdered because we're afraid the police will think the killer signed their work."
As an actor who had success in on-screen roles on The Drew Carey Show, Outsourced, and Office Space, Bader remarked that he is in awe at the talent of his cartoon co-stars and how unpretentious and friendly most are compared to the rest of Hollywood. When asked what his favorite character to play was, Bader immediately and unequivocally said "Batman." Prior to being cast on Brave and the Bold Bader had not been terribly well-versed in Bat-lore but said that getting into character really moved him especially in the scene where Batman confronts his parents' killer, during Bader said he had literal tears running down his face.
On panels with LaMarche and Paulsen it was readily evident that their their friendship and work relationship easily rolls into one another. Paulsen remarked several times that his co-stars are people with whom he would choose to be friends had they never met at work. They often finished one another's jokes and would goad the other into saying a favorite line or catchphrase. They credited a mutual love of Monty Python and Beyond the Fringe as instantly cementing their bond when the first worked together.
LaMarche and Paulsen shared many stories from Animaniacs and Pinky and the Brain, one being the famous "Yes, Always" sketch in which LaMarche faithfully recreates a famous outtake of Orson Welles recording a commercial for peas in which the famous director angrily tells off the staff. LaMarche had regaled his co-stars, directors, and engineers with his rendition so it was added to the script as a suprise for LaMarche. They also regaled the audience to a reading of "Green Eggs in Ham" with Paulsen reading Sam I Am (in the voice of Pinky) and LaMarche playing the main character as the Brain. The showstopper, however, was Paulsen singing "Yakko's World" in which he rattles off every single country in the world to which the entire crowd clapped along.
Finally, Janet Varney who voices the title character of The Legend of Korra spoke about the series to a full panel room of Avatar-fans. She noted that they all had very pointed questions regarding many of Korra's decisions on the show. Varney said while she often disagrees with Korra's actions that is part of what makes her a well-rounded character. Twice during the Q&A Varney had to apologize for "rudely" taking a phone call. The first was from Firelord Zuko (actor Dante Basco) who called in to look for his honor and the second was Bolin (voice actor PJ Byrne), both whom were kind enough to say hello to the fans and field a question or two.
Fans were very excited to meet the people who helped bring their animated favorites to life. LaMarche said it best, "Hearing I made your childhood better makes my middle age better." Here's looking forward to seeing what voice talents are scheduled for next year's show!
Press Release:
LIONSGATE AND SAMSUNG TO DEBUT OFFICIAL THE HUNGER GAMES: MOCKINGJAY – PART 1 TRAILER
First Official The Hunger Games: Mockingjay – Part 1 Trailer to Premiere Exclusively on the Galaxy Tab® S at San Diego Comic-Con® and in Samsung Experience Shops within Best Buy Locations Nationwide
SANTA MONICA, Calif. and DALLAS, July 18, 2014 /PRNewswire/ — Lionsgate (NYSE: LGF), a premier next generation global content leader, and Samsung Telecommunications America, LLC (Samsung), have teamed up on the next installment of the global blockbuster Hunger Games franchise, The Hunger Games: Mockingjay – Part 1.  The collaboration will launch with all fans getting a sneak peek of the film's first official teaser trailer, The Hunger Games: Mockingjay – Part 1, exclusively on Samsung's new Galaxy Tab® S ahead of its online release.
In a first-of-its-kind experience, fans will have the opportunity to preview the highly-anticipated The Hunger Games: Mockingjay – Part 1 trailer on the Galaxy Tab S at an exclusive premiere in San Diego during Comic-Con on Friday, July 25. For those outside San Diego, beginning Saturday, July 26, fans can visit participating Samsung Experience Shops within Best Buy locations nationwide throughout the weekend to preview the trailer. Samsung will also provide visitors that view the trailer at Samsung Experience Shops one complimentary ticket to see The Hunger Games: Mockingjay – Part 1 when it opens in theaters worldwide on November 21, while supplies last.
Additionally, owners of select Galaxy devices* will have the opportunity to download the all-new Hunger Games Movie Pack App, via Google Play™ for access to exclusive content from The Hunger Games franchise.
"We're giving our consumers the unique experience to premiere the official trailer of The Hunger Games: Mockingjay – Part I on our new Galaxy Tab S," said Todd Pendleton, Chief Marketing Officer, Samsung Telecommunications America. "Together with Lionsgate, we will give Samsung Galaxy owners access to experience The Hunger Games franchise like never before."
"We're thrilled to be partnering on Mockingjay 1 with a company that has the global stature of Samsung and whose innovative technologies touch every aspect of consumers' lives around the world," said Paula Kupfer, SVP of Consumer Products & Licensing at Lionsgate.  "They are a perfect fit with our franchise, and together we envision unlimited opportunities for expanding the world of The Hunger Games in exciting and visionary ways."
During San Diego Comic-Con:
On Friday, July 25 at 12:00pm PT, cast members from The Hunger Games: Mockingjay – Part 1 will introduce the trailer on the Galaxy Tab S in the Capitol Gallery located in the Samsung Galaxy Experience in San Diego (in the Hard Rock Hotel, corner of 5th and L Streets).
Nationwide at Best Buy:
Fans outside the San Diego area can also get an exclusive preview of the first official The Hunger Games: Mockingjay – Part 1 trailer beginning on Saturday, July 26 and extending through Sunday, July 27 by visiting Samsung Experience Shops inside select Best Buy locations. While supplies last, visitors will receive one complimentary pass to see The Hunger Games: Mockingjay – Part 1 when it opens in theaters November 21.
The Hunger Games Movie Pack App:
As part of the collaboration, The Hunger Games Movie Pack App will be available to download for free on select Samsung devices*beginning July 28, via Google Play. The app will give Galaxy owners access to exclusive Hunger Games content, including scripts, book excerpts, video clips and more.
Galaxy Tab S owners will have the opportunity to download the first two Hunger Games films for free, in addition to receiving all the exclusive content through the app. Samsung will continue to deliver exclusive Hunger Games content to Galaxy owners through the app leading up to the film's premiere on November 21. *
Samsung, Galaxy, Galaxy S, and Galaxy Tab are all registered trademarks of Samsung Electronics Co., Ltd.
*The Hunger Games Movie Pack App will be available to download for free on the Galaxy Tab S, Galaxy Note Pro, Galaxy Tab Pro, Galaxy Note 3, Galaxy S5 and Galaxy S4 starting July 28.
*Limit to 200,000 downloads per movie.  Available through December 31, 2014.
About Samsung Telecommunications America
Samsung Telecommunications America, LLC, (Samsung Mobile) a Dallas-based subsidiary of Samsung Electronics Co., Ltd., researches, develops and markets wireless handsets, wireless infrastructure and other telecommunications products throughout North America. For more information, please visit www.samsung.com.
About Samsung Electronics Co., Ltd.
Samsung Electronics Co., Ltd. is a global leader in technology, opening new possibilities for people everywhere. Through relentless innovation and discovery, we are transforming the worlds of televisions, smartphones, personal computers, printers, cameras, home appliances, LTE systems, medical devices, semiconductors and LED solutions. We employ 270,000 people across 79 countries with annual sales of US$187.8 billion. To discover more, please visit www.samsung.com.
ABOUT LIONSGATE

Lionsgate is a leading global entertainment company with a strong and diversified presence in motion picture production and distribution, television programming and syndication, home entertainment, family entertainment, digital distribution, new channel platforms and international distribution and sales. Lionsgate currently has over 30 television shows on more than 20 networks spanning its primetime production, distribution and syndication businesses, including such critically-acclaimed hits as the multiple Emmy Award-winning Mad Men and Nurse Jackie, the comedy Anger Management, the network series Nashville, the syndication success The Wendy Williams Show and the critically-acclaimed hit series Orange is the New Black.
Its feature film business has been fueled by such recent successes as the blockbuster first two installments of The Hunger Gamesfranchise, The Hunger Games and The Hunger Games: Catching Fire, the first installment of the Divergent franchise, Now You See Me, Kevin Hart: Let Me Explain, Warm Bodies, The Expendables 2, The Possession, Sinister, Roadside Attractions' Mud and Pantelion Films' breakout hit Instructions Not Included, the highest-grossing Spanish-language film ever released in the U.S.
Lionsgate's home entertainment business is an industry leader in box office-to-DVD and box office-to-VOD revenue conversion rate. Lionsgate handles a prestigious and prolific library of approximately 15,000 motion picture and television titles that is an important source of recurring revenue and serves as the foundation for the growth of the Company's core businesses. The Lionsgate and Summit brands remain synonymous with original, daring, quality entertainment in markets around the world.
Brian Michael Bendis, Kelly Sue DeConnick, Matt Fraction, Michael Avon Oeming, Taki Soma, and David Marquez sign at Excalibur Comics on Wednesday August 6th at 6:00 p.m. for the store 40th anniversary!
Excalibur Books & Comics
2444 SE Hawthorne Blvd, Portland, OR 97214-3969
(503) 231-7351