Gareth Hinds appears at Politics & Prose to sign his graphic novel adaptation of Macbeth on Tuesday, March 3, 2015 at 10:30 am.
Shakespeare's classic story of dark ambitions, madness, and murder springs to life in a masterful new graphic novel by Gareth Hinds.
Set against the moody backdrop of eleventh-century Scotland, Gareth Hinds's captivating, richly illustrated interpretation takes readers into the claustrophobic mind of a man driven mad by ambition. An evil seed takes root in the mind of Macbeth, a general in the king's army, when three witches tell him he will one day be king. At the urging of his wife, he resolves to take the throne by the most direct path: a dagger in the heart of King Duncan. But "blood will have blood," and when others grow suspicious of his sudden rise to power, is Macbeth prepared to commit more murders to keep the crown?
Gareth Hinds is the acclaimed creator of the graphic novels The Odyssey, Beowulf, Romeo and Juliet, The Merchant of Venice, and King Lear. He lives near Washington, D.C.
Politics & Prose
5015 Connecticut Ave NW, Washington, DC 20008
202-364-1919
Novelist R.A. Salvatore appears at Barnes & Noble to sign his new book Vengeance of the Iron Dwarf on Thursday March 26, 2015 at 7:00 PM!
Glendale Americana
The Americana at Brand
210 Americana Way, Glendale, CA 91210
818-545-9146
Aaron Lopresti, Andy Smith, Chad Hardin, Chuck Dixon, Dave Myers, Graham Nolan, Greg Land, James Bukauskas, Kate Carleton, Morry J. Hollowell, Ron Garney, Sergio Cariello, Tim Townsend, Tommy Castillo, Wil Quintana, Fierce Comics, and more appear at Yancy Street Comics on Saturday, May 2, 2015 for Free Comic Book Day 2015!
Yancy Street Comics
9409 US 19 (inside Gulfview Square Mall), Port Richey, FL 34668
727-817-0888
Lego fans wait no more! LEGO: DC Comics Super Heroes: Justice League vs. Bizarro League is here along with an awesome Bizarro name-generator app and exclusive Digital Trading Cards.
One lucky winner will receive LEGO Justice League vs. Bizarro League Blu-ray+DVD+Digital HD UltraViolet Combo Pack + with Batzarro LEGO minifigure!
Deadline to enter is March 4, 2015.
The Story: Batman has joined the newly formed Justice League in order to keep tabs on Superman, a mistrust that is complicated by Superman's clumsy – but well-meaning – clone, Bizarro. Bizarro's creation of the Bizarro League has caused confusion amongst the world's greatest Super Heroes, but an even greater and mysterious threat may force the Justice League and Bizarro League to band together to defeat evil.
Superman Digital Exclusive Trading Card

Download and print out free trading cards!

Use our widget to record your entries:
Each household is only eligible to win LEGO: DC Comics Super Heroes: Justice League vs. Bizarro League (Blu-ray+DVD+Digital HD UltraViolet Combo Pack) Blu-ray via blog reviews and giveaways. Only one entrant per mailing address per giveaway. If you have won the same prize on another blog, you will not be eligible to win it again. Winner is subject to eligibility verification.
Warner Home Video is sponsoring this contest and has provided the prize and materials.
The prize will be sent via FedEx or USPS. No P.O. Boxes please. Giveaway open to the U.S. and Canada.
Press Release:
The Cartoon Art Museum celebrates Will Eisner Week with a spirited discussion of the legendary creator's life and artwork on Sunday, March 8, 2015 from 4:00-5:00pm. San Francisco-based comic creators Mario Hernandez (Love and Rockets), Steve Leialoha (Fables), and Trina Robbins (Pretty in Ink) will discuss Eisner's career and the impact that his work had on their own artistic endeavors.
About WILL EISNER WEEK:
WILL EISNER WEEK is an annual series of celebrations that takes place in multiple cities, timed around Will Eisner's March 6th birthday. Started in 2009, Will Eisner Week is dedicated to promoting graphic novel literacy, free speech awareness, and the legacy of Will Eisner. This year Will Eisner Week is once again a truly international celebration including England, Scotland and Italy. More details about Will Eisner Week can be found at www.WillEisner.com
Cartoon Art Museum
655 Mission Street, San Francisco, CA 94105
(415) 227-8666
Rick Remender, writer of Captain America, Low, Black Science, and Uncanny Avengers, appears at Escapist Comics on Thursday, March 5, 2015 at 6:00 PM! The Escapist is also starting a Comic Book Reading Club with the first meeting Sunday, March 15th reading DEADLY CLASS!
Escapist Comics
3090 Claremont Ave, Berkeley, CA 94705
510-652-6642
Dav Pilkey and Dan Santat sign at Books of Wonder on Sunday, March 15, 2015 from 1:00 – 3:00 pm!
Books of Wonder
18 West 18th Street, New York, NY 10011
(212) 989-3270
Writer Greg Rucka and artist Michael Lark appear at Fantastic Comics for a Q&A and signing on Saturday, March 21, 2015 from 3:30 – 6:00 PM! RSVP on Facebook!
After the signing, fans are invited to head on over to TR!CKSTER for an art show of Michael's work and a reception with both creators from 7:00 to 9:30 PM. RSVP on Facebook!
Fantastic Comics
2026 Shattuck Ave, Berkeley, CA 94704
510-848-2988
Tr!ckster
2631 Ashby Ave, Berkeley, CA 94705
510-665-8900
Cartoonist Andi Watson appears at Gosh Comics on Friday 27 February 2015 from 7:00 – 9:00 PM to celebrate the release of Princess Decomposia and Count Spatula!
Gosh Comics
1 Berwick St, SoHo, London W1F0DR
United Kingdom
Every pony is unique! If you lived in Equestria, what would your CUTIE MARK be? The Cutie Marks Crusaders can help you find out! MY LITTLE PONY–FRIENDSHIP IS MAGIC: ADVENTURES OF THE CUTIE MARK CRUSADERS is coming to DVD on February 24, 2015 in the U.S. and Canada from Shout! Factory Kids in collaboration with Hasbro Studios. Offered as a bonus feature is a fun new sing-along and coloring sheets!
I was ten years old when I got my first My Little Pony doll. Back then, the ponies had sad, dreamy looking eyes with round faces. I collected a number of them, my favorite being the one with shamrocks on its butt; the phrase "cutie mark" hadn't come along yet. The most exciting thing you could expect to do with your pony was brush its hair. Soon after, a cartoon series premiered. As a kid in the '80s I can tell you, it was pretty lame. Fast forward 20 years. I was married with a little girl who was in love with My Little Pony. For years, I've watched this child obsess over every detail of every pony. The toys evolved in appearance and developed an incredibly in-depth back story. By 2010, animator and writer Lauren Faust (The Power Puff Girls) gave the world My Little Pony–Friendship is Magic, bringing the franchise a commercial success never imagined. Here is some information about the new DVD:
"In EQUESTRIA, obtaining a CUTIE MARK is an important coming-of-age moment for a young Pony. After all, Ponies acquire their CUTIE MARKS only after they discover a unique characteristic about themselves, setting them apart from all other Ponies. So when Sweetie Belle, Scootaloo and Apple Bloom meet, they instantly become friends and make it their mission to find their CUTIE MARKS! They are the Cutie Mark Crusaders!"
My daughter is 16.5 years old now and a Junior in High School. I wish you could have seen her face when I told her that I'd been tasked with reviewing this DVD! We watched it together and she provided detailed commentary during and after every episode. That right there was worth every moment.
As a family who were long-time fans of The Power Puff Girls, it was easy to fall in love with the Friendship is Magic series. In fact, the characters of Sweetie Bell, Scootaloo and Apple Bloom are essentially a redux of the PPG's Blossom, Bubbles and Buttercup characters. But, the pop culture references don't stop there. Parents watching this series with their children will be entertained by look-a-like Ponies that pop up in every episode. Any cartoon that can find a way to work in 'Doctor Whooves' gets two thumbs up from me. Keep an eye out on this DVD for the 'cast' of The Big Lebowski at the bowling alley.
These Generation 4 My Little Pony characters are a lot of fun to watch no matter what your age. Each character, as expressed by their Cutie Mark, represents an aspect of friendship. The series offers good moral messages for young children. Though, its most impressive to me how this series has touched so many teens and even adults with its inside humor and positive messages. Having spawned an entire sub-culture of fans across the globe, My Little Pony has united many people in a fandom that will be around for many, many years to come. It is a far cry from the Pony days of my youth. I, for one, am glad to see this franchise re-imagined for a new generation. The target demographic is young girls aged 4-7, however this series is one that is highly enjoyed by every member of my household regardless of age or gender. I would highly recommend this DVD to those interested in joining the Pony movement. With 5 individual episodes and approx. 110 minutes running time, The Adventures of the Cutie Mark Crusaders will win your family over!
"For even more Pony fun, PlayDate Digital has announced the new Cutie Pox Storybook App. When Apple Bloom becomes impatient waiting for her Cutie Mark, she decides to take things into her own hooves! In this interactive story book, follow Apple Bloom and the fillies as they learn that taking the easy path toward your goals isn't always the best way. Enter the world of Equestria in this story book adventure full of excitement, humor and friendship! The release of "Cutie Mark Crusaders" marks the first of a series of planned collaborations between PlayDate Digital and Shout! Factory to cross-promote My Little Pony–Friendship is Magic stories and media. In this collaboration, products contain promotional material highlighting a variety of products. In addition, Shout! Factory and PlayDate will host contests and offer value-added bonus material."
Episodes: The Cutie Mark Chronicles, The Cutie Pox, Flight to the Finish, Pinkie Pride, and Twilight Time.
Bonus Features: Sing-Along, Coloring Sheets, and More!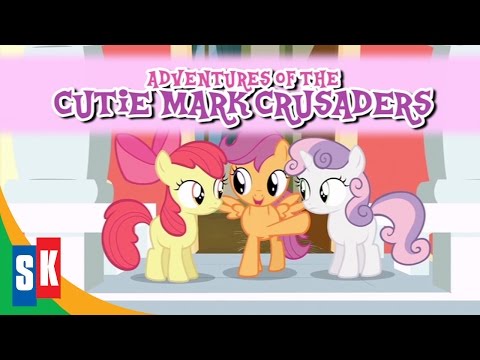 Also available on DVD from Shout! Factory Kids: My Little Pony Equestria Girls: Rainbow Rocks; My Little Pony Equestria Girls; My Little Pony-Friendship is Magic: Spooktacular Pony Tales; My Little Pony-Friendship is Magic: The Keys of Friendship; My Little Pony-Friendship is Magic: A Dash of Awesome; My Little Pony-Friendship is Magic: A Pony for Every Season; My Little Pony-Friendship is Magic: Princess Twilight Sparkle; My Little Pony-Friendship is Magic: Pinkie Pie Party; My Little Pony-Friendship is Magic: Adventures in the Crystal Empire; My Little Pony-Friendship is Magic: Royal Pony Wedding; My Little Pony-Friendship is Magic: Season Three; My Little Pony-Friendship is Magic: Season Two; My Little Pony-Friendship is Magic: Season One; My Little Pony-Friendship is Magic: The Friendship Express; My Little Pony The Complete Series (Classic); My Little Pony: Escape from Catrina and Other Adventures; My Little Pony: Classic Movie Collection; My Little Pony: A Very Minty Christmas; My Little Pony: Twinkle Wish Adventure.
About Hasbro Studios:
Hasbro Studios is responsible for entertainment brand-driven storytelling for Hasbro across television, film, commercial productions and short-form content. It develops, produces and distributes TV shows based on Hasbro's world class brands, including TRANSFORMERS, MY LITTLE PONY, LITTLEST PET SHOP and FAMILY GAME NIGHT. Many of these shows air on Discovery Channel Family Channel and on networks in more than 180 territories globally. Since its formation in 2009, the studio has received nine Daytime Emmy wins.
On the film side, the studio has developed and produced a number of features based on Hasbro's brands. In addition to partnering with leading studios, the company intends to make movies based on new and existing Hasbro brands for audiences globally through Allspark Pictures film label. Films in development or planned for release include OUIJA (Universal), CANDY LAND (Sony), GI JOE 3 (Paramount), JEM AND THE HOLOGRAMS (Universal and Allspark Pictures), MAGIC: THE GATHERING (21st Century Fox), and an animated feature based on MY LITTLE PONY (Allspark Pictures).
About Shout! Factory:
Shout! Factory, LLC is a diversified multi-platform entertainment company devoted to producing, uncovering, preserving and revitalizing the very best of pop culture. Founders Richard Foos, Bob Emmer and Garson Foos have spent their entire careers sharing their music, television and film favorites with discerning consumers the world over. Shout! Factory's DVD and Blu-Ray offerings serve up feature films, classic and contemporary TV series, animation, live music and comedy specials in lavish packages crammed with extras. Shout's audio division boasts GRAMMY nominated box sets, new releases from storied artists, lovingly assembled album reissues and indispensable "best of" compilations. In addition, Shout! Factory maintains a vast digital distribution network which delivers video and audio content to all the leading digital service providers in North America. Shout! Factory also owns and operates Timeless Media Group, Biograph Records, Majordomo Records, HighTone Records and Video Time Machine. These riches are the result of a creative acquisition mandate that has established the company as a hotbed of cultural preservation and commercial reinvention. Shout! Factory is based in Santa Monica, California. For more on Shout! Factory, visit shoutfactory.com