Writer Alan Moore and artist Kevin O'Neill appear at Gosh! Comics to close out their British Comics Month of signings on Saturday, March 29, 2014 from 2:00 pm until 6:00 pm! The latest comic is Nemo: Roses Of Berlin, out from Knockabout. ROB is a continuation of the League of Extraordinary Gentlemen series, following last year's Nemo: Heart of Ice tale, which focuses on the adventures of science-fiction brigand Janni Nemo. This time Janni has to travel to a Berlin occupied by the dictator Adenoid Hynkel to save her loved ones, who have been taken hostage by a mysterious but familiar enemy. Heavily influenced by Expressionist German Cinema of the Weimar Republic, this Nemo is a thrilling ride through shadows, totalitarian nightmares, and mechanical monsters.
Due to the sheer volume of demand at this events, Alan and Kevin will only be able to sign four items per person, and only books in the League of Extraordinary Gentlemen series – that way, everyone has a chance to have a chat as well as getting their LOEG books signed! Look out for a special release on the day, too.
The signing takes place on Saturday, March the 29th, and will be running from 2pm to 6pm. It is advised to get there early, as the queue tends grow to huge proportions and often has to be capped! Also please note that due to the anticipated popularity of this event, we will not be able to take reservations for signed books.
Gosh Comics
1 Berwick St, SoHo, London W1F0DR
United Kingdom
John Broglia and Michael Sarrao sign and sketch at Comic Book Jones on Saturday March 15th!
Comic Book Jones
2220 Forest Avenue, Staten Island, NY 10303-1700
Jonathan Coulton and Greg Pak appear at Dragon's Lair in Austin to sign Code Monkey Save World on Monday, March 10th from 6:00 pm till 8:00 pm!
Dragon's Lair Austin
2438 West Anderson Lane, Suite B-1, Austin, TX 78757
Comedian Brian Posehn and special guest Lance Henriksen host a midnight screening of Near Dark on March 14th at the Hollywood Arclight.
Arclight Hollywood Cinema
6360 Sunset Blvd, Los Angeles, CA 90028
(323) 464-1478
Comics legend NEAL ADAMS appears at Mike's Comics on Wednesday, March 19, 2014 from 4:00 until 7:00 pm! First autograph is FREE! (Additional autographs are $10 each). Catch him before the rush at MegaCon!
Portfolios, Art Prints, Books and Sketches will be available for purchase! We are also taking on commissions so now is the time to get a piece of art drawn up by Neal Adams. Email Jason at adams@nealadams.com and Jason will work out characters and prices with you. You can also call Jason Adams at 212-869-4170.
Neal Adams is an American comic book and commercial artist known for helping to create some of the definitive modern imagery of the DC Comics characters Superman, Batman, and Green Arrow; as the co-founder of the graphic design studio Continuity Associates; and as a creators-rights advocate who helped secure a pension and recognition for Superman creators Jerry Siegel and Joe Shuster.
Mike's Comics
8110 S. Orange Blossom Trail, Orlando, Florida 32809
The Grandmaster Blu-ray and DVD Release Coming March 4 from Anchor Bay Entertainment and the Weinstein Company
There have been several films featuring Ip Man, the legendary martial artist, in recent years. Donnie Chen has played the Wing Chun master twice since 2008, a role he claims he will never reprise. Dennis To took a turn in the 2010 film The Legend Is Born—Ip Man, and before him, Yu Chenghui assumed the role in The Legend of Bruce Lee. Now comes The Grandmaster, released in China in 2013 and available this year in the U.S. thanks to the Weinstein Company.
Directed by Wong Kar-wai, a favorite of eastern and western film festivals, the movie is a taut epic—is that an oxymoron?—tracing Ip's life from the mid-1930s to his death in 1972. A master of the kung fu style known as Wing Chun (literally, "spring chant"), Ip, played with a humble confidence by Tony Leung, defeats Gong Yutian, a martial arts master from Northern China, in 1936, earning the distinction of Southern master. He also fights Gong's mysterious daughter, Gong Er—and loses.
The two stay in touch through letters until war drains Ip's fortune, kills two of his children, and forces him to Hong Kong in 1950 in search of work. He lands at a kung fu school, where he earns a job by out-fighting the headmaster. (In one of the few light moments, Ip asks the headmaster if he has eaten lunch. Yes, the headmaster says. Smiling slyly, Ip replies, "I did not want it to go to waste." A single blow later, the lunch makes its cameo.)
In Hong Kong, Ip reconnects with Gong Er, who has become a doctor. She tells him about her father, who was murdered by his Northern successor, Ma San, and her subsequent vengeance against Ma: she killed him by shoving him against a speeding train. The fight left her wounded, and she turned to opium in 1940, dying in 1952 from an apparent overdose. Ip focuses on his teaching after that, bringing Wing Chun many followers, "including," we learn in the movie's coda, "his most famous student, Bruce Lee," who appears for two seconds as a fuzzy-haired adolescent.
The Grandmaster is a gorgeous film, a study in cinematic detail. In a fight scene in the rain, for instance, the water dripping from the brim of Ip's hat is rendered in poetic close-up. The fight between Ip and Gong Er has the tenderness of foreplay, but other battles have some absurdities, such as when Ip and an opponent kick opposite sides of a rickshaw and crush it. This is the draw, however, of kung fu movies: stylized violence, no different from Die Hard or The Fast and the Furious, except using natural weapons, the hands and feet, instead of Uzis or 1969 Camaros. In these fantasy elements, Wong Kar-wai delivers.
Where he misfires is Ip's reunion with Gong Er: he makes it too compelling. There had been hints of friction between her father and his man Ma, and when she reveals what happened, we see the toll those events took. Zhang Ziyi, whom I had only ever seen in Rush Hour 2 as a remorseless assassin, shows us her range, making Gong Er not so tortured that she can't get stuff done (like taking out her father's killer). Compared to this bloodlust, Ip Man's wanderings provide little conflict.
In its sweep and cinematography, its pitch-perfect acting and thrilling, if occasionally risible, battle scenes, The Grandmaster is perhaps the best account of the life of Ip Man, a figure important to both eastern and western cultures.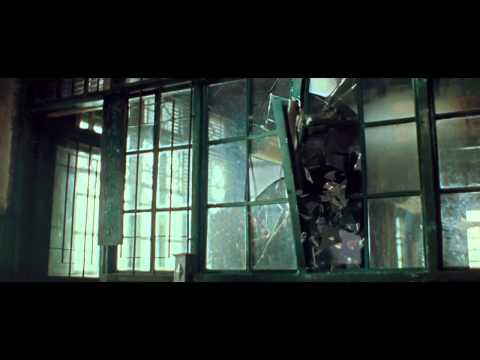 DVD Bonus Features include:
The Grandmaster: From Ip Man to Bruce Lee
A Conversation with Shannon Lee, Daughter of Bruce Lee
The Grandmaster Behind the Scenes
Wong Kar Wai's Journey Into Martial Arts
Focus on Fighting Styles
Recreating Imperial China
Tony Leung
Zhang Ziyi
Director Wong Kar Wai
What Makes a Martial Artist
The Grandmaster According to RZA
THE GRANDMASTER BLU-RAY™
Street date:                  March 4, 2014
Catalog #:                    BD61155
UPC:                            013132611556
Run time:                     108 Minutes
Rating:                         PG-13
SRP:                             $29.99
Format:                        Widescreen
Audio:                         5.1 DTSHD-MA
Languages:                Mandarin Chinese with English Subtitles, English, English Subtitles For The Deaf & Hearing Impaired & Spanish Subtitles
THE GRANDMASTER DVD
Street date:                 March 4, 2014
Catalog #:                   WC61154  
UPC:                           013132611549
Run time:                    108 Minutes
Rating:                        PG-13
SRP:                            $24.98
Format:                       Anamorphic Widescreen
Audio:                         Dolby Digital 5.1
Languages:                Mandarin Chinese with English Subtitles, English, English Subtitles For The Deaf & Hearing Impaired & Spanish Subtitles
Learn more about THE GRANDMASTER at: www.thegrandmasterfilm.com
About the Weinstein Company
The Weinstein Company (TWC) is a multimedia production and distribution company launched in October 2005 by Bob and Harvey Weinstein, the brothers who founded Miramax Films in 1979. TWC also encompasses Dimension Films, the genre label founded in 1993 by Bob Weinstein, which has released such popular franchises as SCREAM, SPY KIDS and SCARY MOVIE. Together TWC and Dimension Films have released a broad range of mainstream, genre and specialty films that have been commercial and critical successes.  TWC releases took home eight 2012 Academy Awards®, the most wins in the studio's history. The tally included Best Picture for Michel Hazanavicius's THE ARTIST and Best Documentary Feature for TJ Martin and Dan Lindsay's UNDEFEATED. THE ARTIST brought TWC its second consecutive Best Picture statuette following the 2011 win for Tom Hooper's THE KING'S SPEECH.
Since 2005, TWC and Dimension Films have released such films as GRINDHOUSE; 1408; I'M NOT THERE; THE GREAT DEBATERS; VICKY CRISTINA BARCELONA; THE READER; THE ROAD; HALLOWEEN; THE PAT TILLMAN STORY; PIRANHA 3D; INGLOURIOUS BASTERDS; A SINGLE MAN; BLUE VALENTINE; THE COMPANY MEN; MIRAL; SCRE4M; SUBMARINE; DIRTY GIRL; APOLLO 18; OUR IDIOT BROTHER; I DON'T KNOW HOW SHE DOES IT; SARAH'S KEY; SPY KIDS: ALL THE TIME IN THE WORLD IN 4D; MY WEEK WITH MARILYN; THE IRON LADY; W.E.; CORIOLANUS; UNDEFEATED; THE ARTIST; BULLY; THE INTOUCHABLES; LAWLESS; KILLING THEM SOFTLY; THE MASTER; SILVER LININGS PLAYBOOK; DJANGO UNCHAINED; QUARTET; ESCAPE FROM PLANET EARTH; DARK SKIES; THE SAPPHIRES; SCARY MOVIE 5; KON-TIKI; and UNFINISHED SONG. Currently in release are FRUITVALE STATION, LEE DANIELS' THE BUTLER, THE GRANDMASTER, SALINGER, 12-12-12, PHILOMENA, MANDELA: LONG WALK TO FREEDOM and AUGUST: OSAGE COUNTY. Upcoming releases include ONE CHANCE and VAMPIRE ACADEMY.
TWC is active in television production, led by former Miramax Films President of Production Meryl Poster. TWC is the studio behind such hit television series as the Emmy® nominated and Peabody Award winning reality series PROJECT RUNWAY and its spin-off series PROJECT RUNWAY ALL STARS and PROJECT ACCESSORY; the VH1 reality series MOB WIVES and its spin-off series MOB WIVES CHICAGO and BIG ANG; and the critically acclaimed scripted HBO comedy/crime series THE NO. 1 LADIES' DETECTIVE AGENCY which also received a Peabody Award. The company is in production on the upcoming TLC series WELCOME TO MYRTLE MANOR, the A&E series RODEO QUEENS, and the Lifetime reality competition show SUPERMARKET SUPERSTAR hosted by Stacy Keibler.  Among TWC's other projects in development for television are the martial-arts epic MARCO POLO for Starz, an untitled private eye procedural for FX, and THE NANNY DIARIES developed by ABC with a pilot by Amy Sherman Palladino.
About Anchor Bay Entertainment
Anchor Bay Entertainment is a leading home entertainment company.  Anchor Bay acquires and distributes feature films, original television programming including STARZ Original series, children's entertainment, anime (Manga Entertainment), fitness (Anchor Bay Fitness), sports, and other filmed entertainment on DVD and Blu-ray™ formats.  The company has long term distribution agreements in place for select programming with AMC Networks, RADiUS, and The Weinstein Company. Headquartered in Beverly Hills, CA, Anchor Bay Entertainment has offices in Troy, MI, as well as, Canada, the United Kingdom and Australia. Anchor Bay Entertainment www.anchorbayentertainment.com is a Starz (NASDAQ: STRZA, STRZB) business, www.starz.com.
Press Release:
Hero Initiative makes first-ever trip to Wizard World Sacramento!
LOS ANGELES, CA (February 27, 2014) Hero Initiative will be heading to Wizard World Sacramento March 7-9 at the Sacramento Convention center located at 1400 J Street to raise money for comic creators in need.
Artists around the floor have volunteered to be goodwill ambassadors, asking for donations to help Hero throughout the weekend. Make sure to drop by Paolo Rivera (Booth #A17), Jimmie Robinson (B14), and Arthur Suydam (A41) to help out!
In addition, Hero will be raffling off a Batman: The Dark Knight Strikes Again statue based on the art of Frank Miller, courtesy of Sacramento's own Empires Comic Vault! You could be the lucky winner, so stop by booth 600A! See you there!
About The Hero Initiative
The Hero Initiative is the first-ever federally chartered not-for-profit corporation dedicated strictly to helping comic book creators in need. Hero creates a financial safety net for yesterday's creators who may need emergency medical aid, financial support for essentials of life, and an avenue back into paying work. It's a chance for all of us to give back something to the people who have given us so much enjoyment.
Since its inception, The Hero Initiative has had the good fortune to grant over $500,000 to the comic book veterans who have paved the way for those in the industry today. For more information, visit www.heroinitiative.org or call 626-676-6354.
Barnes & Noble Round Rock is proud to welcome author Lincoln Peirce and his new book, Big Nate: In the Zone on Tuesday March 18, 2014 at 7:00 PM. Mr. Peirce will provide a drawing demonstration and sign copies of his books this evening. Don't miss this fun event!
Barnes & Noble
La Frontera Village, 2701 Parker Road Bldg A Suite 700, Round Rock, TX 78681
512-600-0088
Spooky Empire is bringing May-Hem to a bigger and better level this year!
We're still adding some great guests to the lineup, and now to celebrate the 30th Anniversary of A Nightmare on Elm Street we have added ROBERT ENGLUND and HEATHER LANGENKAMP! Meet them both at Spooky Empire's May-Hem, on May 30-June 1 at the DoubleTree @ Universal. Get your advance tix, VIP packages and your hotel rooms today! http://www.spookyempire.com/purchase-tickets
This huge con is coming very soon. See this updated Photo Ops schedule!
Visit Megacon's website for all the info you need.