Press Release:
Music, science and film come together in the stunning, multimedia work, Icarus at the Edge of Time, a collaboration by Philip Glass, Brian Greene, David Henry Hwang, and Al+Al.
Icarus at the Edge of Time is a mesmerizing tale set in outer space about a boy who challenges the awesome might of a black hole. Based on the children's book by physicist Brian Greene, this futuristic re-imagining of the classic myth takes audiences of all ages on a whirlwind voyage through space and time to the very edge of understanding.
Featuring an original score by Philip Glass, script adapted by Brian Greene and David Henry Hwang, and film created and directed by Al + Al, Icarus at the Edge of Time has been performed by orchestras around the world and narrated by acclaimed performers, such as John Lithgow, Liev Schreiber, Kal Pen and LeVar Burton.
At UCF Celebrates the Arts 2015 on Friday, April 10, 2015 at 7:30 PM, Icarus at the Edge of Time will be narrated by Kate Mulgrew (Star Trek: Voyager; Orange is the New Black) and the score will be performed by the UCF Symphony Orchestra, under the direction of conductor Art Pranno.
Icarus at the Edge of Time was commissioned and produced by World Science Festival (New York) with the Alfred P. Sloan Foundation, and Southbank Centre (London), with the Royal Society. Co-commissioned by Associazione Festival della Scienza, the Baltimore Symphony Orchestra and Glasgow's Concert Halls. Executive Producers: Tracy Day, World Science Festival, New York; Gillian Moore, Southbank Centre, London.
Ticket are FREE and available at the link…
Dr. Phillips Center for the Performing Arts
445 S. Magnolia Ave., Orlando, FL 32801
844.513.2014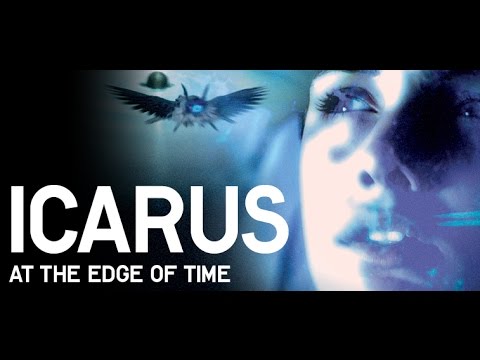 Writer Jonathan Maberry appears at Mysterious Galaxy Books on Tuesday April 7th at 7:30 PM to sign his new novel PREDATOR ONE.
Mysterious Galaxy Books
5943 Balboa Avenue, San Diego, CA 92111
Cecil Castellucci and Rachel Searles appear at Mysterious Galaxy Books on Friday March 27th at 6:00 PM for a signing focused on SF for teens, and middle grade readers, but of interest to readers of all ages.
Mysterious Galaxy Books
5943 Balboa Avenue, San Diego, CA 92111
Writer/director Adam Green, Will Barratt, Kane Hodder, Robert Pendergraft, Greg Aronoitz and others TBA appear at Dark Delicacies on Tuesday March 24th at 7:00 p.m. to sign Digging up the Marrow.
Dark Delicacies
3512 W. Magnolia, Burbank, CA 91505
(818) 556-6660
Press Release:
Kate Mulgrew, star of "Star Trek: Voyager" and "Orange is the New Black," joins Chicago Tribune "Balancing Act" columnist Heidi Stevens in conversation about Mulgrew's new memoir, "Born With Teeth" on Thursday, April 16, 2015 at 7:00 p.m. Known for playing strong women on screen, Mulgrew pulls back the curtain on her long career to reveal the personal struggles and triumphs behind it. A book signing will follow the discussion. Books will be available for purchase for $25 in advance with ticket for $28 at the event. Tickets available at the link…
About the speakers
Kate Mulgrew is an American actress, noted for her roles as Captain Kathryn Janeway on Star Trek: Voyager, Mary Ryan on Ryan's Hope, and, most recently, Galina "Red" Reznikov on Orange Is the New Black. She has performed in numerous television shows, theater productions, and movies. She is the winner of a Golden Satellite Award and a Saturn Award, and has been nominated for a Golden Globe and an Emmy. @thekatemulgrew
Heidi Stevens is a lifestyles reporter at the Chicago Tribune, where she reports on books, relationships, parenting and health. Stevens grew up in the northwest suburbs and studied journalism and political science at Eastern Illinois University. Her daily column runs Monday through Friday on chicagotribune.com and Sundays in the Tribune's Life & Style section. @HeidiStevens13
Venue SIX10
610 S. Michigan Ave Chicago, IL 60605
312.322.1725
Press Release:
Come to Baltimore's Inner Harbor for the 16th annual Baltimore Comic-Con on September 25-27, 2015 at the Baltimore Convention Center! We are excited to welcome to our show returning guests Amanda Conner, Darwyn Cooke, Jimmy Palmiotti, and Frank Tieri.
Working in the comics industry since the late 1980s, Amanda Conner got her start working for major publishers like Marvel Comics on Solo Avengers and Excalibur, and Archie Comics on Archie and The Adventures of Bayou Billy. As her career progressed, she worked for a number of noteworthy titles at smaller comics companies, including Soulsearchers and Company for Claypool and Vengeance of Vampirella at Harris. She has since had an extensive illustration career, both in and out of comics, and her latest industry work can be seen on DC Comics' Convergence and Convergence: Action Comics covers, and on Harley Quinn, where she is providing both art and writing (with her husband, Jimmy Palmiotti).
Last with us in 2008, Darwyn Cooke made his mark in the comics industry after working in animation such notable series as Batman: The Animated Series, Superman: The Animated Series, and Batman Beyond. His initial success at DC Comics on the graphic novel Batman: Ego parlayed into further work on Marvel's X-Force, Wolverine/Doop, and Spider-Man's Tangled Web. He later went on to work on such noteworthy titles as DC's Just Imagine…, Detective Comics, DC: The New Frontier, and Solo. More recently, Cooke has been the cartoonist behind IDW's Richard Stark's Parker series of graphic novels as well as work on a number of DC's Before Watchmen series and variant covers for Action Comics, Convergence, and Harley Quinn.
Jimmy Palmiotti is renowned in the comics industry as a writer, artist, and editor. Originally working as an inker, he has since gone on to contribute to major titles and runs at comic companies large and small. He co-founded Event Comics in the mid-1990s, where he worked on titles such as Ash and Painkiller Jane. He later moved to Marvel Comics, working on the launch of their Marvel Knights line with the "Guardian Devil" storyline in Daredevil. In addition to co-writing DC Comics' Harley Quinn with his wife, Amanda Conner, he also writes their Batwing: Future's End and Star Spangled War Stories featuring G.I. Zombie (both with writing partner Justin Gray), and BOOM! Studios' Palmiotti & Brady's The Big Con Job.
Writer Frank Tieri has established a strong voice in the comics industry, working for many publishers and injecting his unique style along with amusing references to popular culture . He has contributed to a broad range of titles across many publishers, including Marvel's Iron Man, Captain America, Amazing Spider-Man, and Punisher: Noir, DC's Batman, Detective Comics, Hawkman, and Grifter, Dynamite Entertainment's Red Sonja: The Black Tower, and Top Cow's The Darkness. His latest work can be found in DC Comics' Convergence: Suicide Squad, Convergence: Justice League, and Arkham Manor: Endgame, and Marvel's AXIS: Revolutions.
"It's been too long since we've seen Darwyn, and we missed Amanda and Jimmy last year," said Marc Nathan, promoter of the Baltimore Comic-Con. "Along with Frank, this is another fantastic group of talented creators that our fans clamor for, and we're so pleased they're returning! "
This year's confirmed guests for the show include: Jeremy Bastian (Cursed Pirate Girl); Christy Blanch (The Damnation of Charlie Wormwood); Mark Buckingham (Fables); Cliff Chiang (Wonder Woman); Frank Cho (Jungle Girl); Steve Conley (Bloop); Amanda Conner (Harley Quinn); Katie Cook (Gronk); Darwyn Cooke (Richard Stark's Parker); John Gallagher (Buzzboy); Cully Hamner (Convergence: The Question); Dean Haspiel (The Fox); Jaime Hernandez (Love and Rockets); Klaus Janson (Superman); Dave Johnson (Inhumans: Attilan Rising); JG Jones (Strange Fruit); Denis Kitchen (The Best of Comix Book: When Marvel Went Underground); Barry Kitson (Empire: Uprising); Seth Kushner (Schmuck); Mark Mariano (The Other Side of Hugless Hill); Ron Marz (Convergence: Batman and Robin); Terry Moore (Rachel Rising); Tom Palmer (The Avengers); Jimmy Palmiotti (The Con Job); David Peterson (Mouse Guard); Ron Randall (Convergence: Catwoman); Budd Root (Cavewoman); Don Rosa (Donald Duck); Stan Sakai (Usagi Yojimbo); Matteo Scalera (Black Science); Bart Sears (Bloodshot); Louise Simonson (Convergence: Superman – The Man of Steel); Walter Simonson (Convergence: Superman – The Man of Steel); Andy Smith (Earth 2); Charles Soule (Uncanny Inhumans); Ben Templesmith (Gotham by Midnight); Frank Tieri (Suicide Squad); John Totleben (Swamp Thing); Rick Veitch (Saga of the Swamp Thing); Mark Waid (Daredevil); and Thom Zahler (My Little Pony: Friends Forever).
In the coming weeks, look for more announcements from the Baltimore Comic-Con. We are looking forward to highlighting our guests, the Harvey Awards, industry exclusives, and programming. The latest developments can always be found on our website, Twitter, and Facebook pages.
Director Ron Underwood, actor Michael Gross (Burt Gummer), actress Finn Carter (Rhonda LeBeck), producer Nancy Roberts, screenwriters Brent Maddock and S.S. Wilson, production designer Ivo Cristante, make-up effects artists Alec Gillis and Tom Woodruff, visual effects designers Robert & Dennis Skotak, and more appear at the Arclight Cinema on Thursday, March 26, 2015 to celebrate the 25th anniversary of TREMORS! Presented by Creature Features and Famous Monsters of Filmland.
Advance tickets are $19.50 for general seating and $65 for VIP tickets (includes exclusive limited edition screen print, one issue of Famous Monsters #279 with alternate TREMORS cover art, preferred seating, and entry into the pre-screening reception, food & beverages included.
Tickets available at the link…
Arclight Hollywood Cinema
6360 Sunset Blvd, Los Angeles, CA 90028
(323) 464-1478
Kate Mulgrew (Capt. Janeway on Star Trek: Voyager, Red on Orange Is The New Black) signs her new memoir BORN WITH TEETH at Barnes & Noble in Union Square on Wednesday April 15, 2015 at 7:00 PM.
Barnes & Noble – Union Square
33 East 17th Street, New York, NY 10003
212-253-0810
Sci-fi/fantasy authors Ken Liu, Will McIntosh, Mary Kowal, Jo Walton, BL Marsh, Luke Scull, Daniel José Older, and ML Brennan appear at Harvard Book Store on Saturday March 21, 2015 as part of Vericon XV!
Press Release:
Harvard Book Store is pleased to host book signings (open to all!) with this year's featured authors at Harvard University's Vericon XV.
Vericon is an annual science fiction, fantasy, and speculative fiction convention, featuring awesome events like book signings, movie screenings, and author panels. Past guests have included George R.R. Martin, Brandon Sanderson and Tamora Pierce. This year's guests include Ken Liu, Will McIntosh, Mary Kowal, Jo Walton, BL Marsh, Luke Scull, Daniel José Older, and ML Brennan. Learn more at vericon.org.
Vericon XV will run from Friday March 20th to Sunday March 22nd. Events usually go from 10 in the morning until 8 at night, though this varies throughout the weekend.
Most events take place at Sever Hall or Lowell Lecture hall, with book signings here at Harvard Book Store. Signings will take place on Saturday afternoon. Books for the signing will be on sale in Harvard Book Store all day Saturday.
Signing Schedule:
1:00pm–1:30pm: Ken Liu & Will McIntosh
1:45–2:15: Mary Kowal & Jo Walton
2:30–3:00: BL Marsh & Luke Scull
3:15–3:45: Daniel José Older & ML Brennan
Harvard Book Store
1256 Massachusetts Ave., Cambridge, MA 02138
(617) 661-1515
Press Release:
Well hello, what have we here? Actor Billy Dee Williams will be appearing at Star Wars Celebration Anaheim next month. The actor who portrayed Lando Calrissian in The Empire Strikes Back and Return of the Jedi will be greeting fans and signing autographs in the Celebration Autograph Hall presented by Official Pix, and is also scheduled for the Celebration stage with host James Arnold Taylor.
Hollywood icon Billy Dee Williams was an exceptional addition to the cast of heroes in the Star Wars universe, backed by his powerful performance opposite Diana Ross in the films Mahogany and Lady Sings the Blues. Appearing in both Star Wars: The Empire Strikes Back and Return of the Jedi, Williams brought the iconic character Lando Calrissian to life on the big screen.
Williams' career includes roles in the films Undercover Brother, Nighthawks, Bingo Long, Batman, and Bryan's Song. He's been nominated for the Emmy and Independent Spirit Awards, and been presented the TV Land and Image Awards for his performances. In the world of television Williams has appeared on Dynasty, Lost, NCIS, Night Shift, and GLEE to name just a few. He has voiced Lando Calrissian in video games, television specials, and in Star Wars: Rebels.
An accomplished artist and author, Williams has been nominated for a Guggenheim Award and won an Hallgarten Award, an honor in the art world.