Steve Guttenberg (Police Academy, Short Circuit) appears at Barnes & Noble to sign The Kids from D.I.S.C.O. on Saturday November 15, 2014 at 10:00 AM
Barnes & Noble
3721 Veterans Boulevard, Metairie, LA 70002
504-455-4929
Jeff Kinney appears at Brookline Booksmith on Sunday, November 16th at 4:00 pm to present the latest Diary of a Wimpy Kid: The Long Haul
Greg Heffley and his family hit the road in author-illustrator Jeff Kinney's latest installment of the phenomenal bestselling Diary of a Wimpy Kid series.
This will be a ticketed event for up to 800 people. To make this a fun and safe event, everyone in line will be required to have a ticket (no exceptions!). Tickets are free with the purchase of Diary of a Wimpy Kid: The Long Haul. Each book purchase is good for up to three tickets per family. Nobody will be admitted to the event without a ticket. Tickets will be available on a first come, first served basis.
Brookline Booksmith
279 Harvard Street, Brookline, MA 02446
(617) 566-6660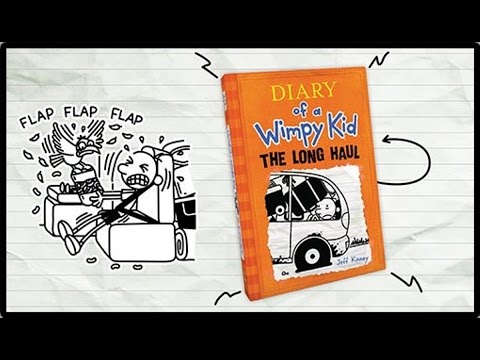 Author, actor and literacy advocate LeVar Burton (Reading Rainbow, Roots, Star Trek: The Next Generation) appear at Barnes & Noble on Friday November 21, 2014 at 7:00 PM to read his new children's book and sign copies. He'll also be hosting a Q&A after the signing.
Special Instructions
This event will be updated with special instructions for reserving your copy of The Rhino Who Swallowed a Storm in the next week. Please check back with the store for instructions.
Barnes & Noble
4001 California Avenue, Bakersfield, CA 93309
661-631-2575
Andrew Dice Clay appears at Barnes & Noble to sign his new book The Filthy Truth on Sunday November 16, 2014 at noon!
Barnes & Noble – Prudential Center
800 Boylston Street Suite 179, Boston, MA 02199
617-247-6959
Gene Simmons appears at Barnes & Noble to sign his latest book Me, Inc. on Friday November 21, 2014 at 6:00 PM!
About this Author
Known as the fire breathing, blood splitting and larger than life co-founders of hard rock super group KISS, Gene Simmons and Paul Stanley founded the band in the early 1970s. Since then, KISS has gone on to sell over 80 million albums and to perform over 2,000 shows around the world. Currently preparing their new album, the band is still touring and performing today. Gene Simmons also stars in A&E's hit reality show, Family Jewels.
Barnes & Noble – Rainbow Promenade
2191 N Rainbow Blvd., Las Vegas, NV 89108
702-631-1775
Russell Brand appears at Barnes & Noble to sign The Pied Piper of Hamelin on Thursday November 20, 2014 at 7:00 PM!
About this Author
Russell Brand is a comedian, journalist, TV and radio host, and actor. He captivated audiences in Forgetting Sarah Marshall and hosted the 2008 MTV Video Music Awards. He has won numerous awards in Britain, including Time Out (London)'s "Comedian of the Year," "Most Stylish Man" at GQ's Men of the Year Awards, and the Sun's "Shagger of the Year." He is a frequent guest on nighttime television.
Special Instructions
Event space seating will open at 5:00 pm on 4th floor. Priority seating with book purchase.
Barnes & Noble – Union Square
33 East 17th Street, New York, NY 10003
212-253-0810
Amy Poehler speaks with Tatiana Maslany at Indigo on Thursday October 30th at 7:00 PM with a book signing to follow!
Press Release:
Actress, Comedian, Producer, Writer, Awards Show Host, Former Saturday Night Live cast member and the 2014 Golden Globe winning star of Parks and Recreation – Amy Poehler. Join us as Amy launches her first book Yes Please!. Interview with Tatiana Maslany from Orphan Black.
Event Guidelines
-Wristband policy. 500 wristbands will be distributed at Indigo Manulife Centre on the day of event (beginning at 8:00 AM) with the purchase of ONE (1) copy of Amy Poehler's Yes Please!.
-ONE (1) wristband per person.
-Only individuals with a wristband will have access to the signing line and cannot be accompanied by anyone without a wristband.
-NO memorabilia.
-NO personalization.
-Candid photos only, no posed photography or video recording will be permitted.
Indigo – Bay & Bloor
55 Bloor Street W, Toronto, ON M4W 1A5, Canada
+1 416-925-3536
Actor Jeffrey Combs and legendary illustrator Graham Humphreys will appear at Comicazi on Thursday October 30th!
Combs will sign limited-edition art prints (which commemorate his "Nevermore" Halloween play at the Somerville Theater) on October 30, 2014, from noon till 1:00 PM.
Humphreys will sign posters of of Re-Animator, Bride of Re-Animator, and more, from noon till 2:00 PM.
Comicazi 
407 Highland Avenue, Somerville, MA 02144
617-666-2664
Author Stephen King appears at Books-a-Million on Monday November 17, 2014 at 4:00 PM to sign his latest novel REVIVAL!
Tickets will be available beginning at 9 a.m. on Tuesday, November 11th. A copy of Revival, must be purchased from the South Portland Books-A-Million store and a proof of receipt is required in order to receive a ticket to the event.  Each customer must be present to receive 1 ticket per book purchased for the event.  Only copies of Revival will be signed at this event, no other memorabilia or books.
Books-a-Million - The Maine Mall
430 Gorham Road, South Portland, ME 04106
Actress Evangeline Lilly (Lost, The Hobbit, Ant-Man) appears at The Reading Bug on Sunday November 23, 2014 at 2:00 PM to sign her new children's book The Squickerwonkers!
The Reading Bug
785 Laurel Street, San Carlos, CA 94070
650-591-0100