Screenwriter Jonathan Nolan, brother to the director Chris Nolan,appears at the Cocteau for a live discussion with George R. R. Martin. They will get comfy and talk of the many mysteries involved in The Prestige. Come to the 4:00 PM show on Sunday February 23rd and bring your own questions for Jonathan.
Jean Cocteau Cinema
418 Montezuma Ave Santa Fe NM 87501
Anime Boston welcomes ADR Director Mike McFarland and other special guests to present the US English dub premiere of ATTACK ON TITAN. Stay tuned for more information!
Series Synopsis
When the man-eating giants called Titans first appeared, humans retreated behind massive walls. After a hundred years of safety, a colossal-sized Titan smashes through the defenses, unleashing a flood of giants and carnage in the streets. Eren Jaeger watches helplessly as one of the creatures devours his mother.
He vows to kill every Titan walking the earth. Eren and his surviving friends enlist to fight against the insatiable monsters. The future looks bleak, but there's more to Eren than meets the eye: he may be humanity's last hope against extinction.
From the director of Death Note and High School of the Dead comes the series Anime News Network calls "an intense, visceral, and graphic thrill ride."
About Mike McFarland:
Mike McFarland got his start in anime as one of the first voice actors in Texas to be hired by FUNimation Entertainment, and has since moved on to become a Director, Script Writer, and Line Producer for numerous anime series. Notable roles include Master Roshi and Yajirobe in Dragon Ball and Dragon Ball Z, Baby and Baby-Vegeta in Dragon Ball GT, Goemon in Lupin The Third (Movie Specials), Ritsu Sohma in Fruits Basket, Lt. Jean Havoc in Fullmetal Alchemist, Cain in Trinity Blood, Buggy the Clown in One Piece, "Ranka" Fujioka in Ouran High School Host Club, Tybalt in Romeo x Juliet, Leo in Burst Angel, Estonia in Hetalia, as well as various roles in Yu Yu Hakusho, Nerima Daikon Brothers, Kodocha, Desert Punk, Black Cat, Kiddy Grade, Shin Chan, The Galaxy Railways, and many others.
As an ADR/Voice Director, Mike has worked on such series and films as Fullmetal Alchemist, Fullmetal Alchemist: Brotherhood, Dragon Ball Z, Vexille, Wolf Children, Summer Wars, Gunslinger Girl: Il Teatrino, Yu Yu Hakusho, Mushi-Shi, Case Closed, Dragon Ball, Eden of the East, Trinity Blood, Evangelion: 1.11, 2.22, and 3.33, One Piece, currently airing on Toonami. His latest project is Attack on Titan. ADR Scriptwriting credits include Fullmetal Alchemist, Kodocha, Trinity Blood, Solty Rei, Mushi-Shi, One Piece, and the uncut versions of Dragon Ball Z.
Video Game credits include work on Borderlands 2, The Walking Dead: Survival Instinct, Halo Wars, Stuntman: Ignition, Aeon Flux, Bloodrayne 2, Roadkill, Comic Jumper: The Adventures of Captain Smiley, numerous Dragon Ball Z titles, as well as the role of Paul Phoenix in Street Fighter X Tekken.
Mike is also an accomplished improv comedian, musician, and has appeared in numerous commercials and independent films, including The Rage Within, House Of The Generals, Placebo, and the award-winning Shtickmen.
About Anime Boston:
Anime Boston is an annual three-day Japanese animation convention held in Boston, Mass. Anime Boston 2014 is scheduled for Friday, March 21 through Sunday, March 23 at the Hynes Convention Center and Sheraton Boston Hotel. More information about Anime Boston can be found at www.animeboston.com.
About New England Anime Society:
The New England Anime Society was founded in 2001. Based in Massachusetts, The New England Anime Society, Inc. is an organization dedicated to furthering public education and understanding of the Japanese language and culture through visual and written media. More information about The New England Anime Society is available at www.neanime.org.
Kevin Conroy, Chip Kidd, Marc Tyler Nobleman, Kevin Smith, and Michael Uslan appear on a panel moderated by USA Today's Whitney Matheson at the Paley Center for Media on Monday, May 5, 2014 at 6:30 pm! Celebrate 75 years of Batman!
Press Release:
Kevin Conroy, Voice of Batman, Batman: The Animated Series; The New Batman Adventures; Batman Beyond
Chip Kidd, Designer, Batman: The Complete History; Author, Batman: Death by Design
Marc Tyler Nobleman, Author, Bill the Boy Wonder: The Secret Co-Creator of Batman
Kevin Smith, Filmmaker; Writer, Batman comic books; Host, Fat Man on Batman podcast
Michael Uslan, Executive Producer, The Dark Knight film trilogy; Author, The Boy Who Loved Batman
Moderator: Whitney Matheson, Columnist, USA Today's "Pop Candy"
Even your grandmother could name Batman's sidekick or home base (or maybe both). The Dark Knight is arguably the world's most popular superhero and one of the most iconic and influential fictional characters of all time. Celebrate the seventy-fifth anniversary of his first appearance, in Detective Comics #27 (May 1939), with this panel of influential creators and interpreters of Batman entertainment, all of whom were fans first. (Bring your grandmother.)
Paley Supporting and Patron Members: Tickets on Sale Now
Paley General Members: On Sale Friday, February 21 at noon
General Public: On Sale Monday, February 24 at noon
Paley Center for Media
25 West 52 Street, New York, NY 10019
Here it is in all its glory!
Full trailer premiers  on Tuesday's (2/18) episode of "Jimmy Kimmel Live" at 11:35/10:35c.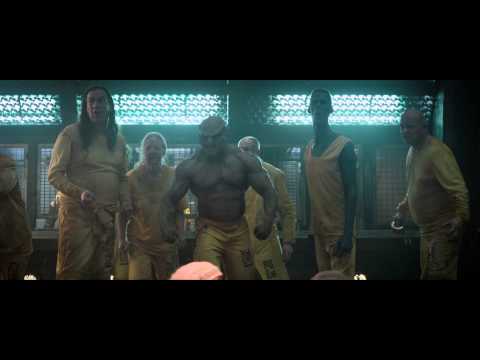 BALTIMORE, MARYLAND - February 17, 2014 - The new and expanded floor for our premiere 3-day show continues to fill in!  The 2014 Baltimore Comic-Con will be held the weekend of September 5-7!
Hey there Vendors and Artists!
This is your opportunity to participate with one of the fastest growing conventions in New England!
Hartford guests will include-but not limited to:
Our projected attendance will reach 12-15 thousand our first year!
We would love to have you along for the ride on our maiden voyage!
It is easy to sign up.  Simply contact us at:
and submit either an Artist Alley application or Vendor Application.
For more information contact:
Epic Productions
561-756-0732
Byron Minns, Scott Sanders, and Brian Ash sign on Saturday, March 1st from 5:00 till 8:00 pm at Meltdown Comics for the release of BLACK DYNAMITE #1!
Meltdown Comics
7522 Sunset Blvd, Los Angeles, CA 90046
Planet Comicon 2014 has released the initial schedule for panel events. This schedule focuses on event featuring media guests, including performers from Star Trek: The Next Generation, Star Wars, Firefly, and more.
We will be updating the schedule with additional panels and events as soon as details are confirmed.
Highlights of the schedule include:
FRIDAY, MARCH 14th:
Margot Kidder (3:00 PM)
Michael Dorn and Marina Sirtis (4:00 PM)
SATURDAY, MARCH 15th:
Wil Wheaton (11:00 AM)
Jewel Staite (Noon)
Brent Spiner and LeVar Burton (1:00 PM)
Sylvester McCoy (2:00 PM)
John Ratzenberger (3:00 PM)
Zoie Palmer (4:00 PM)
Kids' Costume Contest (2:00 PM)
Adults' Costume Contest (5:00 PM)
SUNDAY MARCH 16th:
Femi Taylor (11:00 AM)
David Yost (Noon)
Eddie McClintock (Noon)
Lee Majors (1:00)
TREKtacular Star Trek Cast Reunion (4:30) – NOTE: this is a separately ticketed event. This event is close to being sold out. Find out more about tickets here.
Planet Comicon is Kansas City's largest comic book and pop culture convention. Now in its thirteenth year! The convention will be held at the Kansas City Convention Center on March 14-16th. Please visit their website for the full guestlist, ticket information, and more!
ORLANDO MEGACON – A Look At What's Happening
Press Release
MegaCon, the largest comic book, anime, gaming and multi media event in the southeastern U.S., begins announcing guests for the 2014 show. MegaCon will take place March 21 -23, 2014 at the Orange County Convention Center Hall SB in the North/South Building in Orlando, FL.
 Confirmed comic book guests include:
J. Scott Campbell, Frank Brunner, Neal Adams, Bill Sienkiewicz, Mark Waid, Ron Marz,  Greg Land, Michael Golden, Dennis Calero,  George Pérez, Brandon Peterson, Amanda Conner, Jimmy Palmiotti, Cully Hamner, Karl Story, Renee Witterstaetter, Billy Tucci (20th  anniversary of Shi) and Brian Pulido (15th anniversary of Lady Death), Nick Bradshaw, Adam Kubert, Dan Jurgens, Mike Miller, Joshua Ortega, Digger, Bart Sears, Ethan Van Sciver, Mike McKone, Frank Tieri, Mike Mayhew, Chuck Dixon, Skottie Young
 Confirmed media guests include:
Walking Dead – Lauren Cohan, Steven Yeun, David Morrissey, Emily Kinney, Sonequa Martin-Green
Torchwood – John Barrowman, Eve Myles, Burn Gorman, Gareth David-Lloyd
Torchwood animated series, Buffy the Vampire Slayer, Angel, Dollhouse – Eliza Dushku
Buffy the Vampire Slayer, Angel, Torchwood – James Marsters
Smallville – Michael Rosenbaum, Allison Mack, John Glover, Laura Vandervoort, Aaron Ashmore
Napolean Dynamite – Jon Heder
Battlestar Galactica – Richard Hatch, Dirk Benedict, Herbert Jefferson, Anne Lockhart
Star Wars – Peter Mayhew, Tom Kane
Comic Book Men – Mike Zapcic, Ming Chen, Bryan Johnson
Star Trek, Big Bang Theory – Wil Wheaton
 Voice Actors:
Rob Paulsen, Jim Cummings, Quinton Flynn, Phil LaMarr, Rich Horvitz, Vic Mignogna, Jennifer Hale
 You won't want to miss Comos
First time ever official MegaCon Friday evening Dance for 18+ only
Costume Contest – Drinks – Dancing
Spectacular Laser show & visuals by Empire Visuals
Nelson Flux – Evolv 3
Hosted by Nick Wolfe
$10 – Friday evening from 9pm – 11:30pm
 Introducing: The Ghost of the Robot Band with James Marsters – Saturday evening performance $20 in advance $25 at the door.
Other events include: MegaCon video gaming and the Supercon 2K series provided by National Video Gaming Association and Vibras Five.One, RPG, LARP, card and miniature gaming events, children events provided by the Skiffytown Heroes, Speed Dating, anime events, belly dancing, Indy Film Festival, movie trailers screening room, Saturday evening dance, late night adult only dance, and professional panel room.
Thanks to our sponsors: 101.1 WJRR, The am 740 Game, 104.1 Real Radio, Certified Guaranty Company, Central Florida Mensa, Students of the Unusual
 The MegaCon guest list is constantly growing. Check www.MegaConvention.com frequently for more updates.
MegaCon 2014
Orange County Convention Center
Orlando, Florida
March 21st – 23rd
Contact Info: info@megaconvention.com or www.megaconvention.com