Director Jonathan Liebesman and producers Brad Fuller and Andrew Form of the Teenage Mutant Ninja Turtles movie appear at Golden Apple Comics on Saturday August 2nd at 7:00 pm for a signing! Plus there will be Turtles trivia and costume contest with prizes including masks, posters, and pass to the L.A. premiere of the new movie.
Golden Apple Comics
7018 Melrose Avenue, Los Angeles, CA 90038
323-658-6047
This was the inaugural year for Con-Gregate, a general sci-fi convention held in Winston-Salem, NC on July 11-13. The guest of honor was New York Times bestselling author Larry Correia, known for his Monster Hunter series, though he does have other writing credits, including "The Christmas (Noun)" and "The Christmas (Noun) 2: The Nounening." (What's next? "How the Gerund Stole Christmas"?) Other guests included writers A.J. Hartley and Faith Hunter; Magic: The Gathering artist Mark Poole; and movie make-up professional Jennifer McCollom.
The con was led by a team of veterans, including folks from RavenCon, Stellar Con, and DragonCon. Yet, as with any first-time event, there were hiccups. Larry Correia's first book signing was held on Saturday morning, when a lot of convention goers weren't yet up and at 'em. The lighting was poor in the vendor room, and though much was made in the convention program about name badges (even vendor badges bore individuals' names), I never saw a staffer checking them.
Still, it was a fun weekend, with a costume contest, a book launch party (D.B. Jackson's A Plunder of Souls), a charity auction (I won a signed photo of Avery Brooks as Capt. Benjamin Sisko), and some fascinating panels. Plus one of my favorite groups, the Carolina Ghostbusters (www.carolinaghostbusters.com), made an appearance. On Friday, I got a chance to talk to three team members–"Doc" Geressy, Chuck Carte, and Mikki Smith.
Me: How did the Carolina Ghostbusters get started?
Doc: About 5 years ago, I got divorced and laid off from work in the same week. I got a great severance package and didn't have anyone to spend it on, so I was like, I'm gonna build a Ghostbusters car. That was five years ago. It took about 2½ years to get everything together. Once the car was built, we started getting requests for conventions, charity events, car shows, baseball games, birthday parties, weddings . . . we do a lot of weddings, oddly enough. We spend about 70-80 days a year on the road now, with the vehicle, and I never would have imagined, but it has been the most awesome thing ever. We got to meet Dan Aykroyd. He signed the car. We met Ernie Hudson from the film. So it's been a lot of fun.
Me: How did you meet Dan Aykroyd?
Chuck: He was on his Crystal Head Vodka tour, doing signings of the bottles when the liquor had first come out. And we got treated really well by the Aykroyd camp as soon as they saw us in our car. He ushered us to the front of the line, took photos with us, signed the car, and he was just a real . . . I look at it as my favorite moment of getting to do this, getting to meet him, and just how cool he was to us.
Me: Why Ghostbusters?
Doc: I am a big fan of movie cars, always have been, and when I was originally going to build a movie car, I had thought about doing a classic Batmobile. I had some people looking for a late model Lincoln to use as the base for it, and we ended up finding this hearse first, and one of the guys called me and was like, hey, would you be interested in doing a Ghostbusters car? I was like, sure, love to, and so we ended up doing a Ghostbusters car instead. And it is actually, interestingly enough, the most recognizable movie car with the least amount of screen time. It is only in the film for 5 minutes and 28 seconds. But everyone knows it. We have had people drive 20-30 miles out of their way to take pictures with us.
Me: And you also have the Men in Black car, right?
Doc: That is our new one. We're about a year into that build, and it was another one where the car kind of found me. We ended up getting it at a really good deal. It had low miles and was in excellent condition. So we started the build on that. We should have it done in the next year. It is actually roadworthy now, but there are a lot of things we want to do to it, and a lot of props we need to build. It's probably about 80% done.
Me [to Mikki]: Tell me about your involvement with the group.
Mikki: Honestly, I asked. That sounds kind of like a boring way. Basically, I originally hired the Carolina Ghostbusters for a very small, one-off convention that I ran called Jax Con that happened in my hometown of Jacksonville, Florida—
Doc: It was an awesome convention.
Mikki: Thank you so, so much. That's what people say now. That's not what people said right after it happened.
Chuck: That's what I said right afterward.
Mickey: Me booking [the Ghosbusters] was literally the best thing I ever did for that convention. After that, I was still really into cons, and I started going to them more and more, especially local cons. I became really good friends with the team, became pretty good friends with Doc and Chuck and Cher [Cheralyn Lambeth, another group member]. That was kind of how I got involved. I think at XCon 2013 was my first official event, and I worked that one. I was an intern for about 6 months, and now I have been moved up to Acting Ensign of the Deck Department, and I serve under Chuck Carte, who is a fantastic immediate boss.
Chuck: Thank you. I don't get that often.
Me: I was reading on your web site that you also do paranormal investigations. Tell me a little about that.
Doc: About 30% of what we do is paranormal investigations. We are the only Ghostbusters group in the country that actually does paranormal investigations as well. Sometimes we joke that the Ghostbusters car is our dog and pony show, but we have a lot of fun going out and actually not just dressing up as Ghostbusters but actually being Ghostbusters to an extent.
Me: How do you measure your success as paranormal investigators?
Chuck: Whether or not the check clears.
Doc: Yeah, that's a good answer! [Laughs] We approach things from a very scientific viewpoint, very much like the Ghostbusters did in the film. We don't employ or work with any mediums or psychics because we can't quantify that information. We try to be as empirical as possible, and we have captured some amazing photographs, we've got some awesome EVPs [electronic voice phenomenon], and just the experiences of being able to travel around. One of the things that being Ghostbusters has provided us is a lot of access to places that other paranormal groups can't get into. People see the car or they see us, and they're like, oh, you guys are like legit! There are so many other paranormal groups out there that are just as legitimate as we are, but just that knowledge of Ghostbusters affords us the ability for people to just wave us in and be like, yeah, come investigate this place.
Me: What are you working on next? What are your goals?
Doc: Oh god. Replenishing my bank account is what I'm working on right now.
Chuck: The speedboat from Thunder in Paradise.
Doc: Yeah, I gotta buy a boat trailer first.
Mikki: You've been talking about the Blues Brothers car lately.
Doc: I would love to find a Blues Brothers car. That would be the next thing on the list. I also really like the ambulance from Cannonball Run. That would be another one.
Me: I guess it's time to wrap up. Can you say a few words about your podcast?
Doc: Our podcast is called Sci-Fried Eggs, and we get to travel to all these conventions and meet all these cool guests, and we bring that to the rest of the people. So if you miss the convention, or even if you're at the convention and you didn't get to meet that person you wanted to meet, we may have interviewed them [on the podcast], so you can check them out.
And while you're at it, check out the photos below.
Carolina Ghostbusters: they're ready to believe you.
No, this isn't a promo poster for Avengers 2. It's the winners of the Con-Gregate costume contest.
Must . . . not . . . make . . . bird-brain joke.
"Good evening, Clarice."
Get a glimpse of the Batman v. Superman footage from Comic-Con plus a Mad Max trailer, Wonder Woman revealed, the complete Age of Ultron poster, and more.
July 28, 2014 by Colin Solan
Filed under Animation, Comic Books, Comic Strips, Convention News, Cosplay, Gaming, Horror, Massachusetts, Movies, Other, Science Fiction and Fantasy, Television, Top Stories, Video Games, Webcomics
Press Release:
Celebrity appearances, artist meet-and-greets, a film festival, a Cosplay costume contest, the first official after party and Cosplay Harbor Cruise are among many activities lined up for this year's Boston Comic Con. Boston Comic Con will bring its first three-day convention to the Seaport World Trade Center Friday August 8 through Sunday August 10, 2014. In the seven years since its founding, Boston Comic Con has grown from a one-day show that attracted an estimated 900 comic book enthusiasts to last year's record turnout of more than 23,000, which organizers expect to top this year.
"The community in Greater Boston that loves comic books and related television and film is tremendous and growing," said Nick Kanieff, a founder of Boston Comic Con. "We are home to some of the industry's most talented artists and devoted fans, all of which will join us in great numbers this August. Boston Comic Con has just enough of a celebrity touch to bring in ardent fans while still honoring the artists and writers who are the backbone of the industry."
The 2014 Boston Comic Con will feature celebrity appearances by Jason Momoa of "Game of Thrones"; John Barrowman of "Doctor Who," "Torchwood" and "Arrow"; Sean Astin of "The Goonies" and "The Lord of the Rings" trilogy; James Marsters of "Buffy the Vampire Slayer" and "Angel"; Katie Cassidy of "Arrow"; Eve Myles of "Torchwood"; Jewel Staite of "Firefly"; Sam Witwer of "Being Human"; and Darryl McDaniels, aka DMC, of Run-DMC, one of the founding fathers of the hip hop and rap movement, who is producing his own comic about a rap superhero. Celebrities will also participate in panel discussions, Q&As, photo ops, and signing autographs throughout the three-day convention.
Among the 200+ comic book creators taking part in the convention are well known artists such as artist Greg Capullo and writer Scott Snyder, who together produced legendary Batman story arcs as The Court of Owls, Death of the Family and Zero Year for DC Comics. Indie sensation Jeff Smith, creator of the fantasy epic Bone, makes rare appearance at this year's convention. Also featured is artist Adam Kubert, best known for his work with Marvel Comics on Wolverine, Incredible Hulk, Ultimate Fantastic Four, and X-Men. He is both a graduate of and an instructor at the famed Kubert School, founded by his father, legendary artist Joe Kubert. Other creators include Skottie Young, whose current project, Rocket Raccoon ties in with Marvel's summer blockbuster Guardians of the Galaxy, fan-favorite Gail Simone, writer of Batgirl, Birds of Prey, and Wonder Woman, and Mark Waid who is the most prolific writer of popular characters such as Superman, Spider-Man, and Daredevil.
Participating Boston-area artists include husband and wife team Shelli Paroline and Braden Lamb, Joe Quinones, Maris Wicks, Ming Doyle, Norman Lee, Sara Richard, and several others.
Boston Comic Con is especially proud of its showcase of 14 top women creators including: Christy Blanch, Danica Brine, Katie Cook, Danielle Corsetto, Ming Doyle, Dawn Griffin, Rebekah Isaacs, Shelli Paroline, Sara Richard, Gail Simone, Cat Staggs, Babs Tarr, Maris Wicks, and Chrissie Zullo.
"Boston Comic Con is at the forefront of supporting local artists, especially women creators. It is truly an organic, home-grown event that has gained popularity over the past few years," said Kanieff, a Framingham resident who is also an avid collector. "We welcome everyone, from families with young children, to college students, to older comic book fans. There is something for everyone at Boston Comic Con."
New This Year
The first Boston Comic Con Cosplay Harbor Cruise will take place on Saturday, August 9 from 8 p.m. to 11 p.m. The cruise will be hosted by Ivy Doomkitty, international costume designer and cosplayer, and features noted cosplayers including Nicole Marie Jean, Destiny Nickelsen, and Bethany Maddock. After the harbor cruise, Boston Comic Con will host the official "after party" at Laugh Boston, at the Westin Waterfront Hotel. Also new this year, a limited number of tickets will be sold to allow early entry on the first day of Boston Comic Con, Friday, August 8 at 1 p.m., one hour before the general admission at 2 p.m.
Additionally, Marvel editor C.B. Cebulski will be on hand to provide portfolio reviews for aspiring comic artists. And this year's exclusive t-shirt features Rocket Raccoon drawn by Guardians of the Galaxy artist Nick Bradshaw with colors by Rich Woodall.
"Not only is Boston Comic Con drawing interest from the area's extensive comic book community, but it's becoming a destination event that brings tourists to Boston," said Kanieff. "The growing excitement around this convention demonstrates the strength and vibrancy of the creative community we have here in Boston and in the surrounding region."
More information about events, artists and celebrity guests can be found on www.bostoncomiccon.com. General admission and VIP tickets are on sale now, as are tickets for celebrity photo ops. Boston Comic Con is also accepting entries for this year's film festival.
For information on ticket sales please visit: www.bostoncomiccon.com.
Author Joe Hill (Locke & Key, Horns) stops by to talk about his latest graphic novel release, Wraith, and his new graphic novel series on Wednesday August 6, 2014 at 7:00 PM!
Barnes & Noble
1 Worcester Rd, Framingham, MA 01701
508-628-5567
Sting shows up at the WWE panel, Matthew McConaughey shows up to push Interstellar, and Microsoft releases a trailer for HALO Nightfall.
Press Release:
VIRTUAL REALITY MEETS MIDDLE EARTH — AND THE MUPPETS (!) AT WARNER BROS.' STAR-PACKED BOOTH FOR COMIC-CON 2014
Go Into the Storm with the 4D Oculus Rift Experience and Get Up Close and Personal with Stars, Smaug, Sesame Street and Soft Kitty
Full Signing Schedule Released for Warner Bros. Booth
BURBANK, Calif. (July 22, 2014) — With Comic-Con 2014 only days away, the behind-she-scenes team at the Warner Bros. booth (#4545) is working its magic creating another must-see environment, including a 4-D immersive Oculus Rift experience allowing fans into the heart-stopping excitement of Warner Bros. upcoming Into the Storm film (unleashed on August 8, 2014); an epic-sized LEGO® Smaug, the legendary dragon from Warner Bros. trilogy of The Hobbit films; a personal appearance by some of Sesame Street's most familiar faces; and an exclusive Soft Kitty giveaway for fans of The Big Bang Theory, only in San Diego. Always a destination for Comic-Con fans, the Warner Bros. booth will be a constant flux of activity, including giveaways, autograph signings and more.
For a closer look at this year's Warner Bros. booth activities, read on:
INTO THE STORM: THE 4D OCULUS RIFT EXPERIENCE
Prepare to go #IntoTheStorm with an intense experiential booth featuring a 4-D immersive Oculus Rift experience that puts fans directly into a recreated scene from the upcoming tornado survival film.
Releasing on August 8th, Into the Storm, from New Line Cinema, in association with Village Roadshow Pictures, stars Richard Armitage (The Hobbit films), Sarah Wayne Callies (The Walking Dead), Matt Walsh (Ted), Alycia Debnam-Carey (Where the Devil Hides) and Arlen Escarpeta (Final Destination 5).
In the span of a single day, the town of Silverton is ravaged by an unprecedented onslaught of tornadoes. The entire town is at the mercy of the erratic and deadly cyclones, even as storm trackers predict the worst is yet to come. Most people seek shelter, while others run towards the vortex, testing how far a storm chaser will go for that once-in-a-lifetime shot. Told through the eyes and lenses of professional storm chasers, thrill-seeking amateurs, and courageous townspeople, Into the Stormthrows viewers directly into the eye of the storm to experience Mother Nature at her most extreme.
Fans who survive the storm will have their reactions to the experience captured on camera, and once they exit the booth, they will be able to immediately share their experience from a social wall on Facebook, Tumblr, Twitter and YouTube.
FIND YOURSELF FACE TO FACE WITH SMAUG
 The LEGO Group's large-scale LEGO brick model of Smaug from The Hobbit Trilogy will be on
display in the Warner Bros. booth #4545 at San Diego Comic-Con. Pictured: designer Erik Varszegi.
The creative MasterBuilders at The LEGO Group are at it again with a Comic-Con exclusive: a life-sized recreation of the legendary Dragon Smaug (that's "human" life-sized vs. "dragon" life-sized), from The Hobbit Trilogy.
Standing at more than six feet tall and weighing in excess of 400 pounds, the large-scale dragon is constructed from 83,433 LEGO® bricks and took over 625 hours to design and build. Featuring a (to Dragon scale) Hobbit-sized Bilbo Baggins and shining Arkenstone, the epic LEGO Smaug stands guard at the Warner Bros. booth!
This December, Oscar®-winning filmmaker Peter Jackson will unleash the epic final film in The Hobbit Trilogy, based on the timeless masterpiece by J.R.R. Tolkien, from New Line Cinema and Metro-Goldwyn-Mayer Pictures. In The Hobbit: The Battle of the Five Armies, Bilbo's journey culminates in a desperate and dangerous choice as darkness converges on the Lonely Mountain and the races of Dwarves, Elves and Men must decide — unite or be destroyed. Ian McKellen returns as Gandalf the Grey, with Martin Freeman as Bilbo Baggins, and Richard Armitage as Thorin Oakenshield. The ensemble cast is led by Evangeline Lilly, Lee Pace, Luke Evans, Benedict Cumberbatch, Ken Stott, James Nesbitt, with Cate Blanchett, Ian Holm, Christopher Lee, Hugo Weaving, and Orlando Bloom.
MUPPETS TAKE SAN DIEGO!
In celebration of its upcoming 45th season, Sesame Street is sending a Muppet delegation to the Con for a Meet & Greet on Sunday, July 27th from 2:00–3:00 p.m. at the Warner Bros Booth.
Fans of all ages will have the chance to meet Cookie Monster, Bert, Grover and Murray Monster and their performers in a one-of-a-kind get together at the Warner Bros. booth.
IN addition, the first 100 fans will walk away with the latest Sesame Street and Warner Bros. DVD – Learning Rocks!
THE CAT'S OUT OF THE BAG!
COMIC-CON EXCLUSIVE: SOFT KITTY PREVIEW GAME PIECE FROM
MONOPOLY® THE BIG BANG THEORY EDITION GAME
The cat's out of the bag — and can be found at the Warner Bros. booth!
In a Comic-Con exclusive, Warner Bros. is offering fans of hit comedy The Big Bang Theory the chance to get their hands on a Soft Kitty preview game piece from the MONOPOLY®: The Big Bang Theory edition game, which will be available at retailers nationwide next month.
Available only at Comic-Con and not included in the actual game, a limited number of the Soft Kitty mover tokens will be distributed at the Warner Bros. booth Wednesday, July 23–Sunday, July 27. In-the-know fans can ask for the token at the redemption window at the booth.
STARS & SIGNINGS AND MORE!
From Thursday through Sunday, a cavalcade of talent — including producers and stars from Warner Bros. Television shows, HBO, Warner Bros. Animation, Warner Home Entertainment and Warner Bros. Pictures — will be signing for fans at the Warner Bros. booth.  Talent to be announced. The signing schedule is as follows:
THURSDAY, JULY 24, 2014

3:30pm-4:00pm           Into the Storm
4:45pm-5:30pm           Childrens Hospital
FRIDAY, JULY 25, 2014

10:15am-11:00am       iZOMBIE
11:45am-12:30pm       The Originals
2:15pm-2:45pm           The 100
3:30pm-4:30pm           Game of Thrones
5:00pm-5:45pm           Mike Tyson Mysteries
5:30pm-6:30pm           Batman: Assault on Arkham
6:15pm-6:45pm           Banshee
SATURDAY, JULY 26, 2014

11:15am-11:45am       Mad Max:  Fury Road
11:45am-12:30pm       Arrow
12:30pm-1:00pm         The Hobbit:  The Battle of the Five Armies
1:30pm-2:00pm           Constantine
2:00pm-3:00pm           True Blood
2:45pm-3:30pm           The Vampire Diaries
4:00pm-4:45pm           Gotham
5:00pm-5:45pm           Person of Interest
5:45pm-6:15pm           The Flash
SUNDAY, JULY 27, 2014

10:30am-11:15am       Teen Titans Go!
11:30am-12:15pm       Supernatural
12:00pm-12:45pm       Scooby-Doo! Frankencreepy
12:30pm-1:15pm         The Following
12:45pm-1:15pm         Tom and Jerry:  The Lost Dragon
For continuing info on the Studio's plans at Comic-Con, please visit comiccon.thewb.com and follow @warnerbrostv on Twitter (hashtag #WBSDCC).
Press Release:
LEGENDARY AT SDCC 2014
At Comic-Con 2014, we invite our fans to 'step inside our worlds'.
We will be at San Diego Comic-Con 2014 hosting a booth on the show floor, holding a panel in Hall H, and much more.  Follow us on Twitter and Instagram for the latest announcements and updates.  We know everyone can't make it to Comic-Con so we will be covering all the activities through photos & videos, and hosting fan giveaways on our social accounts during and after Comic-Con.  Keep an eye out!
Legendary Booth
Booth Location: #3920
We have worked with master filmmaker Guillermo del Toro to bring his incredible imagination to life, delivering two unique fan experiences for Pacific Rim and Crimson Peak.  The booth hosts unique physical props from the hotly anticipated Warcraft, giving fans an exclusive first look right out of the world of the film.  Additionally the booth offers previews of Legendary's upcoming psychological thriller As Above/So Below and the new catalogue of titles from Legendary Comics.
Crimson Peak Gothic Gallery
Step inside the imagination of Guillermo del Toro with The Gothic Gallery, an immersive handcrafted exhibit from master filmmaker. This exclusive fan experience offers a glimpse behidnd the curtain of Crimson Peak, through an intimate set piece of the gothic haunted house he is creating… Beware Crimson Peak!
Head to facebook.com/CrimsonPeakMovie to view images of the Gothic Gallery and sign up for a chance to win an exclusive tour of the Gothic Gallery with the visionary filmmaker Guillermo del Toro.
Visit the Legendary Booth to experience the Gothic Gallery.
Pacific Rim Jaeger Pilot
We have worked closely with the leading pioneers of virtual reality, Oculus VR, to deliver a new benchmark in Oculus Rift experiences.
Fans will experience what it feels like to pilot a 250-story robot as they step into a fully-realized Jaeger Combat Simulator.  Strapping on the Oculus Rift headset, fans will 'Drift with the Rift' and experience the beloved universe of Pacific Rim in a whole new way.
Watch this video and visit the Legendary Booth at 9 am daily for tickets.  First come, first served.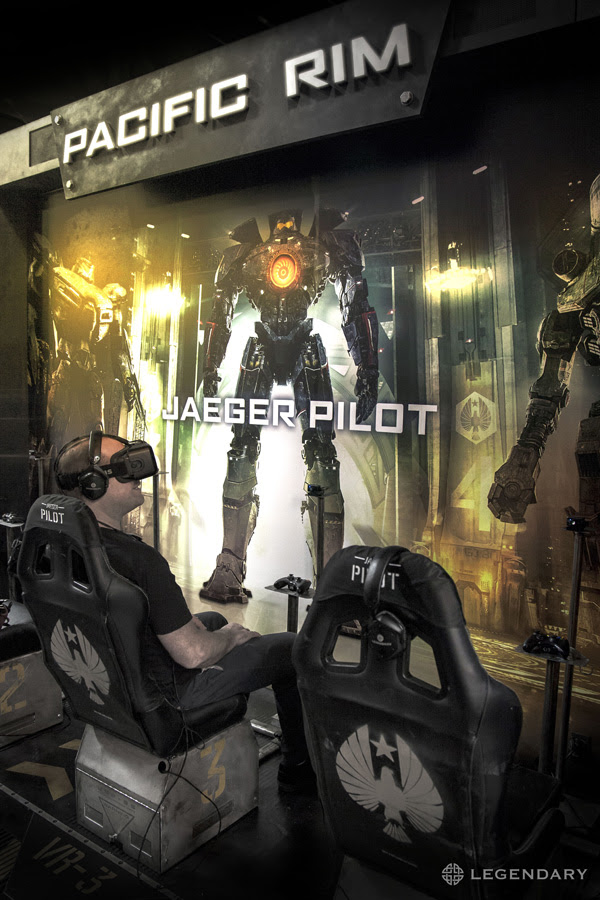 Signing with Warcraft Director Duncan Jones
Legendary and Warcraft fans now have the chance to meet director Duncan Jones, the man responsible for bringing Warcraft to the big screen.  Duncan Jones will be doing a signing on Saturday 7/26 at 2 pm at the Blizzard Booth (#115). Tickets will be handed out that morning at 11 am on a first come, first served basis at the Blizzard Booth.
Legendary's Film Panel – Hall H
Date: Saturday, July 26
Time: 12:35 pm
During our panel, we will be live tweeting from Hall H.  Follow along here:@Legendary.
The Batfleck costume, Avengers and Ant-Man posters, a tour of the Sideshow Collectibles booth and a lot more in our first SDCC Digest for 2014.
Cartoonist Bryan Lee O'Malley, creator of Scott Pilgrim, appears at Forbidden Planet's Dublin store on Wednesday August 20th from 5:00 to 7:00 pm!
Forbidden Planet Dublin
5/6 Crampton Quay, Dublin, Ireland