Carl Reiner appears at Book Soup to sign his new memoir on Monday September 15, 2014 at 7:00 PM!
Press Release:
The amazing thing about the human memory is that, just when one thinks one has recalled everything worth recalling, the memory regenerates itself and serves up a whole new eminently worthy batch. At least that's how it works when you're dealing with the legendary mind of Carl Reiner. In his 2013 memoir, I Remember Me, Carl treated us to ninety years of professional and personal anecdotes, ranging from witty, weird and heartwarming to insightful, informative, and always funny usually a combination of at least two, sometimes three or four, of the aforementioned. Carl had taken us on a nostalgic trip through every corner, every nook and cranny, of his life. Or so we thought. But over the next two years, new old memories kept coming and coming and coming until, before too long, another book was born. (Random Content)
Event Guidelines:
-The first 60 people to purchase I Just Remembered by Carl Reiner at Book Soup on September 15th will be issued a wristband which will allow them entry into the store for the discussion.
-An overflow crowd will be held outside and will join the line once the book signing starts.
-Photos from the line are okay. No posed photos.
-No memorabilia will be signed.
Book Soup
8818 Sunset Blvd, W. Hollywood, CA 90069
310.659.3110
Nick Offerman (Parks & Recreation's Ron Swanson) appears at Barnes & Noble in conversation with Sarah Vowell on Friday September 12, 2014 at 7:00 PM!
Special Instructions
Priority seating begins at 5:00 pm; call the store for details on how to obtain priority seating. Event space is located on the 4th floor.
Barnes & Noble – Union Square
33 East 17th Street, New York, NY 10003
212-253-0810
Welcome musician, writer and actor Jason Segel (How I Met Your Mother, The Muppets) as he signs his new book Nightmares on Tuesday September 9, 2014 at 4:00 PM. Must purchase book at Barnes & Noble Tribeca for entry. Call store for details.
Barnes & Noble – Tribeca
97 Warren Street, New York, NY 10007
212-587-5389
August 15, 2014 by Joe Fauvel
Filed under Animation, Anime, Collectibles, Comic Books, Convention News, Cosplay, Florida, Gaming, Horror, Manga, Movies, Science Fiction and Fantasy, Television, Video Games, Webcomics
TARA REID will make her very first Spooky Empire appearance this October in Orlando, FL!

TARA REID's resume of films includes American Pie, Urban Legend, A Return to Salems Lot, The Crow: Wicked Prayer, The Big Lebowski and of course her most popular appearance of late the Sharknado films, Part 1 and 2 and rumored Sharknado 3!

TARA is ready to party with all of you at Spooky Empire's Ultimate Horror Weekend,
October 24-26, 2014 at the DoubleTree @ Universal Studios. 

Get your advance tickets today, VIP Packages will be selling out quickly! 
Press Release:
San Jose Super Toy, Comic Book & Collectible Show Hosts actors Adrienne Barbeau & Cindy Williams.
Saturday & Sunday August 16 & 17, 2014
Early Bird admission: 9 am -11 am, $15
General Admission: 11 am – 4:30 pm, $8
Where:
The Santa Clara County Fairgrounds
344 Tully Rd.
San Jose, CA 95111
Toy & Comic Book collectors are invited to the San Jose Super Toy, Comic Book & Collectible Show on Saturday & Sunday August 16 & 17, 2014!
Come see over 250 tables filled with every variety of Vintage to Modern Collectibles, including Toys, Magazines, Comic Books, Vinyl Records, Posters, GI Joes, Robots, Disneyana, Legos, Sports, TV, Music, and Movie Memorabilia, and lots more! We are Northern California's Largest vintage Toy and Collectible show, growing in size and attendance since 1995.
Our Scheduled Media guests are Adrienne Barbeau & Cindy Williams.
Adrienne Barbeau is known for her creation of Rizzo in the original Broadway production of Grease. She also played Bea Arthur's daughter, Carol, in the hit series Maude. Movie fans know her best for her performances in The Fog, Escape From New York, Creepshow, and Swamp Thing. She also played Catwoman in the Batman animated TV series.
Cindy Williams played Laurie Henderson, Ron Howard's high school sweetheart in George Lucas's American Graffiti . Williams was cast as a fun-loving brewery worker, Shirley Feeney, in an episode of Happy Days, alongside Penny Marshall, who played her best friend/roommate Laverne De Fazio. The girls were introduced as female companions of Fonzie (Henry Winkler), and their appearance proved so popular that Garry Marshall, producer of Happy Days and Penny Marshall's brother, commissioned a spin-off for the characters. The television series was named LAVERNE & SHIRLEY.
All guests will be signing photos and taking snapshots with attendees for a nominal fee. All guests are subject to cancellation due to professional commitments.
For Show and Dealer Information:
(408) 298-1709
artapartment@yahoo.com
http://timetunnelnews.blogspot.com/
Ernie Hudson appears at Hollywood Palms on Friday August 29th for the celebration of Ghostbusters 30th Anniversary! We will be showing the movie all week but Ernie will only be here Friday!
Hollywood Palms Cinema
352 S Rt 59, Naperville, IL 60540
Danielle Fishel, star of Boy Meets World and its spinoff Girl Meets World, appears at Barnes & Noble to sign her memoir Normally, This Would be Cause for Concern on Monday September 8, 2014 at 7:00 PM!
86th & Lexington Ave
150 East 86th Street, New York, NY 10028
212-369-2180
Rosario Dawson, Patricia Vonne, and Crystal McCahill appear live in person at the Hollywood Palms Cinema for screenings of Sin City: A Dame to Kill For on August 22 – 24, 2014! Tickets available at the link!
Hollywood Palms Cinema
352 S Rt 59, Naperville, IL 60540
On July 23-27th, San Diego was host to the 2014 San Diego Comic Con! After 10 years of attending this show, I was definitely looking forward to seeing what sort of amazing spectacles Comic Con had in store for me this year. After a week of recovery from the show, I had to admit, compared to all the other Comic Cons, this one was a bit more low key. There weren't many major announcements on the movie front, and while there were some exciting TV shows on hand, I definitely didn't feel the major buzz I typically do at SDCC.
However, like all previous Comic Cons, it's a great time to mingle with artists, writers, and friends you never get to mingle with anywhere else outside of SDCC. It was fun watching the stars come on the show floor, watching artists draw some amazing commissions, and seeing the amazing exhibits some of the booths displayed, including all of the Batman cowls celebrating the Caped Crusader's 75th birthday, as well as some very cool props from the latest movies. While it lacked that extra spark that San Diego usually brings to the table, it still was, is and always will be THE place to be. And now, on to some of the sights I saw during the weekend.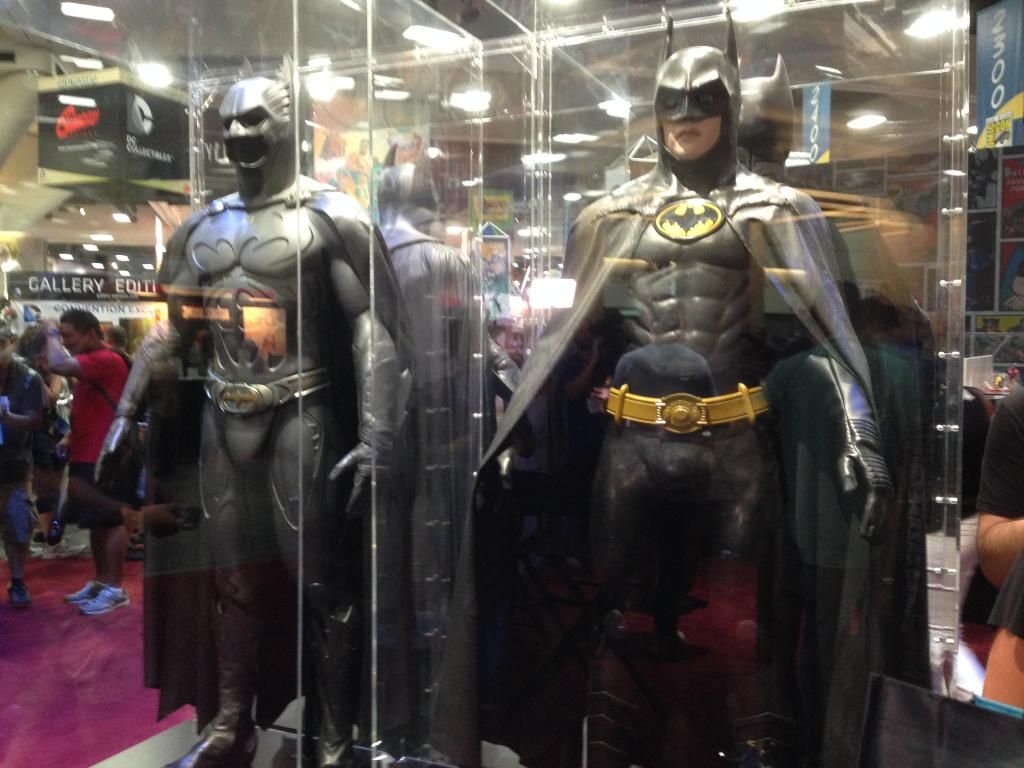 I didn't take a lot of cosplay pics this year, but here's a few that stood out!
A look at some of the cosplayers of Comic-Con, videos of The Avengers: Age of Ultron panel and Zack Snyder and friends, plus lots of more.