BALTIMORE, MARYLAND - February 24, 2014 - The Baltimore Comic-Con will be held over 3 days in celebration of comics and pop culture during the weekend of September 5-7, 2014!
Hear from three of the top web comic creators and how they make money from their own creations. Jason Brubaker, Jorge Cham, and Ethan Nicolle appear at Gallery Nucleus on Saturday March 1st for an afternoon workshop which will then be followed by a Q&A and signing.
Register early to receive a discount!  Register online
The event is FREE from 4 -5 pm during the signing period
1:00 – 3:30 Workshop Seminar
3:30 – 4:00 Q & A
4:00 – 5:00 Signing
About the artists:
Jason Brubaker works at Dreamworks Animation in Visual Development. At night, he puts on his cape and doubles as an independent graphic novelist and self-publisher. Jason has worked on Kung-Fu Panda 2, Ghost Rider, Van Helsing, Blade II, Leap of Faith, Roswell, Pitch Black, Blade and more as a visual development and storyboard artist. Jason has self-published two of his own graphic novels based on his story Remind. He's raised over $125,000 through Kickstarter to self-publish Remind in two volumes. Jason continues to create new stories and just put out a book called Unnatural Talents which is about self publishing your own graphic novel.
Jorge Cham is the creator of "Piled Higher and Deeper (PhD)," the comic strip about life (or the lack thereof) in Academia. Often called "the Dilbert of Academia," PHD has appeared in the Stanford, MIT, Caltech and Carnegie Mellon newspapers, among others, and is published online where it receives over nine million page views a month from over 1000 universities and colleges worldwide. He obtained his B.S. from Georgia Tech and his M.S. and Ph.D. from Stanford University, specializing in Robotics. He was sub-sequently,an Instructor and Research Associate at Caltech from 2003-2005, where his work focused on developing "Smart" Neural Implants. He travels and presents all over the world to thousands of graduate students, faculty and administrators on the graduate student experience. Four PHD book collections have been published with over 55,000 copies sold. He has over 200,000 fans on Facebook!
Ethan Nicolle is an American comic book creator, artist, and writer. He created the Slave Labor Graphics comic Chumble Spuzz which has been released as two graphic novels. He also worked with his younger brother, Malachai, to create Axe Cop, the web comic phenomena that has nearly 35,000 fans on Facebook and an animated show on Fox's Television's ADHD. Ethan has also created another popular webcomic called Bearmageddon that is about an end of the world apocalypse story with mutant bears, He also have had various pitches optioned by Cartoon Network, and works on the Axe Cop TV show at FOX and is currently writing for DreamWorks Animation on the new Veggie Tales series.
Gallery Nucleus
210 East Main Street, Alhambra, CA 91801
KEVIN EASTMAN, co-creator of the Teenage Mutant Ninja Turtles and longtime publisher of Heavy Metal, kicks off a year of touring across the United States and abroad this weekend with an appearance at Jared's Epic Party in Dallas, TX! Visit Kevin's website for full details of all his original art available for sale and regular updates about his schedule. And stay in touch with Kevin on Facebook and Twitter!
Upcoming 2014 appearances and signings …..

February 22 -  Jareds Epic Party – Dallas, TX

March 2   - Sac Con – Sacramento, CA

March 28 and 29 – DLUX Expo – Detroit, MI

April 5 and 6 – Gem City Comic Con – Dayton, OH

April 25 & 26 - Calgary Comic Con, Canada

May 3 - Free Comic Book Day, Jetpack, Rochester, NH

May 9 & 10 - WAP! Comic Con, Ft. Lauderdale, FL

May 31 & June 1 - Indy Pop Con, Indianapolis, IN

June 6 & 7 - Niagara Falls CC, Niagara Falls, Canada

June 21 - Heroes Con, Charlotte, NC

July 12 & 13 - Capitol City Comic Con – Austin, TX

July 24-27 - San Diego Comicon – San Diego, CA

Sept 12 & 13 - Wizard World – Richmond, VA

Sept 26-27 - Alamo City – San Antonio, TX

October – Australia and New Zealand TBA
Sir Ben Kingsley and director Drew Pearce appear at the Arclight Hollywood on Monday February 24th for a special screening of ALL HAIL THE KING with a Q&A to follow! Read on to find out how to win tickets!
Press Release:
This Saturday February 22nd Golden Apple Comics will give away passes to an exclusive Marvel Fan Event with special screening of the MARVEL ONE SHOT: ALL HAIL THE KING!
The film stars Sir Ben Kingsley as "Trevor Slattery, who after the events in Marvel's Iron Man 3 is locked up in a high security prison. Slattery is now an infamous celebrity who is about to be given an in-depth profile with a documentary filmmaker."
After the screening of "ALL HAIL THE KING," Director Drew Pearce and Sir Ben Kingsley will be present for a live Q&A session with the audience. This one hour event takes place Monday, February 24th at 7pm at the ArcLight in Hollywood
Looking for another way to win tickets in?
Before the February 24th screening, there will be a Life-Size THOR HAMMER set up outside the ArcLight Hollywood theater. You and friends can take a stab at pulling it out of the rocks for a chance to win last-minute entry into the "ALL HAIL THE KING" Q&A and screening, as well as additional prizes!
"MARVEL ONE-SHOT: ALL HAIL THE KING" is available to download on MARVEL'S THOR: THE DARK WORLD Digital HD and on Blu-Ray™ and DVD Feb 25!
Arclight Hollywood Cinema
6360 Sunset Blvd, Los Angeles, CA 90028
(323) 464-1478
Screenwriter Jonathan Nolan, brother to the director Chris Nolan,appears at the Cocteau for a live discussion with George R. R. Martin. They will get comfy and talk of the many mysteries involved in The Prestige. Come to the 4:00 PM show on Sunday February 23rd and bring your own questions for Jonathan.
Jean Cocteau Cinema
418 Montezuma Ave Santa Fe NM 87501
Anime Boston welcomes ADR Director Mike McFarland and other special guests to present the US English dub premiere of ATTACK ON TITAN. Stay tuned for more information!
Series Synopsis
When the man-eating giants called Titans first appeared, humans retreated behind massive walls. After a hundred years of safety, a colossal-sized Titan smashes through the defenses, unleashing a flood of giants and carnage in the streets. Eren Jaeger watches helplessly as one of the creatures devours his mother.
He vows to kill every Titan walking the earth. Eren and his surviving friends enlist to fight against the insatiable monsters. The future looks bleak, but there's more to Eren than meets the eye: he may be humanity's last hope against extinction.
From the director of Death Note and High School of the Dead comes the series Anime News Network calls "an intense, visceral, and graphic thrill ride."
About Mike McFarland:
Mike McFarland got his start in anime as one of the first voice actors in Texas to be hired by FUNimation Entertainment, and has since moved on to become a Director, Script Writer, and Line Producer for numerous anime series. Notable roles include Master Roshi and Yajirobe in Dragon Ball and Dragon Ball Z, Baby and Baby-Vegeta in Dragon Ball GT, Goemon in Lupin The Third (Movie Specials), Ritsu Sohma in Fruits Basket, Lt. Jean Havoc in Fullmetal Alchemist, Cain in Trinity Blood, Buggy the Clown in One Piece, "Ranka" Fujioka in Ouran High School Host Club, Tybalt in Romeo x Juliet, Leo in Burst Angel, Estonia in Hetalia, as well as various roles in Yu Yu Hakusho, Nerima Daikon Brothers, Kodocha, Desert Punk, Black Cat, Kiddy Grade, Shin Chan, The Galaxy Railways, and many others.
As an ADR/Voice Director, Mike has worked on such series and films as Fullmetal Alchemist, Fullmetal Alchemist: Brotherhood, Dragon Ball Z, Vexille, Wolf Children, Summer Wars, Gunslinger Girl: Il Teatrino, Yu Yu Hakusho, Mushi-Shi, Case Closed, Dragon Ball, Eden of the East, Trinity Blood, Evangelion: 1.11, 2.22, and 3.33, One Piece, currently airing on Toonami. His latest project is Attack on Titan. ADR Scriptwriting credits include Fullmetal Alchemist, Kodocha, Trinity Blood, Solty Rei, Mushi-Shi, One Piece, and the uncut versions of Dragon Ball Z.
Video Game credits include work on Borderlands 2, The Walking Dead: Survival Instinct, Halo Wars, Stuntman: Ignition, Aeon Flux, Bloodrayne 2, Roadkill, Comic Jumper: The Adventures of Captain Smiley, numerous Dragon Ball Z titles, as well as the role of Paul Phoenix in Street Fighter X Tekken.
Mike is also an accomplished improv comedian, musician, and has appeared in numerous commercials and independent films, including The Rage Within, House Of The Generals, Placebo, and the award-winning Shtickmen.
About Anime Boston:
Anime Boston is an annual three-day Japanese animation convention held in Boston, Mass. Anime Boston 2014 is scheduled for Friday, March 21 through Sunday, March 23 at the Hynes Convention Center and Sheraton Boston Hotel. More information about Anime Boston can be found at www.animeboston.com.
About New England Anime Society:
The New England Anime Society was founded in 2001. Based in Massachusetts, The New England Anime Society, Inc. is an organization dedicated to furthering public education and understanding of the Japanese language and culture through visual and written media. More information about The New England Anime Society is available at www.neanime.org.
Kevin Conroy, Chip Kidd, Marc Tyler Nobleman, Kevin Smith, and Michael Uslan appear on a panel moderated by USA Today's Whitney Matheson at the Paley Center for Media on Monday, May 5, 2014 at 6:30 pm! Celebrate 75 years of Batman!
Press Release:
Kevin Conroy, Voice of Batman, Batman: The Animated Series; The New Batman Adventures; Batman Beyond
Chip Kidd, Designer, Batman: The Complete History; Author, Batman: Death by Design
Marc Tyler Nobleman, Author, Bill the Boy Wonder: The Secret Co-Creator of Batman
Kevin Smith, Filmmaker; Writer, Batman comic books; Host, Fat Man on Batman podcast
Michael Uslan, Executive Producer, The Dark Knight film trilogy; Author, The Boy Who Loved Batman
Moderator: Whitney Matheson, Columnist, USA Today's "Pop Candy"
Even your grandmother could name Batman's sidekick or home base (or maybe both). The Dark Knight is arguably the world's most popular superhero and one of the most iconic and influential fictional characters of all time. Celebrate the seventy-fifth anniversary of his first appearance, in Detective Comics #27 (May 1939), with this panel of influential creators and interpreters of Batman entertainment, all of whom were fans first. (Bring your grandmother.)
Paley Supporting and Patron Members: Tickets on Sale Now
Paley General Members: On Sale Friday, February 21 at noon
General Public: On Sale Monday, February 24 at noon
Paley Center for Media
25 West 52 Street, New York, NY 10019
Here it is in all its glory!
Full trailer premiers  on Tuesday's (2/18) episode of "Jimmy Kimmel Live" at 11:35/10:35c.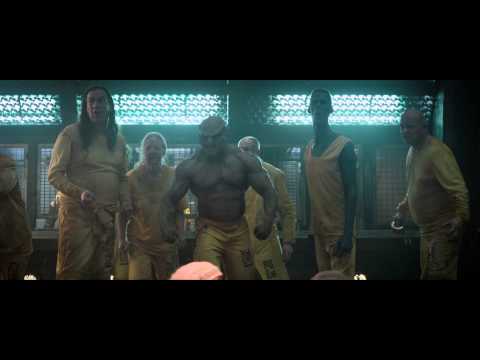 BALTIMORE, MARYLAND - February 17, 2014 - The new and expanded floor for our premiere 3-day show continues to fill in!  The 2014 Baltimore Comic-Con will be held the weekend of September 5-7!