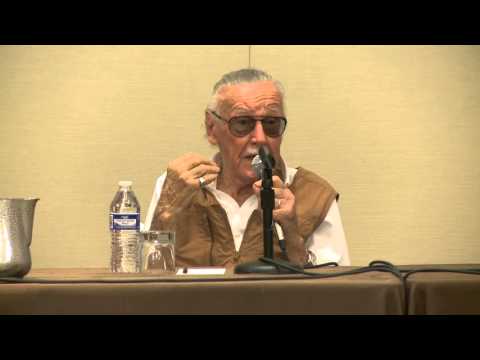 Watch The Man himself Stan Lee speak to a captivated audience at Boston Comic Con 2015 in a panel moderated by comic creator Jimmy Palmiotti and Stan's manager Max Anderson. The event featured a special appearance by Stan's best friend Ken Bald, Guinness World Record holder as the oldest living comic artist, and a phone call from Stan's wife Joanie.
Video courtesy of Ihungerproductions
Press Release:
The Michigan State University Comics Forum is an annual event that brings together scholars, creators, and fans in order to explore and celebrate the medium of comics, graphic storytelling, and sequential art. This year's event is scheduled to take place February 26-27, 2016 at the Residential College in the Arts and Humanities in Snyder/Phillips Hall on the campus of Michigan State University.
This year, the Forum is proud to announce that Sergio Aragonés will be our Guest of Honor and Keynote Speaker on Friday, February 26, 2016. Aragonés is the most honored cartoonist, having won every major award in the field including the National Cartoonists Society's Reuben Award and the Will Eisner Hall of Fame Award. He is widely known for his contributions to Mad Magazine and his long-running comic book series, Groo the Wanderer. Aragonés recently completed a Groo v. Conan crossover with artist Tom Yeates and continues his more than 50 years of contributions to Mad Magazine.
Comedian Judah Friedlander (30 Rock, Wet Hot American Summer, American Splendor) appears at Anderson's Bookshop on Tuesday, November 24, 2015 at 7:00 PM to sign his new book of cartoons!
EVENT DETAILS
This in-store event is free and open to the public. To join the signing line, please purchase the author's latest book, If the Raindrops United from Anderson's. To purchase your book, please call the Anderson's Naperville location at (630) 355-2665 or order the book online at andersonsbookshop.com.
Anderson's Bookshop
123 W Jefferson Ave, Naperville, IL 60540
(630) 355-2665
Comedian, actor and writer B.J. Novak (The Office, The Mindy Project, Amazing Spider-Man 2) appears at the Strand Book Store on Saturday, November 21, 2015 at 2:00 PM!
Press Release:
Grownups may know B.J. Novak from his deadpan wit and biting satire (as shown in One More Thing as well as onscreen in The Office and The Mindy Project), but don't let them fool you–this one's for the kids. B.J. will be in the Strand's children's department to read his hilarious Book With No Pictures, all the way through–no matter what it makes him say!
Buy a copy of The Book With No Pictures to attend this event. Please note that payment is required for all online event orders at the time of checkout. The event will be located in the Strand's 2nd floor children's department at our store at 828 Broadway at 12th Street.
Strand Book Store
828 Broadway, New York, NY, 10003-4805
(212) 473-1452
Cartoonist Roz Chast appears at the Gershman Y on Saturday, November 14, 2015 at 7:30 PM as part of the Philadelphia Jewish Film Festival for a screening of the film "Very Semi-Serious" followed by Q&A and book signing. Tickets available at the link…
Press Release:
VERY SEMI-SERIOUS provides a humorous and illuminating window into the quirky and endearing world of The New Yorker's iconic single-panel cartoons. While the documentary's chief subject is the magazine's cartoon gatekeeper, Editor Robert Mankoff, a charming and affable character whose engaging story could easily take up an entire film, first-time filmmaker Leah Wolchok takes care to highlight some of The New Yorker's other freelance cartoonists – an awesomely eccentric mix of crusty vets and newbies, young and old, male and female. Featuring interviews with notables like Roz Chast, Mort Gerberg, Emily Flake, and George Booth, and newcomers the likes of Ed Steed and Liana Finch, Wolchok hones in on what inspires each to run Mankoff's gauntlet of rejection week after week in hopes of making the cut.
The Gershman Y
401 Broad St, Philadelphia, PA 19147
(215) 545-4400
Voice actors Olivia Olson (Marceline the Vampire Queen) and Martin Olson (Lord of Evil) appear at Barnes & Noble on Saturday November 7, 2015 at 3:00 PM to perform, discuss and sign ADVENTURE TIME: THE ENCHIRIDION and MARCY'S SUPER SECRET SCRAPBOOK! Dive deeper into the secrets of Adventure Time with this mysterious mash-up of The Enchiridion (the ancient book for heroes) and Marceline the Vampire Queen's childhood diary.
Barnes & Noble
3721 Veterans Boulevard, Metairie, LA 70002
504-455-4929
Judah Friedlander appears at Politics & Prose on Monday, November 30, 2015 at 7:00 PM to sign his new book of cartoons!
A stand-up comic and actor, Friedlander appeared in American Splendor and is best known for his work in 30 Rock. But he's not just a multi-talented performer—Friedlander has written the karate primer, How to Beat Up Anybody, and he's been drawing since he was a child. This collection of artwork and cartoons showcases the visual side of Friedlander's wit and humor as he takes subjects both serious and silly to new heights of absurdity.
Politics & Prose
5015 Connecticut Ave NW, Washington, DC 20008
202-364-1919
Press Release:
Gallery Nucleus is honored to host the launch for Disney lead character designer and visual development artist Shiyoon Kim's premier children's book Nelbert The Introvert!
Join us November 7, 2015 from 2:00 – 5:00PM as we debut this wonderful and quirky new title for all ages. On display will be original art and preliminaries from the book. Shiyoon will also be leading a demonstration sharing his artistic process during the opening event.
Event Highlights
*First retail location of Nelbert The Introvert
*Artist in attendance and signing
*Original art on display and for sale
*Exclusive new print release
*Process demo lead by Shiyoon Kim
*more details to be announced…!
Gallery Nucleus
210 East Main Street, Alhambra, CA 91801
626.458.7477
Press Release:
November 21 and 22, 2015 in Framingham, MA! Super Megafest is New England's Most FUN Multimedia Fanfest Comic con Party! We feature incredible celebrity guest signings and photo ops with guests such as RICHARD DEAN ANDERSON and THE DUKES OF HAZZARD in a VERY RARE appearance! We feature scheduled Q & A Sessions throughout the weekend. Spend the day with all your favorite celebrities from Comics, TV, Movies, and Rock & Roll.
Kickoff Friday night with the Cosplay Comedy Show and advance ticket check-in from 5-9 PM. Saturday begins with advance SPEED PASS ticket holder admission at 9:30 am followed by all other advance ticket holders. General admission starts at 10:30. This is cash only (there are plenty ATMs on site).
Director Michael Dougherty and Michael Mallory along with co-screenwriters Zach Shield and Todd Casey appear at Dark Delicacies on Friday November 20th at 7:00 p.m. to sign THE ART OF KRAMPUS and the graphic novel!
Dark Delicacies
3512 W. Magnolia, Burbank, CA 91505
(818) 556-6660