Press Release:
San Jose Super Toy, Comic Book & Collectible Show Hosts actors Adrienne Barbeau & Cindy Williams.
Saturday & Sunday August 16 & 17, 2014
Early Bird admission: 9 am -11 am, $15
General Admission: 11 am – 4:30 pm, $8
Where:
The Santa Clara County Fairgrounds
344 Tully Rd.
San Jose, CA 95111
Toy & Comic Book collectors are invited to the San Jose Super Toy, Comic Book & Collectible Show on Saturday & Sunday August 16 & 17, 2014!
Come see over 250 tables filled with every variety of Vintage to Modern Collectibles, including Toys, Magazines, Comic Books, Vinyl Records, Posters, GI Joes, Robots, Disneyana, Legos, Sports, TV, Music, and Movie Memorabilia, and lots more! We are Northern California's Largest vintage Toy and Collectible show, growing in size and attendance since 1995.
Our Scheduled Media guests are Adrienne Barbeau & Cindy Williams.
Adrienne Barbeau is known for her creation of Rizzo in the original Broadway production of Grease. She also played Bea Arthur's daughter, Carol, in the hit series Maude. Movie fans know her best for her performances in The Fog, Escape From New York, Creepshow, and Swamp Thing. She also played Catwoman in the Batman animated TV series.
Cindy Williams played Laurie Henderson, Ron Howard's high school sweetheart in George Lucas's American Graffiti . Williams was cast as a fun-loving brewery worker, Shirley Feeney, in an episode of Happy Days, alongside Penny Marshall, who played her best friend/roommate Laverne De Fazio. The girls were introduced as female companions of Fonzie (Henry Winkler), and their appearance proved so popular that Garry Marshall, producer of Happy Days and Penny Marshall's brother, commissioned a spin-off for the characters. The television series was named LAVERNE & SHIRLEY.
All guests will be signing photos and taking snapshots with attendees for a nominal fee. All guests are subject to cancellation due to professional commitments.
For Show and Dealer Information:
(408) 298-1709
artapartment@yahoo.com
http://timetunnelnews.blogspot.com/
Ernie Hudson appears at Hollywood Palms on Friday August 29th for the celebration of Ghostbusters 30th Anniversary! We will be showing the movie all week but Ernie will only be here Friday!
Hollywood Palms Cinema
352 S Rt 59, Naperville, IL 60540
Danielle Fishel, star of Boy Meets World and its spinoff Girl Meets World, appears at Barnes & Noble to sign her memoir Normally, This Would be Cause for Concern on Monday September 8, 2014 at 7:00 PM!
86th & Lexington Ave
150 East 86th Street, New York, NY 10028
212-369-2180
Rosario Dawson, Patricia Vonne, and Crystal McCahill appear live in person at the Hollywood Palms Cinema for screenings of Sin City: A Dame to Kill For on August 22 – 24, 2014! Tickets available at the link!
Hollywood Palms Cinema
352 S Rt 59, Naperville, IL 60540
On July 23-27th, San Diego was host to the 2014 San Diego Comic Con! After 10 years of attending this show, I was definitely looking forward to seeing what sort of amazing spectacles Comic Con had in store for me this year. After a week of recovery from the show, I had to admit, compared to all the other Comic Cons, this one was a bit more low key. There weren't many major announcements on the movie front, and while there were some exciting TV shows on hand, I definitely didn't feel the major buzz I typically do at SDCC.
However, like all previous Comic Cons, it's a great time to mingle with artists, writers, and friends you never get to mingle with anywhere else outside of SDCC. It was fun watching the stars come on the show floor, watching artists draw some amazing commissions, and seeing the amazing exhibits some of the booths displayed, including all of the Batman cowls celebrating the Caped Crusader's 75th birthday, as well as some very cool props from the latest movies. While it lacked that extra spark that San Diego usually brings to the table, it still was, is and always will be THE place to be. And now, on to some of the sights I saw during the weekend.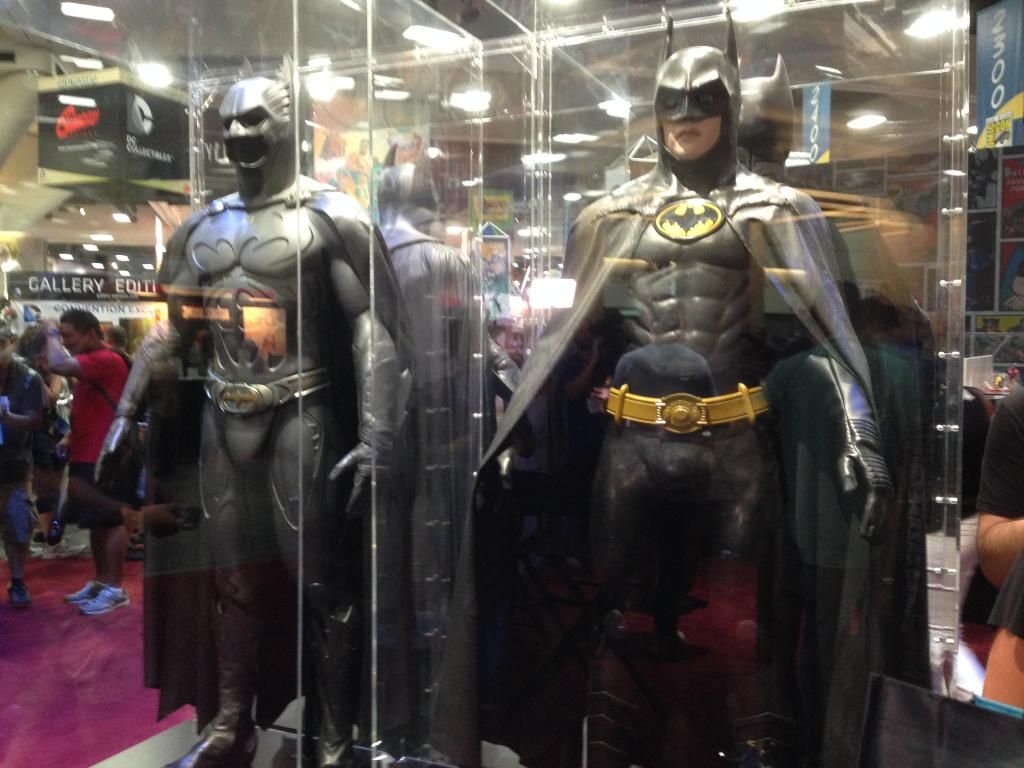 I didn't take a lot of cosplay pics this year, but here's a few that stood out!
A look at some of the cosplayers of Comic-Con, videos of The Avengers: Age of Ultron panel and Zack Snyder and friends, plus lots of more.
Press Release:
Join the 92nd Street Y for preview clips and conversation with Oscar winning actor Jeff Bridges and legendary author Lois Lowry as they discuss the transformation of The Giver from a book to a major motion picture on Friday August 8, 2014 at 7:00 PM.
The haunting story of The Giver centers on Jonas (Brenton Thwaites), a young man who lives in a seemingly ideal, if colorless, world of conformity and contentment. Yet as he begins to spend time with The Giver (Jeff Bridges), who is the sole keeper of all the community's memories, Jonas quickly begins to discover the dark and deadly truths of his community's secret past. With this newfound power of knowledge, he realizes that the stakes are higher than imagined—a matter of life and death for himself and those he loves most. At extreme odds, Jonas knows that he must escape their world to protect them all—a challenge that no one has ever succeeded at before. The Giver is based on Lois Lowry's beloved young adult novel of the same name, which was the winner the 1994 Newbery Medal and has sold over 10 million copies worldwide.
92nd Street Y
1395 Lexington Avenue, New York, New York 10128
212-415-5500
The Weinstein Company (TWC), Cambridgeside Galleria and AMP Radio are hosting a green-themed Color Party and Meet & Greet with Brenton Thwaites and Odeya Rush on Tuesday, August 5 from 2:00-4:00 PM in celebration of TWC's upcoming release THE GIVER. Come join us at Canal Park outside of CambridgeSide Galleria (100 Cambridgeside Pla, Cambridge, MA 02141) dressed in GREEN to be admitted and meet the stars from the movie!
The green-themed Color Party will include music, activities, giveaways and a signing with Brenton Thwaites and Odeya Rush! 
Press Release:
The Simpsons is widely considered to be one of the greatest TV shows of all time – 28 Primetime Emmys®! The longest running American sitcom ever continues to thrive with its dead-on satire and razor-sharp wit. Journey from the Springfield Bowl to the Hollywood Bowl for this unprecedented event, as the orchestra accompanies your favorite scenes on the big screen. Join the celebration of a quarter century of groundbreaking creativity, with plenty of special guests and a fireworks finale.
ARTISTS
Hollywood Bowl Orchestra
Thomas Wilkins, conductor
Hank Azaria, host
Nancy Cartwright
Beverly D'Angelo
Jon Lovitz
Yeardley Smith
"Weird Al" Yankovic
Gay Men's Chorus of Los Angeles
and
Matt Groening
Programs, artists, dates, prices and availability subject to change.
SHOWTIMES:
Hollywood Bowl
2301 N Highland Ave, Los Angeles, CA 90068
Director Jonathan Liebesman and producers Brad Fuller and Andrew Form of the Teenage Mutant Ninja Turtles movie appear at Golden Apple Comics on Saturday August 2nd at 7:00 pm for a signing! Plus there will be Turtles trivia and costume contest with prizes including masks, posters, and pass to the L.A. premiere of the new movie.
Golden Apple Comics
7018 Melrose Avenue, Los Angeles, CA 90038
323-658-6047