June 22, 2016 by Colin Solan
Filed under Animation, Collectibles, Comic Books, Comic Strips, Convention News, Cosplay, Europe, Gaming, Movies, Other, Science Fiction and Fantasy, Television, Top Stories, Video Games
Press Release:
With Star Wars Celebration Europe 2016 set to launch in less than a month, we wanted to share a sneak peek at some of the panels being planned for the Celebration Stage, home of the biggest shows and brightest stars of the weekend! This is where fans will go to spend separate hours with Mark Hamill, Carrie Fisher and Anthony Daniels, get the latest news and info on Rebels Season 3, and grab some super-secret glimpses of the upcoming Rogue One: A Star Wars Story. If that weren't enough, the stage will also host special screenings of A New Hope and The Force Awakens, as well as many other guests and not-to-be-missed Celebration attractions. A few surprises still to come on this stage, so be sure to stick around for the final day of the show. Make the Celebration Stage your number one stop in London this July!!
Seats at the Celebration Stage will be in high demand. Look for our Star Wars Celebration Navigation Guide, coming next week on www.starwarscelebration.com for helpful tips and tricks to help you see your favorite shows!
Friday, July 15:
11:30-12:30
An Hour With Mark Hamill
Start your Celebration weekend off in the best possible way, by spending time with the Jedi Master himself. Mark Hamill will chat with the audience, answer questions, and tell stories from his years in entertainment and from his point of view portraying the pivotal character of Luke Skywalker in the Star Wars universe.
16:00-17:00
Rogue One: A Star Wars Story
Secret mission? What plans? What are you talking about? Find out, when Gareth Edwards – director of the upcoming Rogue One: A Star Wars Story – joins Lucasfilm president Kathleen Kennedy and some special guests for a revealing can't-miss Rogue One panel! Also streamed to the Galaxy Stage and BTSS
18:00-19:30
Star Wars Celebration Europe Cosplay Championship
Enjoy the best cosplay in the galaxy live on the Celebration Stage. The Celebration Europe Cosplay Championships, hosted by Warwick Davis and Mark Daniel, will entertain, and possibly inspire you to get started with your own Star Wars cosplay. The Championships will feature celebrity judges who know quite a bit about the art of Star Wars costumes: Dave Filoni (Executive Producer, Star Wars Rebels) and Steve Sansweet (Rancho Obi-Wan).
20:30-23:00
Screening: Star Wars: A New Hope
The story that started the theatrical saga of Star Wars, as well as the most recent, epic movie for the big screen, will play for fans at Celebration Europe Friday and Saturday evenings. Tonight, relive the excitement of seeing Star Wars: A New Hope in a theater, surrounded by your fellow fans. Bring your lightsaber and get ready to cheer for your heroes, and boo the Dark Lord of the Sith, Darth Vader. Or perhaps cheer for Darth if you lean toward the dark side….
Saturday, July 16:
12:00-13:00
The Creatures, Droids & Aliens of Star Wars: The Force Awakens
Take a deep dive into the Pinewood Studios-based Star Wars creature shop, where Creative Supervisor Neal Scanlan and team designed and built every alien, beast and droid from Star Wars: The Force Awakens! Step-by-step, the process of crafting amazing creatures and droids like Maz Kanata, BB-8, the luggabeast, Unkar Plutt and Supreme Leader Snoke will be explored; from design and sculpting, to fabrication and animatronics, to painting and puppeteering. The panel will culminate in a live demo of one of the creature shop's incredible Star Wars characters!
14:00-15:00
Anthony Daniels, Without Protocol
It's always bright and shiny when our favorite protocol droid takes the stage. Don't miss Anthony Daniels, the human behind C-3PO. Expect the unexpected as Daniels and host Warwick Davis have a marvelous time, sometimes at the expense of unsuspecting audience members.
16:00-18:00
Star Wars Rebels Season 3
Still recovering from the epic Star Wars Rebels Season 2 finale? Feel like you have more questions than answers about what the future holds for the crew of the Ghost? Fear not! Star Wars Rebels Executive Producer and Supervising Director Dave Filoni will be joined by special guests to share highly-guarded sneak peeks at what's to come in Star Wars Rebels season 3 including a screening of the first two episodes!
19:00-20:00
Meet the Creators: The Minds Behind EA's Star Wars Games
Join us for a roundtable discussion about what's it's like to create Star Wars games. The creative leaders behind Star Wars Battlefront, Star Wars: Galaxy of Heroes, Star Wars: The Old Republic and other upcoming Star Wars video games from EA will share behind-the-scenes stories and reveal news about the future of Star Wars games at EA.
21:00-23:30
Screening: Star Wars: The Force Awakens
The story that started the theatrical saga of Star Wars, as well as the most recent, epic movie for the big screen, will play for fans at Celebration Europe Friday and Saturday evenings. Tonight, plan to stay after hours to watch your most beloved characters new and old in The Force Awakens, presented in theatrical quality on the Celebration Stage.
Sunday, July 17:
11:00-12:00
Carrie Fisher: The Princess Diaries
Buckle up. Our favorite Princess is coming and she will certainly have something to say. Join Carrie Fisher, the force behind Princess Leia in the Star Wars movies, for an hour of insights into the world of one of our favorite characters on and off the screen.
13:00-14:00
Ray Park Unleashed
Ray Park, the actor and champion martial artist behind the iconic character of Darth Maul, will take the stage for an hour of insights and interaction. Always two there are – Park will share the stage with Celebration Host and Sith apprentice Warwick Davis.
Press Release:
Captain America and comic book fans—Come celebrate the 20th Anniversary of the Amazing Mark Gruenwald, Mr. Marvel Entertainment Group himself. Catherine Schuller his widow invites fans, friends and family to join in the festivities of all the things Mark loved, from Jugglers, Aerialists, Music, Fashion and Art, to his favorite national holiday, Flag Day, which happens to fall right around his actual birthday day. He celebrated both at his legendary Pawling home each year where he put attendees through Gru/Cap Adventures. Come pay tribute and celebrate as only a Mark inspired event can hit the mark.
Did you ever want to own a piece of history? Did you ever wonder what went on in that creative mind?
Come out and own a piece of history and get your collectible or memorabilia stamped with Mark's Ashes. Word is, a small amount of Mark's ashes never made it into the the dye plant. Could this be true? Or are the rumors true that Mark could still be out there somewhere? And not just in ash form? Just kidding!!! His widow cannot only do the creepy and cool thing for her late husband, she will be adding Mark's ashes to the ONLY APPROVED "MEG" autograph stamp.
Come bid on ONE OF A KIND, collectible items at the simultaneous live online and silent auction. Enjoy a Marvel inspired Fashion Show presented by Designer Burning Guitars ( the wardrobe designer for Hakeem, from hit TV show Empire)
A Painting by the David Benagas will feature familiar Marvel characters, Mark and an official stamp of his signature that include his ashes. The piece will be on display and open for bidding. Proceeds from the sale will benefit The Oshkosh Foundation – Mark Gruenwald Scholarship for the Arts at the University of Wisconsin.
Enjoy the red/white/blue Gru-tini cocktail and mini comic con atmosphere in this 20,000 Sq. Ft entertainment venue, with Iron Man Lair and RoofTop Villain's hang out.
So come dressed in your best suit or your favorite Mark Gruenwald character and show off your patriotism and put together your best inspired RED, WHITE & BLUE attire. Veterans we celebrate you too so come in your military uniform and wave Old Glory along with all the Cap fans.
You never know which celebrity or one of Mark's heroes or villains just might show up!!!
*UPDATE: LIVE PERFORMANCE from rising Pop Sensation LexZ Pryde.
also spinning the music… DJ Dimitri Tee. MarvLs, DJ Toke 1 (an Active duty Marine), DJ W & DJ Danny Boak.
VIP Ticket will grant you all access to all 3 levels. General Admission will get you in the Avengers hall.
Must be 21 years old to attend, Proper ID required, Dress to impress.
Tickets available at the link…
Space Ibiza New York
637 West 50th Street, New York, NY 10019
Press Release:
The Squad Up! Suicide Squad Cosplay Contest launches today from DC Entertainment and Warner Bros. and invites you to cosplay as your favorite squad member for a chance to win a trip to San Diego this July for Comic-Con International. Have you always wanted to build a Deadshot mask? Is Harley Quinn your spirit animal? Got a purple alligator-skinned coat in the back of your closet that you've been wondering what to do with? Then this contest is for you!
Here's how it works:
Assemble a costume based on the look of any of the following characters from Warner Bros.'s upcoming Suicide Squad film: Deadshot, The Joker, Harley Quinn, Colonel Rick Flag, Amanda Waller, Captain Boomerang, El Diablo, Killer Croc, Enchantress, Slipknot, and Katana.
Take a photo of yourself wearing your costume. Make sure it's a good quality photo that really shows off your costume!
You can find the full list of rules and conditions here. Trust us, you'll want to check them out. After the entry period, fans will be able to vote in two separate rounds and help us choose finalists in each of the character categories. Once we have our finalists, eleven different winners—one for each character—will be chosen.
We expect some heavy competition, but don't worry, we're here to help. At the link are some tips, as well as a gallery of characters to help with your costumes. Click on the photos to zoom in on them.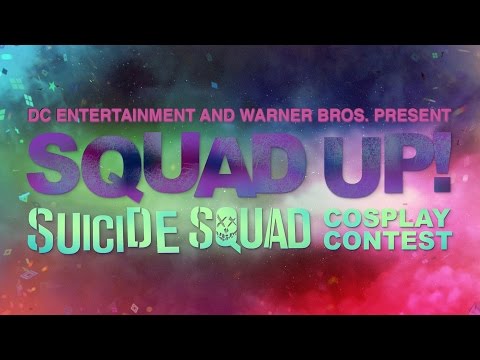 Tickets for the Official MegaCon after-parties are on-sale NOW. Click here to purchase.
OFFICIAL COSPLAY KARAOKE KICK-OFF PARTY
THURSDAY MAY 26 AT 9PM (ROSEN PLAZA HOTEL)
Join us for a Karaoke night like no other at Club 39 in the Rosen Plaza Hotel, hosted by our delightful Cosplayer guests! Drink specials, dance floor and special guests! Dress code: Casual or cosplay. 21+ only!
| | |
| --- | --- |
| Thursday, May 26 at 9PM (Rosen Plaza Hotel) | Price |
| Cosplay Karaoke Kick-Off Party | $10 in advance |
OFFICIAL AFTER-PARTY: NERD NOISE NIGHT
FRIDAY MAY 27 AT 8PM (BALLROOM W224)
Join us for the Official MegaCon After Party in the Ballroom W224 of the OCCC, with a top DJ spinning all night, drink specials, and special guests! Dress code: casual or cosplay. 21+ only.
| | |
| --- | --- |
| Friday, May 27 at 9PM (Ballroom W224) | Price |
| Nerd Noise Night | $10 in advance |
EXIT TUNES DANCE PARTY WITH DJ RYU☆ + DJ KORSK
ft KRADNESS
SATURDAY MAY 28 AT 8PM (BALLROOM W224)
Join us for the Official MegaCon EDM Party in the Ballroom W224 of the OCCC. The hottest EDM straight from Japan! Hosted by DJ RYU☆ + DJ KORSK ft Kradness , with a special appearance by Alodia! This is an all ages event!
| | |
| --- | --- |
| Saturday, May 28 at 8PM (Ballroom W224) | Price |
| Official EDM Party | $10 in advance |
May 23, 2016 by Joe Fauvel
Filed under Animation, Anime, Book Festivals, Collectibles, Comic Books, Comic Strips, Convention News, Cosplay, Florida, Gaming, Horror, Manga, Movies, Science Fiction and Fantasy, Sports, Television, Video Games, Webcomics
Tickets are Now On Sale for the 2016 Baltimore Comic-Con and Harvey Awards
BALTIMORE, MARYLAND – May 23, 2016 – The Baltimore Comic-Con is happy to announce that tickets are now on sale for this year's show, taking place the weekend of September 2-4, 2016 at the Baltimore Convention Center in downtown Baltimore.
Tickets that are now on sale include:
• Weekend
• Friday only
• Saturday only
• Sunday only
• VIP*
• Harvey Awards**
As always, children 10 and under are free for general admission with a paid adult general admission!
* VIP packages are a separate purchase from General Admission tickets (which will be required to participate in any VIP offerings). VIP ticket holders receive exclusive early admission to all 3 days of the show, as well as a gift package that includes a show t-shirt, the 2016 Baltimore Comic-Con yearbook, and more!
** Harvey Awards tickets include full cocktail hour (cash bar), full service dinner (featuring a Baltimore Crabcake!), awards ceremony, and a gift bag.
"Our fans have been asking us on the website, in email, and on social media when tickets would be available," said Marc Nathan, show promoter for the Baltimore Comic-Con. "We're happy to make them available now, and as you can see from our website, our our guest list is already large and growing, we have CGC back, and our show floor is filling up quickly with a great selection and breadth of exhibitors and retailers, with more news yet to come!"
Visit www.baltimorecomiccon.com/tickets/ for more information and to purchase your advanced tickets!
HOTELS
The Baltimore Comic-Con has made arrangements with a number of downtown hotels in close proximity to the Baltimore Convention Center. These include:
• Days Inn: From $159. Call the hotel directly at 410-576-1000 and, when making your reservation, ask for the Baltimore Comic-Con block.
• Holiday Inn: From $169. Use the weblink.
• Hyatt Baltimore: From $174. Use the weblink.
• Lord Baltimore Hotel: From $159. Call 855-539-1928 and use attendee code "16BALCOMIC" or Baltimore Comic-Con rate when making your reservation.
• Sheraton Inner Harbor: From $169. Use the weblink.
In addition to on-site CGC grading, this year's confirmed guests for the show include: Neal Adams (Superman: The Coming of the Supermen); Scott Ethan Ambruson (Azteca: Ciudad Paradiso); Jeff Balke (Zombies vs Cheerleaders: St. Patty's Day Special); Jeremy Bastian (Cursed Pirate Girl); Marty Baumann (Pixar artist); Carolyn Belefski (Curls); Christy Blanch (The Damnation of Charlie Wormwood); Danica Bradshaw (Wayward); Nick Bradshaw (Spidey); Reilly Brown (Deadpool); Harold Buchholz (Archie Comics); Ben Caldwell (Scooby Apocalypse); Chris Campana (The Accelerators); Christa Cassano (Ghetto Klown); Mike Cavallaro (The Fox); Howard Chaykin (Imperium); Lee Cherolis (Little Guardians); Frank Cho (The Totally Awesome Hulk); Amy Chu (Poison Ivy: Cycle of Life and Death); Steve Conley (Bloop); Stephen Coughlin (Sanctuary); J. Robert Deans (Crass Fed); Jeff Dekal (New Avengers); Todd Dezago (Perhapanauts); Charles C. Dowd (Lilith Dark); Joe Eisma (Morning Glories); Tod Emko (A Piggy's Tale); Joe Endres (Colossians); Steve Englehart, courtesy of Hero Initiative (Captain America); David Finch (Wonder Woman); Meredith Finch (Wonder Woman); Chris Flick (Capes & Babes); Francesco Francavilla (Afterlife with Archie); Franco (Aw Yeah Comics: Action Cat!); John Gallagher (Buzzboy); Jose Luis Garcia-Lopez (Batman '66: The Lost Episode); Jason Gounger (Legio Ex Mortis); Anna Gownley and Jimmy Gownley (The Dumbest Idea Ever!); Stephen Green (The Legacy of Luther Strode); Dawn Griffin (Zorphbert & Fred); Rob Guillory (Chew: Demon Chicken Poyo); Laura Lee Gulledge (Will & Whit); Dean Haspiel (The Fox); Jason Horn (Ninjasaur); Ken Hunt (Talon); JG Jones (Strange Fruit); Dan Jurgens (Action Comics, Saturday & Sunday only); Tom King (Batman); Barry Kitson (Empire: Uprising); Samantha Kyle (Paul & Olly); John Layman (Chew: Demon Chicken Poyo); Paul Levitz (Doctor Fate); Mike Lilly (Red Agent); Mike Maihack (Cleopatra in Space); Mark Mariano (The Other Side of Hugless Hill); Ron Marz (Convergence: Batman and Robin); Ed McGuinness (Spider-Man/Deadpool); Mark Morales (Convergence); Joe Mulvey (SCAM); Jamar Nicholas (Fist Stick Knife Gun: A Personal History of Violence in America); Chris Otto (A Dog's Life); Greg Pak (Teen Titans); Tom Palmer (Doctor Strange); Yanick Paquette (Batman/Superman); Dan Parsons (Convergence: Nightwing/Oracle); Brent Peeples (Gold Key: Alliance); David Petersen (Mouse Guard); Brandon Peterson (Uncanny Inhumans); Mark Poulton (A Cat Named Haiku); Eric Powell (The Goon); Kyle Puttkammer (Hero Cats: Midnight Over Stellar City); Ron Randall (Convergence: Catwoman); Khary Randolph (Robin War); Tom Raney (Ninjak); Paul Renaud (Superman/Wonder Woman); Emily Romano (Comic Art House); Craig Rousseau (Kyrra: Alien Jungle Girl); Stephane Roux (Harley Quinn and Power Girl); Joe Rubinstein (Convergence: Batman and Robin); Alex Saviuk (Spider-Man newspaper strip); Stuart Sayger (Hellboy 100); Bart Sears (Bloodshot); Jeff Shultz (Betty and Veronica); Louise Simonson (Convergence: Superman – The Man of Steel); Walter Simonson (Ragnarok); Matt Slay (TMNT Micro-Series); Brian Smith (SpongeBob Comics); Charles Soule (Star Wars: Poe Dameron); Babs Tarr (Batgirl); Ben Templesmith (Blackholers); Chad Thomas (Teenage Mutant Ninja Turtles Amazing Adventures); Frank Tieri (Harley Quinn and her Gang of Harleys); Vivek J. Tiwary (The Fifth Beatle); David Trustman (The Rise); James Tynion (Batman/Teenage Mutant Ninja Turtles); Rick Veitch (Miracleman); Emilio Velez Jr. (The Dodgeball Teens); Mark Waid (All-New, All-Different Avengers); Michael Watkins (Pantha); Todd Webb (Mr. Toast Comics); Mark Wheatley (Doctor Who); Matt Wieringo ('Ringo Scholarship Fund); Marcus Williams (Hero Cats); Rich Woodall (Kyrra: Alien Jungle Girl); Sasha Yosselani (Comic Art House); and Thom Zahler (My Little Pony: Friends Forever).
In the coming weeks, look for more announcements from the Baltimore Comic-Con. We are looking forward to highlighting our guests, the Harvey Awards, industry exclusives, and programming. The latest developments can always be found on our website, Twitter, Instagram, and Facebook pages.
Contact Information
Please use the following e-mail addresses to contact the Baltimore Comic-Con:
press@baltimorecomiccon.com – for any general press inquiries or to be added to our PR distribution
promoter@baltimorecomiccon.com – for requesting exhibitor, publisher, and Artist Alley applications
registrar@baltimorecomiccon.com – for inquiries about submitted registrations
harveys@baltimorecomiccon.com- for the Harvey Awards ceremony and banquet
general@baltimorecomiccon.com- for general Baltimore Comic-Con inquiries
About The Baltimore Comic-Con
The Baltimore Comic-Con is celebrating its 17th year of bringing the comic book industry to the Baltimore and Washington D.C. area. For more information, please visit www.baltimorecomiccon.com.
About The Harvey Awards
The Harvey Awards are one of the comic book industry's oldest and most respected awards. With a history of over 20 years, the last 11 in conjunction with the Baltimore Comic-Con, the Harveys recognize outstanding achievements in over 20 categories. They are the only industry awards nominated and selected by the full body of comic book professionals. For more information, please visit www.harveyawards.org.
Chad Hardin, Mindy Wheeler, Benjamin Glendenning, Tone Rodriguez, Jason Meents, Steven Pulawa, Marat Mychaels, Dietrich Smith, Cara Nicole, and Alfred Trujillo sign at Comic Outlaws on Wednesday, June 1, 2016.
Comic Outlaws
930 W Southern Ave Ste #1, Mesa, Arizona 85210
(602) 475-5908
May 16, 2016 by Michaela McPherson
Filed under Animation, Anime, Con Reports and Photos, Cosplay, Gaming, Manga, Movies, New Jersey, Science Fiction and Fantasy, Television, Top Stories, Video Games
I mentioned in my last article that a girl drove all the way down from New Jersey to North Carolina to Ichibancon meet Vic Mignogna, the star of Fullmetal Alchemist (he voices the main character, Edward Elric). This time, Anthony Aycock and I went to New Jersey from North Carolina to meet Aaron Dismuke, where Vic was also present. Aaron voices Edward Elric's iron giant little brother, Alphonse. Aaron doesn't do many conventions–mainly due to not being invited, he said–so I thought I would see him while I had the chance.
It was called Anime Fan Fest. With both Vic and Aaron as guests, plus other actors from Fullmetal Alchemist, Pokemon, and Yu-Gi-Oh, I expected it to be pretty big. However, it never seemed terribly crowded, even on Saturday afternoon. Then one of the dealers told me that this was the convention's first year. I was immediately impressed.
The convention was held in one massive room at the Garden State Exhibition Center. Dealers (about 30), artist alley (about 10), cosplay registration, autograph sessions, and panels all took place in that one room. This layout had pros and cons. Everything was easy to find, but not everything was easy to hear. During Aaron's Q&A, noise from the dealer area kept hitting me like Izumi Curtis's fists.
I did hear a couple of things, though. One was Aaron talking about how his voice cracked during filming of the movie Fullmetal Alchemist: Conqueror of Shamballa. He asked to do the scene again, but director Mike McFarland told him, "No, we'll keep that one. It shows the emotion of the character"–probably while stifling a laugh. I also heard Aaron talk about being recognized in public. Once was by a cashier at Kroger, who took a selfie with Aaron and his groceries. Another was someone who kept calling for Aaron at his parents' house (he says he now lives off the grid). Still another was the guy in college who waited at a men's room for Aaron to emerge and shake his hand. "You know my hands are wet," Aaron said he told the guy. "You watched me wash them." (Not creepy at all.)
After the Q&A, we had the pleasure of getting an interview with Aaron..
I have heard Vic talk about you falling in the booth a few times during Fullmetal Alchemist. Can you tell the story in your perspective?
Yeah, sure. Okay I was eleven whenever I started and so I was very absent minded and kind of
ADD acting, like I actually had been diagnosed. So I would like move around a lot, I had a stool and so I'd be in the booth, leaning back and picking at the walls because there's soft soundproofing material. I destroyed those walls honestly. Like who am I kidding? It was bad. I might have even written on them at one point.
"Aaron was here"?
Yeah, I think that's exactly what I wrote, honestly! Anyway, so yeah I was a little turd. And so I was leaning back and what I got into was this mode where I'd be leaning back and I would hear the beeps. You have three beeps and on the fourth imaginary beep is when you'd start recording your line. I was leaning back, and Mike said [Mike McFarland, director of Fullmetal Alchemist], "Alright let's do this line." It would go beep beep beep, and I'd go up real fast and I'd be like "Brother." 'Kay. And so this time I was leaning back and beep beep and I tried to lean forward but the stool like gives out. It goes the wrong way. It goes forward instead of backwards and I go backwards and it pushes me against the wall and the stool props up in the front of the booth. And so like I just end up with my legs sandwiched against my chest. And the stool like pinning me there. And the only way for me to get out myself would have been to like twist out and fall straight to the ground. And so I didn't want to do that but I also didn't want to admit what had happened and they had heard the sound of the stool and all the crash. That's recorded somewhere. And so there's this pause where Mike says "Aaron?" He looks up trying to see me but he can't because I'm too far down. And I was just like – all I could think of – I finally realized I was going to need help. So I asked for it. A little "Help me." He had to pull me out.
And they've never let you live it down.
Never.
You have mentioned before that you got into voice acting because you were related to someone who was a voice actor. Could you talk a little bit more about that?
Yeah, okay. Justin Cook is currently a director of production at Funimation, but at the time he was acting and directing a bit and he basically got the impression that I was a good reader because I was reading Lord of the Rings. I wasn't really understanding it all, but I was reading it. And you know, I was like in third grade, I was like nine. So I was a bit above my reading level, and as a result he decided, "Why don't I try using an actual boy who I know who I have a rapport with so he won't be nervous for this little part of a little boy instead of using a woman. It'll sound more authentic." And so he did, and it ended up turning out pretty good. I felt pretty good about it. And he felt pretty good about it and so he had me do a larger part from the same show and then ultimately I started auditioning for other stuff and Alphonse was the first or second character I landed actually. And I think part of the reason they gave me that part was because there were no flaps [mouth movements for animated characters] so I didn't have to focus too much on the mouth movements and they were able to do what they needed to to adjust. So I just had to do the acting. And I think that's a big part of what allowed me to do that at such a young age. It wasn't as hard as what all the other actors were having to do. So it was nice. It was like having training wheels on for my first part.
What sort of shows do you like that aren't anime?
I like The Walking Dead, Game of Thrones. I read Game of Thrones before the series came out so I was super excited about it. I'm a big fan of Peaky Blinders, it's a British crime show. It's on Netflix right now. I also like westerns: Bonanza. I'm also a big fan of M*A*S*H which is so good. It has some of the best comedy ever. I have almost every episode memorized, I've watched it so many times. That's what I grew up on.
Which actors would you actually 'fangirl' over?
Alan Alda. He plays Hawkeye [in M*A*S*H]. I forget her name, but I recently started watching Jessica Jones, and that actress is fantastic.
I love Jessica Jones. I've actually met David Tennant.
Oh cool, yeah! He plays Kilgrave [in Jessica Jones]. That guy's awesome.
You said you did some directing for Funimation. What sort of skillset do you need to be a successful director?
I think that the acting and writing are both important because there comes a point where you have to know whether an actor could give you the read for a certain line or whether between the way the line was written and the flaps and their personal cadence, whether they're capable of doing that line or whether or not it needs to be rewritten. And once you know it needs to be rewritten, it needs to be able to. So you need the writing skill to alter the line if need be. And you also need the acting experience and also the ability to describe how you need a certain read. So I found I was able to mostly harness my acting experience and be able to like use – and also my acting experience with like hearing the different directors and the way that they would direct me. So you can either give someone the read you want and see how they respond to that and you can say "No, say it like this" and then say it. Like I was a good parrot when I was an early actor. As Al I could easily say something back exactly how you had said it to me. That was a good training wheels thing. And then slowly I was able to predict what it was they were going to want and do it in the first round. Other than that, sometimes I use like little analogies. I'd say something like "Could you say that as more of a languid predator? You know, a leopard stalking its prey?" Or "Make it sound more like you dipped your hand in what you thought was a crate of berries, but instead it was acid." Things like that. Colorful things. That sort of idea that they were pretending that happened and then get a little more of the nuance of what the line is than from just hearing where the character is coming from.
What do you do if the actor just can't get the line right?
You either settle for what they can do or you say "Okay good, thanks," and then you get someone else to do it. I have never had to do that. But I've also never had the authority to do that even on the show that I was directing. That was always Tyler's call. He was my producer. He did the casting for me because it was my first show. So he took care of the hard parts.
How did you get started on doing conventions?
My first convention was before – okay so Anizona, which was a first year con, had me and the entire cast of – It was me, Laura Bailey, Travis Willingham, Vic Mignogna, I think Caitlin Glass – everybody was there. It was a tiny con, maybe like eight hundred people. That was my first real con. I don't know if it's even going anymore but I did it and I was super nervous and I was like "What am I supposed to say?" Because we were going through opening ceremonies and we were going through and everyone was like  "Hey! I'm really glad to be here! My name is Travis Willingham and I play Roy Mustang." And I didn't even know what to say. They were all popping jokes and they were all like "What, you're nervous?" And I was like "Yeah I'm nervous!" "Just tell them you're nervous." So I was like "Hey I'm Aaron, I play Al and I'm really nervous and there was a chorus of "Awwww" and uproarious applause. And I was like "That's weird."
Okay, one last question. What was your first experience with fangirls?
I ran from the first girl that tried to glomp [to pounce on and hug aggressively, often with a running start] me. I actually ran. She was a titan. She was really tall and she was wearing a Sailor Moon costume and I wasn't familiar with Sailor Moon. I was only thirteen probably. Fourteen? Her friends met me first, and Vic said, "Do you know who this is? This guy is going to play Al." And this was before Anizona. I was going to this con to get adjusted to it. It was a con in Fort Worth, my hometown. So I just went there for kicks to check out the scene and Vic happened to be there as a guest and he happened to recognize me and he told some other fans who I was and they were like, "We have to call our friend." They called their friend and it was the 6'7 Amazon woman in a Sailor Moon outfit. She was like [bellows like a screaming fangirl]. People are like spilling to either side and it was an anime moment. I ran to the bathroom and then I slowly came back and hugged her calmly.
After the interview, Anthony and I went around the dealer room one last time when I noticed something very familiar. I am a yaoi fangirl, so I would recognize fan art from a fandom I am deeply involved in–in this case, Durarara!! What I saw was a wall scroll depicting the show's most popular characters, Shizuo Heiwajima and Izaya Orihara, as they appeared in high school. They were embracing aggressively. The image was a popular piece of fan art. Someone had ripped it off, altered it slightly, and stuck it on a wall scroll that was now for sale.
I spoke to a very close friend, Kawaiikisshu, who is also an artist. This particular image she had seen on Zerochan.net, and I found it in other places such as tumblr. She said there are a lot of these on eBay and it is sad that work gets robbed and turned into merchandise for money. I heard the same sentiment from Irene Y. Lee, who draws the Li'l Deadpool for Marvel Comics. We saw a picture at her booth of Li'l Deadpool looking through a box of comics, which I totally do not have a T-shirt of. No one obtained Irene's permission to make the shirt, and she receives no payment from it. I wish now I had told some of the staff what I saw because I knew it was illegal. Artists deserve all the credit and the money their art is worth. I know how I would feel if someone copied and pasted this article into their own web site and pretended that they were me. If they were me, they can buy food for my eight cats. (Disclaimer: I am not a crazy cat lady.)
Aside from copyright infringement and the need for more than one room, Anime Fan Fest was a spectacular experience. It was organized, the guests were terrific, and the staff was superb. When I interviewed Vic at Ichibancon, the staff member who was supposed to handle his schedule told me to ask him myself. Aaron's handler, however, worked with me to create a seamless interview process.
I guess the worst part about Anime Fan Fest was the drive. In North Carolina, it had already been raining for about a week, and it did not stop until we left New Jersey, which, by the way, is the capital of RUDE. In our 24 hours in the state, we were honked at fourteen times. I haven't been honked at fourteen times in North Carolina in my nineteen years of living.
Just kidding. I HEART New Jersey.
May 12, 2016 by Joe Fauvel
Filed under Animation, Anime, Art Show, Collectibles, Comic Books, Comic Strips, Convention News, Cosplay, Florida, Gaming, Horror, Manga, Movies, Other, Science Fiction and Fantasy, Sports, Television, Video Games, Webcomics
All ages are welcome and FREE admission for all!
We'll have artists, authors, publishers and vendors set up all day signing and selling their books, art, and prints and doing commissioned sketch art… Workshops, tutorials & panels relating to all things nerd culture… A special art exhibition in the Transmetropolitan Gallery… Gaming demos & tournaments… Costumed character appearances for photo ops… Costume contest with prizes… Balloon artists, face-painters & magic shows… And free coffee tasting by Coffee Shop of Horrors! www.facebook.com/CoffeeShopofHorrors
And our popular D20 sale back again… Roll the die upon checkout to see what prizes you will win or how big of a discount you can get off all your items! Will you roll a 20 to get 40% OFF your purchase?
We'll also be launching some new drink specials at our extensive craft beer/cider/mead/wine & soda bar in the Offworld L.O.U.N.G.E. And everyone in costume gets 20% OFF at the bar all day and night!
Raffle tickets being sold, with hourly prizes awarded, to raise money for Hero Initiative, a charity helping comic creators in need. www.heroinitiative.org
Interested in learning to play a new RPG? Pathfinder Society will be running demos throughout the day. https://warhorn.net/events/orc-gaming
Participating Artists:
Tim Proctor, local Artist and Actor will be on hand signing autographs and selling prints. Tim can be seen portraying Walkers in seasons 5 and 6 of the hit show The Walking Dead. Tim is also known for his sketch card work on such properties as Star Wars, The Lord of the Rings, The Walking Dead, Mars Attacks, X-files and many more. He has also produced limited edition prints for both Disney and Lucasfilm.
Kate Carleton & Josh Dykstra www.facebook.com/katecarletonillustration
http://artofjoshd.com/ & http://ellastrange.com/
Jenni Gregory, creator of comics DreamWalker, Summoner, Abby's Menagerie and Byrd, as well as sketch card artist for ChadPops and A1 Art Cards. www.jennigregory.com
Barry Gregory, creator of the John Aman series from Gallant Comics. www.gallantcomics.com
Mitch Hyman – Bubba The Redneck Werewolf
The Mohawk Crew www.mohawkcrew.com
DJ Clulow www.crabbysquiid.com
Ashley Lanni www.ashleylanni.com
Edmond Dansart Edbot5000.com
Chris Butler – Big Chris' Gallery
www.facebook.com/thebigchrisgallery
Dennis Hansbury & Bonnie Wong: facebook.com/dennishansburyart & facebook.com/bonniewongart
Morgan Wilson, facebook.com/LuxNovaStudio
Warren Hart, aka famousafterdeath: Facebook.com/famousafterdeath
Stephen Wittmaak, MegaCon and Tampa Bay Comic Con regular, as well as a t-shirt artist. http://theSwitt.com/
Bianca Roman-Stumpff: http://biancaart.storenvy.com/
Sid Graves, Cemetery Prints: www.cemeteryprints.com
Josh Tyson, Mammoth Syndicate: www.mammothsyndicate.com
Ransom Designs, www.ransomdesigns.com
Gray Hollow, www.facebook.com/Grayswork
Thom Solo, facebook.com/Thomsoloart
Melissa's Candle Bakery, facebook.com/MelissasCandleBakery
Nerd Improv by The Improvengers! facebook.com/TheImprovengers
"The Improvengers are an improvised comedy troupe that infuse all things geeky into their scenes. Everything is made up on the spot so no two shows are ever the same! Be sure to catch this hilarious show!"
Cosplay panel by Ðementia vön Grimm at 8pm: www.facebook.com/theconmother
"Join the CON-gregation at the holy church of Gods & Monsters for blessings, enlightenment, and cosplay commandments.
The ConMother Superior Ðementia vön Grimm, along with Father Inferior, will offer teachings from the CON-Bible, hear confessions, and provide penance with the Golden Rule(r), along with some surprises.
Come for the absolution. Stay for the cookies."
Interested in volunteering at the event? Please contact info@godmonsters.com to find out how you can help.
May 12, 2016 by Joe Fauvel
Filed under Animation, Anime, Collectibles, Comic Books, Convention News, Cosplay, Florida, Gaming, Horror, Manga, Movies, Science Fiction and Fantasy, Sports, Television, Video Games, Webcomics
THIS FRIDAY! Tickets will go on sale for Spooky Empire!
We are headed to the Orange County Convention Center for one of the biggest horror conventions to date.
Join us on the dark side of comic con October 7-9, 2016!
Rooms are now available at our host hotel, The Hyatt Regency. Just mention "Spooky Empire" and get the special rate of $119/night. For reservations call 1-407-284-1234 or visit the site to reserve online.
For more information, tickets and hotel info visit us at www.spookyempire.com
May 5, 2016 by Colin Solan
Filed under Animation, Collectibles, Comic Books, Convention News, Cosplay, Florida, Gaming, Movies, Other, Science Fiction and Fantasy, Television, Video Games
May the 4th be with You! Star Wars Celebration comes to the Orange County Convention Center in Orlando, FL in 2017.
Tickets on sale May 25 at 12:00 PM PDT, 3:00 PM EDT, 8:00 PM GMT+1.