Press Release:
The Ohio State University Billy Ireland Cartoon Library & Museum and the Wexner Center for the Arts are thrilled to host award-winning author and illustrator MO WILLEMS in conversation with HILARY PRICE, the creator behind Rhymes With Orange. Mo will be discussing his life, career, and creative process. Parents, educators, and aspiring children's book authors won't want to miss this event!
Mo Willems is a number one New York Times best-selling author and illustrator, and has been awarded three Caldecott Honors for his books Don't Let the Pigeon Drive the Bus!, Knuffle Bunny: A Cautionary Tale, and Knuffle Bunny Too: A Case of Mistaken Identity. This year, Mo celebrates the 25th and final book in his long-running Elephant and Piggie series, which has twice won the Theodor Seuss Geisel Medal.
Joining Mo in conversation will be Hilary B. Price, the creator behind the internationally syndicated comic strip Rhymes With Orange. Price has been awarded the "Best Newspaper Panel" four times by the National Cartoonists Society, and her work also appears in Parade Magazine, The Funny Times, People and Glamour.
This free event will be held in Mershon Auditorium. A book signing with Mo and Hilary will take place immediately after the event in the lobby.
Co-presented by Billy Ireland Cartoon Library & Museum and the Wexner Center for the Arts.
Parking is available during off-peak hours at the Ohio Union North Garage.
Wexner Center for the Arts
1871 N High St, Columbus, OH 43210
(614) 292-3535
Co-Writer Tom Peyer appears at Comics for Collectors on Saturday, July 30, 2016 at 3:00 PM to sign the debut issue of CAPTAIN KID from Aftershock Comics!
Comics for Collectors
207 N Aurora St, Ithaca, New York 14850
(607) 272-3007
Artist Matt Battaglia appears at Dewey's Comic City on Saturday, July 30, 2016 at 1:00 PM to sign Indoctrination!
Dewey's Comic City
13 Park Avenue, Madison, NJ 07940
(973) 593-0042
Writer Christos N. Gage (Buffy the Vampire Slayer, Netflix's Daredevil) tours several stores to sign the NC Comicon variant cover featuring art by Tommy Lee Edwards!
Saturday July 30th 10am-12pm
Ultimate Comics Cary
1301 Buck Jones Rd, Raleigh, NC 27606
(919) 377-8778
Saturday July 30th 1:30pm-3:30pm RSVP on Facebook!
Chapel Hill Comics
316 West Franklin Street, Chapel Hill, NC 27516
919-967-4439
Saturday July 30th 5pm-6pm
Ultimate Comics
6120-A Farrington Road, Durham, NC 27517
919-960-8107
Sunday July 31st 11am-1pm RSVP on Facebook!
Arkham Comix
3010 Sunset Ave, Rocky Mount, NC 27804
(252) 316-8046
Sunday July 31st 11am-1pm RSVP on Facebook!
Fight or Flight Comics
6675 Falls of Neuse Rd, Ste 015, Raleigh, NC 27615
(984) 242-0039
Writer MICHAEL MORECI appears at Defiant Comics on Wednesday, August 17, 2016 from 4:00 – 8:00 PM. He'll be signing copies of his TWO new number one issues: SUICIDE SQUAD MOST WANTED: EL DIABLO & BOOMERANG #1 and REINCARNATE #1!
Suicide Squad (soon to be a major motion picture!) follows Boomerang and the Squad as they embark on a mission to take down a ruthless dictator within a small, unstable Central American nation, but when the mission goes awry, the Squad must jump in a helicopter and flee as all hell breaks loose. But amid the chaos, the team realizes one of them was accidentally left behind: Boomerang! How can he stay alive long enough to be rescued when a whole army wants him dead?
ReincarNate (soon to be a major television series!) focuses on down-on-his-luck private eye Nate McCoy. After being shot in the head during an investigation, Nate gains the ability to interact with versions of himself from past lives: Jameson, a wild west lawman, and Alan, a contract killer from the 1960s. With their help, Nate takes on the dangerous underworld, crooked cops, and scumbags, including El Panda, a criminal heavyweight who may have been responsible for the murder of his father.
Defiant Comics
7234 Madison Street, Forest Park, IL 60130
(708) 771-3339
Joshua Hale Fialkov and Tony Fleecs appear at Collector's Paradise on Saturday, August 6, 2016 from 6:00 – 8:00 PM to celebrate the release of JEFF STEINBERG: CHAMPION OF EARTH #1!
Collector's Paradise
7131 Winnetka Ave, Winnetka, CA 91306
818-999-9455
Ray Friesen will be signing Small Gods: The Discworld Graphic Novel at the Forbidden Planet London Megastore on Saturday 6th August from 4 – 5pm.
'Just because you can't explain it, doesn't mean it's a miracle.'
In the beginning was the Word. And the Word was: 'Hey, you!' This is the Discworld, after all, and religion is a controversial business. Everyone has their own opinion, and indeed their own gods, of every shape and size, and all elbowing for space at the top. In such a competitive environment, it's certainly not helpful to be reduced to
appearing in the form of a tortoise, a manifestation far below god-like status in anyone's book.
In such instances, you need an acolyte, and fast: for the Great God Om, Brutha the novice is the Chosen One – or at least the only One available. He wants peace and justice and brotherly love. He also wants the Inquisition to stop torturing him now, please…
The bestselling novel by Terry Pratchett now adapted into graphic novel form with new artwork by Ray Friesen.
Ray Friesen, like Sir Terry, has facial hair and a penchant for hats, although he claims that this is a coincidence. Ray was nominated for the Ignatz Award for Most Promising New Talent during his first year of cartooning professionally.
Forbidden Planet London Megastore
179 Shaftesbury Avenue, London, WC2H 8JR
0207 420 3666
USA Today takes a look at the Wonder Woman exhibit at the San Diego Comic-Con.
Marvel is streaming live from the San Diego Comic Con, and you can watch it right here on Convention Scene.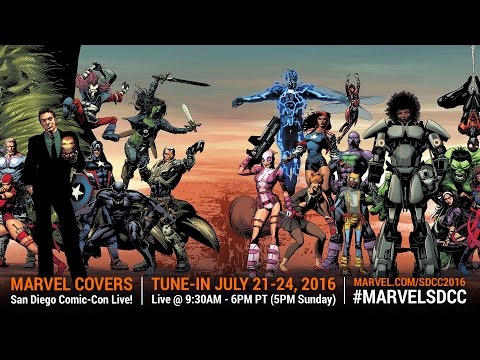 Questions will be answered! Prizes will be given! Lives will be changed! (Perhaps even for the better!)