Mark Buckingham appears at Orbital Comics on Saturday 1 August 2015 from 5:00 – 7:00 PM!
Press Release:
To celebrate the end of Fables with issue #150 (or Volume 22 depending on how you collect it), Orbital is pleased to welcome back Mark Buckingham for what is sure to be a very special night of fun & revelry. Mark will be signing copies of the book (and his other work) for fans, and may just have an extra surprise or two up his sleeve.
Plus, you can check out our retrospective exhibition of Bucky's work which is now on display in the Orbital Gallery. The exhibition runs until late August, so this is the perfect opportunity to check it out and meet the man himself. Face it, tiger – you just hit the jackpot!
Want to own a page of original art from the long-awaited Fables #150 a.k.a. Volume 22?
Well, now you can!
Just purchase a copy of the book from Orbital Comics – or a page of art from Mark Buckingham's exhibition in the Orbital Gallery – to get your ticket. One ticket will be given per copy of Fables #150/Volume 22 bought or per page of original art bought, so the more you get the better your chances.
Terms & Conditions:
1. Tickets must be issued at the time of purchase and cannot be retroactively issued after the fact.
2. It is your responsibility to ensure you get a ticket, so please remind staff at the time if they forget to give you one.
3. The draw will take place at the Matt Stevens in-store gig on August 1, 2015 – immediately following the Mark Buckingham signing which runs from 5-7pm. Winners MUST be present with their ticket/s or a re-draw will occur.
4. Due to the exclusive nature of this competition, these rules will be strictly adhered to and no deviations will be allowed.
Orbital Comics
8 Great Newport Street, London WC2H 7JA, United Kingdom
020 7240 0591
Felicia Day (The Guild, Geek & Sundry) appears at Skylight Books on Wednesday, August 19, 2015 at 7:00 PM to sign her new book YOU'RE NEVER WEIRD ON THE INTERNET (ALMOST)!
Press Release:
From online entertainment mogul, actress, and "queen of the geeks" Felicia Day comes a funny, quirky, and inspiring memoir about her unusual upbringing, her rise to Internet-stardom, and embracing her individuality to find success in Hollywood.
NOTE: As with all Skylight Books in-store events, this reading is free and open to the public (first come, first served).  But because we're expecting a large crowd at this event, we'll be giving out numbered tickets to the signing line to keep things organized:
To get a ticket to the signing line, you must purchase a copy of You're Never Weird on the Internet (Almost) here at Skylight Books.
If you'd like to pre-order the book before its August 11 release date, you can do so on our website at any time (add the book to your cart, below) and we will reserve a signing line ticket for you.
Starting August 11, you can buy books (and get your signing line ticket) in person, by phone, or via our website. Web pre-orders can also be picked up starting the 11th.
For all website orders for this event, be sure to leave a note in the Order Comments field if you'd like a signing line ticket.
Can't attend? If you would like a signed book but will not be able to attend, click Signed Copy after adding the book to your cart and we'll do our best to get it signed for you. You  may pick up this book in the store after the event, or have it shipped to you.
Skylight's Friends with Benefits members get priority signing line tickets (and 20% off this and all other event books each month), so be sure to mention your membership (or join) when you order the book.
Felicia Day will sign and personalize BOOKS ONLY–no memorabilia, posters, DVDs, fan art, etc. Felicia Day will also take photographs while signing–no posed photographs.  Thank you for your cooperation!
The Internet isn't all cat videos. There's also Felicia Day–violinist, filmmaker, Internet entrepreneur, compulsive gamer, hoagie specialist, and former lonely homeschooled girl who overcame her isolated childhood to become the ruler of a new world…or at least semi-influential in the world of Internet geeks and Goodreads book clubs.  After growing up in the south where she was "homeschooled for hippie reasons," Felicia moved to Hollywood to pursue her dream of becoming an actress and was immediately typecast as a crazy cat-lady secretary. But Felicia's misadventures in Hollywood led her to produce her own web series, own her own production company, and become an Internet star. Felicia's short-ish life and her rags-to-riches rise to Internet fame launched her career as one of the most influential creators in new media. Now, Felicia's strange world is filled with thoughts on creativity, video games, and a dash of mild feminist activism–just like her memoir.
Hilarious and inspirational, You're Never Weird on the Internet (Almost) is proof that everyone should embrace what makes them different and be brave enough to share it with the world, because anything is possible now–even for a digital misfit.ress
Felicia Day is a professional actress who has appeared in numerous television shows, including Buffy the Vampire Slayer, Supernatural, and Eureka. However, Felicia is best known for her work in the web video world, behind and in front of the camera. She costarred in Joss Whedon's Emmy Award-winning internet musical, Dr. Horrible's Sing-Along Blog, and also created and starred in the hit web series The Guild.
Felicia is the founder of the online digital channel Geek & Sundry, which was acquired by Legendary Entertainment in 2014. She continues to act as CCO and develop web content and television projects as a producer, writer, and performer. She is also extremely active on social media, has more than 2.4 million Twitter followers, and is the eighth most followed person on Goodreads, where she is also the founder of Vaginal Fantasy, a romance and fantasy book club with almost 14,000 members.
Skylight Books
1818 N. Vermont Ave, Los Angeles, CA 90027
323.660.1175
Craig Rousseau, Zack Giallongo, and Alex Harris appear at Swansea Public Library on Saturday, August 29, 2015 from 1:00 till 6:00 PM for a mini comic-con!
Swansea Public Library
260 Ocean Grove Ave., Swansea, MA 02777
(508) 674-9609
Writers Christos Gage and Ruth Fletcher Gage appear at Barnes & Noble on Saturday August 22, 2015 at noon!
In the tradition of Braveheart and 300 comes Lion of Rora, the true story of Joshua Janavel, farmer-turned-freedom fighter, who will stop at nothing in his quest to save his people from tyranny and religious persecution. This painstakingly researched graphic novel, written by Christos Gage and Ruth Fletcher Gage and featuring evocative art by Jackie Lewis, chronicles the epic war over faith, freedom, and family.
Barnes & Noble
1201 3rd Street Santa Monica, CA 90401
310-260-9110
Press Release:
Things From Another World is excited to announce a signing with Christopher Sebela to celebrate the release of the intriguing new series from BOOM! Studios entitled Welcome Back. Be sure to stop by the Portland TFAW store on August 19th from 5:00 p.m. to 8:00 p.m. to meet this Eisner-nominated writer.
Christopher Sebela is best known for writing Dead Letters and High Crimes. You can also catch his work in Escape from New York from BOOM! Studios and in Alien vs. Predator and Ghost from Dark Horse. Now he is working with Critical Hit artist Jonathan Brandon Sawyer to bring to life a story of two reincarnated assassins who are caught in a never-ending war.
Mali and Tessa have lived hundreds of different lives throughout time. Caught up in an eternal cycle, neither of them remembers what they're fighting for anymore. As Mali becomes self-aware, will she continue to fight? Will Tessa, who is already on the hunt, be on the same page?
Copies of Welcome Back #1 and other titles by Christopher Sebela will be available for purchase at the event. Don't miss this opportunity to meet one of the most exciting new comic writers and get the first issue of Welcome Back signed on August 19th at the Portland TFAW!
Things From Another World
2916 NE Broadway, Portland, OR 97232
(503) 284-4693
Color artist Rico Renzi (Unbeatable Squirrel Girl, Spider-Gwen, Howard the Duck) appears at Fantom Comics on Saturday, August 1, 2015 at 7:00 PM!
Fantom Comics
2010 P St NW, Washington, DC 20036
202-241-6498
Monica Gallagher appears at Gabi's Olympic Cards & Comics on Sunday August 9, 2015 from noon till 4:00 PM! She is the author and illustrator of graphic novels and web comics including Part-Time Princesses, Jam, Gods & Undergrads, Glitter Kiss, Boobage, Bonnie N. Collide, and Go For The Eyes.
Gabi's Olympic Cards & Comics
4230 Pacific Ave, Lacey, WA 98503
(360) 459-7721
Rob Liefeld, creator of Cable, Deadpool, X-Force, and more, appears at Big Red Comics for a signing on Saturday August 15th from 2:00 – 5:00 PM!
Big Red Comics
162 N Glassell Street, Orange, CA 92866
(714) 650-0813
Noah Van Sciver and Kevin Hooyman appear at Floating World Comics on Thursday, August 6, 2015 from 6:00pm – 10:00pm to launch their new graphic novels, FANTE BUKOWSKI and CONDITIONS ON THE GROUND!
Floating World Comics
400 NW Couch Street, Portland, OR 97209
(503) 241-0227
CONtv Launches Original Series 'Comic Book America with Mike Carbonaro'
Mini-Series Features Pop Culture Expert As He Seeks Out Collectibles Across The Globe; Four Episodes Now Available On Digital Entertainment Network

LOS ANGELES, July 23, 2015 – Pop Culture and Comics guru and Wizard World, Inc. (OTCBB: WIZD) favorite Mike Carbonaro travels near and far in search of the best books, toys and memorabilia in CONtv's newest original series, Comic Book America with Mike Carbonaro.
The mini-series debuted this week on CONtv (http://www.contv.com), where fans can catch up with Mike "Carbo" Carbonaro as he locates comic books, vintage playsets, classic artwork, and sports memorabilia in the first four episodes. CONtv director of programming, Nash Herrington, produces the series.
The show features the enthusiastic Carbonaro as he highlights some of the more unique and interesting collections he's come across, such as one man's Doctor Strange collection, classic Joe Palooka, Flintstone playsets, and others. Also, fans can play along at home while they watch by using social media to tell what they would pay for the items that Carbonaro buys in the show.
The highlight of the show is the host himself. An enterprising and successful entrepreneur, Carbonaro began buying and selling comics at age 10. At age 13, Carbonaro set up at his very first comic convention. Later, from 1981 to 1997, he ran his own very successful comic book store, Continental Comics, in Queens, N.Y. In 1996, Carbonaro began the very first Big Apple Convention at St. Paul the Apostle church on 58th St. and Columbus in Manhattan; 12 years later it was the most successful privately owned comic convention in New York City. "Carbo" is currently working as a buyer for Dave & Adam's Cardworld (also seen at many Wizard World shows) and doing what he loves—buying comic and pop culture collections from around the world.
"'Carbo' is a fixture at Wizard World shows and one of the most knowledgeable, entertaining figures in the collectibles world," said John Macaluso, Wizard World CEO. "His enthusiasm, well known to thousands who have attended our events, comes through loud and clear in this fun, informative series that Wizard World fans will love."
Catering to the enormous and avid Comic Con audience, CONtv currently boasts 2,500 hours of original programming, curated films and TV episodes, and exclusive Comic Con panel coverage from dozens of annual nationwide conventions, with new panel programming added weekly as additional conventions take place.  Spanning star studded panels with pop culture heroes such as William Shatner ("Star Trek"), Lou Ferrigno ("The Incredible Hulk"), Michael Rooker (Guardians of the Galaxy) and Bruce Campbell (The Evil Dead, the forthcoming series "Ash vs Evil Dead"), to the best in cosplay, creator workshops, Con after hours events, and more, CONtv is the only service to offer Comic Con event coverage alongside premium feature film, television, and original programming.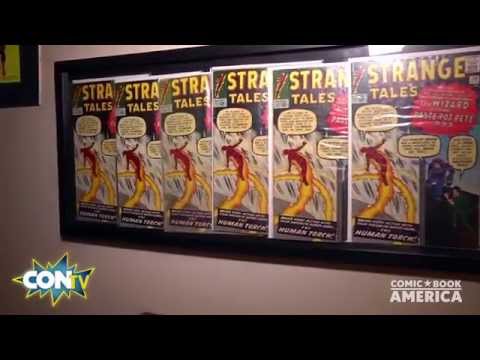 About Wizard World (OTCBB: WIZD)
Wizard World, Inc. (http://www.wizardworld.com) produces Comic Cons and pop culture conventions across North America that celebrate the best in pop-fi, pop culture, movies, television, cosplay, comics, graphic novels, toys, video gaming, sci-fi, gaming, original art, collectibles, contests and more. A first-class lineup of topical programming takes place at each event, with celebrity Q&A's, comics-themed sessions, costume contests, movie screenings, evening parties and more. Wizard World has also launched CONtv, a digital media channel in partnership with leading independent content distributor Cinedigm™ (NASDAQ: CIDM), and ComicConBox™, a premium subscription-based monthly box service. Fans can interact with Wizard World on Facebook, Twitter, Pinterest, Instagram and other social media services.
The 2015 Wizard World Comic Con schedule is available at: www.wizardworld.com/wizcon.html.
About CONtv
CONtv is a new digital entertainment network devoted exclusively to the fanspace that provides audiences access to thousands of hours of content showcasing an original slate of programming, as well as an eclectic catalog of over 1,200 must-watch titles. Everything from quirky original series, elusive cult films & television shows, celebrated genre movies encompassing sci-fi, horror, fantasy, anime, grindhouse, martial arts action, to exclusive live coverage of Comic Con events nationwide, all available on-demand either in a free, ad-supported format or a subscription-based model for premium content. CONtv is a partnership of Cinedigm, one of the nation's largest independent distributor of digital entertainment, and Wizard World, producers of the largest Comic Con Tour in the U.S. Together, they provide an unrivalled hub of content, community and conventions across the broad spectrum of devices including Android and Mac iOS, Samsung Smart TV, Roku Players and Roku TV, the web, and mobile and tablet devices. For more information, visit CONtv.com.
About Cinedigm (NASDAQ: CIDM)
Cinedigm is a leading independent content distributor in the United States, with direct relationships with thousands of physical retail storefronts and digital platforms, including Wal-Mart, Target, iTunes, Netflix, and Amazon, as well as the national Video on Demand platform on cable television. The company's library of films and TV episodes encompasses award-winning documentaries from Docurama Films®, next-gen Indies from Flatiron Film Company®, acclaimed independent films and festival picks through partnerships with the Sundance Institute and Tribeca Films and a wide range of content from brand name suppliers, including National Geographic, Discovery, Scholastic, NFL, Shout Factory, Hallmark, Jim Henson and more.