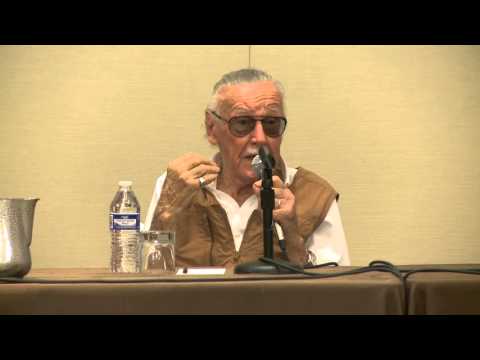 Watch The Man himself Stan Lee speak to a captivated audience at Boston Comic Con 2015 in a panel moderated by comic creator Jimmy Palmiotti and Stan's manager Max Anderson. The event featured a special appearance by Stan's best friend Ken Bald, Guinness World Record holder as the oldest living comic artist, and a phone call from Stan's wife Joanie.
Video courtesy of Ihungerproductions
Press Release:
The Michigan State University Comics Forum is an annual event that brings together scholars, creators, and fans in order to explore and celebrate the medium of comics, graphic storytelling, and sequential art. This year's event is scheduled to take place February 26-27, 2016 at the Residential College in the Arts and Humanities in Snyder/Phillips Hall on the campus of Michigan State University.
This year, the Forum is proud to announce that Sergio Aragonés will be our Guest of Honor and Keynote Speaker on Friday, February 26, 2016. Aragonés is the most honored cartoonist, having won every major award in the field including the National Cartoonists Society's Reuben Award and the Will Eisner Hall of Fame Award. He is widely known for his contributions to Mad Magazine and his long-running comic book series, Groo the Wanderer. Aragonés recently completed a Groo v. Conan crossover with artist Tom Yeates and continues his more than 50 years of contributions to Mad Magazine.
Comedian Judah Friedlander (30 Rock, Wet Hot American Summer, American Splendor) appears at Anderson's Bookshop on Tuesday, November 24, 2015 at 7:00 PM to sign his new book of cartoons!
EVENT DETAILS
This in-store event is free and open to the public. To join the signing line, please purchase the author's latest book, If the Raindrops United from Anderson's. To purchase your book, please call the Anderson's Naperville location at (630) 355-2665 or order the book online at andersonsbookshop.com.
Anderson's Bookshop
123 W Jefferson Ave, Naperville, IL 60540
(630) 355-2665
Cartoonist Gene Luen Yang appears at the San Francisco Public Library on Saturday November 14, 2015 at 3:00 PM!
Press Release: 
Award-winning, best-selling author Gene Luen Yang presents his newest graphic novel: Secret Coders! Exploring the world of computer programming from his experience as a computer science teacher, Yang brings this knowledge to his latest graphic novel.
Gene Luen Yang has written and drawn many comics, including the hit Avatar: The Last Airbender series and DC Comics' Superman. American Born Chinese was a National Book Award finalist, as well as the winner of the Printz Award and an Eisner Award. He also won the LA Times Book Prize for Boxers & Saints. His latest graphic novel is Secret Coders.
A booksale and signing follows this event.
Co-sponsored by the Fisher Children's Center and the Mix at the San Francisco Public Library.
San Francisco Public Library
100 Larkin Street, San Francisco, CA 94102
(415) 557-4400
Cartoonist Roz Chast appears at the Gershman Y on Saturday, November 14, 2015 at 7:30 PM as part of the Philadelphia Jewish Film Festival for a screening of the film "Very Semi-Serious" followed by Q&A and book signing. Tickets available at the link…
Press Release:
VERY SEMI-SERIOUS provides a humorous and illuminating window into the quirky and endearing world of The New Yorker's iconic single-panel cartoons. While the documentary's chief subject is the magazine's cartoon gatekeeper, Editor Robert Mankoff, a charming and affable character whose engaging story could easily take up an entire film, first-time filmmaker Leah Wolchok takes care to highlight some of The New Yorker's other freelance cartoonists – an awesomely eccentric mix of crusty vets and newbies, young and old, male and female. Featuring interviews with notables like Roz Chast, Mort Gerberg, Emily Flake, and George Booth, and newcomers the likes of Ed Steed and Liana Finch, Wolchok hones in on what inspires each to run Mankoff's gauntlet of rejection week after week in hopes of making the cut.
The Gershman Y
401 Broad St, Philadelphia, PA 19147
(215) 545-4400
Judah Friedlander appears at Politics & Prose on Monday, November 30, 2015 at 7:00 PM to sign his new book of cartoons!
A stand-up comic and actor, Friedlander appeared in American Splendor and is best known for his work in 30 Rock. But he's not just a multi-talented performer—Friedlander has written the karate primer, How to Beat Up Anybody, and he's been drawing since he was a child. This collection of artwork and cartoons showcases the visual side of Friedlander's wit and humor as he takes subjects both serious and silly to new heights of absurdity.
Politics & Prose
5015 Connecticut Ave NW, Washington, DC 20008
202-364-1919
Cartoonist Gene Luen Yang appears at the Society of Illustrators on Thursday November 19, 2015 from 6:30 p.m. – 8:00 p.m.
As one of the most preeminent Asian-American writers in the US, Gene Luen Yang has revitalized the conversation about diversity in the comics medium through his innovative, challenging comics writing and art. Focusing on themes of identity, coming of age, perspective shifts, and race, Yang has created stories that expand the traditional scope of comics storytelling, bring graphic novels to new audiences all over the United States. In this talk at the Society of Illustrators, Yang will discuss his comics career, followed by a Q&A and book signing.
Tickets available at the link… $15 Non-members | $10 Members | $7 seniors/students (Undergrad with valid ID)
Society of Illustrators
128 East 63rd Street, New York, NY 10065
212-838-2560
Clermont Comic Con, Sunday November 22nd, adds new guests!
WWE Hall Of Famer – Afa the Wild Samoan
WWE Legend – Fred Ottman AKA Tugboat/Typhoon and The Shockmaster
Justin Ponsor – Illustator/Colorist for Marvel Comics Guardians of the Galaxy, Invincible Iron Man, Star Wars, and Ultimate Spider-man, Uncanny Inhumans
for more info on Clermont Comic Con check out their website!
Erika Moen and Matthew Nolan appear at GladRags on Sunday, October 25, 2015 from 6:00 – 8:00 PM to celebrate the grand debut of OH JOY, SEX TOY vol. 2 AND help raise money for reproductive health at the same time. A third of all book sales at this party will be donated to Planned Parenthood.
GladRags
215 SE Morrison St, #2000E, Portland, OR 97214
(800) 799-4523
Longtime comics industry insider Jackie Estrada appears at Meltdown Comics on Saturday, October 24, 2015 at 2:00 PM to sign her two hardcover books of photographs she took at Comic-Cons in the 1970s, 1980s and 1990s.
Join Jackie and dozens of other Comic Book People for a celebration of comics' "olden day," and get your books autographed by everyone!
Special Guests include:
Scott & Ivy McCloud, Wendy Pini, Mimi Pond, Batton Lash, Tony Millionaire, Lea Seidman Hernandez, David Seidman, Dawn Brown, Bill Morrison, Craig Miller, Michal Davis, Randy Reynaldo, Paul Power, Ruth Clampett, William O'Neill, Charles Hatfield, Brinke Stevens and many more!
Meltdown Comics
7522 Sunset Blvd, Los Angeles, CA 90046
323.851.7223