Meet Common and get his new album signed at Amoeba Hollywood on Wednesday, July 23 at 7:30 pm! Two-time Grammy Award-winning Chicago rapper and actor Common releases his tenth studio album, "Nobody's Smiling," on July 22nd. The concept-driven project was executive-produced by No I.D.
** Signing is limited to one CD per person for the first 200 purchasers of the album.
** Fans may purchase "Nobody's Smiling" beginning July 22nd.
** The album is available as regular and deluxe edition CD.
** Signing line will form on Ivar side of Amoeba starting at 6pm Wednesday.
Amoeba Music 
6400 Sunset Blvd, Los Angeles, CA 90028
Writer/Director Kevin Smith and Jason Mewes (Clerks, Dogma) appears at Barnes & Noble to sign Jay & Silent Bob's Blueprints for Destroying Everything on Saturday August 9, 2014 at 2:00 PM!
Barnes & Noble – The Grove at Farmers Market
189 The Grove Drive Suite K 30, Los Angeles, CA 90036
323-525-0270
Press Release:
TOTE YOUR FAVE COMIC-CON® 2014 LOOT IN THE OFFICIAL BAG FROM WARNER BROS. ENTERTAINMENT
WARNER BROS. AND COMIC-CON ONCE AGAIN TEAM UP TO PROVIDE OFFICIAL BAG OF SDCC 2014 — WITH 13 DIFFERENT DESIGNS!
The Collectible Bags Double as a Backpack and Highlight Warner Bros. Television's Arrow, Constantine, The Flash, The Following, Gotham, iZOMBIE, The Originals, The Vampire Diaries, Supernatural, Mike Tyson Mysteries and Teen Titans Go!
Plus Two Totes Tout DC Comics' Famed Caped Crusader, Batman — One Bag Celebrates the 75th Anniversary, the Other the Classic 1966 TV Series
BURBANK, Calif. (July 17, 2014) — The bags are back! Comic-Con 2014 attendees hoping for a colorful and commemorative keepsake bag to hold their best swag are once again in luck. For the fifth year running, Warner Bros. Entertainment and Comic-Con have teamed up to produce and distribute the official bag of Comic-Con, which will be distributed to fans when checking it at the Con. The highly coveted bag, which can also be worn conveniently as a backpack, has been called a "must-have" by Variety and Comic-Con's "ubiquitous accessory" by Entertainment Weekly.
More than 130,000 of the bags have been produced and will be provided to Comic-Con attendees throughout the convention.
The all-new 2014 edition again features backpack styling and features 13 different designs.
Designed by Warner Bros. Worldwide Television Marketing, each bag features double-sided artwork, with the all-new Comic-Con 2014 official design on one side and the other side highlighting titles from the Studio's TV series and the 75th anniversary of Batman.
And two of the bags will feature DC Comics' legendary caped crusader: one design will celebrate the 75th anniversary celebration of Batman, and another will highlight the classic and iconic Batman TV series from 1966.
For continuing info on the Studio's plans at Comic-Con, please visit comiccon.thewb.com and follow @warnerbrostv on Twitter (hashtag #WBSDCC). For official information about Comic-Con 2014, visit www.comic-con.org and follow Comic-Con on Twitter at @Comic_Con.
For over 5 years, The Avatar Legacy Fan Panel has proudly organized this gathering.
Moderator Avatar_Mom, Kevin Coppa (Puppetbenders), Elizabeth Furr (fan artist/Amira Ink!), Gene Luen Yang (writer/cartoonist), Angela Song Mueller (character designer), Josh Hamilton (writer), and Jessie Flower (voice actor for Toph) share stories and answer questions about the Nickelodeon series Avatar: The Last Airbender and The Legend of Korra!
Cosplayers, practice your stance for the cosplay contest! Cosplay prizes include titles from Dark Horse Comics.
Saturday, July 26 • 10:30am – 11:30am :: Room 24ABC
Greg Weisman (Gargoyles, Young Justice, Spectacular Spider-Man) signs his new book at Vroman's Bookstore on Sunday July 20, 2014 at 4:00 pm!
About Spirits of Ash and Foam:
In this sequel to Rain of the Ghosts, Rain Cacique must now unearth a whole new series of mysterious events, all while juggling the struggles of homework, babysitting duties, and new friends.  Now that she is equipped with her heirloom talisman her grandfather left her, she seeks the next mystical relic that will allow her to uncover her home's secrets and launch her and her ghost grandfather into a whole new adventure..
About the Author:
GREG WEISMAN is an American comic book and animation writer and producer, best known as the creator of Gargoyles and as the Supervising Producer of The Spectacular Spider-Man. Weisman just completed work as writer and producer on the Young Justice animated series. The television series he's produced have been nominated for a number of Emmy Awards. Currently he is working the new Star Wars cartoon REBELS.
Vroman's Bookstore
695 E. Colorado Blvd Pasadena, CA 91101
Michael Jai White, Tommy Davidson, Carl Jones, and Byron Mimms sign at Amoeba Music on Tuesday, July 15th at 6:00 pm!
Press Release: 
Celebrate the release of "Black Dynamite Season One" on Blu-ray with the creators and cast members of the Adult Swim Animated series (and movie).
Purchase your copy at Amoeba Hollywood to meet and get it signed by Carl Jones, Byron Mimms, Michael Jai White and Tommy Davidson! (More guests may be joining the party – stay tuned).
Bust out your best polyester pants suit because Black Dynamite and his crew are about to explode onto the scene in all-new Blu-ray and DVD release, "Black Dynamite Season One." The Adult Swim release is out July 15th and features all ten 30-minute episodes from the series' first season, along with a host of bonus content including the original pilot, a behind-the-scenes featurette and video commentaries with series creator Carl Jones (The Boondocks) and cast members.
The series' titular character Black Dynamite (Michael Jai White) is a 1970s renaissance man with a kung-fu grip. He is a lover and a fighter who is not afraid to leap before he looks. His sidekick extraordinaire is Bullhorn, the brains and cunning that complements Black Dynamite's hard-hittin', bone-crushin' style. Providing comic relief on the mean streets is Cream Corn (Tommy Davidson) and classing up the place is the gorgeous Honey Bee (Kym Whitley).
Based on 2009's critically-acclaimed feature film, the "Black Dynamite" animated series further chronicles the exploits of the central character and his crew. Under the direction of Carl Jones, the series features the voice talent of Michael Jai White (For Better or Worse, The Dark Knight, Why Did I Get Married?), Tommy Davidson (In Living Color, Bamboozled), Kym Whitley (The Cleveland Show, Brian McKnight Show), and Byron Minns (Mongo Wrestling Alliance), all of whom starred in the feature film. The animated series is produced by Ars Nova, with Jon Steingart, Carl Jones, and Jillian Apfelbaum as executive producers. Brian Ash is co-executive producer. Scott Sanders, Michael Jai White and Byron Minns are producers. Monica Jones is associate producer. Lesean Thomas is creative producer/supervising director. Original music is provided by Adrian Younge. "Black Dynamite" is being animated by Titmouse, Inc.
Amoeba Music 
6400 Sunset Blvd, Los Angeles, CA 90028
Press Release:
Boston Comic Con, Dick's Last Resort, Newbury Comics, and Faneuil Hall Marketplace are teaming up for the second annual pre-convention Boston Comic Con Costume Contest on Wednesday, July 30, 2014 from 11:45 am – 1:00 pm. The contest is open to the public and will feature a costume parade around Faneuil Hall Marketplace and prizes for the top three winners. Boston Comic Con will be held August 8-10, 2014 at the Seaport World Trade Center.
Contestants of all ages are encouraged to dress up as their favorite superhero, comic book character, and beyond (all costumes should be family friendly). The contest will kick off with a "Costume Parade" around Quincy Market, beginning and ending at Dick's Last Resort (Boston Comic Con will also host its annual Costume Contest "Cosplay" during the Convention on Sunday, August 10th at 4:00 pm at the Seaport World Trade Center)
Prizes for 1st, 2nd and 3rd place winners will be awarded. 1st place winner will receive two VIP passes to the three day Boston Comic Con ($240 value that includes a limited-edition T-shirt). The 2nd place winner will walk away with a $100 gift certificate to Dick's Last Resort. The 3rd place winner will be awarded a $50 gift certificate to Newbury Comics.
Costume contestants should arrive at Dick's Last Resort at 11:45 am to check in and register. The parade will begin at 12:15 pm and the final winners will be announced at 12:45 pm. Judges will include representatives from Newbury Comics at Faneuil Hall, Faneuil Hall Marketplace  and Boston Comic Con.
The event is free and open to the public. However, space is limited and contestants will be accommodated on a first come, first served basis. Adults and children of all ages are welcome to compete!
About Newbury Comics
Newbury Comics, a longtime exhibitor at Boston Comic Con, will be located at the Boston Comic Con Exhibition area in the Seaport World Trade Center. Newbury Comics will be giving out free promotional items at Boston Comic Con so stop by and visit their booth! Newbury Comics Faneuil Hall Marketplace store is located in the North Market building and is one of 28 stores all based in New England. Newbury Comics is independently owned and operated by its original founder for more than 30 years and specializes in music, movies and pop culture goods.
About Dick's Last Resort at Faneuil Hall Marketplace
Dick's is located in the Historic Quincy Market at Faneuil Hall Marketplace in Boston. It's just a napkin's throw away from the Harbor and the Boston Aquarium. Stop by and let yer hair down, enjoy some grub or toss back a few cold ones on our rockin' patio. It's all in fun at Dick's in Boston, so come see why Dick has been infamous since the rowdy times began in 1993.
About Boston Comic Con
The 8th Annual Boston Comic Con will host a three-day convention at the Seaport World Trade Center Friday August 8 through Sunday August 10, 2014. A-list celebrities from the genres of science fiction fantasy, horror and beyond will participate in panel discussions, Q&As, photo ops and autograph signings throughout the convention, alongside 200+ comic book creators from the local region and beyond. In addition, a Comic Book film festival will be held throughout the weekend and a Comic Book art auction will be held on Sunday, August 10. New this year, a third day was added on Friday, August 8, first Cosplay Harbor and the official "after party" at Laugh Boston on Saturday, August 9, and a limited number of VIP entry tickets on the convention's first day at 1 p.m. August 8, one hour before general admission. Celebrity appearances by Jason Momoa of "Game of Thrones," John Barrowman of "Doctor Who," "Torchwood" and Arrow," Sean Astin of "The Goonies" and "The Lord of the Rings" trilogy, James Marsters of "Buffy the Vampire Slayer" and "Angel," Katie Cassidy of "Arrow," Eve Myles of "Torchwood," Jewel Staite of "Firefly,"Sam Witwer of "Being Human" and Darryl McDaniels, aka DMC, of Run-DMC.
Press Release:
Fans of pop culture from across the Northeast and around the world will gather at the Connecticut Convention Center July 10th-13th, for the twelfth annual ConnectiCon in Hartford, CT. Founded in 2002, ConnectiCon is the largest massively multi-genre convention in New England.
This year's event showcases over 7,000 hours of programming spread out over four days including; informative panels and hands-on workshops, special guest and celebrity appearances, trading card games, board games, and roleplaying games, including dozens of scheduled tournaments, console gaming and arcade machines. ConnectiCon is proud to introduce the Northeast League of Legends Tournament with over $6,000 in prizes!
ConnectiCon features main events such as, "Nerd Prom," which is held Thursday evening at 8:30pm, tickets are available online. "ConnectiCon's Singled Out!" Contestants, who pre-register online, will have a chance to win a date sponsored by ConnectiCon at a local participating restaurant. There's also a ConnectiCon Masquerade Event held on Saturday, and the ConnectiCon "Cosplay Death match!" Plus many other fantastic events!
ConnectiCon will host nearly 90 special guests and celebrities including stars of stage and screen such as Noah Hathaway (The Neverending Story), Walter Jones (Mighty Morphin' Power Rangers), Alan Oppenheimer (Masters of the Universe), Janet Varney (Legend of Korra), Jennifer Hale (Mass Effect), Maurice LaMarche (Futurama) and Rob Paulsen (Teenage Mutant Ninja Turtles) and Richard Horvitz and Rikki Simons of the cartoon Invader Zim and Internet celebrity, Doug Walker, AKA That Guy With The Glasses. Joining them are voice actors Chris Cason, Danielle McRae, Ellen McLain, and Lauren Landa, comic creator Farel Dalrymple, and dozens of other talented guests.
Annual memberships to ConnectiCon are available online or at the door, and include access to all four days of the convention, as well as quarterly member appreciation days and other events year-round. It's fun for the entire family! For more information please go to their website www.connecticon.org or Facebook page.
Writer/director John Michael McDonagh and actor Brendan Gleeson appear for a special advance screening of Fox Searchlight's CALVARY to be followed by a Q & A on Tuesday July 22, 2014 at 7:00 PM. Presented by the Irish Film Festival.
Get free tickets at the link SOLD OUT
Kendall Square Cinema
1 Kendall Square, Cambridge, MA 02139
617-621-1202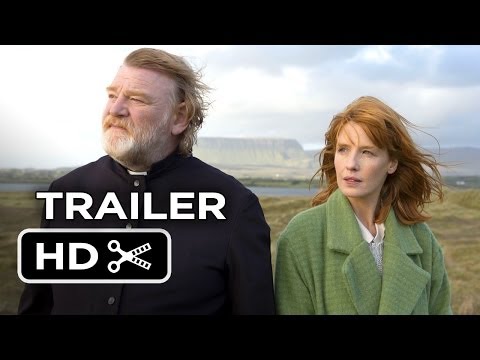 Press Release:
The Empire. The Rebellion. The Beginning. STAR WARS REBELS, Lucasfilm's highly anticipated animated series detailing the start of the fight against the evil Empire, is coming this fall – but fans can get a big sneak peek at San Diego Comic-Con.
Lucasfilm's special panel, The Heroes of Star Wars Rebels (Thursday, 7/24/14, 6:00pm – 7:00pm, Room: 6BCF), will feature executive producer Dave Filoni, as well as the first panel appearance by executive producer Simon Kinberg and stars Freddie Prinze, Jr., Vanessa Marshall, Steve Blum, Tiya Sircar, and Taylor Gray. They'll discuss making the show and will debut several exclusive reveals from the upcoming series for fans in attendance.
Star Wars Rebels continues the epic tradition of the legendary Star Wars saga with all-new exciting, action-packed adventures. It is a dark time in the galaxy, as the evil Galactic Empire tightens its grip of power from world to world. As the series begins, Imperial forces have occupied a remote planet, ruling with an iron fist and ruining the lives of its people. The clever and motley crew of the starship Ghost is amongst a select few who are brave enough to stand against the Empire. Together, this ragtag group will face threatening new villains, encounter colorful adversaries, embark on thrilling adventures and become heroes with the power to ignite a rebellion.
Scheduled to premiere in the fall as a one-hour special telecast on Disney Channel, it will be followed by a series on Disney XD channels around the world.
Follow @StarWars and @DisneyChannelPR for the latest news on #StarWarsRebels. Stay tuned to www.StarWars.com for more on Star Wars Rebels at SDCC.