Clermont Comic Con Jimmy Dempster and Grace Smith!
Meet Jimmy Dempster from the CW series The Originals and Swamp Murders on the ID Network.
We are proud to announce Grace Smith the lovely and proud mother of Kevin Smith as our guest this year at the Clermont Comic Con. You listen to her on SMODCAST now you can meet her in person.
For more info on Clemont comic con visit the website!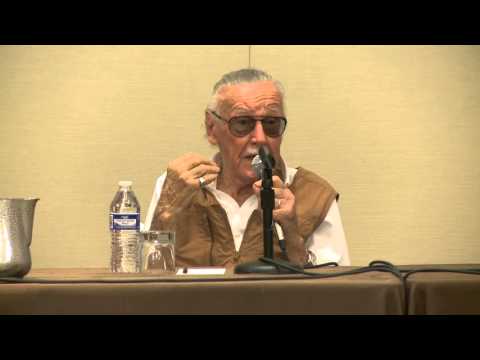 Watch The Man himself Stan Lee speak to a captivated audience at Boston Comic Con 2015 in a panel moderated by comic creator Jimmy Palmiotti and Stan's manager Max Anderson. The event featured a special appearance by Stan's best friend Ken Bald, Guinness World Record holder as the oldest living comic artist, and a phone call from Stan's wife Joanie.
Video courtesy of Ihungerproductions
Press Release:
The Michigan State University Comics Forum is an annual event that brings together scholars, creators, and fans in order to explore and celebrate the medium of comics, graphic storytelling, and sequential art. This year's event is scheduled to take place February 26-27, 2016 at the Residential College in the Arts and Humanities in Snyder/Phillips Hall on the campus of Michigan State University.
This year, the Forum is proud to announce that Sergio Aragonés will be our Guest of Honor and Keynote Speaker on Friday, February 26, 2016. Aragonés is the most honored cartoonist, having won every major award in the field including the National Cartoonists Society's Reuben Award and the Will Eisner Hall of Fame Award. He is widely known for his contributions to Mad Magazine and his long-running comic book series, Groo the Wanderer. Aragonés recently completed a Groo v. Conan crossover with artist Tom Yeates and continues his more than 50 years of contributions to Mad Magazine.
Comedian Judah Friedlander (30 Rock, Wet Hot American Summer, American Splendor) appears at Anderson's Bookshop on Tuesday, November 24, 2015 at 7:00 PM to sign his new book of cartoons!
EVENT DETAILS
This in-store event is free and open to the public. To join the signing line, please purchase the author's latest book, If the Raindrops United from Anderson's. To purchase your book, please call the Anderson's Naperville location at (630) 355-2665 or order the book online at andersonsbookshop.com.
Anderson's Bookshop
123 W Jefferson Ave, Naperville, IL 60540
(630) 355-2665
Jeremy Sorese, writer of the Steven Universe comic, appears at Mission: Comics & Art on Thursday, December 3, 2015 at 5:00 PM to celebrate the release of NOBROW's newest graphic novel, CURVEBALL.
Mission: Comics & Art
2250 Mission Street, San Francisco, CA 94110
(415) 695-1545
Voice actors Olivia Olson (Marceline the Vampire Queen) and Martin Olson (Lord of Evil) appear at Barnes & Noble on Saturday November 7, 2015 at 3:00 PM to perform, discuss and sign ADVENTURE TIME: THE ENCHIRIDION and MARCY'S SUPER SECRET SCRAPBOOK! Dive deeper into the secrets of Adventure Time with this mysterious mash-up of The Enchiridion (the ancient book for heroes) and Marceline the Vampire Queen's childhood diary.
Barnes & Noble
3721 Veterans Boulevard, Metairie, LA 70002
504-455-4929
Judah Friedlander appears at Politics & Prose on Monday, November 30, 2015 at 7:00 PM to sign his new book of cartoons!
A stand-up comic and actor, Friedlander appeared in American Splendor and is best known for his work in 30 Rock. But he's not just a multi-talented performer—Friedlander has written the karate primer, How to Beat Up Anybody, and he's been drawing since he was a child. This collection of artwork and cartoons showcases the visual side of Friedlander's wit and humor as he takes subjects both serious and silly to new heights of absurdity.
Politics & Prose
5015 Connecticut Ave NW, Washington, DC 20008
202-364-1919
Press Release:
Gallery Nucleus is honored to host the launch for Disney lead character designer and visual development artist Shiyoon Kim's premier children's book Nelbert The Introvert!
Join us November 7, 2015 from 2:00 – 5:00PM as we debut this wonderful and quirky new title for all ages. On display will be original art and preliminaries from the book. Shiyoon will also be leading a demonstration sharing his artistic process during the opening event.
Event Highlights
*First retail location of Nelbert The Introvert
*Artist in attendance and signing
*Original art on display and for sale
*Exclusive new print release
*Process demo lead by Shiyoon Kim
*more details to be announced…!
Gallery Nucleus
210 East Main Street, Alhambra, CA 91801
626.458.7477
Press Release:
November 21 and 22, 2015 in Framingham, MA! Super Megafest is New England's Most FUN Multimedia Fanfest Comic con Party! We feature incredible celebrity guest signings and photo ops with guests such as RICHARD DEAN ANDERSON and THE DUKES OF HAZZARD in a VERY RARE appearance! We feature scheduled Q & A Sessions throughout the weekend. Spend the day with all your favorite celebrities from Comics, TV, Movies, and Rock & Roll.
Kickoff Friday night with the Cosplay Comedy Show and advance ticket check-in from 5-9 PM. Saturday begins with advance SPEED PASS ticket holder admission at 9:30 am followed by all other advance ticket holders. General admission starts at 10:30. This is cash only (there are plenty ATMs on site).
Jay Howell (Sanjay and Craig, Bob's Burgers) appears at Secret Headquarters on Friday, November 13, 2015 at 7:00 PM for an art exhibition and signing!
The Punks Git Cut zine anthology gathers all of artist Jay Howell's highly sought-after mini comics, zines, rare one-offs, and select paintings into one glorious 420-page collection. Howell's decidedly west coast aesthetic celebrating life-affirming subjects like skateboarding, buddies, sex, dogs, and parties will convert even the most resolute misanthropes. This book includes Punks Git Cut, The Dark Wave, Let Me Tell You Where/Where Not To Stick It, Dogs and Dog Information, Pages from Books Vol. 1, Wicked Wendy, Wild Wolf and Other Fun Drawings, and more.
Secret Headquarters
3817 W Sunset Blvd, Los Angeles, CA 90026
323.666.2228