Press Release:
Boston Comic Con, Dick's Last Resort, Newbury Comics, and Faneuil Hall Marketplace are teaming up for the second annual pre-convention Boston Comic Con Costume Contest on Wednesday, July 30, 2014 from 11:45 am – 1:00 pm. The contest is open to the public and will feature a costume parade around Faneuil Hall Marketplace and prizes for the top three winners. Boston Comic Con will be held August 8-10, 2014 at the Seaport World Trade Center.
Contestants of all ages are encouraged to dress up as their favorite superhero, comic book character, and beyond (all costumes should be family friendly). The contest will kick off with a "Costume Parade" around Quincy Market, beginning and ending at Dick's Last Resort (Boston Comic Con will also host its annual Costume Contest "Cosplay" during the Convention on Sunday, August 10th at 4:00 pm at the Seaport World Trade Center)
Prizes for 1st, 2nd and 3rd place winners will be awarded. 1st place winner will receive two VIP passes to the three day Boston Comic Con ($240 value that includes a limited-edition T-shirt). The 2nd place winner will walk away with a $100 gift certificate to Dick's Last Resort. The 3rd place winner will be awarded a $50 gift certificate to Newbury Comics.
Costume contestants should arrive at Dick's Last Resort at 11:45 am to check in and register. The parade will begin at 12:15 pm and the final winners will be announced at 12:45 pm. Judges will include representatives from Newbury Comics at Faneuil Hall, Faneuil Hall Marketplace  and Boston Comic Con.
The event is free and open to the public. However, space is limited and contestants will be accommodated on a first come, first served basis. Adults and children of all ages are welcome to compete!
About Newbury Comics
Newbury Comics, a longtime exhibitor at Boston Comic Con, will be located at the Boston Comic Con Exhibition area in the Seaport World Trade Center. Newbury Comics will be giving out free promotional items at Boston Comic Con so stop by and visit their booth! Newbury Comics Faneuil Hall Marketplace store is located in the North Market building and is one of 28 stores all based in New England. Newbury Comics is independently owned and operated by its original founder for more than 30 years and specializes in music, movies and pop culture goods.
About Dick's Last Resort at Faneuil Hall Marketplace
Dick's is located in the Historic Quincy Market at Faneuil Hall Marketplace in Boston. It's just a napkin's throw away from the Harbor and the Boston Aquarium. Stop by and let yer hair down, enjoy some grub or toss back a few cold ones on our rockin' patio. It's all in fun at Dick's in Boston, so come see why Dick has been infamous since the rowdy times began in 1993.
About Boston Comic Con
The 8th Annual Boston Comic Con will host a three-day convention at the Seaport World Trade Center Friday August 8 through Sunday August 10, 2014. A-list celebrities from the genres of science fiction fantasy, horror and beyond will participate in panel discussions, Q&As, photo ops and autograph signings throughout the convention, alongside 200+ comic book creators from the local region and beyond. In addition, a Comic Book film festival will be held throughout the weekend and a Comic Book art auction will be held on Sunday, August 10. New this year, a third day was added on Friday, August 8, first Cosplay Harbor and the official "after party" at Laugh Boston on Saturday, August 9, and a limited number of VIP entry tickets on the convention's first day at 1 p.m. August 8, one hour before general admission. Celebrity appearances by Jason Momoa of "Game of Thrones," John Barrowman of "Doctor Who," "Torchwood" and Arrow," Sean Astin of "The Goonies" and "The Lord of the Rings" trilogy, James Marsters of "Buffy the Vampire Slayer" and "Angel," Katie Cassidy of "Arrow," Eve Myles of "Torchwood," Jewel Staite of "Firefly,"Sam Witwer of "Being Human" and Darryl McDaniels, aka DMC, of Run-DMC.
Press Release:
Fans of pop culture from across the Northeast and around the world will gather at the Connecticut Convention Center July 10th-13th, for the twelfth annual ConnectiCon in Hartford, CT. Founded in 2002, ConnectiCon is the largest massively multi-genre convention in New England.
This year's event showcases over 7,000 hours of programming spread out over four days including; informative panels and hands-on workshops, special guest and celebrity appearances, trading card games, board games, and roleplaying games, including dozens of scheduled tournaments, console gaming and arcade machines. ConnectiCon is proud to introduce the Northeast League of Legends Tournament with over $6,000 in prizes!
ConnectiCon features main events such as, "Nerd Prom," which is held Thursday evening at 8:30pm, tickets are available online. "ConnectiCon's Singled Out!" Contestants, who pre-register online, will have a chance to win a date sponsored by ConnectiCon at a local participating restaurant. There's also a ConnectiCon Masquerade Event held on Saturday, and the ConnectiCon "Cosplay Death match!" Plus many other fantastic events!
ConnectiCon will host nearly 90 special guests and celebrities including stars of stage and screen such as Noah Hathaway (The Neverending Story), Walter Jones (Mighty Morphin' Power Rangers), Alan Oppenheimer (Masters of the Universe), Janet Varney (Legend of Korra), Jennifer Hale (Mass Effect), Maurice LaMarche (Futurama) and Rob Paulsen (Teenage Mutant Ninja Turtles) and Richard Horvitz and Rikki Simons of the cartoon Invader Zim and Internet celebrity, Doug Walker, AKA That Guy With The Glasses. Joining them are voice actors Chris Cason, Danielle McRae, Ellen McLain, and Lauren Landa, comic creator Farel Dalrymple, and dozens of other talented guests.
Annual memberships to ConnectiCon are available online or at the door, and include access to all four days of the convention, as well as quarterly member appreciation days and other events year-round. It's fun for the entire family! For more information please go to their website www.connecticon.org or Facebook page.
Writer/director John Michael McDonagh and actor Brendan Gleeson appear for a special advance screening of Fox Searchlight's CALVARY to be followed by a Q & A on Tuesday July 22, 2014 at 7:00 PM. Presented by the Irish Film Festival.
Get free tickets at the link SOLD OUT
Kendall Square Cinema
1 Kendall Square, Cambridge, MA 02139
617-621-1202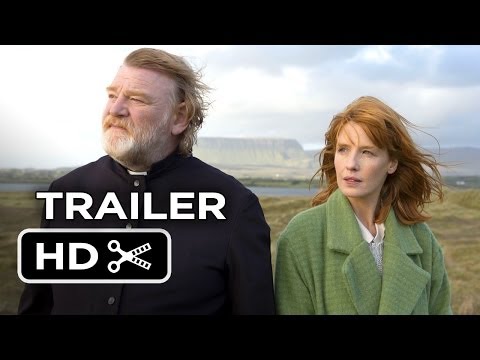 Press Release:
The Empire. The Rebellion. The Beginning. STAR WARS REBELS, Lucasfilm's highly anticipated animated series detailing the start of the fight against the evil Empire, is coming this fall – but fans can get a big sneak peek at San Diego Comic-Con.
Lucasfilm's special panel, The Heroes of Star Wars Rebels (Thursday, 7/24/14, 6:00pm – 7:00pm, Room: 6BCF), will feature executive producer Dave Filoni, as well as the first panel appearance by executive producer Simon Kinberg and stars Freddie Prinze, Jr., Vanessa Marshall, Steve Blum, Tiya Sircar, and Taylor Gray. They'll discuss making the show and will debut several exclusive reveals from the upcoming series for fans in attendance.
Star Wars Rebels continues the epic tradition of the legendary Star Wars saga with all-new exciting, action-packed adventures. It is a dark time in the galaxy, as the evil Galactic Empire tightens its grip of power from world to world. As the series begins, Imperial forces have occupied a remote planet, ruling with an iron fist and ruining the lives of its people. The clever and motley crew of the starship Ghost is amongst a select few who are brave enough to stand against the Empire. Together, this ragtag group will face threatening new villains, encounter colorful adversaries, embark on thrilling adventures and become heroes with the power to ignite a rebellion.
Scheduled to premiere in the fall as a one-hour special telecast on Disney Channel, it will be followed by a series on Disney XD channels around the world.
Follow @StarWars and @DisneyChannelPR for the latest news on #StarWarsRebels. Stay tuned to www.StarWars.com for more on Star Wars Rebels at SDCC.
Kevin Smith and Jason Mewes (A.K.A. Jay & Silent Bob) appear at the Bryant Park Reading Room on Wednesday July 30th from 12:30 pm – 1:45 pm to sign Jay & Silent Bob's Blueprints for Destroying Everything. Please note: Only books will be signed at this event – No memorabilia.
The Dynamic twosome from Clerks make a rare appearance in honor of their new book, an illustrated collection on how to wreak havoc wherever you go.
Kevin Smith will pre-sign books prior to the event that will be sold on-site, day-of. Jason Mewes will sign books following the event and will be happy to take photos with people who purchase the book. Please note: Only books will be signed at this event – No memorabilia.
Rain information:
In case of rain, events are held under a tent at the Reading Room. In case of severe weather, please check bryantpark.org for the indoor location.
Jaime Hernandez, Gilbert Hernandez, Natalie Hernandez, Jim Mahfood, Felipe Smith, Tom Pinchuk, and Caleb Monroe have been added to Meltdown Comics's mega-signing along with previously announced Gerard Way, Becky Cloonan, and D.J. Kirkbride on Saturday July 19th!
Meltdown Comics
7522 Sunset Blvd, Los Angeles, CA 90046
(323) 851-7223
Press Release:
Six Flags New England will be attending this year's ConnectiCon on July, 11, 12 and 13 at the Connecticut Convention Center located in Hartford, CT. The Entertainment team will be onsite discussing and recruiting the nearly 200 available positions open this fall for Fright Fest. Be sure to stop by the Six Flags New England booth as Zombies will roam the event and be watching your every move.
The Thrill Capital of New England will be looking for actors & dancers for stage shows plus technicians, makeup artists, freaks, fools, ghosts and ghouls to work at the largest haunt attraction in New England. Six Flags New England's Fright Fest has over 20 terrifying attractions that will surely entertain kids and adults of all ages. Performers will be required to audition later on in the season and we will be looking for them to read, scream and even move around to showcase their best scare ability. All dancers will learn a short combination from our choreographer to perform and audition with. The theme park wants enthusiastic entertainers that are willing to scare their way to success at Six Flags New England.
To see behind the scenes or to learn more about Fright Fest this season be sure to contact Jennifer McGrath at 413-478-6334.
*All interested applicants are required to apply at sixflagsjobs.com prior to attending the event, and must be 16 years of age or older.
Press Release:
FX NETWORKS ANNOUNCES 2014 COMIC-CON SLATE
ARCHER, AMERICAN HORROR STORY: COVEN, SONS OF ANARCHY AND THE STRAIN HEAD TO SAN DIEGO
July 7, 2014, LOS ANGELES – FX Networks' original series Archer, Sons of Anarchy, American Horror Story: Coven and The Strain are heading to Comic-Con in San Diego starting Friday, July 25 for panel discussions, press rooms and autograph signings.
Fans of Archer will be treated to an exclusive screening of an original short animation piece created specifically for SDCC, plus the upcoming never-before-seen season six premiere episode. Sons of Anarchy fans can expect some exclusive first-look footage from the upcoming seventh and final season while American Horror Story: Coven will take a look back at the recent installment and tease the upcoming American Horror Story: Freak Show. To round out the weekend, The Strain will show the never-before-seen third episode airing July 27 as well as an extended recap reel of the season so far.
Below is the full schedule:
Friday, July 25
ARCHER
FOX Booth Signing
Press Room: 3:30 PM – 4:30 PM
Panel: 5:00 PM – 6:00 PM – Screening and Q&A: Archer is an animated comedy that revolves around the International Secret Intelligence Service (ISIS) and its employees who use every covert operation and global crisis as another excuse to undermine, sabotage and betray each other for personal gain. Come see an exclusive screening of an original short animation piece created specifically for SDCC, plus the upcoming never-before-seen season six premiere episode. Then join the voice cast of H. Jon Benjamin, Aisha Tyler, Chris Parnell, Judy Greer, Amber Nash and Lucky Yates, plus creator Adam Reed and co-executive producer Casey Willis as they discuss bringing this animated series to life. Room: Indigo Ballroom. Moderator: TBD.
Saturday, July 26
AMERICAN HORROR STORY: COVEN
FOX Booth Signing
Panel: 7:00-8:00 PM – Screening and Q&A: Fans will get an inside look at the most recent installment of AHS with cast members Angela Bassett, Kathy Bates, Michael Chiklis, Sarah Paulson, Evan Peters, Emma Roberts, and Executive Producer Tim Minear. The screening portion will feature an exclusive look back at AHS: Coven and will tease the upcoming AHS: Freak Show. Room: 6DE. Moderator: TBD.
Sunday, July 27
SONS OF ANARCHY
FOX Booth Signing
Press Room: 10:30 AM -12:00 PM
Panel: 12:30 PM -1:30 PM – Screening and Q&A. Get an inside look into the upcoming final season of FX's highest-rated series ever, with creator Kurt Sutter, executive producer Paris Barclay and the entire cast: Charlie Hunnam (via satellite), Katey Sagal, Kim Coates, Mark Boone Junior, Tommy Flanagan, Theo Rossi, Dayton Callie, and Jimmy Smits. Room: Hall H. Moderator: TBD.
THE STRAIN
FOX Booth Signing
Press Room: 12:15 PM -1:30 PM
Panel: 1:45 PM – 3:45 PM – Screening and Q&A. Experience a sneak peek into the highly anticipated new drama The Strain, a high concept thriller based on the best-selling vampire novel trilogy of the same title premiering July 13. Fans will first be treated to an extended recap reel of the first season and a screening of the never-before-seen third episode of the season (airing July 27). Immediately following the screening, there will be a Q&A with creator/author Guillermo del Toro, Executive Producer/Showrunner Carlton Cuse, Executive Producer/writer Chuck Hogan and the entire cast: Corey Stoll, David Bradley, Mia Maestro, Sean Astin, Kevin Durand, Jonathan Hyde, Richard Sammel, Miguel Gomez, Ben Hyland and Jack Kesey. Room: Hall H. Moderator: Damian Holbrook
Martin Olson appears at Barnes & Noble on Thursday August 7, 2014 at 7:00 PM to sign The Adventure Time Encyclopaedia (Encyclopedia): Inhabitants, Lore, Spells, and Ancient Crypt Warnings of the Land of Ooo Circa 19.56 B.G.E. – 501 A.G.E.
Barnes & Noble – The Grove at Farmers Market
189 The Grove Drive Suite K 30, Los Angeles, CA 90036
323-525-0270
Ralph Garman and Kevin Smith bring Hollywood Babble-On: Comic Con Theatre to the Hollywood Improv on Saturday, July 12, 2014 at 8:00 PM for a live reading of Batman '66 Meets Green Hornet #2!
Tickets include a free comic of the comic!
Hollywood Improv
8162 Melrose Ave, Los Angeles, CA 90048