Ralph Garman & Kevin Smith appear at the Hollywood Improv on Friday, March 13, 2015 at 10:00 PM for a live recording of their podcast HOLLYWOOD BABBLE ON!
Kevin Smith and Ralph Garman take a twisted look at showbiz news and bite the Hollywood hand that feeds them. Sometimes, they feel bad and give Hollywood a tetanus shot and some Neosporin, but, even then, they usually just turn around and bite Hollywood's other hand. They can't help it. It's their nature. It's like that "scorpion and frog" story. But, deep down, they're just two nice East Coast boys… who happen to have a heavy dependence on drugs and alcohol, respectively.
Hollywood Improv
8162 Melrose Ave, Los Angeles, CA 90048
Join Neil Gaiman at the Tower Theater on Saturday, May 2nd at 8:00 pm for an evening of engaging conversations and stories of his life's work both past and future, including an open discussion with the audience.
Neil Gaiman is one of fantasy's most extraordinary innovators. Long considered a top writer of comics, he is also the creator of genre-defying prose, poetry, film, and drama for audiences of all ages. Gaiman's award-winning works include the #1 New York Times bestselling adult novels The Ocean at the End of the Lane and Anansi Boys, the young adult novel Coraline, the TV series Neverwhere, and the groundbreaking Sandman comics series.
The Doylestown Bookshop has been chosen as the on-site bookseller for this event.
Tickets for sale online. After that tickets available at box office window.
The Tower Theater
S 69th St at Ludlow St, Upper Darby, Pennsylvania 19082
Adam Rex, Le Tang, Todd Wilderman, Jason Scheier, and more appear at Gallery Nucleus on Saturday March 28th!
Press Release:
Based on the novel The True Meaning of Smekday by Adam Rex, comes the fun and exciting animated adventure, HOME by Dreamworks Animation.
Come see rare behind the scenes artwork by artists from the production design, storyboard, and visual development teams.
Bring your questions for the Q&A session and meet the artists one-on-one as they sign copies of the book The Art of Home.
$5 Admission at the Entrance or FREE w/ purchase of the Art of HOME book
Only 200 attendees will be admitted
Only 80 seats available (20 reserved seats and 60 first-come, first-serve general admission seats)
Standing room and floor seating also available
Outside books will be subject to a $10 fee
Front Row Reserved Seats available online $20. (click here)
Comes in 2 options: Seat Only or Seat w/ a Book
Waives admission fee.
Guaranteed seat in the first 2 rows, only 20 seats available.
No need to wait in line or get to the event early just to get a good seat.
Comes with a free bottle of water.
Guaranteed first in line during the artist signing time.
Get 10% off your book purchase.
General Admission and Signing Instructions
1. Please purchase your admission tickets / books at the register before waiting in line out side to get a general admission seat.
2. Upon purchase of an admission ticket / book you will be given a raffle number. This number signifies your position in the line to receive artist signatures after the panel.
3. Once you have purchased your admission ticket / book and have your raffle number, you can wait in line to be seated. First come first serve. (Those who purchased a front row reserved seat will not have to wait in line)
4. Attendees will be allowed to enter roughly 15 – 20 minutes before the panel begins. Simply show your admission / book receipt at the gallery entrance and you will be admitted.
5. After Q and A, when artists are available to sign books your number will be displayed on the wall in numerical order. (Those who purchased a front row reserved seat will be first in line)
Featured Panelists:
Adam Rex – Creator
Jason Scheier – VisDev Artist
Le Tang – Storyboard Artist
Todd Wilderman – Head of Story
more panelists to be listed soon…
Event Schdule:
2:00 – 3:00 pm Home Panel / Presentation
3:00 – 3:30 pm Q&A
4:00 – 5:00 pm Signing
5:30 – 8:00 pm Adam Rex exhibition Reception / Signing
Gallery Nucleus
210 East Main Street, Alhambra, CA 91801
626.458.7477
Kevin Smith appears at the Hollywood Improv on Saturday March 7, 2015 at 10:00 PM! Get tickets ($25) at the link!
Writer, comedian, podcaster, and film director, KEVIN SMITH has written and directed numerous films, including Clerks, Chasing Amy, Dogma, Jay & Silent Bob Strike Back, Red State, and Tusk; Creator of AMC's Comic Book Men; authored Silent Bob Speaks, Shootin' the Sh*t with Kevin Smith, My Boring-Ass Life, and most recently Tough Sh*t: Life Advice from a Fat, Lazy Slob Who Did Good. He can be heard daily at Smodcast.com, a vast network of podcasts.
An Evening with Kevin Smith is a chance to get up close and personal with the man who brought the world these films.
Hollywood Improv
8162 Melrose Ave, Los Angeles, CA 90048
Press Release:
Boston Comic Con welcomes living legend STAN LEE for a rare New England appearance! Stan will be signing autographs and doing fan photo ops all day Saturday and all day Sunday. Stan's co-creation—alongside artists such as Jack Kirby and Steve Ditko—of superheroes including Spider-Man, Iron Man, Daredevil, The Avengers, X-Men, Fantastic Four, and Silver Surfer ushered in the Marvel Age of Comics. As the preeminent spokesman of Marvel Comics, he continues to appear in virtually every film, cartoon, and television show Marvel produces.
In addition, Stan will be appearing at a special Friday night VIP event that is limited to only 400 people! Don't miss a once in a lifetime opportunity to hang out with "The Man." For more information and to purchase tickets click here…
Previously announced guests include: Eduardo Risso, Humberto Ramos, Jose Luis Garcia-Lopez, Tony Moore, Jason Latour, Joelle Jones, Steve Lieber, Annie Wu, Franco Aureliani, J. Bone, Frank Brunner, Michael Cho, Jeff Dekal, Evan Dorkin, Sara Dyer, Gerry Duggan, Mike Henderson, Mike Kunkel, John Layman, Laura Martin, Jeff Parker, Kurtis J. Wiebe, Joshua Williamson, Amanda Conner, Jimmy Palmiotti, Stephane Roux, Frank Cho, Brian Azzarello, Amy Reeder, Don Rosa, Frank Tieri, Andy Belanger, Stephanie Buscema, CB Cebulski, Joe Prado, Dave Johnson, and more!
Tickets are now available for purchase. Please note that this year tickets will be sold ONLINE ONLY, there will not be any on-site ticket sales.
If you are coming in from out of town, the official Boston Comic Con hotel is the Seaport Hotel which is attached to the show venue (The Seaport World Trade Center). To book your hotel room, call the Seaport reservations desk at 617-385-5000 and ask for The Boston Comic Con attendee rate. Hotel rooms at the official Boston Comic Con hotel sell out quickly.
About Boston Comic Con:
The Boston Comic Con is a 100% independently run comic book show committed to bringing the biggest and best comic creators to New England. Run by fans for fans, Boston Comic Con is not affiliated with any other convention tour or corporate interests. Hosting over 120,000 square feet of vendors selling comic books, toys, posters, trading cards, and other pop culture memorabilia, this is a destination event for geeks of any stripe. This year's convention will be held Friday July 31st, Saturday August 1st, and Sunday August 2nd at the Seaport World Trade Center, 200 Seaport Blvd, Boston, MA 02210. For more information please go to our website at www.bostoncomiccon.com and follow us on Twitter (@BostonComicCon) and Facebook!
Anime Boston announces another round of guests including Yoko Shimomura, Christine Marie Cabanos, Ellyn Stern, Richard Epcar, Mona Marshall, and Michael Sinterniklaas! Meet them at the Hynes Convention Center in Boston, MA on April 3-5, 2015! Tickets available now through www.animeboston.com.
Yoko Shimomura may be one of the most celebrated women in video game music today. Best known to US audiences for bringing us the music of Kingdom Hearts, she has many other instantly recognizable credits to her name including: Street Figher II, Parasite Eve, Front Mission, the Xenoblade Chronicles, Legend of Mana, and Radiant Historia.
She can be heard in the March 2013 release of Kingdom Hearts HD 1.5 ReMIX and the July 2013 release of Mario & Luigi: Dream Team. In August of that same year PRESS START (a video game orchestra
concert) included music from her Xenoblades and Legend of Mana works in the Top 10 People's Choice. Shortly afterward in 2014 her first independent live concert "Shimomura Yoko 25th Anniversary LIVE – THANKS!" was held at the FM Hall in Tokyo. Two extra performances were added, and all 3 critically acclaimed shows sold out! By March 2014, her second Best Of album, mem`oria, was released by Square Enix.
Her current projects span a wide variety of industries, and include composing the music for such highly anticipated titles as Final Fantasy XV and Kingdom Hearts 3 as well as teaching music and performing.
---
Christine Marie Cabanos is a voice over actress based out of Los Angeles. She is most known for her roles in Anime and Video Games. Some of her most notable roles include Azusa Nakano in K-On!, Madoka Kaname in Madoka Magica, Shiemi Moriyama in Blue Exorcist, Mako Mankanshoku in Kill La Kill, Silica Sword Art Online, Minori Kushieda Toradora!, Haruka in Oblivion Island, the titular character of Squid Girl in SQUID GIRL, Minawa Ando in Mahoromatic: I'm Home, General Pisti in Magi, Michi Kondo in Lagrange, Ruka Asato in Accel World, Reina and Mew in Pokemon Origins, Filia in Skullgirls, Marie Rose in Dead or Alive: Ultimate, Chiaki Nanami in Danganropa 2, Nepgear in the Hyperdimension Neptunia series and Keina Sawaya in Aterlier Meruru.
She's also appeared in video games such as Time and Eternity, Fairy Fencer F, Tales of Xillia 2, Ragnarok Online 2 ,Witch and the Hundred Knight and Mugen Souls Z.
---
Ellyn Stern is a classically trained actress, voice actress, director and writer, whose career spans from film, to television, to stage. Ellyn is widely known for her voice work and the wide range of characters she has played. She has done hundreds of characters. She started in anime with the original Robotech series – in which she played numerous characters.
Ellyn is currently working on two different Disney shows.
Ellyn is featured in the new animated feature Wrinkles, starring Martin Sheen and Matthew Bodine.
VOICED:
Martha Vist Carbine in Gundam Unicorn, Dorothy in True Crimes: Hong Kong, Masaki Kurosaki and Ichigo's Mom in Bleach, Miyuki Goto in Noein, Jack's Mom in MAR, Haraway in Ghost in the Shell 2 – Innocence, Rosalind in Armitage III, Himeno in Fight!! Spirit of the Sword, Sayaka in Metal Fight Miku, Moru in Vampire Princess Miyu, Hiroshis Mom in Zenki. The Great Miracle in Zentrix, Parome in Genma Wars, Keiko Misaki in Patlabor 3, Mini Pato, Digimon, BoBoBo-Bo Bo BoBo, Mobile Suit Gundam – The Movie Trilogy, Bushido Blade 2, Lupin the Third, Fighting Spirit and Technoman, Veronica Vera and other characters in Shadow Hearts, to name just a few.
Other cartoons include Wings of Honnesmise, Samurai X, Little Punk, Honey Bee Hutch, Wisdom of the Gnomes, Macross I, II, III, Tom Sawyer, Captain Schnauzer, Gigi and many others.
She has voiced lead voices in many live action feature films that have been adapted into English including Academy Award winners Cinema Paradiso, Belle Epoque, Eat, Drink, Man, Woman, Kika, Mostly Martha, Babbette's Feast, Women on the Verge of a Nervous Breakdown, Fencing Master, Widow of St. Pierre,and Amores Perros, Mission Kashmir, Iron Monkey, The Emperor and the Assassin, Onmyoji-Ying-Yang Masters, Le Femme Nikita, Tae Guk Gi, Shiri, to name a few.
DIRECTED
Ellyn has recently directed the dub of Star Wars into the Navajo language, the first time a film has ever been dubbed into any Native American language.
Other films she has currently directed into English: Farewell My Queen and Delicacy.
She also directed and voiced Jade Cacoon, Aero Wings 1 and 2, Super Magnetic Neo and Galerians. Other games include Inherit The Earth and Abby.
ON FILM
Ellyn starred in Jessie's Girls, co-starred in Duchess and The Dirtwater Fox, co-starred in Fatal Charm, and Prisoner in the Middle aka Warhead.
On television she's done numerous shows, American Carrott, Charlie's Angels, and recurring characters on General Hospital, Santa Barbara and Days Of Our Lives.
RECENTLY
Ellyn co-stars in Milk and Honey with Debbie Allen, produced by Idris Elba.
Ellyn is also starring in Blood on Canvas, a legal drama.
Other recent films include starring in The Waiting Room, Eldad, Both Thumbs, Electronica 2, The Other Way and IMA.
Ellyn starred as the Queen in Exit the King by Ionesco, adapted and translated by Geoffrey Rush, who won a Tony for it on Broadway in 2009.
Ellyn also played Jacqueline Kennedy at the Kirk Douglas Theatre, in We'll Never Be Young Again, the story of JFK's assassination, in which the horror of that day is recalled. She also starred in Mrs. Warren's Profession as Mrs. Warren, and starred in Apple, an award winning play.
She is set to star in the play Toyer, a psychological thriller.
---
Richard Epcar is one of the hardest working men in show business, having voiced over 400 characters in games, animation and anime.
Best known as the voice of Batou in Ghost in the Shell, The Joker in several Batman games including Injustice: Gods Among Us (Fighting Game of the Year!) and Ansem in Kingdom Hearts.
He's voted one of the Top 20 Video Game Voice Actors of all Time and Top 20 Anime Actors of all time by IMDB!
Starting out in Robotech, you've heard him in Legend of Korra, Jojo's Bizarre Adventure, Blood Lad, Lupin the Third, Monster, Naruto, Bobobo-Bobobo, Transformers, Bleach, Kenshin, GTO, Gundam Macross, Cyber Soldier 009, Lucky Star, Digimon, X-Men, Gundam Unicorn, Babylon 5 and Power Rangers to name a few.
He's also in tons of games including Mortal Kombat as Raiden, Final Fantasy as Gaius, Saints Row, Arkham Origins, Skyrim, Infinite Crisis as the Joker, Call of Duty-Advanced Warfare, Fire Emblem: Awakening as Walhart, MK vs D.C. UNIVERSE as the Joker and Raiden, Stargate SG-1 as Gen. Hammond, Call of Duty: Black Ops, Star Wars, Transformers, X-Com, Command & Conquer, Dead or Alive 3-D, Starcraft as Dark Templar, Dead Space, Xenosaga as Ziggy, Marvel Heroes, World of Warcraft, League of Legends as Xin Zhao, Naruto, Cowboy Bebop, Samurai Warriors, Blue Dragon, Star Ocean, Splinter Cell, Guilty Gears, .Hack, Street Fighter, Medal of Honor, Space Seige, Spec-Ops, Bayonette, Catherine, Tekken, Ace Combat and Resident Evil.
Richard has voice directed many games including Arkham Origins, Dead Island: Riptide, Blue Dragon, Shadow Hearts II, Star Ocean 2 &3, Enemy Territory, Quake Wars, Unreal Tournament 3, Jackass the Game, Smackdown vs. RAW and Dead Head Fred and voice directed many shows including Ghost in the Shell 2, Robotech: Shadow Chronicles, Almost Heroes, Jungle Shuffle, The Reef, Grand Master, Noein, Digimon, Lupin the III, Fighting Spirit, Patlabor 3, Zentrix, Azumi I & II, Fearless, Better Blue, Iron Monkey, VR Troopers, Power Rangers, Ugly Better Webisodes and Old Boy to name a few.
On camera, Richard has appeared in many shows including Warehouse 13, Memoirs of an Invisible Man, Columbo, Diagnosis Murder, Matlock, Cheers, General Hospital and a lead in the soon to be released Broken Spirits.
---
Please join us in welcoming Mona Marshall to her first Anime Boston! If you haven't heard Mona Marshall's voice, you might be living under a rock. Mona takes prolific to the extreme and we are super excited to have her attend Anime Boston 2015!
Mona's voice may be best known to anime fans as: Haku in Naruto, Doraemon in Doraemon, Konekomaru Miwa in Blue Exorcist, Koushiro "Izzy" Izumi in Digimon Adventure, Motoko Aoyama in Love Hina, Ryoko in Tenchi Muyo! GXP, and Toboe in Wolf's Rain. But that's only just the beginning of her anime credentials. She's had leading roles in anime such as: Armitage: Dual Matrix, Carried by the Wind: Tsukikage Ran, Chobits, El Hazard – The Magnificent World, Kyo Kara Maoh, Last Exile, Magic Knight Rayearth, Rozen Maiden, and Street Fighter Alpha. All told, Mona has been in over 150 anime titles!
Mona is also well known in the video game world lending her voice to such titles as: .hack//G.U, Brave Fencer Musashi, Drakengard, Eternal Sonata, Final Fantasy Crystal Chronicles: Ring of Fates, Grandia III, Guild Wars Factions, Persona 3, Ratchet & Clank, Star Ocean: Till the End of Time, Suikoden V, Tales of Vesperia, and Wild Arms 4.
If that's not enough, Mona can be heard on several prominent non-anime titles as well. She is the current voice of Sheila Broflovski, Linda Stotch, Token and Bebe's Mom, and various others on South Park. She can also be recognized as Moki in Fraggle Rock, Tracy Milbanks in James Bond Jr., and Kat in Rambo. Mona has also had roles in many other shows such as G.I. Joe: A Real American Hero, Inspector Gadget, Jackie Chan Adventures, Jem and the Holograms, Rainbow Brite, The Smurfs, and Transformers.
Additionally, Mona was featured in Bang Zoom's Adventures in Voice Acting and has her own TV Tropes page!
---
Michael Sinterniklaas is a veteran of the anime industry and has worked as a ADR Director, actor, voice actor, script writer, sound engineer, mixer and producer. In 2000, Michael founded NYAV Post, a bicoastal recording studio that has worked on over 400 anime and non-anime titles.
As a director, Michael has worked on several anime shows including: Mobile Suit Gundam Unicorn, Berserk, Magic Users Club, Ah! My Goddess, Samurai Deeper Kyo, Slayers Revolution, Slayers Evolution-R, Giant Robot. He's also directed several non-anime shows including Peter Rabbit, Kappa Mikey, Robotomy, The Venture Brothers, and the Oscar nominated movies A Cat in Paris starring Anjelica Huston, Marcia Gay Harden, Matthew Modine. As well as: Ernest and Celestine starring Forest Whitaker, Lauren Bacall, Paul Giamatti, William H. Macy, Megan Mullally, Nick Offerman, Jeffrey Wright and McKenzie Foy.
Michael is also an extremely prolific and talented actor. He's probably best known as as Dean Venture in The Venture Bros, Leonardo in Teenage Mutant Ninja Turtles (2003), and Mikey Simon in Kappa Mikey, and even Funshine in The CareBears, but that's just the tip of the iceberg. He's also voiced Netherlands in Hetalia, Xellos in Slayers Revolution and Evolution-R, Gasud in Jormungand, Jessie's Seviper / Joshua / Kennedy in Pokémon, Man in Zetman, Lucemon in Digimon, Ivan Karelin / Origami Cyclone in Tiger & Bunny, Sarutobi Sasuke in Sengoku Basara, Sora and Utakata in Naruto, Jared / Jess in Speed Racer: The Next Generation, and Luppi / Nnoitra Jiruga in Bleach. He can also be heard as: Age in Patema Inverted, Masakazu Masaki in Time of Eve, and Takeru in FREEDOM. He has also appeared in video games such as: Final Fantasy XIII, Excom, GTA V, and the Lego Movie Game. Michael was also recently cast as a Marvel super hero but cannot disclose which one just yet…
Previously announced Guests of Honor include Greg Ayres, Christine Marie Cabanos. Richard Epcar, Kazuhiro Furuhashi, Lauren Landa, Cherami Leigh, LiSA, Cassandra Lee Morris, Haruo Nakajima, Yoko Shimomura, Ellyn Stern, Akira Takarada, and Koki Uchiyama.
View all of our Guests of Honor here.
About Anime Boston:
With nearly 25,500 attendees in 2013, Anime Boston is an annual three-day Japanese animation convention held in Boston, Mass. Anime Boston 2015 is scheduled for Friday, April 3 through Sunday, April 5 at the Hynes Convention Center and Sheraton Boston Hotel. More information about Anime Boston can be found at www.animeboston.com.
About New England Anime Society:
The New England Anime Society was founded in 2001. Based in Massachusetts, The New England Anime Society, Inc. is parent organization of Anime Boston and is dedicated to furthering public education and understanding of the Japanese language and culture through visual and written media. More information about The New England Anime Society is available at www.neanime.org.
Press Release: 
The Baltimore Comic-Con is pleased to begin announcing guests for our 16th annual show, taking place September 25-27, 2015, at the Baltimore Convention Center! Making their BCC debut appearances in 2015 are Katie Cook, Jaime Hernandez, and Bart Sears, along with returning friend of the show, JG Jones.
Writer/artist of the webcomic (and collected in trade paperbook format by Action Lab Entertainment) Gronk, Katie Cook has found herself writing and pencilling Marvel Comics characters, Fraggle Rock from Archaia, My Little Pony from IDW, and even Star Wars from Dark Horse Comics. You can pick up Volume 3 of Gronk: A Monster's Story this April from Action Lab Entertainment.
Harvey, Eisner, and Ignatz Awards winner Jaime Hernandez is one of the storied Hernandez Brothers, who have made their name as the creative force behind Love and Rockets, a multi-volume collection of writings and art from Jaime and his brothers Mario and Gilbert. Therein, Jaime crafted the tales of Maggie Chascarillo and Hopey Glass, characters with great depth and personality whose stories have been collected by Fantagraphics in Locas and Locas II: Maggie, Hopey & Ray.
Bart Sears has accomplished much in his years working in the creative arts. His works have been published in every major comics publishers, many smaller press publishers, and he even had a running feature in Wizard Magazine on drawing instruction called "Brutes and Babes". He designed action figures and packaging as Hasbro and ToyBiz, and has served in leadership roles in comics companies like CrossGen and his own Ominous Press. His recent work can be seen on covers for titles such as Valiant's Rai, Dynamite Entertainment's John Carter: Warlord of Mars and Turok: Dinosaur Hunter Volume 2: West, and DC Comics' Deathstroke.
Making his return to the Inner Harbor, accomplished penciller, painter, and writer J.G. Jones has contributed his deft touch to a broad variety of titles and publishers. From Black Widow and Marvel Boy at Marvel Comics to Final Crisis and Wonder Woman: The Hiketeia and all covers for 52 at DC Comics, as well as Wanted at Top Cow, his work stands out among his peers. His next work, Strange Fruit with writer Mark Waid is fully painted, and is scheduled to be released in July of 2015 from BOOM! Studios. You can find JG and Baltimore Comic-Con promoter Marc Nathan this weekend, March 1, 2015, at the Philadelphia Comic-Con — be sure to find Marc to discuss this year's show!
"We are so excited to welcome Katie, Jaime, and Bart to their first Baltimore show, and to have JG with us again," said Marc Nathan, promoter of the Baltimore Comic-Con. "We're off to a great start for this year's guests, and we are expecting big things this year, so stay tuned for more news!"
This year's confirmed guests for the show include: Jeremy Bastian (Cursed Pirate Girl); Mark Buckingham (Fables); Cliff Chiang (Wonder Woman); Frank Cho (Jungle Girl); Amanda Conner (Harley Quinn); Katie Cook (Gronk); Darwyn Cooke (Richard Stark's Parker); Cully Hamner (Convergence: The Question); Dean Haspiel (The Fox); Jaime Hernandez (Love and Rockets); Klaus Janson (Superman); JG Jones (Strange Fruit); Denis Kitchen (The Best of Comix Book: When Marvel Went Underground); Barry Kitson (Empire: Uprising); Seth Kushner (Schmuck); Ron Marz (Convergence: Batman and Robin); Terry Moore (Rachel Rising); Tom Palmer (The Avengers); Jimmy Palmiotti (The Con Job); David Peterson (Mouse Guard); Ron Randall (Convergence: Catwoman); Don Rosa (Donald Duck); Stan Sakai (Usagi Yojimbo); Bart Sears (Bloodshot); Louise Simonson (Convergence: Superman – The Man of Steel); Walter Simonson (Convergence: Superman – The Man of Steel); Charles Soule (Uncanny Inhumans); Frank Tieri (Suicide Squad); John Totleben (Swamp Thing); Rick Veitch (Saga of the Swamp Thing); and Mark Waid (Daredevil).
In the coming weeks, look for more announcements from the Baltimore Comic-Con. We are looking forward to highlighting our guests, the Harvey Awards, industry exclusives, and programming. The latest developments can always be found on our website, Twitter, and Facebook pages.
Every pony is unique! If you lived in Equestria, what would your CUTIE MARK be? The Cutie Marks Crusaders can help you find out! MY LITTLE PONY–FRIENDSHIP IS MAGIC: ADVENTURES OF THE CUTIE MARK CRUSADERS is coming to DVD on February 24, 2015 in the U.S. and Canada from Shout! Factory Kids in collaboration with Hasbro Studios. Offered as a bonus feature is a fun new sing-along and coloring sheets!
I was ten years old when I got my first My Little Pony doll. Back then, the ponies had sad, dreamy looking eyes with round faces. I collected a number of them, my favorite being the one with shamrocks on its butt; the phrase "cutie mark" hadn't come along yet. The most exciting thing you could expect to do with your pony was brush its hair. Soon after, a cartoon series premiered. As a kid in the '80s I can tell you, it was pretty lame. Fast forward 20 years. I was married with a little girl who was in love with My Little Pony. For years, I've watched this child obsess over every detail of every pony. The toys evolved in appearance and developed an incredibly in-depth back story. By 2010, animator and writer Lauren Faust (The Power Puff Girls) gave the world My Little Pony–Friendship is Magic, bringing the franchise a commercial success never imagined. Here is some information about the new DVD:
"In EQUESTRIA, obtaining a CUTIE MARK is an important coming-of-age moment for a young Pony. After all, Ponies acquire their CUTIE MARKS only after they discover a unique characteristic about themselves, setting them apart from all other Ponies. So when Sweetie Belle, Scootaloo and Apple Bloom meet, they instantly become friends and make it their mission to find their CUTIE MARKS! They are the Cutie Mark Crusaders!"
My daughter is 16.5 years old now and a Junior in High School. I wish you could have seen her face when I told her that I'd been tasked with reviewing this DVD! We watched it together and she provided detailed commentary during and after every episode. That right there was worth every moment.
As a family who were long-time fans of The Power Puff Girls, it was easy to fall in love with the Friendship is Magic series. In fact, the characters of Sweetie Bell, Scootaloo and Apple Bloom are essentially a redux of the PPG's Blossom, Bubbles and Buttercup characters. But, the pop culture references don't stop there. Parents watching this series with their children will be entertained by look-a-like Ponies that pop up in every episode. Any cartoon that can find a way to work in 'Doctor Whooves' gets two thumbs up from me. Keep an eye out on this DVD for the 'cast' of The Big Lebowski at the bowling alley.
These Generation 4 My Little Pony characters are a lot of fun to watch no matter what your age. Each character, as expressed by their Cutie Mark, represents an aspect of friendship. The series offers good moral messages for young children. Though, its most impressive to me how this series has touched so many teens and even adults with its inside humor and positive messages. Having spawned an entire sub-culture of fans across the globe, My Little Pony has united many people in a fandom that will be around for many, many years to come. It is a far cry from the Pony days of my youth. I, for one, am glad to see this franchise re-imagined for a new generation. The target demographic is young girls aged 4-7, however this series is one that is highly enjoyed by every member of my household regardless of age or gender. I would highly recommend this DVD to those interested in joining the Pony movement. With 5 individual episodes and approx. 110 minutes running time, The Adventures of the Cutie Mark Crusaders will win your family over!
"For even more Pony fun, PlayDate Digital has announced the new Cutie Pox Storybook App. When Apple Bloom becomes impatient waiting for her Cutie Mark, she decides to take things into her own hooves! In this interactive story book, follow Apple Bloom and the fillies as they learn that taking the easy path toward your goals isn't always the best way. Enter the world of Equestria in this story book adventure full of excitement, humor and friendship! The release of "Cutie Mark Crusaders" marks the first of a series of planned collaborations between PlayDate Digital and Shout! Factory to cross-promote My Little Pony–Friendship is Magic stories and media. In this collaboration, products contain promotional material highlighting a variety of products. In addition, Shout! Factory and PlayDate will host contests and offer value-added bonus material."
Episodes: The Cutie Mark Chronicles, The Cutie Pox, Flight to the Finish, Pinkie Pride, and Twilight Time.
Bonus Features: Sing-Along, Coloring Sheets, and More!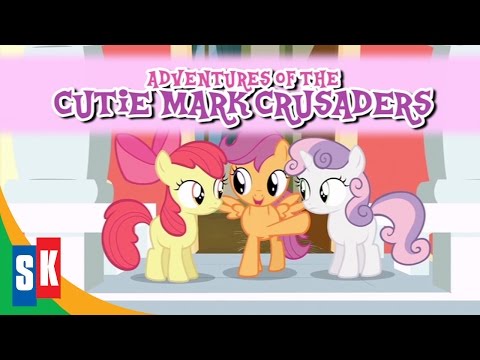 Also available on DVD from Shout! Factory Kids: My Little Pony Equestria Girls: Rainbow Rocks; My Little Pony Equestria Girls; My Little Pony-Friendship is Magic: Spooktacular Pony Tales; My Little Pony-Friendship is Magic: The Keys of Friendship; My Little Pony-Friendship is Magic: A Dash of Awesome; My Little Pony-Friendship is Magic: A Pony for Every Season; My Little Pony-Friendship is Magic: Princess Twilight Sparkle; My Little Pony-Friendship is Magic: Pinkie Pie Party; My Little Pony-Friendship is Magic: Adventures in the Crystal Empire; My Little Pony-Friendship is Magic: Royal Pony Wedding; My Little Pony-Friendship is Magic: Season Three; My Little Pony-Friendship is Magic: Season Two; My Little Pony-Friendship is Magic: Season One; My Little Pony-Friendship is Magic: The Friendship Express; My Little Pony The Complete Series (Classic); My Little Pony: Escape from Catrina and Other Adventures; My Little Pony: Classic Movie Collection; My Little Pony: A Very Minty Christmas; My Little Pony: Twinkle Wish Adventure.
About Hasbro Studios:
Hasbro Studios is responsible for entertainment brand-driven storytelling for Hasbro across television, film, commercial productions and short-form content. It develops, produces and distributes TV shows based on Hasbro's world class brands, including TRANSFORMERS, MY LITTLE PONY, LITTLEST PET SHOP and FAMILY GAME NIGHT. Many of these shows air on Discovery Channel Family Channel and on networks in more than 180 territories globally. Since its formation in 2009, the studio has received nine Daytime Emmy wins.
On the film side, the studio has developed and produced a number of features based on Hasbro's brands. In addition to partnering with leading studios, the company intends to make movies based on new and existing Hasbro brands for audiences globally through Allspark Pictures film label. Films in development or planned for release include OUIJA (Universal), CANDY LAND (Sony), GI JOE 3 (Paramount), JEM AND THE HOLOGRAMS (Universal and Allspark Pictures), MAGIC: THE GATHERING (21st Century Fox), and an animated feature based on MY LITTLE PONY (Allspark Pictures).
About Shout! Factory:
Shout! Factory, LLC is a diversified multi-platform entertainment company devoted to producing, uncovering, preserving and revitalizing the very best of pop culture. Founders Richard Foos, Bob Emmer and Garson Foos have spent their entire careers sharing their music, television and film favorites with discerning consumers the world over. Shout! Factory's DVD and Blu-Ray offerings serve up feature films, classic and contemporary TV series, animation, live music and comedy specials in lavish packages crammed with extras. Shout's audio division boasts GRAMMY nominated box sets, new releases from storied artists, lovingly assembled album reissues and indispensable "best of" compilations. In addition, Shout! Factory maintains a vast digital distribution network which delivers video and audio content to all the leading digital service providers in North America. Shout! Factory also owns and operates Timeless Media Group, Biograph Records, Majordomo Records, HighTone Records and Video Time Machine. These riches are the result of a creative acquisition mandate that has established the company as a hotbed of cultural preservation and commercial reinvention. Shout! Factory is based in Santa Monica, California. For more on Shout! Factory, visit shoutfactory.com
Press Release:
HavenCon is thrilled to welcome actors Dante Basco and Janet Varney! They will be with us both Saturday April 4th and Sunday April 5, 2015 to speak with fans as well as providing autographs.
JANET VARNEY
Janet Varney is a comedian, actor, writer and producer. In the animation world, she is lucky enough to be the voice of Korra on Nickelodeon's hit series The Legend of Korra. She also spent seven wonderful years hosting TBS's "Dinner and a Movie," recurred on HBO's Entourage, was a series regular on the beloved E! and Yahoo series Burning Love seasons 1 and 3, and has made guest appearances in hit shows including How I Met Your Mother, Key and Peele, Psych, Bones, on the panel of Chelsea Lately, as a regular co-host on HuffPost Live, and has appeared in films such as Still Waiting, Drillbit Taylor, and Judy Moody and the Not Bummer Summer. Janet is the host of the popular Nerdist podcast The JV Club and the co-founder, creative director and producer of SF Sketchfest, the San Francisco Comedy Festival, now in its 14th year.
DANTE BASCO
With a career spanning over two and a half decades, DANTE BASCO is a Hollywood actor who has become a cult classic and pioneering figure in Asian-American cinema. He was first introduced in Steven Spielberg's fairytale movie Hook, as "Rufio," the leader of the Lost Boys. He quickly jumped to leading roles like Newline's Take the Lead, opposite Antonio Banderas, and The Debut, which became the voice of a Filipino American generation. 20th Century Fox executives were so mesmerized by the uniqueness of Dante's look and ability that they gave him a development deal for his own series and he starred in a pilot for Touchstone/ABC, The Chang Family Saves the World, written and produced by John Ridley and directed by Paris Barclay. Ever versatile, he's "Jake Long" in Disney's animated series American Dragon: Jake Long as well as "Prince Zuko" in Nickelodeon's phenomenal hit, Avatar: The Last Airbender.
Born and raised in the City by the Bay, Dante started out breakdancing with his three brothers at the age of 8, calling themselves "The Street Freaks". Quickly they became one of the top groups in San Francisco, opening for acts like Ice-T and Vanity and performing during halftime shows for the 49ers and the Oakland A's.
Dante and his family moved to Los Angeles in the mid-80s where he started to work immediately. By the age of 16, Dante was fencing against Dustin Hoffman and flying with Robin Williams in Hook. He's found success on the small screen as well on from The Fresh Prince of Bel-Air and recurring on Hangin' with Mr. Cooper and Moesha in the 90s to prominent spots on Nash Bridges, Touched by an Angel, and Providence in the early 2000s and hit shows today like CSI: Miami, Entourage and Hawaii Five-O.
A young man of many talents, Dante is the founder of on e of the largest weekly poetry venue in the country, "Da Poetry Lounge" in Los Angeles and he has also shared his spoken word poetry on Russell Simmons' HBO Def Poetry Jam. He has also begun writing and producing his own features with his production company Kinetic Films, including Hang Loose, a (hilarious buddy comedy) with YouTube sensation KevJumba, winning the 2012 Los Angeles Asian Pacific Film Festival Special Jury Prizes for "Best Actor" and "Best Newcomer" respectively.
From breakdancing in the streets of San Francisco to starring in movies on the silver screen, Dante Basco has become one of the most recognizable faces in Hollywood and truly an Asian American icon.
Pre-purchase an autograph from one of our special guests and be the first in line!  Everyone who pre-registers for a VIP or 2-Day pass and pre-purchases an autograph will receive an exclusive #TeamAvatar badge!  *If you have already purchased a VIP or 2 day pass and would like to upgrade to the #TeamAvatar badge, pre-purchase an autograph and we'll take care of the rest!  Register before March 1st and Save 25% on all passes with promo code TeamAvatar!
Purchase admission tickets and autographs at the link!
Tomm Moore, director of the Oscar-nominated Song of the Sea and The Secret of Kells, appears at the Cartoon Art Museum on Wednesday, February 25, 2015 from 5:00 – 8:00 PM to celebrate the opening of an exhibition featuring original pre-production artwork (approximately 80 pieces in total) from the films! The exhibit runs until June 21st.
The artbook "Designing the Secret of Kells" will be available for sale and personalization from Tomm Moore for attendees!
Cartoon Art Museum
655 Mission Street, San Francisco, CA 94105
(415) 227-8666