Press Release:
The Toonseum, Pittsburgh's Museum of Comic and Cartoon Art, is currently in the process of organizing an exhibit of Star Trek original comic art. Art collectors have been instrumental in the success of prior exhibits at the ToonSeum, including last year's Avengers: 50 Years of Earth's Mightiest Heroes and the current Captain America: 75 Years of the Sentinel of Liberty exhibits, and the hope is that this will again prove true with Star Trek.
The Toonseum is thus reaching out to any collectors who might be willing and kind of enough to loan the Pittsburgh-based museum some amazing Star Trek pages to be placed on display to the public. The exhibit will run from October 28, 2016, until January 15, 2017.
If you think that you would like to loan some Star Trek art and/or have questions about the process, you can e-mail Board Member, Treasurer and Exhibit Curator Anthony Letizia (anthonyletizia@geekpittsburgh.com). Anthony would be happy to answer any questions you might have about transport, insurance, museum security and can provide references from collectors who have loaned the Toonseum art for previous exhibits. You can also check out the museum at the website.
Thank you for your consideration.
Press Release:
Join director Patrick Meaney, producer Jordan Rennert, and producer/Neil's childhood friend, Geoff Notkin for this special Cocteau Cinema screening of the documentary NEIL GAIMAN: DREAM DANGEROUSLY on Saturday, July 9, 2016 at 7:00 PM!
Neil Gaiman is one of the most beloved storytellers in the world today, a medium-jumping legend who opened a new era of comics with Sandman, scared a generation of young readers with Coraline and The Graveyard Book, and has thrilled his fans with years of live readings and signings. Recently, Neil embarked on his final signing tour, one last chance to talk to the fans who love his work and show his appreciation for their years of support. Now you're along for the ride!
The film offers unprecedented access to Neil, chronicling his journey from myth-loving child to one of the most popular writers in the world. In addition to Neil, the film also features Amanda Palmer, George RR Martin, Grant Morrison, Bill Hader, Wil Wheaton, Michael Sheen, Karen Berger, and many more.
Tickets available at the link…
Jean Cocteau Cinema
418 Montezuma Ave Santa Fe NM 87501
(505) 992-8783
Celebrate the DVD release of Model Hunger at Forbidden Planet NYC on Wednesday July 13th from 6:30 – 8:30 PM! Details at the link!
Featuring guests:
Debbie Rochon – Director
James Morgart – Writer, Executive Producer
Mary Bogle – Star
Voltaire – Star
Kaylee Williams – Star
David Marancik – Star
Michael Thurber – Star
Carmine Capobianco – Star
Suzi Lorraine – Star
Forbidden Planet
832 Broadway, New York, NY 10003
212-473-1576
Writer Kyle Starks and artist CJ Cannon appear at Rick's Comic City on Wednesday July 27th from noon till 6:00 PM to sign their first issue in new arc on Rick and Morty comic series from Oni Press. RCC will also give away 100 copies of Rick and Morty #16 to first 100 people to spend $10 in the store that day.
Rick's Comic City
2710 Old Lebanon Road, Nashville TN 37214
615-883-7890
Kristen Gudsnuk (Henchgirl, Strawberry Shortcake) appears at Royal Collectibles on Saturday July 23, 2016 from 3:00 till 5:00 PM!
Royal Collectibles
96-01 Metropolitan Avenue, Forest Hills, NY 11375
718-793-0542
Alex Hirsch, creator of Gravity Falls and voice of Grunkle Stan, Soos, and Bill Cipher, appears at Barnes & Noble on Tuesday July 26, 2016 at 7:00 PM!
Barnes & Noble – The Grove
189 The Grove Dr, Ste K 30, Los Angeles, California 90036
(323) 525-0270
With writer Brian Schirmer and cover artist Jeremy Saliba appear at Mission: Comics & Art on Wednesday, July 6, 2016 at 5:00 PM to celebrate the release of the BLACK JACK KETCHUM trade from Image Comics!
Mission: Comics & Art
3520 20th St. Suite B, San Francisco, CA 94110
(415) 695-1545
Writer/Artist Eric Powell (The Goon, Action Comics) appears at Rick's Comic City on Wednesday June 29th from 5:00 PM till close to sign copies of his new Hillbilly series from Albatross Funny Books.
Rick's Comic City
2710 Old Lebanon Road, Nashville TN 37214
615-883-7890
Press Release:
SweeTARTS and Troye Sivan Invite Fans to Follow Their Passions with Summertime "Follow Your TART" Campaign
Brand Launches Anthem Video and All New SweeTARTS Mini Gummies to Kick Off the Summer of TART
GLENDALE, Calif.–SweeTARTS, the candy-obsessed brand that believes in making the world anything but bland, today launched new SweeTARTS Mini Gummies and SweeTARTS Soft Bites, as part of its new "Follow Your TART" brand campaign. The campaign, which will extend through the summer, celebrates those who follow their passions to make the world around them more flavorful.
"SweeTARTS knows that amazing things happen when you dive into your passions and express your individuality," said SweeTARTS Brand Manager, Meghan Erickson. "Our 'Follow Your TART' mantra encourages each and every one of us to do what we love and add new and unique flavor to the world in amazing, unforgettable ways."
The campaign launched with a SweeTARTS anthem video featuring singer/songwriter Troye Sivan, YouTube personality and gamer SeaNanners (Adam Montoya), and LARPing expert Momo O'Brien, to celebrate their unique interests and encourage fans to jump into their passions with full-tilt glee.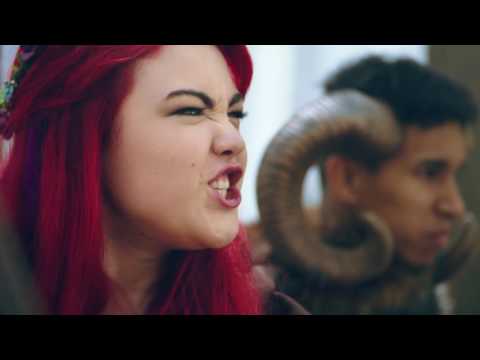 "I am super excited to be partnering with SweeTARTS to help inspire and celebrate others who are following their passions," said singer-songwriter Troye Sivan.
To add a side of sweet and tart to this new campaign as only SweeTARTS can, the brand has launched all new perfectly tiny and tangy SweeTARTS Mini Gummies (5.25oz/MSRP$1.79) and melt in your mouth SweeTARTS Soft Bites (5.25oz/MSRP $1.79), both with no artificial flavors or colors, with added colors from natural sources. These tongue twisting candies are available now at retailers nationwide.
Throughout the summer, SweeTARTS will take its passion for candy on the road sharing exclusive, limited-edition candy offerings and surprise guest appearances via a multi-city tour that includes stops at VidCon (June 23-25) and Entertainment Weekly's Con-X during Comic-Con (July 20-24). Further details will be shared across the SweeTARTS social channels in the weeks to come.
To find out more about SweeTARTS and catch all the cool ways the brand is inspiring and supporting fans to follow their TART this summer visit www.sweetartscandy.com and follow @SweeTARTSCandy on YouTube, SnapChat, Instagram, Facebook and Twitter.
About Nestlé USA
Named one of "The World's Most Admired Food Companies" in Fortune magazine for nineteen consecutive years, Nestlé provides quality brands that bring flavor to life every day. From nutritious meals with LEAN CUISINE® to baking traditions with NESTLÉ® TOLL HOUSE®, Nestlé USA makes delicious, convenient, and nutritious food and beverages that make good living possible. That's what "Nestlé. Good Food, Good Life" is all about. Nestlé USA, with 2015 sales of $9.7 billion, is part of Nestlé S.A. in Vevey, Switzerland — the world's largest food company with a commitment to Nutrition, Health & Wellness — with 2015 sales of $92 billion. For product news and information, visit Nestleusa.com or Facebook.com/NestleUSA.
Greg Grunberg and Lucas Turnbloom sign Dream Jumper: Nightmare Escape at Mysterious Galaxy Books on Friday, July 1, 2016 at 6:30 PM.
Some readers were lucky enough to get a taste of Dream Jumper: Nightmare Escape, the new kids' graphic adventure written by actor Greg Grunberg (Heroes, Alias, Felicity, Star Wars: The Force Awakens, Star Trek Beyond) and drawn by artist Lucas Turnbloom, during May's Free Comic Book Day. The story follows Ben, a young boy who discovers that he has the power to jump in and out of his friends' dreams and nightmares and help them battle their worst fears.  Join us to learn more about the inspiration for the series, why the creators chose to work in comics form, and what might lie in the Dreamworld.
This is a numbered event – numbers for the signing line are free with the purchase of Dream Jumper: Nightmare Escape from Mysterious Galaxy. Books and tickets will be available for pick-up on Tuesday, June 28, starting at 10 AM!
If you are purchasing your copy online and attending the signing, please be sure to note your intent in the comments section at check-out.
Mysterious Galaxy Books
5943 Balboa Avenue, San Diego, CA 92111
858-268-4747