In honor of Star Wars: The Force Awakens, here's a look back at the art show dedicated to the movie!
After taking a brief hiatus from cons, I attended the 2015 Wondercon in Anaheim! With the lack of a big entertainment presence, as well as only a few big name artists and writers, I didn't expect this show to be a successful one. But I was wrong.
Driving up to the con, I saw a long line of cars just waiting for parking! Walking on to the show floor, the con was packed for Friday at noon, and the crowds were packed all weekend long. Con season was in full swing, and Wondercon was a great warmup to Comic Con in a few months! Adding to the excitement was the news that Wondercon will be moving to Los Angeles next year. Hopefully, LA can accommodate and handle the eager fans I saw in Anaheim, and Comikaze provides an excellent indicator that LA can handle a great comic show. I guess we'll see next year if the move was the correct one. And now, onto some of cool things I saw last weekend:
And now, onto some awesome cosplay!
The star of Dead Rising: Watchtower, Jesse Metcalfe, spoke to the media at Wondercon 2015, and Convention Scene's own Richard Oh was there.
The stars of WGN America's Salem, Shane West and Janet Montgomery, spoke to the media at Wondercon 2015, and Convention Scene's own Richard Oh was there.
On July 23-27th, San Diego was host to the 2014 San Diego Comic Con! After 10 years of attending this show, I was definitely looking forward to seeing what sort of amazing spectacles Comic Con had in store for me this year. After a week of recovery from the show, I had to admit, compared to all the other Comic Cons, this one was a bit more low key. There weren't many major announcements on the movie front, and while there were some exciting TV shows on hand, I definitely didn't feel the major buzz I typically do at SDCC.
However, like all previous Comic Cons, it's a great time to mingle with artists, writers, and friends you never get to mingle with anywhere else outside of SDCC. It was fun watching the stars come on the show floor, watching artists draw some amazing commissions, and seeing the amazing exhibits some of the booths displayed, including all of the Batman cowls celebrating the Caped Crusader's 75th birthday, as well as some very cool props from the latest movies. While it lacked that extra spark that San Diego usually brings to the table, it still was, is and always will be THE place to be. And now, on to some of the sights I saw during the weekend.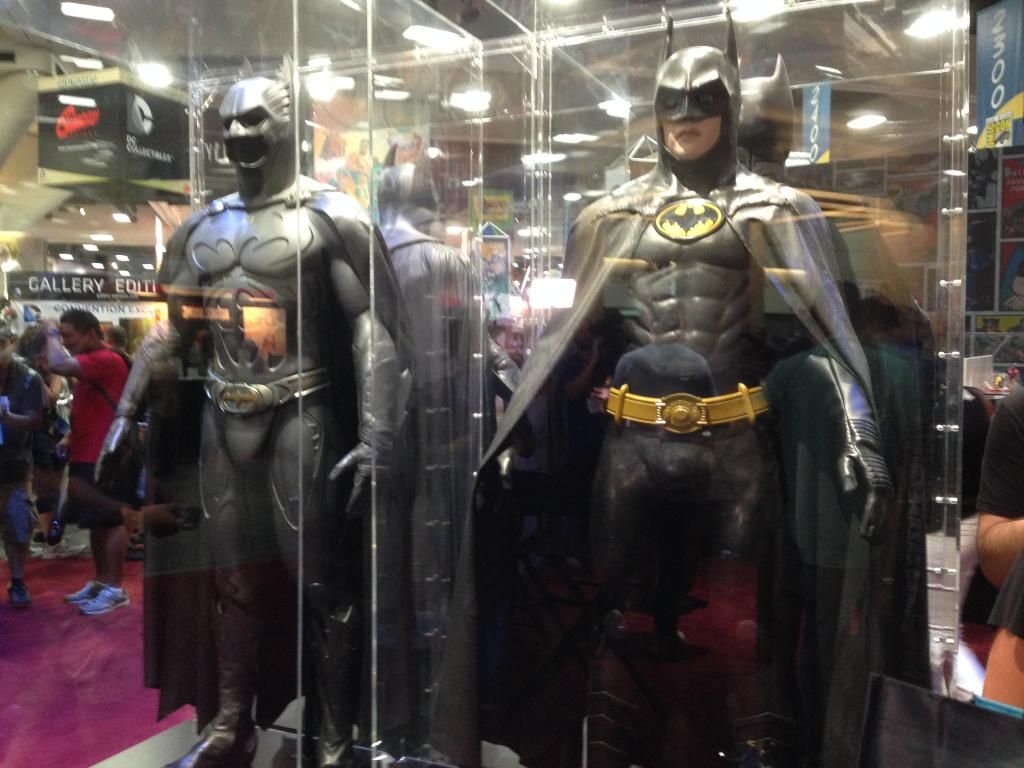 I didn't take a lot of cosplay pics this year, but here's a few that stood out!

The cast of Marvel's Agents of S.H.I.E.L.D. Photo by Kevin Parry.
Marvel's Agents of S.H.I.E.L.D. EPs Jeffrey Bell, Maurissa Tancharoen, and Jed Whedon, along with cast members Clark Gregg, Elizabeth Henstridge, Chloe Bennet, Iain De Caestecker, and Brett Dalton spoke to the media at Paleyfest 2014, and Convention Scene's own Richard Oh was there.
On March 7th, the Mondo Gallery in Austin, TX featured a fantastic exhibition of classic and modern Disney films captured brilliantly by some of today's top pop culture print artists! With fans waiting in line as early as Tuesday afternoon, over 300 fanatic fans showed up to take part in this amazing show. While the show may be closing, the remaining prints will go on sale tomorrow at the Mondo Tees website! And now, here are some pictures showing off the gorgeous artwork!
Nothing's Impossible, the title of Mondo's Disney show!
The line of chairs that stayed outside for days prior to the show.
Aaron Horkey's Ratatouille regular and variant prints!
Olly Moss' Jungle Book!
Brandon Holt's Jungle Book stole the show!
Martin Ansin's Beauty and the Beast regular and variant editions!
Kevin Tong's Up and Wall-E prints!
Jason Edmiston's beautiful trio of villain paintings gracing the walls of the Mondo gallery.
Phantom City Collective's The Skeleton Dance print!
Francesco Francavilla's The Black Cauldron print!
JC Richard's Peter Pan, Tiny Kitten Teeth's 101 Dalmatians, Rich Kelly's The Sword in the Stone, and Dave Perillo's Winnie the Pooh!
Finding Nemo, one of Tom Whalen's 4 prints for the Disney show!
Ken Taylor's Alice in Wonderland in sandwiched between 2 more Tom Whalen prints. Don't miss these on tomorrow's online drop!
On November 23-24th, 2013, the Long Beach Convention Center was home to the 5th annual Long Beach Comic and Horror Con! Usually held around Halloween, this show was pushed back to late November, making this one of the final comic cons of 2013! In addition to the date change, they also got rid of the Friday evening show and I believe it was the right call. Saturday was booming, with lines going out the door and a steady flow of patrons all day long! Sunday slowed down quite a bit and while still a lot of foot traffic, not enough spending.
With the usual talent of comic creators attending Long Beach, including mainstays of LBCC Amanda Conner, Jimmy Palmiotti, Whilce Portacio, Tim Bradstreet, and Todd Nauck, joined by special guests Gene Ha, Carlos D'Anda, Marc Silvestri, Mark Texeira, Art Thibert, Andrew Robinson, Mark Waid, and several other awesome comic talent, LBCC did close out the 2013 con year nicely.
While Comic Cons seem to be growing every year, it seems harder and harder for each show to bring something new. I did love the fact that there was an awesome car display in the front of some of the most famous cars in pop culture, along with a lot of retailers in prominent display at the show. One thing also appreciated was that comics were far more emphasized than pop culture stars, and that's one thing I always do appreciate at LBCC. Hopefully next year, they'll bring over the bigger hitters in comics to really close the year with a bang. Star power does draw more crowds, and I for one would love to see LBCC thrive and succeed for the next 5 years and beyond. And now, onto some photos!
A line forms inside the convention hall on Saturday morning.
Artist Alley is bustling in the morning.
An awesome array of pop culture cars. But it's not complete without…
The Batmobile. Chicks dig the Batmobile.
Gene Ha and his awesome banner graces LBCC.
Amanda Conner signs her Harley Quinn for eager fans.
Mark Waid signing for eager fans.
Mark Texeira signing comics for fans.
Todd Nauck's list is currently closed.
Richard Friend showing off his portfolio to customers.
Alex Sinclair working on a commission at LBCC!
Tim Bradstreet sketching for fans.
Andrew Robinson selling the graphic novel of 2013, The Fifth Beatle!
Carlos D'Anda wants you to buy his art!
And now, onto some cosplayers!
A new meaning to the term robot chicken.
Iron Man and Tony Stark gracing the hall floor.
Why so serious?
Black Cat crosses your path!
I asked why they were at LBCC, but they said I needed level 7 clearance.
Power Girl flexing her muscles!
This kid is making me go crazy!
I am worthy of Mjolnir!
Kid cosplayers are so darned cute!
Pull my finger.
Best costume of the show!
Lance Henriksen is greeted by a friendly alien. Don't miss more incredible moments at LBCC 2014!
On November 1st-3rd, 2013, the Los Angeles Convention Center was home to Stan Lee's Comikaze Expo! After an extremely successful first year, the guest list was even better, the show moved from the parking lot to the main floor, and even added an extra day to maximize the con! Although it was primed to be better than ever, the show this year was a bit flat compared to the previous year.
The show floor seemed a bit out of sorts, with artist alley scattered all over the place, and it lacked the charm of the first show. Friday also didn't seem to work out for the expo, as it was mostly empty. The crowds were definitely better during the weekend, but still lacked the excitement of the inaugural show. It was still a good show, with some cool panels and some great guests, but I think the appeal with the groupon deal last year was a huge part in why families flocked to the show. And I think Friday isn't necessary in LA, especially when people have to battle Friday and Laker game traffic. I'm looking forward to next year's Comikaze to get better as they adjust to the growing pains of a new show, and know that the best is yet to come!
Now, on to some photos!
Welcome to Comikaze 2013!
What good is Stan Lee's Comikaze Expo, without the man himself? Here he is signing autographs!
"
A shot of the special stage reserved for the main panel!
"
Have you seen Eee vah?
"
An awesome Masters of the Universe display!
"
The Aspen booth set up and ready to go!
"
Nerd Machine representing at Comikaze!
"
One of the best exhibits at Comikaze. Old school arcades and video games!
"
Fan favorite artist Marc Silvestri interacting and signing for fans.
" alt="" />
Spiderman artist Humberto Ramos drawing one of his many commissions during the show!
"
Who you gonna call He-Man?
"
Ecto 1 was the coolest car on display….
"
… Or was it???
"
Thor and Iron Man 2 exhibits!
"
Along with Iron Man armors from all 3 movies!
"
If you're tired, take a seat next to Iron Man!
"
Artist Noa drawing live at Comikaze!
"
Comic Book Men strike a pose! A never ending line all show!
"
John Romita Jr. greeting his long line of fans!
"
But not long as the line for Bruce Campbell!
And now, onto some cosplay pics!
"
So shiny.
"
WHERE IS THE PRINCESS???
"
Awesome dark helmet.
"
Battle of the Planets!
"
Amazing Poison Ivy and Harley Quinn!
"
Go go Power Rangers!
"
Game Over.
"
April O'Neill posing with the TMNT book from IDW!
"
Links Unite!
"
Where's Bebop?
"
You have failed this city!
"
Six shooter.
"
Got a light?
"
Are we in the new movies?
"
Pretty awesome Wolverine and Rogue!
"
Cutest cosplayers of the show!
"
The best costumes of Comikaze!
"
Stay classy Los Angeles! See you next year!
Last Sunday, August 4th, Kitty Bungalow Home for Wayward Cats held their 3rd annual CATbaret fundraiser event at the Belasco theater, with Battlestar Galactica star Tricia Helfer being honored for her role in animal advocacy. With performances by Fred Willard, Bethany Joy Lenz, Keith David, Nicole Sullivan, Kelley Jakle, Shelley Regner, and more, the talented cast brought laughter and applause from the audience, as well as bringing awareness to Kitty Bungalow's mission of making Los Angeles a No Kill state for all animals. (photo credits: David Welch/Video credits:Elena Moscatt)