The cast of iZombie spoke to the media at Wondercon 2016, and Convention Scene's own Richard Oh was there!
AMC has released 3 first look character photos feature Jesse Custer (Dominic Cooper), Cassidy (Joseph Gilgun) and Tulip (Ruth Negga)! Take a look below! And in case you missed it, here's the trailer for this highly anticipated drama!
Here's a new look behind the scenes of Fuller House!
Fuller House premieres Friday, February 26 in all territories where Netflix is available.
In Fuller House, the adventures that began in 1987 on Full House continue, with veterinarian D.J. Tanner-Fuller (Candace Cameron Bure) recently widowed and living in San Francisco. D.J.'s younger sister/aspiring musician Stephanie Tanner (Jodie Sweetin) and D.J.'s lifelong best friend/fellow single mother Kimmy Gibbler (Andrea Barber), along with Kimmy's feisty teenage daughter Ramona (Soni Nicole Bringas), all move in to help take care of D.J.'s three boys — the rebellious 12-year-old Jackson (Michael Champion), neurotic 7-year-old Max (Elias Harger) and her newborn baby, Tommy Jr (Messitt Twins).
Guest appearances by John Stamos (Jesse Katsopolis), Bob Saget (Danny Tanner), Dave Coulier (Joey Gladstone), Lori Loughlin (Becky Katsopolis) and Scott Weinger (Steve Hale).
Fuller House is from Miller-Boyett Productions and Jeff Franklin Productions in association with Warner Horizon Television for Netflix. Robert L. Boyett, Thomas L. Miller and Jeff Franklin are the executive producers of the series, which was created by Franklin. John Stamos is a producer.
To celebrate the return of the STARZ hit show, Black Sails, here are some images drawn by Saga artist Fiona Staples capturing key moments from season 1 and 2, as well as the newest image from season 3!

Photo courtesy of USA
With the premiere of Colony scheduled for tomorrow, here's our interview with the stars of the show, Josh Holloway, Sarah Wayne Callies, and Peter Jacobson!
In honor of Star Wars: The Force Awakens, here's a look back at the art show dedicated to the movie!
After taking a brief hiatus from cons, I attended the 2015 Wondercon in Anaheim! With the lack of a big entertainment presence, as well as only a few big name artists and writers, I didn't expect this show to be a successful one. But I was wrong.
Driving up to the con, I saw a long line of cars just waiting for parking! Walking on to the show floor, the con was packed for Friday at noon, and the crowds were packed all weekend long. Con season was in full swing, and Wondercon was a great warmup to Comic Con in a few months! Adding to the excitement was the news that Wondercon will be moving to Los Angeles next year. Hopefully, LA can accommodate and handle the eager fans I saw in Anaheim, and Comikaze provides an excellent indicator that LA can handle a great comic show. I guess we'll see next year if the move was the correct one. And now, onto some of cool things I saw last weekend:
And now, onto some awesome cosplay!
The star of Dead Rising: Watchtower, Jesse Metcalfe, spoke to the media at Wondercon 2015, and Convention Scene's own Richard Oh was there.
The stars of WGN America's Salem, Shane West and Janet Montgomery, spoke to the media at Wondercon 2015, and Convention Scene's own Richard Oh was there.
On July 23-27th, San Diego was host to the 2014 San Diego Comic Con! After 10 years of attending this show, I was definitely looking forward to seeing what sort of amazing spectacles Comic Con had in store for me this year. After a week of recovery from the show, I had to admit, compared to all the other Comic Cons, this one was a bit more low key. There weren't many major announcements on the movie front, and while there were some exciting TV shows on hand, I definitely didn't feel the major buzz I typically do at SDCC.
However, like all previous Comic Cons, it's a great time to mingle with artists, writers, and friends you never get to mingle with anywhere else outside of SDCC. It was fun watching the stars come on the show floor, watching artists draw some amazing commissions, and seeing the amazing exhibits some of the booths displayed, including all of the Batman cowls celebrating the Caped Crusader's 75th birthday, as well as some very cool props from the latest movies. While it lacked that extra spark that San Diego usually brings to the table, it still was, is and always will be THE place to be. And now, on to some of the sights I saw during the weekend.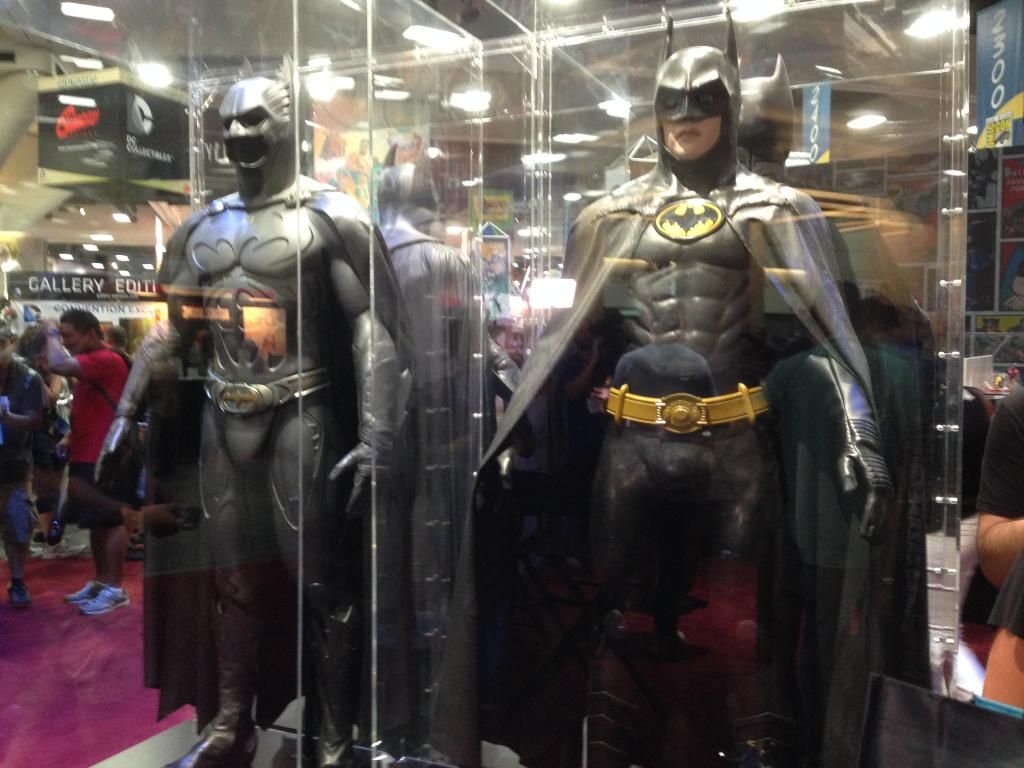 I didn't take a lot of cosplay pics this year, but here's a few that stood out!