Check out the full Schedule of Events for the big horror convention in Orlando next weekend October 26-28!
See it all here!
Take a look at who is playing and at what time at Spooky Empire's Ultimate Horror Weekend October 26-28 at The Hilton Orlando 6001 Destination Parkway Orlando, FL 32819!
See the Schedule here!
For all stuff Ultimate Horror Weekend check out their website!
Follow them on Twitter @SpookyEmpire
PalmCon II is a week away! Website is updated with the full schedule, including the showing of the new film the Awakened in the Indie-Film Lounge.
Complete list of guests that includes Guest of Honor Legendary Artist Jose Delbo!
2nd Annual Costume Contest!
Complete floor plan and so much more.
Check out all the happenings at PalmCon's website here!
Rose McGowan has just been added to our guest line up for October! Rose McGowan has appeared in some great films and TV shows including The Grindhouse films, Scream, Jawbreaker, The Doom Generation and Charmed! Rose will be doing a 2-day only appearance!
Guest List is just HUGE! Including:
Meet the Cast of Nightmare on Elm Street 4 at Spooky Empire. This is a rare first time reunion!
Original bad girl, Traci Lords, will be joining us at Spooky Empire's Ultimate Horror Weekend this year!
Welcome Iron E Singleton from The Walking Dead to his first Spooky Empire appearance!
Author of the infamous Goosebumps series of books, R.L. Stine will be making a special appearance at Spooky Empire's Ultimate Horror Weekend as part of our Author Programming. He will be promoting his new book, geared towards adults.
Chris Sarandon..the voice of Jack Skellington from Nightmare Before Christmas, plus Fright Night, Child's Play, and The Princess Bride….will be at Spooky Empire's Ultimate Horror Weekend!
So you don't like clowns ?!?! Why don't you tell him to his face…Capt Spaulding will be in attendance at Spooky Empire's Ultimate Horror Weekend! Sid Haig is making his return to Spooky Empire after 7 years, at his first Orlando appearance.
for more information on Ultimate Horror Weekend visit the website!
Less then 2 weeks away and this show is real lying ramping up to be the biggest one yet.
Check out their Ad on YouTube!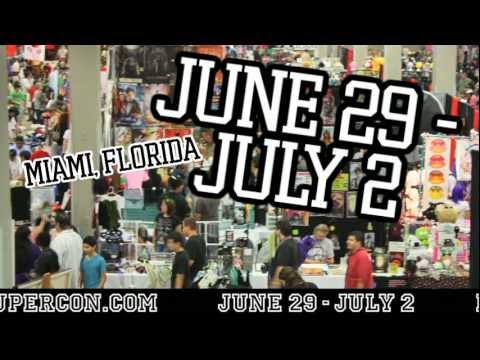 Here is a sneak peek at the Program Cover Pencils by Comic Legend Allen Bellman. Inks/Finishes by Rob Hunter. Colors by Juan Fernandez.
Massive update to the schedule for Florida Supercon in progress! Over 450 events are now listed… with more to come! Go to www.floridasupercon.com and click on the EVENTS button to check it out and start making plans.
Alex Kingston autograph tickets and photo op tickets are now available for pre-order. Go to www.floridasupercon.com and click BUY TICKETS or go direct to http://www.eventbee.com/v/floridasupercon/event?eid=871188204
Neal Adams is now accepting Pre-Orders for Convention Commissions at Florida Supercon. To Pre-Order Convention Commissions from Neal, please contact (Jason) at Spyda@SpydaCreations.com
Neal will be in attendance Friday, Saturday and Sunday at Booth #'s 700 and 702
for everything SuperCon… check out the website HERE!
Press Release:
South Florida's Largest Geek Entertainment Festival Returns
June 29 – July 2, 2012 To Miami, FL.
Featuring Comic Books, Anime, Cosplay, Animation, Sci-Fi, Fantasy and Video Games, with over 200 guest celebrities, artists, writers and bands!
JUST ANNOUNCED: ALEX KINGSTON (DR. WHO), HORROR LEGEND TOM SAVINI, NICKI CLYNE (BATTLESTAR GALACTICA) & MORE!
Miami, FL – Florida Supercon: South Florida's Comic Book, Anime, Animation, Sci-Fi, Fantasy and Video Game Festival returns to Miami for its 7th annual event to the Miami Airport Convention Center on Friday, June 29th through Monday, July 2nd. Florida Supercon is a massive four day festival that will feature over 10,000 fans, over 200 guest celebrities, comic book creators, artists, writers, filmmakers and bands, as well as hundreds of events, including: celebrity Q&A's, costume contests, cosplay photo shoots, industry panels, live music, video games and much more!
Florida Supercon is less than a month away and has just confirmed several new headliners for the already massive guest list! New guest additions include:
Alex Kingston: Star of Doctor Who (River Song) and ER (Dr. Elizabeth Corday).
Tom Savini: Horror Legend and Icon. Actor, Director, Make Up Artist and more!
Nicki Clyne: Star of Battlestar Galactica (Cally Henderson Tyrol).
Bob Bolling: Comic Book Artist/Writer. Creator of Little Archie.
Priscilla Barnes: Star of Three's Company, The Devil's Rejects and Mallrats.
Marilyn Ghigliotti: Star of Clerks.
Some of the highlights of guests already announced for Florida Supercon 2012 include:
Television and Movie Stars: Dino Stamatopoulos (Community), Scott Adsit (30 Rock), Michael Hogan (Battlestar Galactica), Linda Harrison (Planet of the Apes), Chad Lindberg (Supernatural, Fast and the Furious), Noel G. (Walking Dead, Fast and the Furious), Cindy Morgan (Tron, Caddyshack) and Allen Oppenheimer (Six Million Dollar Man, Star Trek).
Stars of The Hunger Games: Dakota Hood, Mackenzie Lintz, Annie Thurman, Tara Macken, Sam Tan and Ethan Jamieson.
Comic Book Guests of Honor: Neal Adams (Batman, The Avengers, X-Men), Carmine Infantino (Godfather of The Silver Age, Creator of Batgirl, The Flash and Poison Ivy) and George Perez (The Avengers, Wonder Woman, Superman, Teen Titans).
Comic Book Superstar Artists: Olivier Coipel (Avengers vs. X-Men, Thor), Steve Epting (Captain America, Fantastic Four), Rags Morales (Action Comics/Superman), Kevin Maguire (World's Finest, Justice League), Clay Mann (X-Men), Ariel Olivetti (G.I. Combat, Incredible Hulk, Cable), Brad Walker (Superman, Guardians of the Galaxy), Shawn Crystal (Deadpool), Dan Parent (Archie), Greg Horn (Green Lantern, Ms. Marvel) and much more!
Comic Book Legends: Denny O'Neil (Batman, Green Lantern), Roy Thomas (The Avengers, X-Men, Star Wars), Jose Delbo (Wonder Woman, Batman), Bill Sienkiewicz (Daredevil, New Mutants, Spider-Man), Howard Chaykin (Star Wars, The Avengers, Captain America), Allen Bellman (1940's Captain America, Human Torch).
Comic Book Industry Guests: Lauren Sankovich (Marvel Comics), Alex Segura (Archie Comics) and David Uslan (Graphic.Ly).
Musical Headliners: Less Than Jake, Celldweller and over fifteen support bands.
Stars of Ghost Hunters on SyFy: Britt Griffith, Paul Bradford and Scott Tepperman.
Michael Uslan, producer of summer blockbuster Batman: The Dark Knight Rises.
Legendary Horror Filmmakers: Lloyd Kaufman (Troma, Toxic Avenger) and Herschell Gordon Lewis (Blood Feast).
Creators and Stars of Adult Swim's Frankenhole and Morel Orel: Dino Stamatopoulos, Scott Adsit and Britta Phillips.
Anime Stars: Brittney Karbowski (Soul Eater), J. Michael Tatum (Black Butler, One Piece), Stephanie Young (Claymore, One Piece) and David Vincent (Code Geass, Bleach).
Video Game Voice Stars: D.C. Douglas (Mass Effect, Resident Evil) and Michael Hogan (Mass Effect, Skyrim).
Animation Voice Stars: Dana Snyder (Aqua Teen Hunger Force), Gregg Berger (Transformers), Richard Horvitz (Invader Zim), Rikki Simons (Invader Zim), Larry Kenney (Thundercats), Allen Oppenheimer (He-Man and The Masters of the Universe) and Billy West (Futurama, Ren and Stimpy).
Wrestling Stars: Raven, Greg "The Hammer" Valentine, Brutus "The Barber" Beefcake and The Nasty Boys.
Florida Supercon has dedicated programming tracks for each of the genre's being celebrated. Some of the amazing events planned include:
· Q&A's with all of our attending guests
· Comic art portfolio reviews for aspiring artists
· Fan panels for all aspects of the show (Comics, Anime, Animation, Sci-Fi etc.)
· Industry panels for breaking into Comics, Anime, Animation etc…
· The FSC Costume Competition (with over $3,000 in cash and prizes)
· Dozens of Cosplay Photo Shoots for cosplayers and photographers
· Supercon Championship Wrestling featuring Cobra Commander, The Joker, The Mario Bros., The Geico Caveman and more!
· Filmmaking workshops with legendary Filmmakers
· The FSC Film Festival
· The FSC Tech Track
· Live Musical Performances
· Live Stand Up Comedy
· Anime Screenings and Anime Music Videos
· Over 100 Video Game stations and Video Game Tournaments
· A 50,000 square feet exhibition room with over 300 booths and tables featuring vendors, celebrity guests, artists, filmmakers and exhibits.
Complete information on all our guests and dozens of more events taking place all weekend can be found at www.floridasupercon.com
The convention hours of operation are:
FRIDAY, JUNE 29: 12:00PM – 2:00AM, SATURDAY, JUNE 30: 10:00AM – 2:00AM, SUNDAY, JULY 1: 10:00AM – 2:00AM, MONDAY, JULY 2: 11:00AM – 6:00PM
THE MIAMI AIRPORT CONVENTION CENTER is located at 711 NW 72nd Ave, Miami, FL 33126 and has over 175,000 square feet of total convention space.
Spooky Empire's May-Hem rolls out this Memorial Day Weekend (May 25-27) at the Wyndham Orlando Resort.
Guests include Linda Hamilton, Ace Frehley, Joey Lauren Adams, Vivica A. Fox, Verne Troyer and a Addams Family Reunion with John Astin, Lisa Loring and Felix Silva.
Tickets can be purchased here!
Sneak peak at the program cover with art by Ed Bach!
for more information on Guests and events check out Spooky Empire's website!
Mike's Comics and Collectibles puts on a one day show to Benefit for Stars and Hope Foundation.
June 17, 10AM-5PM
Special Guest Ethan Van Sciver!

FOR IMMEDIATE RELEASE:
Spooky Empire's May-Hem convention is less than 4 weeks away….are you ready for, well…the Mayhem?!!
Orlando, FL – May 4, 2012 – The show is looking to be an epic event, their last one at the Wyndham, and Spooky Empire wants everyone to join them in bidding farewell to their favorite venue as only they know how.
There is an amazing line up of celebrity guests in store at May-Hem this year, most of which have never appeared at a Spooky Empire event! It's a never-ending list of heavy hitters, sure to please fans of all kinds. Guests will be available for meet and greets and autograph signings all weekend!
Some of the guests appearing are Linda Hamilton, best known for her role as "Sarah Connor" in The Terminator, as well as the TV series "Beauty and The Beast" and more recently "Chuck". Vivica A. Fox of "Kill Bill Vol. 1", "Independence Day" and "Batman & Robin" and Verne Troyer of the "Austin Powers" films and "The Love Guru". Cathy Moriarty of the classic "Raging Bull" as well as "Casper" and "Analyze That". Plus a very last minute addition, James Marsters most well known as Spike from "Buffy the Vampire Slayer".
For all of you KISS fans out there, here's your chance to meet the one and only Ace Frehley, original guitarist of the legendary band!
There will be an "Addams Family" reunion featuring John Astin "Gomez Addams", Lisa Loring "Wednesday Addams" and Felix Silla and "Cousin Itt".
Roddy Piper will be making a return appearance to Spooky Empire, not only for autographs, but to perform his live "one man show" This performance will require a separate ticket in addition to your admission. Tickets for Roddy's show are $10 and are available in advance online.
From the hit new TV series "The Walking Dead", films Mallrats and Henry:Portrait of a Serial Killer, Michael Rooker will be appearing. Also from "The Walking Dead" is Madison Lintz who played "Sophia" in the hit show. Stars of the TV series Charmed, Holly Marie Combs, Brian Krause, and Michael Bailey Smith. Holly Marie Combs currently stars on the hit new show "Pretty Little Liars", Brian Krause is also known for his role in Sleepwalkers., and Michael Bailey Smith has appeared in Buffy and The Hills Have Eyes 1 & 2. Also making a rare convention appearance is Joey Lauren Adams best known for her roles in films Chasing Amy, Big Daddy, Dazed & Confused and many more.
To round off the guest list is Kristanna Loken of Terminator 3, Monica Keena of Freddy vs Jason, and Oliver Robins from Poltergeist, plus legendary rock goddess Lita Ford, Marc Price from the film Trick or Treat, and Mackenzie Lintz of the hit new movie based on the bestseller The Hunger Games.
May-Hem is not just about the guests, there are some memorable events lined up as well. For the first time at May-Hem, Spooky Empire will be hosting their Zombie Walk in memory of the late Bill Hinzman!
The Mucklebones Monster Museum will be set up throughout the weekend inside the hotel. This is an exclusive Spooky Empire event! Spooky Empire's Tattoo Festival will also be in place featuring over 25 of the country's best artists. Check out the website to make your appointments now.
Of course there is the huge vendor room loaded with merchandise, collectibles and artists, tons of panels and Q&As, and no one can forget the notorious pool parties with live bands!
If you haven't already booked your room for May-Hem, do it soon! Rooms are just $85 per night, and are going fast! Reach Wyndham reservations at 1-800-421-8001, and mention "Spooky Empire" to get the special rate. Tickets are still available, one day passes are $30- $35, and $50 gets you in all three days! VIP packages are available but going fast! Both are available on the website.
Contact:Pete Mongelli
Info@spookyempire.com
www.spookyempire.com
954-258-7852
Two big additional Media Guests added to Spooky Empires already impressive line up.

Vivica A. Fox from Kill Bill Volume 1, Batman & robin. Independence Day and many more!
Verne Troyer from the Austin Powers Trilogy!
May-Hem runs Memorial Day weekend May 25-27 at the Wyndham Orlando Resort in Orlando Florida. for more information and other guests check out their website!