The marketing for the final Hunger Games ramps up.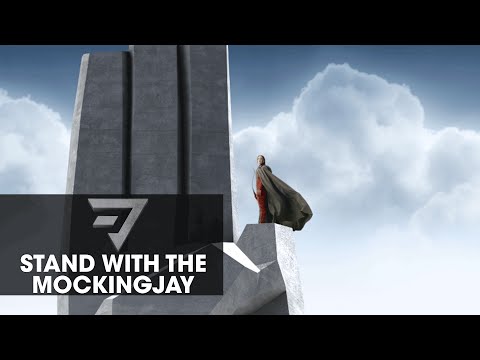 Press Release:
This morning, Ryan Reynolds and the cast of the upcoming film from 20th Century Fox, DEADPOOL, announced their appearance at this year's Comic Con in San Diego with a nod to The Merc's favorite TV Show, The Golden Girls, by tweeting the theme song. Below, find all the tweets from the DEADPOOL cast in order:
Hey #SDCC, Thank you for being a friend… pic.twitter.com/Kl52TtOPio

— Ryan Reynolds (@VancityReynolds) July 8, 2015
Travel down the road and back again…. #SDCC #Deadpool https://t.co/nQVy47vLFt

— Gina Carano (@ginacarano) July 8, 2015
. @ginacarano @VancityReynolds @deadpoolmovie "Your heart is true, you're a pal and a confidant…" pic.twitter.com/vAVbLTIY0n

— t.j. miller (@nottjmiller) July 8, 2015
.@nottjmiller And if you threw a party, invited everyone you knew… #SDCC #Deadpool pic.twitter.com/z4l9m7ZAF4

— Morena Baccarin (@missmorenab) July 8, 2015
.@missmorenab You would see, the biggest gift would be from me… pic.twitter.com/s2FpAxY30Q

— Brianna Hildebrand (@briannahilde) July 8, 2015
.@briannahilde And the card attached would say… pic.twitter.com/4s7W3vYyES

— Ed Skrein (@edskrein) July 8, 2015
@edskrein Eat me. https://t.co/BjDq8Y5khO

— Ryan Reynolds (@VancityReynolds) July 8, 2015
——————————
DEADPOOL
Action-Adventure
Release: February 12, 2016
Director: Tim Miller
Screenplay by: Paul Wernick & Rhett Reese
Producers: Simon Kinberg, Lauren Shuler Donner, Ryan Reynolds
Cast: Ryan Reynolds, Morena Baccarin, Ed Skrein, T.J. Miller, Gina Carano, Brianna Hildebrand
SYNOPSIS
Based upon Marvel Comics' most unconventional anti-hero, DEADPOOL tells the origin story of former Special Forces operative turned mercenary Wade Wilson, who after being subjected to a rogue experiment that leaves him with accelerated healing powers, adopts the alter ego Deadpool. Armed with his new abilities and a dark, twisted sense of humor, Deadpool hunts down the man who nearly destroyed his life.
DEADPOOL Official Socials
Website: http://www.foxmovies.com/deadpool
Facebook: https://www.facebook.com/DeadpoolMovie
Twitter: https://twitter.com/deadpoolmovie
Instagram: https://instagram.com/DeadpoolMovie/
Pinterest: https://www.pinterest.com/DeadpoolMovie/
Press Release:
Hero Initiative Details MASSIVE Plans for San Diego's Comic-Con
With New Overstreet plus two great parties: Stone Brewing's Hop-Con and Jinx's Second Annual Comic Kickoff Fundraiser!
LOS ANGELES, CA (July 1, 2015) – The Hero Initiative, the charitable organization dedicated to helping veteran comic creators in medical or financial need, is travelling to Comic-Con International in San Diego July 8th -12th at the San Diego Convention center. We have exclusives, parties and special guests throughout the weekend that you will not want to miss! Booth #5003 is the place to be!
Partygoers will have a great time with Hero, starting Wednesday, July 8 at 5 p.m. for Hop-Con! Star Trek's Wil Wheaton and Fark.com's Drew Curtis debut their new w00tstout beer at Stone Brewing's World Bistro! And the Rev. Dave Johnson had the honor to create the label for the famed beer. Prints of Rev. Dave's art are available, so don't miss out on this epic event! Proceeds benefit Hero, so get your tickets NOW!
The good times continue to roll all night Wednesday! Head to Gabe Eltaeb's Second Annual Comic Kickoff Fundraiser and Party at Basic Bar and Pizza located at 410 10th Ave. in downtown San Diego from 9 p.m.-1 a.m.! Win great raffle prizes, meet amazing artists and have a couple drinks all to support Hero initiative! Artists include Todd Nauck, Jim Calafiore, Eddie Nunez, Doug Wheatley and more!
Hero is proud to once again have an exclusive limited edition of The Overstreet Comic Book Price Guide #45. Now in its fifth decade, the Guide is the preeminent source for comic book pricing information, and SDCC is where to get it first! The cover this year features The Spirit by Dave Johnson. This Hero-exclusive edition is limited to 500 copies in hardcover only at $35.
And Hero has your chance to meet Robert Overstreet himself! Five lucky winners will get a chance to have lunch with Overstreet AND get an amazing prize package worth over $400! Check out Hero's auctions on eBay and place your bid!
Hero is your exclusive go-to for CGC Signature Series for a number of great creators including: Amanda Conner, Alex de Campi, Dan Jurgens, Brian Haberlin, Jonathan Hickman, Dave Johnson, Scott Koblish, Ken Lashley, David Lloyd, Laura Martin, Bill Morrison, Greg Pak, Jimmy Palmiotti, Andrew Pepoy, Darick Robertson and Jim Zub. You MUST drop off your books at the CGC booth, #901, by Friday, July 10 at 5 p.m., and get your signatures and certifications without the hassle of lines!
And as always, Hero has an amazing crew of artists and writers at the booth! Make sure you don't miss out on 10-year-old sensation Ethan Castillo! Check him out, along with all the amazing talent:
WED., JULY 8 (con hours 600-900)
630-900: Scott Koblish
THUR., JULY 9 (con hours 930-700)
1100-1230: Dave Johnson
130-300: Ethan Castillo
430-600: Dave Johnson + Robert Overstreet
FRI., JULY 10 (con hours 930-700)
1000-1100: Alex de Campi
1100-1230: Dave Johnson
1230-130: Dan Jurgens
130-300: Ethan Castillo
430-600: Dave Johnson
SAT., JULY 11 (con hours 930-700)
1000-1100: Alex de Campi
1100-1200: Dave Johnson
1200-100: Dan Jurgens
530-700: Greg Pak
SUN., JULY 12 (con hours 930-500)
1000-1100: Alex de Campi
1100-1200: Dave Johnson
1200-200: Greg Pak
About The Hero Initiative
The Hero Initiative is the first-ever federally chartered not-for-profit corporation dedicated strictly to helping comic book artists and craftsmen in need. Hero Initiative creates a financial safety net for yesterday's creators who may need emergency medical aid, financial support for essentials of life, and an avenue back into paying work. It's a chance for all of us to give back something to the people who have given us so much enjoyment.
Since its inception, The Hero Initiative has had the good fortune to grant over $700,000 to the comics veterans who have paved the way for those in the industry today. For more information, visit www.HeroInitiative.org or call 626-676-6354.
Press Release:
UPCOMING GARDEN STATE COMIC FEST DOUBLES IN SIZE TO FEATURE COMIC NOTABLES
Featuring many top flight comic creators, vendors and cosplayers like Greg Hildebrandt (Star Wars, Magic the Gathering), Neal Adams (Batman, X-Men), Amy Chu (Wonder Woman) Alex Saviuk (Spider-Man, Superman), Ethan Van Sciver (The Flash, New X-Men), and Joe Staton (Green Lantern, Justice Society of America) and writers like Larry Hama (GI Joe, Wolverine) and Erica Schultz (Revenge, M3). The Garden State Comic Fest will be holding what promises to be New Jersey's best Summer comic book convention from Saturday, July 25th to Sunday, July 26th at the William G. Mennen Sports Arena in Morristown, New Jersey.
"We also have some of the top comic book dealers in the world like Metropolis Collectibles, owners of the $3.2 Million first appearance of Superman comic book, and Dave's American Comics, as well as Jersey stores like Zapp! Comics, Fat Moose and East Side Mags," said promoter and founder Dave O'Hare.
"At its heart the GS Comic Fest is going to be a good old fashioned comic book convention that's fun, fan friendly and affordable. We will have new and rare comics, art, toys and other collectibles," O'Hare said.
"We decided to move locations to the Mennen Sports Arena, increasing our size to almost 25,000 square feet and over 200 tables and booths," said Sal Zurzolo, O'Hare's co-owner/promoter. "That along with the switch from one to two days allows us to bring in more A-plus exhibitors."
"At The Garden State Comic Fest you can diversify your portfolio by investing in valuable collectibles," O'Hare noted. "Wannabe artists can get advice from our published professionals. Individuals can sell their comics, get lucky and win a door prize or enter and win over a thousand dollars in prizes in the costume contest, art contest, and trivia contests."
Also featured will be nationally renowned cosplayers (costume players), coming from around the country like BelleChere and Mikomi Chan, plus local favorites like Ruby Rinekso and Brea Biaa.
With free parking for attendees the two-day Garden State Comic Fest will take place from Saturday, July 25th to Sunday, July 26th at the William G. Mennen Sports Arena in Morristown, New Jersey. Single admission tickets range from $13-$65.  Tickets are available on-line and will be available at the door. For more information, log onto: www.gardenstatecomicfest.com or https://www.facebook.com/Gardenstatecomicfest.
Press Release:
NEED HELP GETTING INTO YOUR COMIC-CON HOTEL ROOM? WARNER BROS. TELEVISION & WARNER BROS. HOME ENTERTAINMENT DEPLOY FIVE SUPER HERO SERIES TO THE RESCUE!
Warner Bros. Television Series Supergirl, Arrow, The Flash, Gotham and Warner Bros. Animation's Teen Titans Go! To be Featured on Nearly 40,000 Limited-Edition Collectible Hotel Keycards
BURBANK, Calif. (June 24, 2015) — Not only does Comic-Con enable attendees to meet and dress like their favorite Super Hero, but with the help of Warner Bros. Television and Warner Bros. Home Entertainment, a DC Comics Super Hero can help them access their hotel room!
During Comic-Con 2015, hit series Arrow, The Flash, Gotham, Teen Titans Go! and the highly anticipated new series Supergirl will be individually featured on limited-edition collectible keycards at top hotels throughout the San Diego area.
Nearly 40,000 branded room keys will be available to fans at nearly 30 participating hotels, courtesy of Warner Bros. Home Entertainment and Warner Bros. Worldwide Television Marketing.
Teen Titans Go! will be featured across five separate keycards that include a special Comic-Con only QR code that will enable guests to access and watch a free episode of the hit series from Warner Bros. Animation.
This marks the seventh year that Warner Bros. has been the official Comic-Con hotel keycard sponsor.
Teen Titans Go! (Thursdays 6/5c Cartoon Network) returns to Comic-Con to screen a brand-new episode and Q&A with voice cast and producers Michael Jelenic (Batman: The Brave and The Bold) and Aaron Horvath (MAD) on Friday, July 10.
Warner Bros. Television Presents A Night of DC Entertainment: Get ready for another Super Hero Saturday Night! WBTV and DC Entertainment again welcome fans into the worlds of some of DC Comics' greatest characters during a three-hour super-experience in Hall H on Saturday, July 11. The exclusive evening will feature a pilot screening of the highly anticipated new action series Supergirl, followed by a Q&A with stars and producers; plus, individual video presentations and Q&As with stars and producers from Arrow, The Flash and Gotham. Also, don't miss a special Q&A with cast and producers of DC's Legends of Tomorrow and a peek at the new digital series Vixen.
Own the complete 1st season of Gotham on Blu-ray™ Combo Pack, DVD and Digital HD on September 8.
Own the complete 3rd season of Arrow on Blu-ray™ Combo Pack, DVD and Digital HD on September 22.
Own the complete 1st season of The Flash on Blu-ray™ Combo Pack, DVD and Digital HD on September 22.
For additional info on the Studio's plans for Comic-Con and for real-time updates during the convention, please follow us on Twitter at @warnerbrostv — official hashtag #WBSDCC — and visit http://comiccon.thewb.com.
Press Release:
DC Entertainment Takes Center Stage at Comic-Con International: San Diego 2015
Something for Everyone: Top Industry Talent Showcases DC Comics' Newly-Expanded Line 
Vertigo and MAD Magazine to Make Big News at the Con
Special edition, exclusive variant comic books available only to fans at SDCC!
DC Entertainment (DCE), one of the world's largest English language comic book publishers, will roll out the red carpet for its fans at Comic-Con International: San Diego. An impressive 19 panels will put the spotlight squarely on DC Comics' broad range of titles and tonalities, Vertigo's creator-driven, genre storytelling, and MAD's comedic take on all things pop culture.  Additionally, fans attending the show can purchase DCE's highly-collectible, exclusive variant comic books.
Fans will get to hear directly from the best comic talent in the industry at a slate of panels over the four-day pop culture celebration.  DCE panels include:
From iconic characters to emerging heroes, the expansive DC Universe allows for a wide range of tonalities and a rich universe of stories, enabling readers of all ages and interests to find their favorite series. Meet the top talent behind some of the most celebrated series including SUPERMAN's new, award-winning writer Gene Luen Yang, BATGIRL artist Babs Tarr and writers Cameron Stewart and Brenden Fletcher, and BIZARRO writer Heath Corson, among others. Plus, get an advanced look at the highly-anticipated series CYBORG with writer David Walker ahead of its debut in July. Get ready for the New DC Universe with these panels: "Mysteries in Space" on Thursday, "Superman," "Justice for All," and "The Bad Guys" all on Friday, and on Saturday "The Lighter Side," "Batman" featuring all-star creative team Scott Snyder and Greg Capullo, and "The Upstarts" featuring the most cutting-edge writers and artists in the industry.
Following the release of bestselling and Eisner-nominated mini-series THE MULTIVERSITY, writer Grant Morrison will explain how he redefined the DC Universe, giving fans a look back (and forward) to where the far-reaching effects of The Multiversity will be felt most. Don't miss "DC Entertainment – Grant Morrison: The Multiversity." DC Entertainment – Grant Morrison: The Multiversity and Beyond – Saturday
Join superstar JUSTICE LEAGUE writer Geoff Johns for an all-access and in-depth discussion. From Earth One to Darkseid War to all things in between, be here for this exclusive panel that will give you insight into one of the genre's most influential contributors.  DC Entertainment – One-on-One with Geoff Johns – Friday
Dive into DC Entertainment – Page to Screen, a can't miss panel celebrating DCE's film, TV, game, and animation slates. Join talent behind the inner-workings, including moderator and TV GUIDE reporter Damian Holbrook, DCE Chief Creative Office Geoff Johns, Marc Guggenheim (Arrow, DC's Legends of Tomorrow), Andrew Kreisberg (Arrow, The Flash) Heath Corson (Justice League: Throne Of Atlantis), and more! DC Entertainment – Page to Screen  – Friday
Find out where some of your favorite Vertigo titles are heading, and also be the first to hear about the new series on deck for the fall from comics' most innovative imprint. Vertigo: What's the Story – Thursday
See what "The Usual Gang Of Idiots" at MAD Magazine are up to at the side-splitting, must-attend annual panel helmed by SVP and Executive Editor John Ficarra and a hilarious cast of characters. Mad about MAD – Thursday
Check out the latest action figures, statues, props and more from the creative minds of DC Collectibles and get an exclusive sneak peek at upcoming releases. DC Collectibles –Thursday
Make sure to stop by DCE's 4,500 square foot booth (#1915) – the hub for DCE talent signings, hands-on video gameplay, and artist demos, where attendees will have a chance to mingle with some of the best writers and artists in the business. Fans will also get a chance to take photos with their favorite characters with the DCE green screen.
Also checkout highly collectible, exclusive variant comic books available for SDCC attendees only through the Graphitti Designs booth #2314.  Certain variants will only be available on specific days while others will be available throughout the convention. Variants include BLACK CANARY #1 (available Thursday, 7/9), BATMAN BEYOND #1 (available Friday, 7/10),  MIDNIGHTER #1 (available Saturday, 7/11), BIZARRO #1 (available Sunday, 7/12), and variants available on all days include ROBIN: SON OF BATMAN #1, HARLEY QUINN #17, SUPERMAN #41, BATMAN #41, and JUSTICE LEAGUE #41.  A special, rare, oversized gate-fold cover variant of JUSTICE LEAGUE OF AMERICA #1 will only be available Saturday, 7/11.
Visit DCComics.com for a complete list of panels, and behind-the-scenes coverage and in-depth interviews directly from DCE's popular web series, DC ALL ACCESS. Download the DC Entertainment Events App on Apple's App Store or the Google Play Store to stay up to speed on all DC Entertainment signings, panels and stage events at San Diego Comic-Con.
Press Release:
NEW YORK, NY – June 22, 2015 – Recently picked up for a third season, SHOWTIME will bring the world of PENNY DREADFUL to San Diego Comic-Con, starting with an autograph signing with star Reeve Carney, on Saturday, July 11 at 3 p.m. at the Entertainment Earth booth #2343. Additionally, makeup artist and YouTube sensation Alexys Fleming will transform five lucky PENNY DREADFUL fans into characters from the show, including the Creature, the werewolf and a witch, through her masterfulmakeup applications. The transformations will take place at the Entertainment Earth booth on Friday, July 10. Fleming also created five custom videos on her YouTube channel, MadeYewLook, teaching fans how to recreate their favorite PENNY DREADFUL characters themselves throughout the season: http://s.sho.com/MYLWolfPD. In addition, the over 160,000 lanyards worn by all Comic-Con attendees will be branded by SHOWTIME and PENNY DREADFUL.
SHOWTIME, in partnership with Bif Bang Pow! has once again teamed up to bring seven all-new, six-inch action figures inspired by PENNY DREADFUL characters, exclusive to San Diego Comic-Con, including Vanessa Ives, Ethan Chandler, Dorian Gray, Dr. Frankenstein, Sir Malcolm, the Creature and the werewolf.  The figures will be available for the first time on July 8th at the Entertainment Earth booth #2343.  There will also be a journal inspired by Dr. Frankenstein's actual sketchbook used on the show, with 160 parchment colored pages and some of the actual doctor's sketches watermarked throughout. The first six fans to purchase all seven action figures will receive an autographed PENNY DREADFUL book.
On sale at the USAopoly Booth #1017 will be the new PENNY DREADFUL-inspired board game, CLUE®: PENNY DREADFUL edition, featuring the characters from the series. Fans will compete to figure out WHO killed Mina Murray, WHERE they killed her and with WHAT weapon. The game will be available for purchase for $39.95, and can be won in the four Daily Raffles.  Winners will be selected Thursday, July 9th – Saturday July 11th at 5 p.m. and on Sunday, July 12th at 2 p.m. at the USAopoly Booth. Additionally, fans can pose in Doctor Frankenstein's lab with portraits of the suspects from CLUE: PENNY DREADFUL edition holding their weapon of choice: pistol, syringe, tarot cards, arsenic, handkerchief and sword cane. Fans will be able to share photos using the hashtag #PennyDreadfulClue. Also available for purchase at the Titan Booth #5537, will be The Art and Making of Penny Dreadful for a special Comic-Con price of $20.
PENNY DREADFUL's second season found Vanessa Ives (Eva Green) and Ethan Chandler (Josh Hartnett) forming a deeper bond as the group, including Sir Malcolm (Timothy Dalton), Dr. Frankenstein (Harry Treadaway), and Sembene (Danny Sapani), united to banish the evil forces that threatened to destroy them. Meanwhile, Dorian Gray (Reeve Carney) and the Creature (Rory Kinnear) all waged battles of their own. Helen McCrory returned as Evelyn Poole (a.k.a. Madame Kali), the seductive spiritualist who posed a unique threat to our protagonists, along with Simon Russell Beale, back as eccentric Egyptologist Ferdinand Lyle. PENNY DREADFUL is created, written and executive produced by Oscar® nominee John Logan (Hugo, The Aviator, Gladiator) and executive produced by Logan's Desert Wolf Productions, along with Oscar winner Sam Mendes (American Beauty, Skyfall) and Pippa Harris (Revolutionary Road, Call The Midwife), both of Neal Street Productions. A co-production with Sky Atlantic, PENNY DREADFUL is shot on location in Dublin, Ireland. For more information and video clips, please visit www.penny-dreadful.com.
Press Release:
'Avengers' Star Jeremy Renner To Attend Wizard World Comic Con Chicago August 23
Two-time Academy Award® Nominee, Star of 'The Hurt Locker,' 'The Bourne Legacy' to Appear at Donald E. Stephens Convention Center
ROSEMONT, Ill., June 18, 2015 – Two-time Academy Award® nominee Jeremy Renner will make his Wizard World Comic Con debut in Chicago on Sunday, August 23. The star of blockbustersThe Avengers, Avengers: Age of Ultron, The Hurt Locker, The Bourne Legacyand others, Renner will greet fans, sign autographs, pose for photo ops and conduct an interactive fan Q&A panel in Wizard World's largest and longest-running show.
In July, Renner will reprise his role as "William Brandt" in Mission: Impossible – Rogue Nation. He is currently filmingCaptain America: Civil War, after playing Clint Barton/Hawkeye in last month's release of second installment of The Avengers: Age of Ultron .
His Academy Award® nominations have come as Best Actor for The Hurt Locker in 2008 and Best Supporting Actor for his role in The Town two years later.
Renner joins an all-star celebrity lineup at Wizard World's largest and longest-running show, August 20-23, which also includes Norman Reedus ("The Walking Dead," Boondock Saints), Nathan Fillion (Serenity, "Castle"), Stephen Amell ("Arrow"), Billie Piper ("Doctor Who"), Burt Reynolds (Deliverance, Boogie Nights), David Morrissey ("The Walking Dead," "The Reaping"), Ben McKenzie, ("Gotham," "The O.C."), Bruce Campbell (The Evil Dead, "Burn Notice") and WWE® Superstar Undertaker®, Randy Orton®, Sting™, Daniel Bryan® and Diva Paige™and dozens of others.
Wizard World Comic Con events bring together thousands of fans of all ages to celebrate the best in pop-fi, pop culture, movies, graphic novels, cosplay, comics, television, sci-fi, toys, video gaming, gaming, original art, collectibles, contests and more. The 15th of 26 events currently scheduled on the 2015 Wizard World calendar, Chicago show hours are Thursday, August 20, 3-8 p.m.; Friday, August 21, 12-7 p.m.; Saturday, August 22, 10 a.m.-7 p.m.; Sunday, August 22, 11 a.m.-5 p.m.
Wizard World Comic Con Chicago, the Midwest's largest pop culture convention,  is also the place for cosplay, with fans young and old showing off their best costumes throughout the event. Fans dressed as every imaginable character – and some never before dreamed – will roam the convention floor and participate in the famed Wizard World Costume Contest on Saturday night.
For more on the 2015 Wizard World Comic Con Chicago, visit www.wizardworld.com/home-chicago.html .
About Wizard World (OTCBB: WIZD)
Wizard World, Inc. (http://www.wizardworld.com ) produces Comic Cons and pop culture conventions across North America that celebrate the best in pop-fi, pop culture, movies, television, cosplay, comics, graphic novels, toys, video gaming, sci-fi, gaming, original art, collectibles, contests and more. A first-class lineup of topical programming takes place at each event, with celebrity Q&A's, comics-themed sessions, costume contests, movie screenings, evening parties and more. Wizard World has also launched CONtv, a digital media channel in partnership with leading independent content distributor Cinedigm™ (NASDAQ: CIDM), and ComicConBox™, a premium subscription-based monthly box service. Fans can interact with Wizard World on Facebook, Twitter, Pinterest, Instagram and other social media services.
The 2015 Wizard World Comic Con schedule is available at: www.wizardworld.com/wizcon.html .

While doing an interview with Collider, Jesse Eisenberg, who is set to play Lex Luthor in next year's highly anticpated Batman v Superman, confirmed he will be making an appearance at SDCC this year.
Press Release:
CBS TELEVISION STUDIOS PRESENTS BACK-TO-BACK-TO-BACK BLOCKBUSTER PANELS AT COMIC-CON 2015 ON THURSDAY, JULY 9