Event Details:
Show dates for 2016:

Sunday, April 10th;
Sunday, August 21st;
Sunday, December 11th

****New Location****
Hilton Garden Inn Crabtree Valley
3912 Arrow Drive
Raleigh, NC 27612

Hours: 10 am to 4 pm

Admission: Free!!

More Info:
Lyn Anderson
PO Box 99201
Raleigh, NC 27624
(919) 844-1758

Updates on Facebook

2nd longest running show in NC, featuring mainly Comics, Toys, Art.

Venue Name

Hilton Garden Inn Crabtree Valley

Venue Address

3912 Arrow Drive
Raleigh, NC 27612

What category best describes your convention?

Comic Books
It is the return of the Philadelphia Comic-Con on Saturday January 9th. This comic book convention is held at the Clarion Hotel and Conference Center located at 76 Industrial Highway (Route 291) in Essington, PA 19029. The hotel is conveniently located off of exit 9A from I-95. It is also close to I-76, I-476 and most bridges from New Jersey. Show hours are 10 AM to 4 PM. Admission is only $3 per person. Students of any age (including college) are admitted free with a current id. Parking is also free on premises. For those of you that do not drive Septa Bus Route 37 stops directly in front of the hotel.
It is quite a site to behold with 60+ tables at the show in the 4,500 square foot ballroom of the hotel. Dealers from 5 states setup there selling, buying and even trading with collectors. Thousands and thousands of comic books from the 1940's to present day will be for sale at the show. Also available will be collecting supplies, graphic novels, action figures, statues, non-sportcards, dvd's and original artwork. The show has become a fan favorite for years with people travelling up to 3 hours one way just to shop at the show.
Special guest artists this show are graphic novelist Tony Bourne and local indy creator Steven Williams.
Any questions about the convention can be sent to derekwoywood@gmail.com or we can be reached by phone at 856-217-5737. Fans can also check us out on the web at www.philadelphiacomic-con.com. Or on facebook.com/PhiladelphiaComicCon.
The folks at Choice Collectibles were kind enough to offer me a print to review, and I took them up on their generous offer. They dispatched to me a Limited Edition Lithograph Print called "Enforcers." Although I could not find an artist credit on the print, I recognized the work of David Finch, and a quick Google search revealed that it was originally a cover variant for Avengers/Invaders #1 back in 2008.
As a graphic artist and someone who has worked in printing in one shape or another for the past 16 years or so, I can say that the printing looks impeccable. The colors are sharp and clear (my photos do not do it justice). This matted print is going to look great hanging on the wall!
Choice Collectibles did a great job of shipping the print to me. My only peeve was that the print (covered in a plastic sleeve) was actually taped to the cardboard insert that protected it. I ended up ripping the protective plastic sleeve a little bit getting the tape off.
Choice Collectibles has been in business for over 18 years and have developed a close partnership with Marvel. They have prints from a lot of other fantastic brands, too, including DC, Disney, Hanna-Barbera, Warner Bros., etc. They also have some very cool Star Wars prints including some for The Force Awakens! Be sure to check them out.
Marvel really produced a winner with Ant-Man with great characters and great visuals. I enjoyed it a great deal. I was expecting more of a comedic caper movie, but it surprised me with how serious and dramatic it was at times.
Paul Rudd stars as the Scott Lang version of the character. After pulling off a Robin Hood-style heist and ending up in prison, he's trying to put his life back together and stay connected with his daughter. I've always liked Paul Rudd as an actor, and I think he does a great job in this.
I wasn't very enthusiastic about the decision to make Hank Pym (Michael Douglas) an older character, but I can see how it really works in this movie. The heart of this film involves two fathers and two daughters. Lang is trying to be the hero his daughter deserves while Hank is trying to reconnect with his daughter Hope (Evangeline Lilly). It all has a great deal of emotional resonance. It also manages to address the age-old comic book conundrum as to why some inventors in the Marvel Universe don't make their technological creations more readily available.
The first half of the movie might seem to drag a bit as Scott goes through quite a lot of preparation and training, but the movie really picks up when Scott and crew go into action for the task for which Hank recruited him. The end sequence manages to bring all the supporting characters together in a cool way. Along the way we also get a fun fight with a guest-starring member of the Avengers (which, of course, builds up to Ant-Man's inclusion in the upcoming Captain America: Civil War)!
Although this was a troubled production with original director Edgar Wright dropping out while the movie was in pre-production, Marvel really pulled it together and made it one of their best films. Since Marvel has been very genre-oriented of late and this movie was described as a heist movie, I'm really curious to see where they go with the already announced sequel Ant-Man and the Wasp. At any rate, we are sure to see more of Evangeline Lilly which is never a bad thing in my book.
Minor Caution for Parents: This movie does have some blatant profanity in it (as did Guardians of the Galaxy). As the parent of young kids myself, I really wish Marvel wouldn't go this route and would instead keep it family-friendly.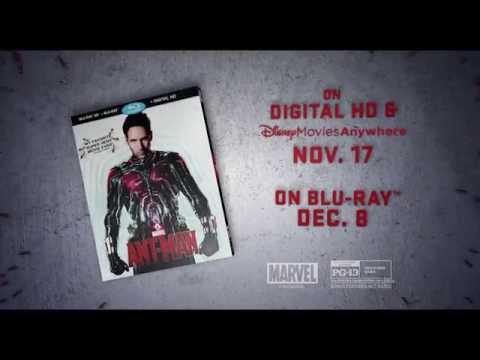 SYNOPSIS:   The next evolution of the Marvel Cinematic Universe introduces the newest member of the Avengers: Marvel's Ant-Man. Armed with the amazing ability to shrink in scale but increase in strength, master thief Scott Lang joins forces with his new mentor Dr. Hank Pym to protect the secret behind his spectacular Ant-Man suit from ruthless villains! With humanity's fate in the balance, Pym and Lang must plan and pull off a daring heist against insurmountable odds. Filled with humor, awesome special effects and exclusive bonus features, this action-packed adventure takes you to new levels of pulse-pounding excitement!
CAST:    Paul Rudd (This is 40, Role Models) as Ant-Man/Scott Lang, Evangeline Lilly (The Hobbit: The Battle of the Five Armies, Lost) as Hope van Dyne, Corey Stoll (This Is Where I Leave You, The Bourne Legacy) as Yellowjacket/Darren Cross, Bobby Cannavale (Spy, Chef) Michael Peña (Cesar Chavez, The Martian) Tip "T.I." Harris (Identity Thief, Entourage),Wood Harris (Justified, The Wire), Judy Greer (Tomorrowland, 13 Going on 30), David Dastmalchian (The Dark Knight, Prisoners), as Paxton, and Michael Douglas (Last Vegas, The Game) as Dr. Hank Pym
BONUS:Digital HD*, Disney Movies Anywhere (DMA), 3D Blu-ray Combo Pack, Blu-ray
Making Of An Ant-Sized Heist: A How-To Guide –
Set your watch and count down the action in this fast-paced behind-the-scenes look at how to pull off a heist movie, including Scott Lang's hilarious heist "family," Ant-Man's costume, plus amazing stunts and effects.
Let's Go To The Macroverse –
Shrink down to size in this fascinating look at creating the world from Ant-Man's perspective, from macro photography through the subatomic.
A hard-hitting collection of content, including a glimpse at the future of Pym Technologies with Darren Cross, anchor Christine Everhart's interview with soon-to-be-released prisoner Scott Lang on his notorious VistaCorp heist, and more.
Deleted & Extended Scenes
Audio Commentary By Peyton Reed And Paul Rudd
*Digital bonus offerings may vary by retailer
DVD:
FEATURE RUN TIME:Approximately 117 min.
RATINGS:PG-13 in U.S.; PG in CE; G in CF
ASPECT RATIO:Blu-ray 3D, Blu-ray & DVD = 1080p High Definition / 1.85:1
AUDIO:Blu-ray 3D & Blu-ray 2D = English 7.1 DTS-HDMA, French-Canadian 5.1 Dolby Digital, Latin Spanish 5.1 Dolby Digital, English DVS 2.0 Dolby Digital
DVD = English/Latin Spanish/French Canadian 5.1 Dolby Digital, English DVS 2.0 Dolby Digital
LANGUAGES:English
SUBTITLES:English, French, and Spanish
SOCIAL MEDIA:
Facebook
Ant-Man:https://www.facebook.com/antman
Marvel: https://www.facebook.com/Marvel
Disney Movies Anywhere:https://www.facebook.com/DisneyMoviesAnywhere
Twitter
@Ant-Man: https://twitter.com/AntMan
@Avengers: https://twitter.com/Avengers
@Marvel: https://twitter.com/Marvel
@DisneyAnywhere: https://twitter.com/DisneyAnywhere
Tumblr
Marvel:http://marvelentertainment.tumblr.com
DMA: http://disneymoviesanywhere.tumblr.com
Instagram
 https://instagram.com/therealagentm
YouTube
 https://www.youtube.com/user/MARVEL
ABOUT DISNEY MOVIES ANYWHERE (DMA):
Disney Movies Anywhere (DMA) is an engaging and family-friendly cloud-based digital movie service that makes it simple to buy your favorite Disney, Pixar, Marvel and Star Wars movies once and watch them anywhere.  With DMA you can explore Disney's library of over 450 eligible digital movies, discover hours of new and exclusive short-form content, and watch your digital movies from the comfort of the living room or across multiple mobile devices.  Using the free DMA apps and website, you can connect your DMA account with participating providers including iTunes, Amazon Video, VUDU, Microsoft Movies and TV and Google Play and unlock access your eligible movie collections across platforms and devices –  iPhone, iPad, iPod Touch, Apple TV/Airplay, Amazon's Fire tablets, Fire TV and Fire TV Stick, Microsoft Movies and TV service on Windows and Microsoft Xbox devices, Android mobile and tablet devices and Android TV, Chromecast and the Roku® platform.  In addition, you can redeem Digital Copy codes found in Disney, Pixar and Marvel Blu-rays and DVDs, as well as earn Disney Movie Rewards points with every digital purchase.
About Marvel Entertainment
Marvel Entertainment, LLC, a wholly-owned subsidiary of The Walt Disney Company, is one of the world's most prominent character-based entertainment companies, built on a proven library of more than 8,000 characters featured in a variety of media over seventy-five years.  Marvel utilizes its character franchises in entertainment, licensing and publishing.  For more information visit marvel.com.  © 2015 MARVEL
ABOUT THE WALT DISNEY STUDIOS:
For over 90 years, The Walt Disney Studios has been the foundation on which The Walt Disney Company was built. Today, the Studio brings quality movies, music and stage plays to consumers throughout the world. Feature films are released under the following banners: Disney, including Walt Disney Animation Studios and Pixar Animation Studios; Disneynature; Marvel Studios; Lucasfilm; and Touchstone Pictures, the banner under which live-action films from DreamWorks Studios are distributed. The Disney Music Group encompasses the Walt Disney Records and Hollywood Records labels, as well as Disney Music Publishing. The Disney Theatrical Group produces and licenses live events, including Disney on Broadway, Disney On Ice and Disney Live!.
Press Release:
'Captain America' Chris Evans To Make Wizard World Comic Con Debut In New Orleans, January 9
Fellow 'Cap' Standouts Jeremy Renner, Hayley Atwell, Frank Grillo, Directors Anthony and Joe Russo Also To Appear; 'First Avenger,' 'Avengers' Star To Meet Fans, Sign Autographs, Pose For Photo Ops, Conduct Live Q&A In Rare Appearance At Ernest N. Morial Convention Center

NEW ORLEANS, November 6, 2015 – Chris Evans, who has emerged as one of Hollywood's most in-demand actors for both big budget and independent features, will make his Wizard World Comic Con debut at the New Orleans Ernest N. Morial Convention Center on Saturday, January 9. The Hollywood heavyweight will greet fans, sign autographs, pose for photo ops and conduct a live Q&A session in this extremely rare appearance.
Evans will be joined at the event by fellow Captain America franchise stars Jeremy Renner ("Clint Barton/Hawkeye"), Hayley Atwell ("Peggy Carter") and Frank Grillo ("Brock Rumlow"), as well as directors Anthony and Joe Russo. Renner will also attend on Saturday, while Atwell, Grillo and the Russos are scheduled for Saturday and Sunday, Jan. 9-10.
Evans can next be seen in Captain America: Civil War , the third installment of Marvel's Captain America franchise. He also starred in Captain America: The Winter Soldier , the sequel to the highly successful Captain America: The First Avenger which was released in 2011. In each film, Evans reprises his role as the famed Marvel Comics character, "Steve Rogers," who transforms into Captain America after volunteering for a top secret research project in hopes of defending America's ideals. Both films grossed over $713 million each at box offices worldwide.
Recently, Evans starred in Bong Joon-ho's Snowpiercer opposite Octavia Spencer, Tilda Swinton, John Hurt and Ed Harris. Set in a world covered in snow and ice, the film follows a train full of travelers who struggle to co-exist.
"The addition of Chris Evans brings the already stacked Wizard World Comic Con New Orleans guest list to a new level for our attendees," said John Macaluso , Wizard World CEO. "Captain America is one of the world's great franchises, and Chris has been its face for several huge blockbusters. Fans will want to take advantage of this extremely rare opportunity to meet this superstar."
Two-time Academy Award® nominee Renner also reprised his role as William Brandt in Mission: Impossible – Rogue Nation . His nominations have come as Best Actor for The Hurt Locker in 2008 and Best Supporting Actor for his role in The Town .
Atwell, who plays the lead in the ABC TV series "Agent Carter," a spin-off featuring her role in the Captain America franchise, has appeared in numerous other TV shows both in the U.S. and U.K., and is an accomplished stage actress, having completed several long runs in leading British theatres.
Grillo is also known for his roles in Warrior, The Grey, End of Watch and The Purge: Anarchy. His TV work includes recurring spots in "The Shield," "Prison Break," "The Gates" and "Blind Justice."
Directors Joe and Anthony Russo have produced and directed many critically acclaimed TV shows including "Arrested Development", "Community", and "Happy Endings". They received an Emmy for helming the "Arrested Development" pilot. The Brothers most recently directed Captain America: The Winter Soldier for Marvel. They are currently in post-production on Captain America: Civil War and will direct Avengers Infinity War Part I and II after that.
Wizard World, Inc. (OTCBB: WIZD) opens its 2016 schedule with its sixth trip to the Ernest N. Morial Convention Center at Wizard World Comic Con New Orleans, January 8-10. In addition to Evans, Renner, Atwell and Grillo, other headliners on the celebrity roster include the "Doctor Who" trio of Matt Smith, Karen Gillan and Jenna Coleman, "The Walking Dead" standouts Chandler Riggs and Steven Yeun , Ben McKenzie ("Gotham," "The O.C.") and William Shatner ("Star Trek," "Boston Legal").
Wizard World Comic Con events bring together thousands of fans of all ages to celebrate the best in pop-fi, pop culture, movies, graphic novels, cosplay, comics, television, sci-fi, toys, video gaming, gaming, original art, collectibles, contests and more. The first event scheduled on the 2016 Wizard World calendar, New Orleans show hours are Friday, January 8, 3-8 p.m.; Saturday, January 9, 10 a.m.-7 p.m.; Sunday, January 10, 10 a.m.-4 p.m.
Wizard World Comic Con New Orleans is also the place for cosplay, with fans young and old showing off their best costumes throughout the event. Fans dressed as every imaginable character – and some never before dreamed – will roam the convention floor and participate in the famed Wizard World Costume Contest on Saturday night.
For more on the 2016 Wizard World Comic Con New Orleans, visit http://wizd.me/NewOrleansPR .
About Wizard World (OTCBB: WIZD)
Wizard World, Inc. (http://www.wizardworld.com) produces Comic Cons and pop culture conventions across North America that celebrate the best in pop-fi, pop culture, movies, television, cosplay, comics, graphic novels, toys, video gaming, sci-fi, gaming, original art, collectibles, contests and more. A first-class lineup of topical programming takes place at each event, with celebrity Q&A's, comics-themed sessions, costume contests, movie screenings, evening parties and more. Wizard World has also launched CONtv, a digital media channel in partnership with leading independent content distributor Cinedigm™ (NASDAQ: CIDM), and ComicConBox™, a premium subscription-based monthly box service. Fans can interact with Wizard World on Facebook, Twitter, Pinterest, Instagram and other social media services.
The 2015-16 Wizard World Comic Con schedule is available at: www.wizardworld.com/wizcon.html .
Event Details:
Convention
ToyConNJ
Convention Website Address
http://www.toyconnj.com
Dates
2015 Schedule:            8/29 & 30                  11/14 & 15
Venue Name
Police Athletic League
Venue Address
33 Baldwin Rd
Parsippany  NJ 07057
United States
Number of Dealer/Exhibitor Tables
230
What category best describes your convention?
Collectibles
What other categories might be appropriate for your convention?
– Comic Books
Press Release:
WONDERCON ANNOUNCES FIRST WAVE OF GUESTS 
SAN DIEGO – LOS ANGELES: WonderCon, the sister convention to Comic-Con International, today announced its first lineup of guests for the spring show. WonderCon, celebrating its 30th year in 2016, will take place in Los Angeles beginning on Friday, March 25, and continue through Sunday, March 27, 2016, at the Los Angeles Convention Center.
Guests announced today include:
Brian Michael Bendis
Writer, Invincible Iron Man, Guardians of the Galaxy, Powers
Jason Fabok
Artist, Justice League, Detective Comics, Batman Eternal
Scott Sigler
Author, Infected, Contagious, Pandemic, Generations trilogy
Annie Wu
Artist, Black Canary, Hawkeye, Archie
Be sure to visit www.wondercon.org and check out the Toucan Blog (www.comic-con.org/toucan), the only OFFICIAL blog of Comic-Con International and WonderCon, for additional up to date information about guests and all other aspects of the eagerly awaited spring show!
About Comic-Con International:
Comic-Con International (CCI) is a nonprofit educational organization dedicated to creating awareness of, and appreciation for, comics and related popular artforms, primarily through the presentation of conventions and events that celebrate the historic and ongoing contribution of comics to art and culture.  In addition to its San Diego convention each summer (the world's largest comics convention of its kind), CCI organizes WonderCon each spring. WonderCon on the web: WonderCon.org, Facebook.com/wondercon, Twitter.com/wondercon and Instagram.com/wondercon.
Hello, everyone.
We are in the planning stages of a new version of Convention Scene. Much the same but "better, faster, stronger" is the plan. And we can use your help. If you would take just a couple of minutes to complete our survey, we would really appreciate it, and it's your opportunity to let us know where you think we should take the site next.
Click here to open the survey.
(The survey is limited to the first 100 participants.)
Event Details:
Convention Name
New Haven Comic & Collectible Spectacular
Convention Website Address
http://www.facebook.com/newhavenspectacular
This convention will take place:
Date
11/01/2015
About This Convention
EVENT: New Haven Comic & Collectible Spectacular

LOCATION: YMA ANNEX HALL 554 Woodward Ave., New Haven, CT 06512Welcome to The New Haven Comic & Collectible Spectacular! We will feature vendors selling new and old comics, toys, and collectible along with independent writers, artists and creators and live music by adventure rock band High Adventure and a DJ, hourly prize drawings and on-site concessions.

Currently this show will run at the Annex Y.M.A. Club in New Haven, Connecticut on November 1st, 2015 from 10:00 am – 3:00 pm. Right off I-95N at Exit 50, admission will be $3.50 per person and children 10 & under are free. There will be plenty of parking for all with ground floor entrance ways and handicapped parking and ramps are also on premise. Tables are currently available for artists, dealers, and fans which will be sold on a first-come, first-serve basis. Please contact the Facebook for details on vendor table costs, or please call (203)747-6122. Come dressed in your favorite costume and tell all your friends and family, we hope to truly make this once again a 'spectacular' event! DON'T FORGET TO TUNE IN AND

FOLLOW US ON TWITTER @NHSpectacular OR 'LIKE' US ON FACEBOOK at: www.facebook.com/newhavespectacular.

For ATTENDING VENDORS AND ARTISTS – All tables are 8′ and there is also access to limited electrical outlets at no charge for those that need them, please inquire within.  Table prices are as follows: $50.00 per table, $90.00 = 2 tables, $125.00 = 3 tables. Additional tables will be sold at an extra $25.00 per table.

Venue Name and Address
YMA ANNEX HALL
554 Woodward Ave.
New Haven, CT 06512
United States
Map It
Number of Dealer/Exhibitor Tables
55
Projected Attendance
500
Please select the Category that best describes the convention
Comic Books
Additional Categories

Science Fiction and Fantasy
Collectibles

Guests
TBA
Press Release:
Long Beach Comic Con Announces Highlights From Its Guest List, Full Programming Slate & Key Initiatives for September 12 & 13th, 2015
Long Beach, CA (September 2, 2015) – In advance of the seventh annual Long Beach Comic Con, MAD Event Management announced today highlights from its guest list, the full slate of programming for the convention and several major initiatives. All told, the convention will play host to more than 175 guests, 100 panels, and 300 artist alley exhibitors and more than 475 exhibitors. The convention will be held September 12th and 13th in the main exhibition hall at the Long Beach Comic Convention Center.
This year's Long Beach Comic Con guest list is amazingly diverse with over 175 guests, including:
Popular TV, Film & gaming stars:

John Barrowman (Merlin from ARROW);
Chloe Bennet (Skye on MARVEL'S AGENTS OF SHIELD);
Peter Shinkoda and Tommy Walker (Marvel's DAREDEVIL)
Maitland Ward Baxter (BOY MEETS GIRL).
Acclaimed TV & Film writers:

Tara Butters and Michele Fazekas (Marvel Entertainment's AGENT CARTER);
Christos Gage and Ruth Fletcher Gage (Marvel's DAREDEVIL);
Marc Guggenheim (ARROW);
Jeff King (WHITE COLLAR);
Man of Action's Joe Casey, Joe Kelly, Duncan Rouleau and Steven T. Seagle), the creators of BEN 10 and the team/characters in BIG HERO 6
More than 150 comic book writers and artists:

Legendary artist Art Adams (GUARDIANS OF THE GALAXY TEAM UP);
Kris Anka (Marvel's CAPTAIN MARVEL)
Joe Casey (SEX)
Adam Kubert and the Joe Kubert School, making their first appearance at a Long Beach Show;
Joshua Hale Fialkov (THE LIFE AFTER);
Kyle Higgins (C.O.W.L.)
Joe Kelly (I KILL GIANTS)
Dustin Nguyen (DESCENDER);
David Petersen, celebrating the 10th anniversary of MOUSE GUARD;
Duncan Rouleau (THE GREAT UNKNOWN)
Stan Sakai, the legendary creator of USAGI YOJIMBO;
Steven T. Seagle (It's a bird …)
Marc Silvestri, popular artist and CEO of Top Cow Productions;
STAR WARS artists Stuart and Kathryn Immonen;
Legendary writers Len Wein (SWAMP THING) and Marv Wolfman (NEW TEEN TITANS).
Cosplay fan favorites:

Nicole Marie Jean
Miss Chrissy Lynn;
Raychul Moore;
Destiny Nickelsen;
International Cosplayer Giada Robin;
Vampy Bit Me;
Vegas Power Girl.
"Long Beach Comic Con is a celebration of the creative arts," said Long Beach Comic Con Executive Director and Co-Founder Martha Donato. "In addition to panels devoted to DC Entertainment, Marvel Entertainment, Aspen Comics, Image Comics and Dark Horse Comics, we have amazing, family-friendly programming dedicated to animation, tv, film and novels and exhibitors and sponsors such as Columbia Memorial Space Center, Lionsgate Films, and T-Mobile and sponsors like Bernina and Kettle.
Programming highlights include:
Anniversary panels for 30 Years of ROBOTECH animation and 10 years of MOUSE GUARD graphic novels;
Breaking Into Hollywood A conversation with Ralph Garman (BATMAN '66 MEETS THE GREEN HORNET), Joshua Fialkov (AFRO SAMURAI: RESURRECTION), Marc Guggenheim (ARROW) and Kyle Higgins (THE LEAGUE), moderated by Aaron Couch, LA Digital News Editor of People Magazine;
Buffy the Vampire Slayer panel;
"Couples Therapy", in which KROQ 's Ralph Garman talks with Hollywood power couple Tara Butters (MARVEL'S AGENTS OF SHIELD) and Marc Guggenheim (ARROW);
The Devastator Presents: Funny Book Fest;
Dwayne McDuffie Awards Announcements of nominees for the award, to be presented at Long Beach Comic Expo next spring;
GeekFest Film Fest, including three full length feature films, short films, web series and fan films including a "Star Wars Musical";
How to Conquer the Animation World with James Ganiere (CEO at Rio Vista Universal), Dean DeBlois (writer and director of HOW TO TRAIN YOUR DRAGON 3), Mike Morris (Animator for THE SIMPSONS), Terran Gregory (Project Director at Blizzard Entertainment) and Forrest Whaley (ForrestFire101 – Maker Studio/YouTube).
#PerformanceMatters. Creating your Character in Video Games. Troy Baker (BATMAN: ASSAULT ON ARKHAM), Crispin Freeman (WORLD OF WARCRAFT), Phil LaMarr (MWETAL GEAR SOLID 2), Liam O'Brien (WORLD OF WARCRAFT), America Young (HALO 5) and Thom Willams (MIDDLE EARTH: SHADOW OF MORDOR)
Psychology of Daredevil. Join Dr. Andrea Letamendi, who has a Ph.D. in Clinical Psychology, Christos Gage and Ruth Fletcher Gage, writers on Netflix's original DAREDEVIL series, and actors Tommy Walker (Francis) and Peter Shinkoda (Nobu) as they discuss the intersection of psychology and comic books, specifically focusing on the characters they write and play on DAREDEVIL.
A Q &A with John Barrowman;
Shades & Shadows Reading Series including a live show;
A STAR WARS panel with Brian Miller , illustrator for Topps, novelist Cecil Castellucci (STAR WARS: MOVING TARGET), and Stuart Immonen, artist for Marvel's best selling STAR WARS comic books.
2 days of #MakeComics panels devoted to teaching aspiring writers and artists how to make comics.
New initiatives and exclusives include:
Girl Scouts of Greater Los Angeles
Girl Scouts of Greater Los Angeles
Due to generous donations and grants, 200 greater Los Angeles girls—including 100 girls from underserved communities—will take part in a program that includes meeting comic professionals, playing laser tag and attending a workshop where they can earn their Comic Book Artist and Novelist badges. This year actress Chloe Bennet, who plays Skye on MARVEL'S AGENTS OF SHIELD, will be presenting the girls with their Comic Artist badges.
"At the Long Beach Comic Con, middle school and high school Girl Scouts will be able to work one-on-one with professional comic book artists, writers, editors, and young adult novelists to create a comic book page from start to finish," said Lise L. Luttgens, Girl Scouts of Greater Los Angeles' Chief Executive Officer. "Girl Scouts is all about giving girls access to hands-on experiences that empower them to discover and pursue their passions, and this unique collaboration with the Long Beach Comic Con is a perfect example of that."
Golden Apple LBCC-Exclusive STAR WARS variant cover
Exhibitor Golden Apple Comics will sell a Long Beach Comic Con exclusive edition of STAR WARS: SHATTERED EMPIRE issue 1 with a cover by artist Phil Noto. The comic is an exclusive available through Golden Apple and GameFly. Golden Apple will be exhibiting at LBCC at booth # 1024.
The Hero Initiative Limited Edition Beer designed by artist Clayton Crain
The Hero Initiative, a charity dedicated to helping comic book creators in financial need, has partnered with Los Angeles brewery MacLeod Ale for a limited-edition label for The King's Taxes Scottish Ale, designed by GHOST RIDER and CARNAGE artist Clayton Crain. The art will appear on a limited run of bottles, signed prints and commemorative glasses. Hero Initiative will host a special tasting from 6 PM to 9 PM Saturday, and have a full selection of The King's Taxes merchandise available.
LifeStream Blood Bank, a not-for-profit blood bank with host a blood drive on site
A MAGIC: THE GATHERING tournament
CoastCardsAndCollectibles.com will host a Magic the Gathering tournament, which will include on-demand Origins Drafts and Standard Constructed as well as running Standard Constructed and Modern Main Events.  Kids(12 and under) will also have exclusive Pokemon and MtG events on both days!"
The Inaugural Long Beach Space Expo
The Columbia Memorial Space Center is partnering with Long Beach Comic Con for Space Expo 2015, an innovative and one-of-a-kind program that will connect comic book convention attendees directly with the world of scientific discovery. Panels will be held featuring top aerospace industry notables discussing hot button scientific topics and there will be interactive exhibits featuring robotics, 3D printing, and even a spacesuit – all curated by Columbia Memorial Space Center, the prestigious CA-based learning center dedicated to bringing the wonder and excitement of science to audiences of all ages and backgrounds.
"The Space Expo is an innovative way to connect the public to space and science," said Columbia Memorial Space Center President Ben Dickow. "Instead of making people come to us, we're taking science and technology to them with two full days of activities and speakers who are at the top of the space field. The Expo will give the public the opportunity to interact directly with NASA professionals and space explorers. We've put together the largest collection of JPL scientists we know of, outside of an academic conference, all ready to share their love of space with you!"
Enjoy an exciting weekend full of exceptional guests and exhibitors, and engaging panels, at Long Beach Comic Con, Saturday, September 12 from 10:00 am – 7:00 pm and Sunday, September 13 from 10:00 am – 5:00 pm at the Long Beach Convention Center. The show opens to advance ticket holders both days at 9:30 AM. Tickets are available now through the website: www.longbeachcomiccon.com.
Follow Long Beach Comic Con on Facebook and Twitter for the latest news and information.
Long Beach Comic Con is an annual event held at the Long Beach Convention Center that celebrates comic books and pop culture and showcases the exceptional works of talented writers, artists, illustrators and creators of all types of pop culture. At Long Beach Comic Con, you'll find exhibitors promoting and selling all types of related products, as well as entertaining and educational programs for all ages, guest signings and meet & greet sessions with celebrities. Long Beach Comic Con is a MAD Event Management, LLC production. To learn more and purchase tickets, please visit www.longbeachcomiccon.com.
BERNINA International AG has been one of the world's leading sewing and embroidery machine manufacturers for more than 120 years. The Swiss family-owned company's products are synonymous with innovation and precision. Above all, they are known for their durability. BERNINA sewing machines are used worldwide by people with a passion for sewing. BERNINA is a byword not only for excellent sewing and embroidery machines and overlockers, but also for a comprehensive range of accessories and creative software solutions. There are no limits to your creativity with BERNINA.
The Columbia Memorial Space Center, located in Downey, California, is a hands-on learning center dedicated to bringing the wonder and excitement of science and innovation to audiences of all ages and backgrounds.  Through world-class programs and engaging exhibits, the Space Center strives to ignite a community of critical and creative thinkers. 
Girl Scouts of Greater Los Angeles serves more than 40,000 girls in partnership with more than 20,000 volunteers throughout the diverse communities of Los Angeles County and parts of Kern, San Bernardino, and Ventura counties. The council engages girls through programs in Leadership, Business and Financial Literacy, Outdoor Adventure, STE[A]M (science, technology, engineering, art, math), and Healthy Living. To join, volunteer, reconnect, or support, visit www.girlscoutsla.org or call 213-213-0123.
The Hero Initiative is the first-ever federally chartered not-for-profit corporation dedicated strictly to helping comic book creators in need. Hero creates a financial safety net for yesterday's creators who may need emergency medical aid, financial support for essentials of life, and an avenue back into paying work. It's a chance for all of us to give back something to the people who have given us so much enjoyment. Since its inception, The Hero Initiative has had the good fortune to grant over $700,000 to the comic book veterans who have paved the way for those in the industry today. For more information, visit www.heroinitiative.org or call 626-676-6354.
Kettle Brand® has been making great-tasting, all-natural chips since 1982. They're made from only the most natural, real food ingredients, finest potatoes, best oils and craft cooking methods.  That's why they taste so great.  Plus, they're backed by a company commitment to sustainability, which includes wind power, solar power, green building and biodiesel initiatives.  Kettle Brand® Potato Chips: simply great tasting, all-natural potato chips made by a company that cares. Learn more at www.KettleBrand.com