SPOILERS: I do get into spoiler-territory here, so if you haven't seen it yet, you might want to skip this part.
I have to say… I have very mixed feelings about Star Wars: The Force Awakens. I go way back with Star Wars… all the way back to 1977. Because my cousin wanted to see it, our whole family went to our local theater and saw the original. I was hooked. Naturally, I've seen every Star Wars movie since. But… like a lot of fans, I found the prequels a little wanting and felt that they tarnished Star Wars's reputation. I was eager to see what Director J.J. Abrams and the folks at Disney had cooked up to take the bad taste of the prequels out of our mouths. For months as the trailers rolled out, I crossed my fingers and said, "Let it be good… let it be good… let it be good." Having seen it, though, I came away disappointed. While I loved the new characters, especially Daisy Ridley's Rey, I felt like the original characters really got the short end of the stick. All these years later, and either everything is the same or changed for the negative. Han and Leia broken up? Say it ain't so! Stormtroopers running around…still?! Han back to being a smuggler…. really?! After becoming a military leader? And the movie robs us of the chance to see Han, Leia, and Luke all sharing the screen again.
So as far as the older characters go, I almost wish they had just set it farther into the future and just said the originals died happy deaths. Despite all my misgivings, I am still looking forward to Episode VIII. Hopefully, the next movie will be more about charging forward and less about looking back. I want to see the next chapter of Rey, Finn, Poe, and Kylo Ren, and I want to see Luke Skywalker kick some butt!
Although I did not love the new movie, I still jumped at the chance to receive a copy of the Blu-ray Combo Pack to review. Deleted scenes, behind-the-scenes stuff, it's packed with goodies!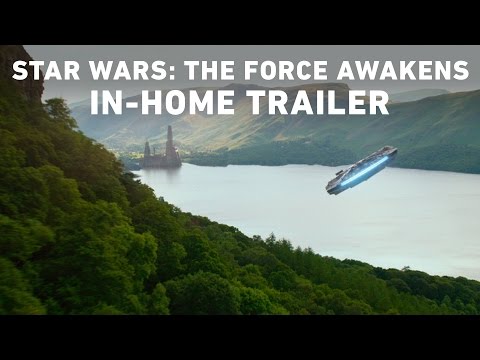 Arriving early on Digital HD April 1, 2016
Bring it home on Blu-ray™ Combo Pack and DVD on April 5, 2016
Including new in-depth bonus offering fans the chance to experience more
BURBANK, Calif. (March 3, 2016)—Star Wars: The Force Awakens shattered box office records upon its debut to become the cinematic event of a generation with over $926 million domestic and $2.05 billion worldwide. As announced this morning by Chairman and Chief Executive Officer Robert A. Iger at The Walt Disney Company's Annual Meeting of Shareholders, the epic movie will be available to own early on Digital HD and Disney Movies Anywhere on April 1. It comes home on Blu-ray Combo Pack and DVD on April 5.
Discover the complete story behind the making of Star Wars: The Force Awakens with in-depth documentary and bonus material that will take fans on an exciting journey behind the scenes.  Secrets will be revealed through extensive footage, never-before-seen deleted scenes, and exclusive interviews with the actors and filmmakers. Bonus features include*:
Secrets of The Force Awakens: A Cinematic Journey – For the first time, discover the complete story behind the making of The Force Awakens, revealed through in-depth footage and exclusive interviews with the actors and filmmakers in this feature documentary.
The Story Awakens: The Table Read – Cast members familiar and new reflect on the memorable day they all first came together to read the movie's script.
Building BB-8 – See how the filmmakers brought the newest droid to the screen, creating an instant fan favorite in the Star Wars universe.
Crafting Creatures – Watch movie magic as the filmmakers bring a cast of new creatures to life.
Blueprint of a Battle: The Snow Fight – Go deeper into the epic, climactic lightsaber battle between Rey and Kylo Ren.
John Williams: The Seventh Symphony – The legendary composer shares personal insights of his work on Star Wars and The Force Awakens.
ILM: The Visual Magic of The Force – An insider's look into the remarkable digital artistry of the movie's visual effects.
Force For Change – Heroes come in all shapes and sizes. See how the Star Wars: Force for Change initiative has united Star Wars fans all over the globe to help others.
Plus Deleted Scenes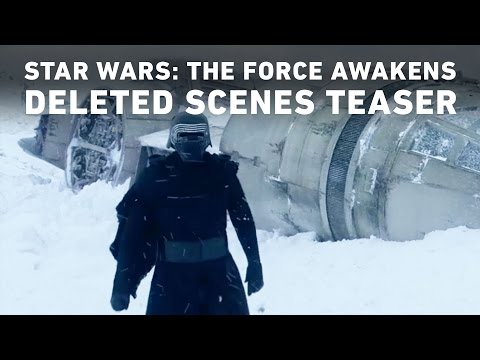 * Digital bonus offerings may vary by retailer
Star Wars: The Force Awakens saw the eagerly anticipated reteaming of original Star Wars stars Harrison Ford, Carrie Fisher, and Mark Hamill, along with Anthony Daniels, the only actor to have been in all seven Star Wars films, and Peter Mayhew. The returning cast was joined by newcomer Daisy Ridley, who beat out fierce competition to take the principal role of Rey; BAFTA Rising Star Award winner John Boyega (Attack the Block, Imperial Dreams) as reluctant stormtrooper Finn; Emmy® nominee Adam Driver (Lincoln, Girls) as the villainous Kylo Ren, and Golden Globe® winner Oscar Isaac (Inside Llewyn Davis, The Bourne Legacy) as Resistance pilot Poe Dameron.
Star Wars: The Force Awakens was directed by J.J. Abrams and written by Lawrence Kasdan & J.J. Abrams and Michael Arndt. Lucasfilm president and eight-time Academy Award® nominee Kathleen Kennedy and J.J. Abrams, along with his longtime producing partner Bryan Burk, are the film's producers.
Having established a musical legacy with his iconic scores for the previous six films in the Star Wars Saga, acclaimed composer John Williams returned to score Star Wars: The Force Awakens, ultimately garnering his 50th Oscar® nomination for it. 
DISC SPECIFICATIONS:
FEATURE RUN TIME:                            Approximately 136 min.
RATING:                                                 PG-13 in U.S.; PG in CE; G in CF
ASPECT RATIO:                                     Blu-ray Feature Film = 2.40:1
DVD Feature Film = 2.40:1  
AUDIO:                                                   Blu-ray = English 7.1 DTS-HDMA, English 2.0 Descriptive Audio, French and Spanish 5.1
Dolby Digital Language Tracks
DVD = English, French and Spanish 5.1 Dolby Digital, English 2.0 Descriptive Audio Language Tracks
LANGUAGES:                                        English, French & Spanish
SUBTITLES:                                            English SDH, French & Spanish
SOCIAL MEDIA:
Facebook: http://www.facebook.com/StarWarsMovies
Twitter: https://twitter.com/StarWars
Website:  http://www.starwars.com/the-force-awakens/
Instagram: http://instagram.com/StarWarsMovies
ABOUT STAR WARS: THE FORCE AWAKENS:
Lucasfilm and visionary director J.J. Abrams join forces to take you back again to a galaxy far, far away as Star Wars returns to the big screen with Star Wars: The Force Awakens. The film stars Harrison Ford, Mark Hamill, Carrie Fisher, Adam Driver, Daisy Ridley, John Boyega, Oscar Isaac, Lupita Nyong'o, Andy Serkis, Domhnall Gleeson, Anthony Daniels, Peter Mayhew and Max Von Sydow. Kathleen Kennedy, J.J. Abrams and Bryan Burk are producing with Tommy Harper and Jason McGatlin serving as executive producers. The screenplay is written by Lawrence Kasdan & J.J. Abrams and Michael Arndt.
ABOUT LUCASFILM LTD.
Lucasfilm Ltd., a wholly-owned subsidiary of The Walt Disney Company, is a global leader in film, television and digital entertainment production. In addition to its motion-picture and television production, the company's activities include visual effects and audio post-production, cutting-edge digital animation, interactive entertainment software, and the management of the global merchandising activities for its entertainment properties including the legendary STAR WARS andINDIANA JONES franchises. Lucasfilm Ltd. is headquartered in northern California.
Lucasfilm, the Lucasfilm logo, STAR WARS and related properties are trademarks and/or copyrights, in the United States and other countries, of Lucasfilm Ltd. and/or its affiliates. © & TM 2015 Lucasfilm Ltd. All rights reserved.
ABOUT DISNEY MOVIES ANYWHERE (DMA):
Disney Movies Anywhere (DMA) is an engaging and family-friendly cloud-based digital movie service that makes it simple to buy your favorite Disney, Pixar, Marvel and Star Wars movies once and watch them anywhere.  With DMA you can explore Disney's library of over 450 eligible digital movies, discover hours of new and exclusive short-form content, and watch your digital movies from the comfort of the living room or across multiple mobile devices.  Using the free DMA apps and website, you can connect your DMA account with participating providers including iTunes, Amazon Video, VUDU, Microsoft Movies and TV and Google Play and unlock access to your eligible movie collections across platforms and devices –  iPhone, iPad, iPod Touch, Apple TV/Airplay, Amazon's Fire tablets, Fire TV and Fire TV Stick, Microsoft Movies and TV service on Windows and Microsoft Xbox devices, Android mobile and tablet devices and Android TV, Chromecast and the Roku®platform.  In addition, you can redeem Digital Copy codes found in Disney, Pixar and Marvel Blu-rays and DVDs, as well as earn Disney Movie Rewards points with every digital purchase.
ABOUT THE WALT DISNEY STUDIOS:
For over 90 years, The Walt Disney Studios has been the foundation on which The Walt Disney Company was built. Today, the Studio brings quality movies, music and stage plays to consumers throughout the world. Feature films are released under the following banners: Disney, including Walt Disney Animation Studios and Pixar Animation Studios; Disneynature; Marvel Studios; Lucasfilm; and Touchstone Pictures, the banner under which live-action films from DreamWorks Studios are distributed. The Disney Music Group encompasses the Walt Disney Records and Hollywood Records labels, as well as Disney Music Publishing. The Disney Theatrical Group produces and licenses live events, including Disney on Broadway, Disney On Ice and Disney Live!.
Press Release:
TICKETS NOW ON SALE FOR LONG BEACH COMIC CON 2016!
MAD Event Entertainment Announces First Wave of Guests Coming to the Long Beach Convention Center September 17 and 18!
MARCH 28, LONG BEACH, CA–Just over a month after the incredibly successful Long Beach Comic Expo, advance ticket sales are on sale now for Long Beach Comic Con! To kick things off, MAD Event Entertainment announces the first wave of guests attending this year's show!
Nick Spencer & Joe Eisma are the writer and artist behind Image Comics popular Morning Glories series, now in it's tenth volume. Nick Spencer is also the writer of Thief of Thieves, Bedlam and has written for both DC and Marvel. In addition to illustrating Big Trouble in Little China, Evil Empire & Higher Earth from Boom! Studios, Eisma has worked for Archie, IDW, Valiant, Vertigo, and more.
Dustin Nguyen is the artist on Image Comics' Descender series, currently in development for film, and garnering critical acclaim issue after issue. Prior to that, Nguyen worked on multiple series at both Wildstorm and DC Comics.
Joëlle Jones is best known for her work on HELHEIM, and the follow up Brides of HELHEIM the supernatural viking thriller series written by Cullen Bunn and published by Oni Press. Currently she is co-writing and drawing a new original series called Lady Killer published by Dark Horse. Additionally, she has worked on various projects with the New York Times, Graphic Universe, Vertigo, DC, Marvel, Dark Horse and ONI press.
Brandon Easton is a writer working in comics and television currently working on such series as Agent Carter for Marvel Television. He is the creator and writer of the Shadowlaw online comic, and one of the writers on Marvel's highly anticipated Civil War II: Choosing Sides.
At the time of press, other confirmed guests include Brett Booth, Jane Chung, Phil Lamarr, Jae Lee, Brian Miller, Stephane Roux, and Vegas Power Girl!
Enjoy an exciting weekend full of exceptional guests and exhibitors, and engaging panels, at Long Beach Comic Con, Saturday, September 17 from 10:00 am – 7:00 pm and Sunday, September 18 from 10:00 am – 5:00 pm at the Long Beach Convention Center. The show opens to advance ticket holders at 9:30 AM on Saturday and 10AM on Sunday. Tickets are available now through the website: www.longbeachcomiccon.com.
Follow Long Beach Comic Con on Facebook and Twitter for the latest news and information.
###
ABOUT LONG BEACH COMIC CON: Long Beach Comic Con is an annual event held at the Long Beach Convention Center that celebrates comic books and pop culture and showcases the exceptional works of talented writers, artists, illustrators and creators of all types of pop culture. At Long Beach Comic Con, you'll find exhibitors promoting and selling all types of related products, as well as entertaining and educational programs for all ages, guest signings and meet & greet sessions with celebrities. Long Beach Comic Con is a MAD Event Management, LLC production. To learn more and purchase tickets, please visit www.longbeachcomiccon.com.
Press Release:
75,000- square feet of Spectacular on APRIL 8-10th, 2016!
The NEW ENGLAND SUPER MEGAFEST SPRING SPECTACULAR is here! Hollywood comes back to New England this Spring! Comics, Movies, Super Heroes, Music, Wrestling and Intergalactic Fun come together in Marlborough at the SUPER MEGAFEST, New England's premiere Celebrity Pop Culture Fan Fest!
Tickets are now on sale!
ORDER TICKETS ONLINE for super easy check in with print or selfie tickets!
The SUPER MEGAFEST COMIC CON SPRING SPECTACULAR takes place
Friday, April 8th from 4pm to 9pm,
Saturday, April 9th from 10:30am to 6pm
Sunday, April 10th from 10:30am to 5pm
at the ROYAL PLAZA TRADE CONVENTION CENTER located at 181 Boston Post Rd. West, Marlborough, MA 01752.
This year's event will feature Hollywood Icons & Celebrities, an awesome array of Comic Artists, Authors, plus Science Fiction, Wrestling and Rock & Roll legends!
Comic, Movie and TV fans will be thrilled with the rare appearances of:
GUEST OF HONOR – BURT REYNOLDS – Saturday only!
JAMES MARSTERS  – Spike of Buffy/Angel, Smallville,Torchwood, Caprica and much more!
PETER MAYHEW – CHEWBACCA of Star Wars!
KEVIN SORBO – Star of Hercules, Andromeda and much more!
RIC FLAIR – ( Sat & Sun) Legendary Wrestling Super Star!
DINA MEYER – Starship Troopers, SAW, Birds of Prey and more!
CASPER VAN DIEN – Starship Troopers, Tarzan, Sleepy Hollow and more!
MICK FOLEY– (Friday & Sat) Wrestling Superstar!
THE WARRIORS Reunion – featuring Michael Beck, Dorsey Wright, Thomas G Waites, Terry Michos, David Harris and Special Guest Deborah Van Valkenburgh !
LEE MERIWETHER – Batman's Catwoman, Barnaby Jones and more!
CORBIN BERNSON – starred in L.A. Law, The Dentist, Psych, Major League, Major League II, and Major League: Back to the Minors, General Hospital, Cuts and much more!
ERIC BISCHOFF – WWE, WCW and more!
MICKIE JAMES – professional wrestler, actress, model and country singer!
BILLY ZABKA – Karate Kid!
BUTCH PATRICK – Eddie Munster and much more!
SARA JEAN UNDERWOOD – Actress, Model & fan favorite! ATTACK OF THE SHOW!,  EPIC MOVIE & MTV'S Ridiculousness plus much more!
KAYLA COLLINS – Actress, Model, Disc Jockey & Music Producer, Designer, and Entrepreneur!
PETE BEST – original drummer for The Beatles!
JOEY MOLLAND – of BADFINGER rock n' roll fame!
HARLEY RACE – (Sat & Sun) Legendary wrestler!
CYNTHIA ROTHROCK – (Sat & Sun) Queen of Martial Arts films!
MARK DODSON – voice actor of Star Wars Force Awakens, gremlins and more!
KADROLSHA ONA – Queen of the Paranormal!
MARK LINDSAY – formerly of Paul Revere and the Raiders!
SUSAN COWSILL – of The Cowsills
BILL DIAMOND – Puppeteer of Monster TV Network, Great Space Coaster, Dark Crystal, Fraggle Rock, Dr. Rock's Dinosaur Adventure (FOX) and Sesame Street!
COMIC ARTISTS include:
MIKE GRELL  – Comic artist for Legion of Super Heroes, Green Lantern/Green Arrow, The Warlord, and Jon Sable Freelance and much more!
GRAHAM NOLAN  – Inkpot Award winning cartoonist best known for BATMAN in Detective Comics and as the de-signer of BANE!
JOE JUSKO – painted almost every major Marvel character over the last three decades!
ALEX SUVIAK – Marvel and DC Comics Artist – including Spider-man, Green Lantern, Superman and more!
BOB BUDIANSKY  – comic book writer, editor, and penciller, best known for his work on Marvel's Transformers comic and much more!
MARK TEXEIRA – huge resume of comic art!
JACK PURCELL – Artist JSA, Guardians of the Galaxy, Batgirl plus much more!
JOE ST PIERRE – Comic artist for an amazing array of Super Heroes including Spider-man, Fantastic Four and more!
BILL ANDERSON – Artist for hundreds of comics for Marvel, DC, Image, Comico, First and many more!
JOHN HEBERT– X-Men Adventures, Punisher, Deathlok and current Captain Action artist!
MARK MCKENNA – Artist for Marvel and DC comics – The X Men, Spider Man, Batman, The Justice League and more!
The stars will be signing autographs and doing Q & A sessions with fans throughout the day. Professional photos with most celebrities will be available on site!
X-Men and other Marvel and DC writers and artists will give panel discussions and mingle with celebrities and costumed fans!
The Super Megafest presents the best exhibitors on the East Coast with one of the largest selections of comics, toys, videos, non-sports cards and memorabilia from Comics, TV, Movies, and Rock & Roll that you will ever find!
Other attractions include an amazing Costume Contest (including a children's category), stunning Movie Cars, mischievous Pirates and much more!  After hours, enjoy a multitude of shadowcast movie performances and parties, including the COME TOGETHER MUSIC FEST and CosCLUB DANCE PARTY, ensuring the event has something for all ages.
For more info log onto WWW.SUPERMEGAFEST.COM
Press Release:
It is the return of the Philadelphia Comic-Con on Sunday March 20th. This comic book convention is held at the Clarion Hotel and Conference Center located at 76 Industrial Highway (Route 291) in Essington, PA 19029. The hotel is conveniently located between exit 8 and 9A off of I-95. It is also close to I-76, I-476 and most bridges from New Jersey. Show hours are 10 AM to 4 PM. Admission is only $3 per person. Students of any age (including college) are admitted free with a current id. Parking is also free on premises. For those of you that do not drive Septa Bus Route 37 stops directly in front of the hotel.
It is quite a site to behold with 60+ tables at the show in the 4,500 square foot ballroom of the hotel. Dealers from 5 states setup there selling, buying and even trading with collectors. Thousands and thousands of comic books from the 1940's to present day will be for sale at the show. Also available will be collecting supplies, graphic novels, action figures, statues, non-sportcards, gaming cards, dvd's and original artwork. The show has become a fan favorite for years with people travelling up to 3 hours one way just to shop at the show.
Special guest artists this show are Paris Cullins (creator of DC's Blue Devil), Ron Wilson who had worked on over 20 different Marvel Comics titles in the 1970's and Bob Petrecca who has drawn Batman and a whole host of other characters for DC Comics.
Any questions about the convention can be sent to derekwoywood@gmail.com or we can be reached by phone at 856-217-5737. Fans can also check us out on the web at www.philadelphiacomic-con.com. Or on facebook.com/PhiladelphiaComicCon.
Press Release:
NYC's Big Apple Con Returns, Celebrating Over 20 Super Years!
Comic Books, Celebs, Cosplay & More!
Saturday, March 5th 10am~6pm Penn Plaza Pavilion, NYC
MIKE CARBONARO's BIG APPLE CON, New York City's longest-running Pop Culture convention, returns to PENN PLAZA PAVILION (401 7th Ave @ 33rd Street -opposite Madison Square Garden) on SATURDAY, MARCH 5, 2016 from 10am to 6pm. This amazing explosion of Comic Books, Sci-Fi, Fantasy, Horror, & Cosplay will bring together top comic book creators, media celebrities, dealers, panel discussions, a costume contest & more in one incredible day! There will be hundreds of tables of comics, toys, posters, videos, original art, t-shirts & other collectibles, with everything from the world's rarest comics as well as the newest and coolest books for sale! Advance tickets are now available at www.nycbm.com
BIG APPLE CON proudly hosts a full "Artists Alley" of comic book and trading card creators, illustrators & writers, including: Neal Adams (Batman, Green Lantern/Green Arrow), Jim Steranko (Captain America, Nick Fury: Agent of SHIELD), Ramona Fradon (Super Friends, Aquaman), Mark Texeira (Ghost Rider, Wolverine), Rich Buckler (Deathlok, Fantastic Four), Erik Larsen (Savage Dragon, Spider-Man), David Lloyd (V For Vendetta, Aces Weekly), Tom Palmer (Star Wars, Avengers),Reilly Brown (Deadpool, Daredevil), Joseph Michael Linsner (Cry For Dawn, Vampirella), Sean Chen (Iron Man, Valiant Comics), Mike Lilly (Punisher, Nightwing), John Cebollero (Batman, Captain America), and Brian Kong (Cryptozoic Entertainment, Leaf Trading Cards).
The headlining media celebrity guests include: Lori Petty (Orange is the New Black, Tank Girl), Jason David Frank (Mighty Morphin Power Rangers, Sweet Valley High), Kathy Garver (Family Affair, Spider-Man and His Amazing Friends), Laurence Mason (The Crow, Gotham), Karyn Parsons (Static Shock, The Fresh Prince of Bel-Air), Johnny Brennan (Jerky Boys, Family Guy), Debbie Rochon (Tromeo & Juliet, Santa Claws), and (from 3pm on) Pro Wrestlers The Nasty Boys, Scott Steiner, & Ryan Shamrock of the WWE and WCW.
BIG APPLE CON always provides a jam-packed programming schedule, and this year is no exception! Our over 7 hours of scholarly and fun discussions cover everything from Star Wars, Batman, the Black Panther, Charlton Comics, and Power Rangers, with a special presentation of animated shorts and the return of the NY Jedi!
Captain Zorikh's Costume Contest will once again bring the most amazing costumers and Cosplayers together for a fast-paced, exciting show of creative excellence! Come as any character in comics, sci-fi, fantasy, horror, cartoons, anime/manga, video games, or make up your own! You can also participate in special themed group Cosplay photoshoots! Valuable prizes to be awarded by audience applause!
DATE: Saturday, March 5th ~ 10am -6pm PLACE: Penn Plaza Pavilion ~ 401 7th Ave. @ 33rd St. NYC
TICKETS: $20 (adult) $10 (children 5-12, 4 and under free!) VIP Package/Early Admission: $50
TICKET PURCHASE & INFORMATION: www.nycbm.com
FACEBOOK: https://www.facebook.com/bigappleconvention
TWITTER: https://twitter.com/ConBigApple
Press Release:
Wizard World, ComicsPRO Partner in Portland
As fortune would have it, the 10th annual ComicsPRO Annual Meeting and Wizard World are taking up residence in Portland at the same time… ComicsPRO at the Hilton Portland Thursday through Friday and Wizard World at the Oregon Convention Center Friday through Sunday.
The two organizations share a deep love of comics and the comic book industry, and are pleased to be partnering on initiatives to benefit each other.
Wizard World has offered all registrants at ComicsPRO, the trade association for comic book retailers, a complimentary entry in to Wizard World Portland this weekend, a chance for the professional retail organization's members to meet up with creators, exhibitors and fans. Wizard World is excited to learn about the programs and advocacy that ComicsPRO continues to provide to the industry.
ComicsPRO attendees need just show their meeting credentials at the Wizard World Exhibitor Registration area to receive admission.
I was recently given the opportunity to review the movie Bridge of Spies, and, having missed it when it was in theaters, jumped at the chance.
Set during the Cold War, Bridge of Spies features Tom Hanks as lawyer James Donovan, who finds himself representing a Russian spy. Although Donovan is only supposed to go through the motions and provide a token defense of his client, he takes his role seriously and does everything he can to win the case and see that the legal proceeding are handled properly. Later in the film, he finds himself thrust by the CIA into negotiating the trade of his client for famed pilot Gary Powers, whom is being held by the Russians. Things are further complicated by the arrest of an American grad student by the East German government, in the midst of the building of the Berlin Wall. As Donovan does not work for the U.S. government, he risks his own health and safety in negotiating with the foreign powers.
I don't know when was the last time I actually saw a Tom Hanks movie, but he is fine form here. Hanks is the central character in this movie and carries the weight of it. Except for two other minor subplots going on, Hanks is in every scene. All of the acting in the movie is top notch, and it was nice to see Alan Alda in a nice, albeit small, role.
I loved this movie, really. It looked great, the acting was great, and Steven Spielberg did a tremendous job of directing it. I must admit I was still expecting a third act twist to happen, but as this was based on true events, things unfolded the way they were supposed to.
The movie racked up six 2016 Academy Award® nominations, including Best Picture, Actor in A Supporting Role (Mark Rylance), Original Score, Production Design, Sound Mixing and Original Screenplay.
Here are a couple of behind-the-scenes looks:
Parental Guidance: There is small bit of violence as Powers is tormented by his captors. There is also a bit of profanity, including Hanks and another character dropping F-bombs. I would follow the PG-13 guideline.
Press Release:
March 26th-27th 2016
http://www.ultraconofsouthflorida.com
GEEK FEST FLORIDA 2016 BRINGS COMIC-CON to F.A.U. BOCA for EASTER WEEKEND*
Boca Raton, FL. – The most inexpensive comic-con event in South Florida will take place Saturday and Sunday March 26th & 27th, 2016 at the F.A.U. Student Union Building in Boca, and will feature free photo ops with special cosplay guests Superman, Batman, Wonder Woman, and cosplay characters like Rey and Darth Vader from Star Wars.
Saturday Night After Party Rave (free with admission) that includes entertainment for mature audience members such as Live Dj, Nerd Burlesque, Star Trek Belly Dancers, and Adult Costume Contest.
GEEK FEST FLORIDA 2016 at FAU Student Union Bldg 777 Glades Rd. Boca Raton, FL. 33431
This all-ages event presented by UltraCon of South Florida
Geek Fest Florida presents hundreds of tables of Anime Toys, Artist alley, Golden Age & Silver Age comics, Toys, Hot Wheels, Vintage toys like Star Wars, Marvel action figures & games, Table top gaming tournaments, card tournaments, apparel, gifts, art & much more for the entire family to enjoy..memorabilia, and collectibles. Media Guests and Famous Movie Artists such as Original Vader Sculptor Brian Muir and G.I. Joe's Larry Hama.
The Easter Bunny will also appear for free photos, and a large Cash & Candy Sunday Easter Egg Hunt for Kids. Admission includes all access to workshops, panels, demonstrations, and costume contests with over $1,000.00 in cash and prizes.
Kids 10+ Under are free, Parking is free, All FAU students are admitted free with valid ID free.
Public admission is only $13 online in advance, or $16 at the box office.
Discount All Weekend
Package available online, and group discounts are available if you call before March 20th, 2016.
Easter Bunny Big Money Egg Hunt: Kids will be treated to free photo ops with the Easter Bunny, as well as a free Easter Egg Hunt that includes a candy exchange, cash prizes, and dozens of free Batman vs Superman movie tickets hidden in thousands of eggs.
– Free photo ops with Superman, Batman, Wonder Woman, and Rey from Star
– Kids & Adults Costume Contests with over $1,000 in Cash & Prizes
– Saturday Night After Party Rave (free with admission) that includes entertainment for mature audience members such as Live Dj, Nerd Burlesque, Star Trek Belly Dancers, and Adult Costume Contest.
ANNOUNCING: Street Fighter V Tournament !!! at GEEK FEST FLORIDA
Hosted by Level 3 X Factor
Entry fee is $10 and the prize split is:
1st = 60% of the pot + Geek Fest T-Shirt
2nd = 30% of the pot
3rd = 10% of the pot
The more people that enter the more there will be to win!
VENDORS & EXHIBITORS WANTED
Free Electricity – No Percentage Fees – No Hidden Fe
Cancel your plans, Clear you schedule, JOIN US FOR GEEK FEST Florida Sat & Sun March 26-27, 2016
Here's the info page for vendors if you would like to join us smile emoticon
http://ultraconofsouthflorida.com/vendors-exibitors/
visit anyone of the two websites & join our journey to Geek Fest Florida 2016
Visit www.ultraconofsouthflorida.com & www.GeekFestFlorida.com
Wait we have more to offer
Geek Fest Florida VIP Deal
$40 OFF when you buy the Weekend Pass !! – 2 Full Days Admission, FREE Geek Fest T-Shirt, and After Party Rave Ticket !! $65 VALUE for ONLY $25
http://goo.gl/1Zw9T3
OFFER ENDS Midnight Feb 29, 2016 – ORDER NOW !! *Geek Fest T-Shirts in assorted sizes – first come, first served.
Press Release:
LONG BEACH COMIC EXPO ANNOUNCES SPECIAL GUESTS, SPONSORSHIPS AND PROGRAMMING HIGHLIGHTS FOR FEBRUARY 20 & 21
February 15, Long Beach, CA – In advance of Long Beach Comic Expo, Mad Event Entertainment unveils an all star guest line up, along with sponsors, innovative programs and new partners, in preparation for the 7th annual Long Beach Comic Expo this coming weekend. The Expo will play host to more than 120 guests and 80 panels and will take over two exhibit halls of the Long Beach Convention Center.
Special Guests
Long Beach Comic Expo recognizes the following special guests for their unparalleled excellence in the realm of both comic books and animation. As comic book culture remains at the core of Long Beach Comic Expo, we are proud to announce the following special guests appearing at this year's show:
• Fabian Nicieza, co-creator of Marvel's DEADPOOL, which premiered in theaters on February 12, 2016;
• Chris Claremont, writer of THE UNCANNY X-MEN, of the most beloved and influential comics series in the history of the medium;
• Jimmy Palmiotti and Amanda Conner, bestselling co-writers of DC entertainment's HARLEY QUINN and co-creators of SUPER ZERO from Aftershock Comics;
• Rachel and Terry Dodson, comic book artists on STAR WARS: PRINCESS LEIA, TEEN TITANS, and HARLEY QUINN;
• Jae Lee, Eisner award-winning artist of Marvel's INHUMANS, FANTASTIC FOUR; 1234, and DC's BEFORE WATCHMEN, BATMAN/SUPERMAN
• Greg Weisman, acclaimed animation writer and producer of STAR WARS: REBELS; YOUNG JUSTICE, and more. Author of the fan favorite RAIN OF GHOSTS YA novels;
Click here for a complete list of guests.
Show Sponsors
• Long Beach Comic Expo is proud to welcome Academy of Art as its newest Premier Sponsor. Academy of Art University is the largest private art and design school in the United States; offering classes online and at their expansive San Francisco campus. Join them at their booth to discuss education, applying, and careers in illustration, animation, game design, costume design and much more. Several Academy of Art artists will be in attendance, presenting demos and instructing in live drawing sessions.
• Additional sponsors include: Bernina, Comicraft, Lyft, SGX Pring, Sun Newspapers, and Triple 9.
Program Highlights
As in past years, attendees will be treated to a wide array of programming (Click to download a PDF of the programming schedule). Highlights include:
* The return of Space Expo, featuring two days of workshops and panels presented by the Columbia Memorial Space Center.
* Publisher panels featuring writers and artists from DC, Marvel, Dark Horse, and Image.
* #MakeComics workshops where aspiring writers and artists and fans can learn the entire process of making comics from comic book greats all weekend long. Topics include How to Build a Portfolio, Breaking Into Comics, Writing and Marketing.
* The second annual Dwayne McDuffie Award for Diversity event with renowned reporter (THE HOLLYWOOD REPORTER) and acclaimed comic book writer (GENIUS) Marc Bernardin who will be the event's keynote speaker.
* Amazing animation panels: DISNEY AFTERNOON, GARGOYLES,- and YOUNG JUSTICE, featuring major voice actors.
* GeekFest Film Fest films at Long Beach Comic Expo, the only Los Angeles area venue to host the full slate of programming for the world's 1st traveling film fest of "geek" films.
* Kids programming including How To Draw Comics for Kids.
* A Saturday night Cosplay Contest and Cosplay panels.
Long Beach Comic Expo has two additional discounts to offer attendees this year. Attendees who present their badge at the popular Aquarium of the Pacific will gain admission to the aquarium for only $9.00, discounted from the normal rate of $29.95! This discount is good, both the weekend of the show, as well as the following weekend. LYFT will be the official car service of this year's show, offering discounted rides to attendees. Details can be found on site at the show.
Enjoy an exciting weekend full of exceptional guests, exhibitors, and engaging panels, at Long Beach Comic Expo, Saturday, February 20 from 10:00 am – 7:00 pm and Sunday, February 21 from 10:00 am – 5:00 PM at the Long Beach Convention Center. Tickets are available now at www.longbeachcomicexpo.com.
Follow Long Beach Comic Expo on Facebook and Twitter for the latest news and information.
###
ABOUT LONG BEACH EXPO: Long Beach Comic Expo is an annual event held at the Long Beach Convention Center that celebrates comic books and pop culture and showcases the exceptional works of talented writers, artists, illustrators and creators of all types of pop culture. At Long Beach Comic Expo, you'll find exhibitors promoting and selling all types of related products, as well as entertaining and educational programs for all ages, guest signings and meet & greet sessions with celebrities. Long Beach Comic Expo is a MAD Event Management, LLC production. To learn more and purchase tickets, please visit www.longbeachcomicexpo.com.
The Long Beach Comic Expo has shared with us their kids programming slate for their upcoming convention. The full programming announcement is expected later today.
Beth Sotelo's GRUMP
Who is that weird kid lurking out the window of his dilapidated house? It's Grump! Join Beth Sotelo as she talks about the inspiration behind her wonderful creation, and shows you step by step how to draw Grump as well as other figures from your imagination!
Creating Your Own Super-Hero
Have you always wanted to create your own Super-Hero, but didn't know how? Now you can learn! In this interactive session for kids, Ray-Anthony Height teaches how to create the Hero of your dreams.
Draw Off with Trav & Friends
Come join Travis Hanson, Eisner nominated fantasy illustrator, in an epic draw off for the ages! Test your imagination and artistic skills with special surprise guests Stephan Franck (iron giant, smurfs, silver), Ray a.height (midnight tiger), Ben Risbeck (fantasy and game illustrator), Joel Gomez (Wildstorm, gears of war) and more!
How to Draw Comics For Kids
Create your own comic book page with Felipe Smith and Juan Gedeon, two professional comic artists who will teach you the basics of how to draw and actual comic book page. See how the Pro's do it, and then do it yourself!
How Your Kids Can Enjoy Cosplaying
Panelists: Minibobafett, Chihiro & Cheiko, ESJ Cosplay, Ainsley Parks
Educating on how to have the best experience with your kids in cosplay. Helpful hints and tips with some do's, dont's and bewares.
Kids Create Characters
Kids of all ages, come to this fun and informative session with artist and instructor Patrick Scullin. Learn how to draw and create your own characters and tell stories with pictures. Patrick is the creator of Super Siblings, the all ages comic series and Pandamonium, the Pirate Panda Adventure book.
My Little Pony
Join My Little Pony writer Christina Rice and My Little Pony artist Tony Fleecs as they guide you through their fun world and teach you how to create your own My Little Pony comic book story!
Sparking Creativity with The Art of the Squiggle
Join Mike Kunkel as he teaches kids how to spark their creativity by starting out with a simple squiggle. Adults might find this technique super helpful as well!