Press Release:
The Valiant 25th Anniversary Convention Tour Adds New Dates for Summer and Beyond – Beginning at StocktonCon 2015!
After smash-hit appearances at more than a dozen conventions across North America, Valiant's silver anniversary celebration is about to get even bigger with an all-new wave of dates coming soon to a city near you!
Valiant is proud to announce an all-new series of dates for the Valiant 25th Anniversary Convention Tour – extending Valiant's year-long celebration of 25 years of the largest independent universe in comics with new appearances in cities across the country! Kicking off at StocktonCon 2015 in Stockton, CA on August 8th, the next leg of Valiant's comic book roadshow will be coming soon to fans at Alamo City Comic Con 2015 in San Antonio, TX, Rose City Comic Con 2015 in Portland,OR, Baltimore Comic Con 2015 in Baltimore, MD, and New York Comic Con 2015 in New York,NY…with many more major appearances anywhere and everywhere in between!
With exclusive convention-only swag and giveaways, creator signings, panels and programming, and more, get the inside track on what's next for Valiant's award-winning superhero universe at a convention near you! From DIVINITY to BOOK OF DEATH and BLOODSHOT REBORN to WRATH OF THE ETERNAL WARRIOR, Valiant is bringing its biggest, best and brightest to fans across the country, beginning this August:
Saturday, August 8th – Sunday, August 9th:
StocktonCon
Stockton Arena
Stockton, CA
Friday, September 11th – Sunday, September 13th:
Alamo City Comic Con
Henry B. Gonzalez Convention Center
San Antonio, TX
Saturday, September 19th – Sunday, September 20th:
Rose City Comic Con
Oregon Convention Center
Portland, OR
Friday, September 25th – Sunday, September 27th:
Baltimore Comic-Con
Baltimore Convention Center
Baltimore, MD
Saturday, October 3rd – Sunday, October 4th:
Alternative Press Expo
San Jose Convention Center
San Jose, CA
Thursday, October 8th – Sunday, October 11th:
New York Comic Con
Javits Convention Center
New York, NY
Saturday, October 17th – Sunday, October 18th:
Buffalo Comicon
The Buffalo Niagara Convention Center
Buffalo, NY
Saturday, October 24th
Pittsburgh Comic & Collectibles Show
New Dimension Comics
Pittsburgh, PA
Friday, November 13th – Sunday, November 15th:
NC Comicon
Durham Convention Center
Durham, NC
Saturday, November 21st – Sunday, November 22nd:
New Jersey Comic Expo
New Jersey Convention and Exposition Center
New Jersey, NJ
The second leg of the Valiant 25th Anniversary Convention Tour officially kicks off next week at StocktonCon 2015 in Stockton, CA – and we're bringing a boatload of giveaways and merchandise to kick things off! From Saturday, August 8th through Sunday, August 9th, join Valiant at Booth #45/46 inside the Stockton Arena and find out why Valiant is the best reviewed publisher in comics today with a complete collection of volume one trade paperbacks – each intro-priced at just $9.99!
Check out Valiant's acclaimed ongoing and limited series with trade paperback collections from the most nominated publisher of the 2015 Harvey Awards with nominated titles including THE VALIANTand THE DEATH-DEFYING DOCTOR MIRAGE. Plus, jump on board Valiant's latest sold-out series with BOOK OF DEATH, DIVINITY, BLOODSHOT REBORN, and more – available at the Valiant booth all weekend long.
The Valiant 25th Anniversary Convention Tour rides again this August at StocktonCon 2015! Visit ValiantUniverse.com for more details and dates as Valiant's silver anniversary celebration continues!
For more information, visit Valiant on Facebook, Twitter, Tumblr, and at ValiantUniverse.com.
For Valiant merchandise and more, visit ValiantStore.com.
Press Release:
New Dimension Comics owner Todd McDevitt is pleased to announce the first annual 3 Rivers Comicon, coming to Pittsburgh on May 21st & 22nd, 2016 featuring comic book vendors, artists, gaming, and attractions.
"Every major city has a comicon and I want to bring that excitement to Pittsburgh", says McDevitt.  "In my 29 years in the comic business, I've been fortunate enough to work with almost all of the regional talent at one time or another. I can't wait to bring them all together for one spectacular occasion."
McDevitt wants to offer special thanks to artist DJ Coffman (https://www.facebook.com/djcoffmanart/photos_stream)  for the spectacular design of the conventions logo.  "I knew DJ would do a great job when tasked with this important element of our new undertaking and his design blew me away."
The event will be held at the Century 3 Mall. "We will host this convention in a great space that is larger than most event venues in the city", says McDevitt.
Details will take shape in the coming months on featured guests, vending, programing, tickets and special events.  "All the pieces are coming together quickly, but I wanted to get the plan announced as soon as possible a sort of "save the date" notice.", says McDevitt.  "No one will want to miss this!"
Curious fans are encouraged to sign up for details at www.3riverscomicon.com; and follow us on Facebook at 3 Rivers Comicon, Twitter @3riverscomicon, and Instagram at 3riverscomicon.
Support from the veterans of the comic book convention community include these endorsements:
"I have fond memories of comic conventions in Pittsburgh.  It's been quite a while since I've been excited to attend one there.  I know Todd is a comic book guy and that he plans to host a COMIC BOOK centered show.  I applaud the plan and will aid and support him in every way I can.  Look for HEROES in Pittsburgh soon!"
–Shelton Drum, Heroes Aren't Hard To Find, Heroes Convention, Charlotte, NC
"Pittsburgh has a great history for comic collectors and deserves a large convention. Todd has been a good friend for decades and I'm sure he will be a great promoter for a convention just as he has been for his retail stores. I'll be there for sure with all my best efforts to help it succeed."   -Marc Nathan, Promoter of Baltimore Comicon
"With five successful comic shops in the Pittsburgh area and several one day comic shows Todd McDevitt is poised to fill the void left by the demise of the Pittsburgh Comic Convention."  -Bill Thade, Promoter if the Gem City Comicon
More on Comicons : Comicons are comic book conventions held annually around the world. These conventions feature comic vendors as well as top comic book artists. Fans in attendance can purchase comics and merchandise as well as getting their own items signed by their favorite artists.
More on New Dimension Comics : Starting his business in 1986 as a high school student, Todd McDevitt now owns and operates 5 comic book stores in the Pittsburgh region with locations in Ellwood City, Butler in Clearview Mall, Century 3 Mall in West Mifflin, and Pittsburgh Mills Mall in Tarentum.
CONtv Launches Original Series 'Comic Book America with Mike Carbonaro'
Mini-Series Features Pop Culture Expert As He Seeks Out Collectibles Across The Globe; Four Episodes Now Available On Digital Entertainment Network

LOS ANGELES, July 23, 2015 – Pop Culture and Comics guru and Wizard World, Inc. (OTCBB: WIZD) favorite Mike Carbonaro travels near and far in search of the best books, toys and memorabilia in CONtv's newest original series, Comic Book America with Mike Carbonaro.
The mini-series debuted this week on CONtv (http://www.contv.com), where fans can catch up with Mike "Carbo" Carbonaro as he locates comic books, vintage playsets, classic artwork, and sports memorabilia in the first four episodes. CONtv director of programming, Nash Herrington, produces the series.
The show features the enthusiastic Carbonaro as he highlights some of the more unique and interesting collections he's come across, such as one man's Doctor Strange collection, classic Joe Palooka, Flintstone playsets, and others. Also, fans can play along at home while they watch by using social media to tell what they would pay for the items that Carbonaro buys in the show.
The highlight of the show is the host himself. An enterprising and successful entrepreneur, Carbonaro began buying and selling comics at age 10. At age 13, Carbonaro set up at his very first comic convention. Later, from 1981 to 1997, he ran his own very successful comic book store, Continental Comics, in Queens, N.Y. In 1996, Carbonaro began the very first Big Apple Convention at St. Paul the Apostle church on 58th St. and Columbus in Manhattan; 12 years later it was the most successful privately owned comic convention in New York City. "Carbo" is currently working as a buyer for Dave & Adam's Cardworld (also seen at many Wizard World shows) and doing what he loves—buying comic and pop culture collections from around the world.
"'Carbo' is a fixture at Wizard World shows and one of the most knowledgeable, entertaining figures in the collectibles world," said John Macaluso, Wizard World CEO. "His enthusiasm, well known to thousands who have attended our events, comes through loud and clear in this fun, informative series that Wizard World fans will love."
Catering to the enormous and avid Comic Con audience, CONtv currently boasts 2,500 hours of original programming, curated films and TV episodes, and exclusive Comic Con panel coverage from dozens of annual nationwide conventions, with new panel programming added weekly as additional conventions take place.  Spanning star studded panels with pop culture heroes such as William Shatner ("Star Trek"), Lou Ferrigno ("The Incredible Hulk"), Michael Rooker (Guardians of the Galaxy) and Bruce Campbell (The Evil Dead, the forthcoming series "Ash vs Evil Dead"), to the best in cosplay, creator workshops, Con after hours events, and more, CONtv is the only service to offer Comic Con event coverage alongside premium feature film, television, and original programming.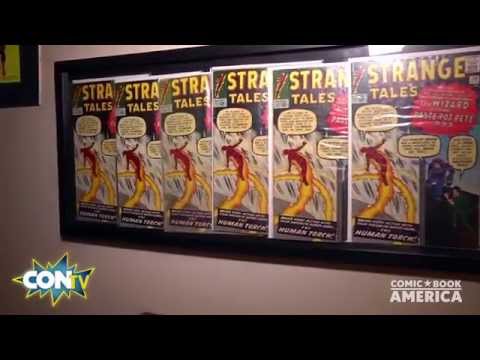 About Wizard World (OTCBB: WIZD)
Wizard World, Inc. (http://www.wizardworld.com) produces Comic Cons and pop culture conventions across North America that celebrate the best in pop-fi, pop culture, movies, television, cosplay, comics, graphic novels, toys, video gaming, sci-fi, gaming, original art, collectibles, contests and more. A first-class lineup of topical programming takes place at each event, with celebrity Q&A's, comics-themed sessions, costume contests, movie screenings, evening parties and more. Wizard World has also launched CONtv, a digital media channel in partnership with leading independent content distributor Cinedigm™ (NASDAQ: CIDM), and ComicConBox™, a premium subscription-based monthly box service. Fans can interact with Wizard World on Facebook, Twitter, Pinterest, Instagram and other social media services.
The 2015 Wizard World Comic Con schedule is available at: www.wizardworld.com/wizcon.html.
About CONtv
CONtv is a new digital entertainment network devoted exclusively to the fanspace that provides audiences access to thousands of hours of content showcasing an original slate of programming, as well as an eclectic catalog of over 1,200 must-watch titles. Everything from quirky original series, elusive cult films & television shows, celebrated genre movies encompassing sci-fi, horror, fantasy, anime, grindhouse, martial arts action, to exclusive live coverage of Comic Con events nationwide, all available on-demand either in a free, ad-supported format or a subscription-based model for premium content. CONtv is a partnership of Cinedigm, one of the nation's largest independent distributor of digital entertainment, and Wizard World, producers of the largest Comic Con Tour in the U.S. Together, they provide an unrivalled hub of content, community and conventions across the broad spectrum of devices including Android and Mac iOS, Samsung Smart TV, Roku Players and Roku TV, the web, and mobile and tablet devices. For more information, visit CONtv.com.
About Cinedigm (NASDAQ: CIDM)
Cinedigm is a leading independent content distributor in the United States, with direct relationships with thousands of physical retail storefronts and digital platforms, including Wal-Mart, Target, iTunes, Netflix, and Amazon, as well as the national Video on Demand platform on cable television. The company's library of films and TV episodes encompasses award-winning documentaries from Docurama Films®, next-gen Indies from Flatiron Film Company®, acclaimed independent films and festival picks through partnerships with the Sundance Institute and Tribeca Films and a wide range of content from brand name suppliers, including National Geographic, Discovery, Scholastic, NFL, Shout Factory, Hallmark, Jim Henson and more.
Press Release:
Hero Initiative Announces Baltimore Comic-Con 2015 Line-Up
BALTIMORE, MARYLAND – June 23, 2015 – The Hero Initiative, the charity that supports comic creators in medical and financial need, will hit the Baltimore Comic-Con September 25-27, 2015 at the Baltimore Convention Center, with fan favorite creators — VIP and General Admission tickets are now on sale! Come ready with your books, as the Hero Initiative booth will be a popular stop on the Baltimore Convention Center floor (please check the Hero Initiative website closer to the date for booth number and scheduled times). This year, Hero Initiative is pleased to bring to Baltimore classic creators Bob Budiansky, Mike Grell, and Marv Wolfman.
Bob Budiansky spent years working for Marvel Comics as a writer, penciller, and editor. He is the writer responsible for the entire run of Marvel's Sleepwalker in the 1990s. He is also renowned for his contributions to theTransformers comics, where he created much of the original comics content, created some of the more popular characters in their continuity, and provided the "tech specs" that were packaged along with the Hasbro toys in the '80s. As an artist, Budiansky's pencils graced the pages and covers of titles like Ghost Rider, Captain America, and Prince Namor, the Sub-Mariner. Budiansky spent 13 years working as an editor at Marvel Comics on titles like Captain America, Daredevil, Fantastic Four, and The Thing, plus Spider-Man titles including those during the famed Clone Saga story line.
Mike Grell began his storied career in comics working in comic strips, as an assistant on Brenda Starr. After moving to New York City in the 1970s, Grell took over art duties on DC Comics' Superboy and the Legion of Super-Heroes. He later flexed his skills as a writer, creating The Warlord at DC. He launched Batman Family and worked on Green Lantern/Green Arrow as well. In the early 1980s, Grell returned to his comic strip roots, taking over writing and drawing roles on the syndicated Tarzan. Later, he went on to develop his creator-owned properties, Jon Sable Freelance at First Comics and Starslayer at Pacific Comics. In the late 1980s and into the 1990s, Grell took over writing and illustration duties on Green Arrow after his much-lauded take on the character in the Green Arrow: The Longbow Hunters limited series. As he entered the 2000s, he worked on Marvel Comics' Iron Man and X-Men Forever, and returned to The Warlord at DC Comics. Recently, Grell serialized a Tarzan story for Dark Horse Presents, and contributed to DC's Arrow, from the TV adaptation of the comic.
Marv Wolfman got his start on the fandom side of comics, writing for and editing fanzines in the 1960s. His professional career began at DC Comics, where he wrote a story for Blackhawk and would go on to contribute to titles like Teen Titans, Showcase, and Weird Mystery Tales. Moving to Marvel Comics, he eventually ascended to the role of Editor-in-Chief, before stepping aside so he could concentrate on his writing. There, he had an extensive run on Tomb of Dracula, where he created Blade, the character that proved the viability of Marvel properties on the big screen. He was also the mind behind such Marvel characters as Nova, Terrax, Bullseye, and Black Cat. He also wrote the syndicated Howard the Duck comic strip. He later returned to DC to relaunch the acclaimed New Teen Titans. and worked on titles including Action Comics, Dial H for Hero, Green Lantern, andNight Force before the game-changing Crisis on Infinite Earths limited series. In the 1990s, Wolfman was an editor at and wrote for Disney Comics. In the 2000s, Wolfman returned to DC Comics, writing Nightwing, DC Special: Raven, and, more recently, Convergence: Adventures of Superman and Convergence: New Teen Titans.
"We love the Hero Initiative," said Marc Nathan, promoter of the Baltimore Comic-Con. "Besides bringing spectacular, high-profile guests to Baltimore, they do amazing things for the comics creative community, and we can't emphasize enough the positive impact they have in people's lives."
TICKETS
General Admission and VIP Package tickets for Weekend, Friday, Saturday, and Sunday, as well as the Harvey Awards, are now on sale! Visit www.baltimorecomiccon.com/tickets/ for more information and to purchase your advanced tickets now, and as always, kids 10 and under get into the show free with a paid adult General Admission!
In addition to on-site CGC grading, this year's confirmed guests for the show include: Neal Adams (All-New Captain America); Scott Ambruson (Azteca: Ciudad Paradiso); Jeremy Bastian (Cursed Pirate Girl); Marty Baumann (Pixar artist); John Beatty (Secret Wars); Gregory Benton (Little Nemo: Dream Another Dream); Christy Blanch (The Damnation of Charlie Wormwood); Mark Buckingham (Fables); Bob Budiansky (courtesy of Hero Initiative, Transformers); Talent Caldwell (Grimm Fairy Tales Presents White Queen: Age of Darkness); Chris Campana (Kantara); Richard Case (Doom Patrol); Christa Cassano (Ghetto Klown); Sean Chen (Secret Origins); Cliff Chiang (Wonder Woman); Frank Cho (Jungle Girl); Amy Chu (Strange Sports Stories); Steve Conley (Bloop); Amanda Conner (Harley Quinn); Katie Cook (Gronk); Darwyn Cooke (Richard Stark's Parker); Vito Delsante (Stray); Todd Dezago (Perhapanauts); Joe Eisma (Morning Glories); Ramona Fradon (Spongebob Annual-Size Super-Giant Swimtacular); Francesco Francavilla (Secret Wars: Battleworld); John Gallagher (Buzzboy); Jose Luis Garcia-Lopez (Batman '66: The Lost Episode); Keron Grant (Father's Day); Mike Grell (courtesy of Hero Initiative, Action Comics); Laura Guzzo (Princeless: Short Stories for Warrior Women); Cully Hamner (Convergence: The Question); Scott Hanna (The New 52: Futures End); Dean Haspiel (The Fox); Russ Heath (G.I. Combat); Eric Henson (The Perhapanauts: Danger Down Under); h-eri (Ivory Dragon Studios); Jaime Hernandez (Love and Rockets); Ken Hunt (Talon); Jamal Igle (Molly Danger); Geof Isherwood (Suicide Squad); Klaus Janson (Superman); Dave Johnson (Inhumans: Attilan Rising); JG Jones (Strange Fruit); Chris Kemple (Red Vengeance); Denis Kitchen (The Best of Comix Book: When Marvel Went Underground); Barry Kitson (Empire: Uprising); Greg LaRocque (The Avengers); Dan Leister (Grimm Fairy Tales); Mike Lilly (Grimm Fairy Tales Presents: Robyn Hood); Nate Lovett (Midnight Tiger); Kevin Maguire (Justice League); Mike Manley (Darkhawk); Mark Mariano (The Other Side of Hugless Hill); Laura Martin (Star Wars); Ron Marz (Convergence: Batman and Robin); Bob McLeod (Secret Wars); Pop Mhan (He-Man: The Eternity War); Terry Moore (Rachel Rising); Mark Morales (Convergence); Nen (The Memory Collectors); John Ostrander (Suicide Squad); Greg Pak (Storm); Tom Palmer (The Avengers); Jimmy Palmiotti (The Con Job); Dan Parent (Archie); Brent Peeples (Legenderry: Green Hornet); Andrew Pepoy (Afterlife with Archie); David Petersen (Mouse Guard); Brandon Peterson (Uncanny X-Men); Khoi Pham (X-Men Legacy); Andy Price (My Little Pony: Friendship is Magic); Ron Randall (Convergence: Catwoman); Tom Raney (Avengers Vs.); Sara Richard (Jem and the Holograms); Rafer Roberts (Little Nemo: Dream Another Dream); David Rodriguez (Skylanders); Budd Root (Cavewoman); Don Rosa (Donald Duck); Craig Rousseau (Batman Beyond); Andy Runton (Owly); Stan Sakai (Usagi Yojimbo); Matteo Scalera (Black Science); Jeff Shultz (Betty and Veronica); Bart Sears (Bloodshot); Louise Simonson (Convergence: Superman – The Man of Steel); Walter Simonson (Convergence: Superman – The Man of Steel); Matt Slay (The Sakai Project: Artists Celebrate Thirty Years of Usagi Yojimbo); Andy Smith (Earth 2); Matthew Dow Smith (X-Files Season 10); Scott Snyder (Batman Eternal); Charles Soule (Uncanny Inhumans); Mark Sparacio (Sgt. Rock); Jim Starlin (Thanos: The Infinity Relativity); Brian Stelfreeze (Day Men); Paul Storrie (Sheena, Queen of the Jungle); Joe St. Pierre (New Zodiax); Marcio Takara (Armor Wars); Eric Talbot (Teenage Mutant Ninja Turtles); Ben Templesmith (Gotham by Midnight); Mark Texeira (Ghost Racers); Frank Tieri (Suicide Squad); Peter Tomasi (Green Lantern Corps); John Totleben (Swamp Thing); Jeremy Treece (King: Mandrake the Magician); Tim Truman (Hawkman); Billy Tucci (Shi); James Tynion (Constantine: The Hellblazer); Rick Veitch (Saga of the Swamp Thing); Charles Vess (Little Nemo: Dream Another Dream); Mark Waid (Daredevil); John Watson (Red Sonja); Matt Wieringo ('Ringo Scholarship Fund); Marv Wolfman (courtesy of Hero Initiative, Convergence: New Teen Titans); Rich Woodall (Kyrra); Brian Woodward (Baltimore Comic-Con 2015 Yearbook); Kelly Yates (Doctor Who); Thom Zahler (My Little Pony: Friends Forever); and Mike Zeck (Secret Wars).
In the coming weeks, look for more announcements from the Baltimore Comic-Con. We are looking forward to highlighting our guests, the Harvey Awards, industry exclusives, and programming. The latest developments can always be found on our website, Twitter, and Facebook pages.
Contact Information
Please use the following e-mail addresses to contact the Baltimore Comic-Con:
press@baltimorecomiccon.com – for any general press inquiries or to be added to our PR distribution
promoter@baltimorecomiccon.com – for requesting exhibitor, publisher, and Artist Alley applications
registrar@baltimorecomiccon.com – for inquiries about submitted registrations
harveys@baltimorecomiccon.com– for the Harvey Awards ceremony and banquet
general@baltimorecomiccon.com– for general Baltimore Comic-Con inquiries
About The Baltimore Comic-Con
The Baltimore Comic-Con is celebrating its 15th year of bringing the comic book industry to the Baltimore and Washington D.C. area. For more information, please visit www.baltimorecomiccon.com.
About The Harvey Awards
The Harvey Awards are one of the comic book industry's oldest and most respected awards. With a history of over 20 years, the last 10 in conjunction with the Baltimore Comic-Con, the Harveys recognize outstanding achievements in over 20 categories. They are the only industry awards nominated and selected by the full body of comic book professionals. For more information, please visit www.harveyawards.org.
Press Release:
Garden State Comic Fest Announces Contests and Prizes
The Garden State Comic Fest will be giving away (as contest prizes) tickets to this fall's New York Comic Con! Promoter, Sal Zurzolo says, "In addition to traditional cash prizes we are giving away something much more VALUABLE and you can you get one of these much sought after items the old fashioned way, by earning it when you win one of four contests."
"We heard about how quickly the NYCC tickets sold and wanted to show some appreciation to our fans so in addition to winning them in a contest, we will be giving away as door prizes 2 NYCC Passes." added Dave O'Hare, the show's founder.
Dave said, "Those with a talent for drawing, can enter the Art Contest which will be judged by some of our very own guest artists."
"If you can't draw a stick figure, then our attendees can put their knowledge of super powered beings (and Batman) to good use by entering the Trivia Contest and prove that your intellect is superior to all challengers," said Sal.
"If you like costumes, then put on your best cape, cowl and body paint and enter the GSCF Garden State Cosplay Showdown costume contest," Dave said.
In addition, Dave said, "We are ecstatic to announce several panels including the first ever WDHA radio led Rocks and Comic panel, art historian Arlen Schumer's presentation on 'The Silver Age of Comic Book Art,' and many more."
The GSCF will crown a costume contest champion at the newly named Garden State Cosplay Showdown. A single admission starts at $13 (pre-show). Tickets are available on-line and at the door. For more information, including contests and panel schedules, contact the GSCF at http://www.gardenstatecomicfest.com or https://www.facebook.com/Gardenstatecomicfest.
Chuck Rozanski from Mile High Comics provided regular updates from the San Diego Comic-Con, and we have them gathered in one place for you.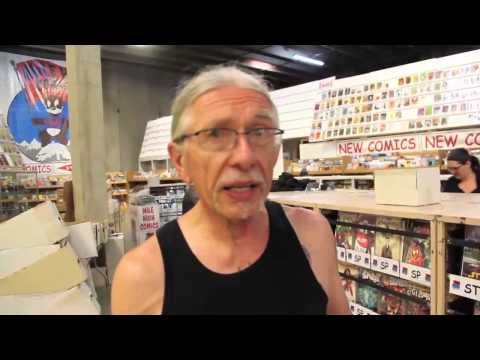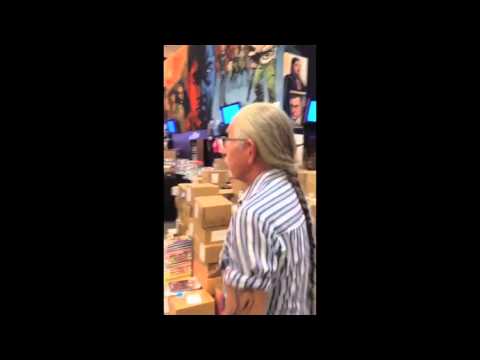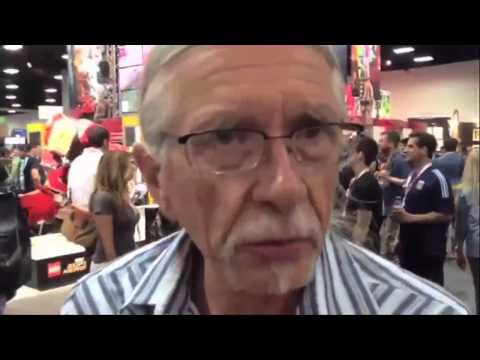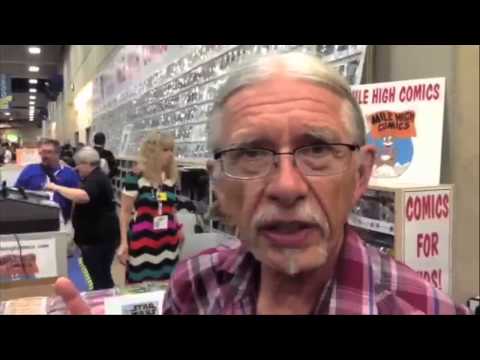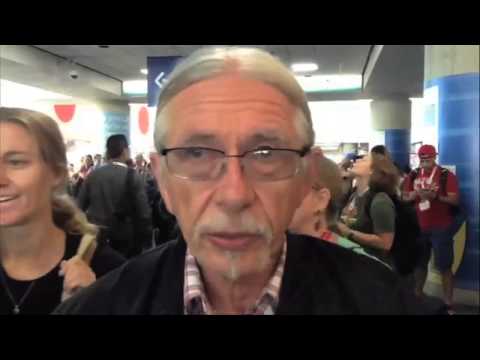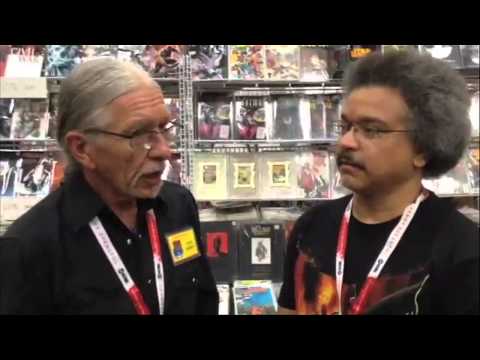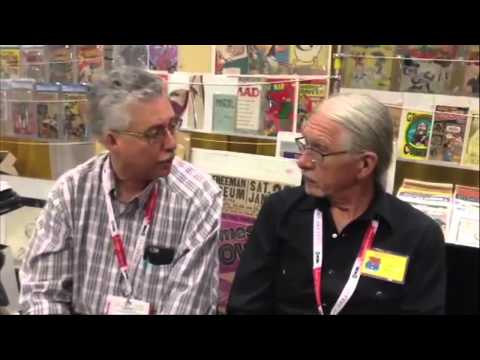 Next year's Deadpool film emerged as one of the highlights of this year's San Diego Comic Con. Here are the full panel, interviews including one with Rob Liefeld, and the leaked trailer (NOTE: The trailer is not work-friendly or kid-safe.)
Ryan Reynolds, Morena Baccarin, TJ Miller & Brianna Hildebrand's DEADPOOL Interview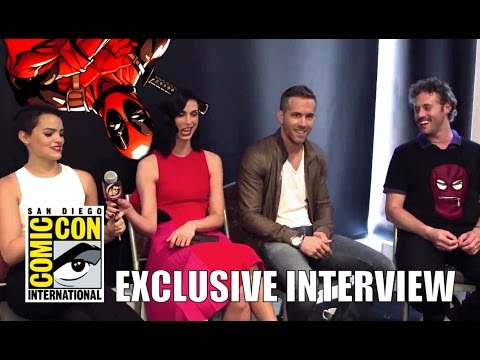 It wasn't until I got home, I realized my keys, wallet and kidney was missing. #Gambit. #deadpool pic.twitter.com/gFsYHBGcX5

— Ryan Reynolds (@VancityReynolds) July 12, 2015
"Now THAT's the way to end a panel." – @RealStanLee #HallH #SDCC pic.twitter.com/KGXwm3Soas

— 20th Century Fox (@20thcenturyfox) July 12, 2015
I love my team. @nottjmiller @ginacarano @missmorenab @VancityReynolds @briannahilde #Deadpool #SDCC2015 pic.twitter.com/OJs8RUeykW

— Ed Skrein (@edskrein) July 12, 2015
When they announced 'could all the super heroes come to the stage' it was a surreal and unforgettable moment 🙌🏼 #SDCC pic.twitter.com/uimfXcAhU6

— Ed Skrein (@edskrein) July 12, 2015
Be sure to keep coming back for more as we curate the best videos from the 2015 San Diego Comic-Con.
Marvel will be streaming live from the San Diego Comic-Con from 9:30AM to 7 PM PT each day (5PM on Sunday), and you can watch it right here: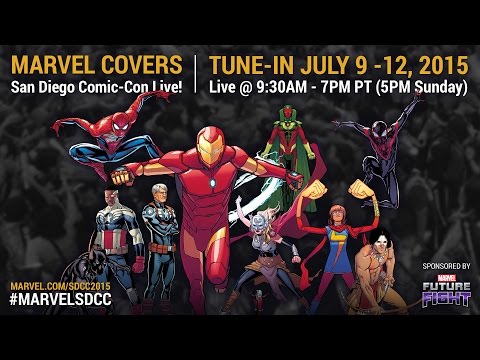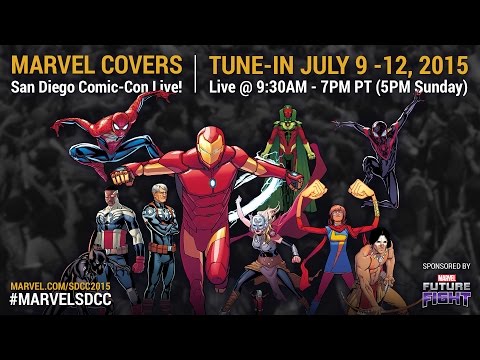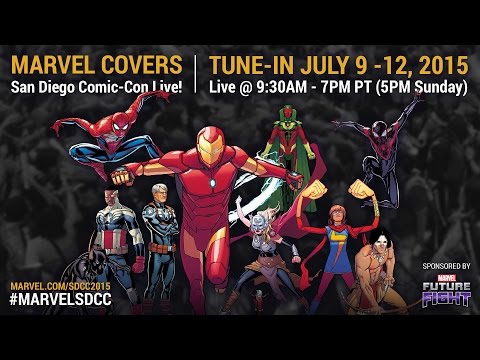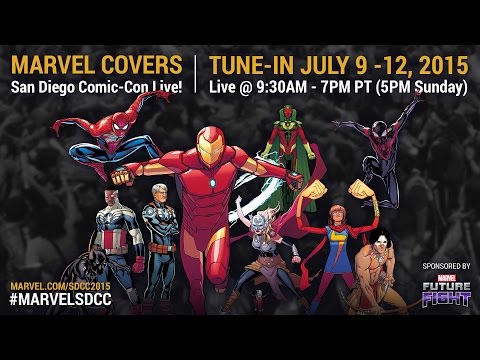 Press Release:
"BEST. WEEKEND. EVER."
WARNER BROS. TELEVISION TALENT DESCRIBE COMIC-CON IN THREE WORDS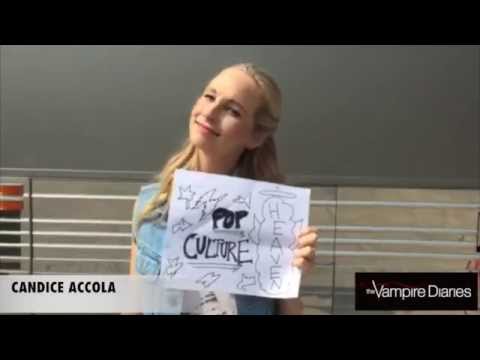 It's finally Comic-Con week and Warner Bros. Television talent are just as excited as the fans! They'll have lots to say at their panels at SDCC, but for now…they're expressing their excitement in just three words.
Left to their own devices with little instruction and only a cell phone for filming, some of TV's biggest stars embraced the challenge: Share your Comic-Con experience in three words.The team at WBTV assembled the fun challenge in one super video.
Stars that participated in the rogue camera challenge include:
Supernatural's Jared Padalecki and Jensen Ackles
The Vampire Diaries' Ian Somerhalder, Paul Wesley, Candice Accola and Michael Malarkey
Mike Tyson Mysteries' Mike Tyson
The Flash's Candice Patton, Carlos Valdes and Danielle Panabaker
Arrow's Katie Cassidy and Paul Blackthorne
The 100's Eliza Taylor
The Originals' Charles Michael Davis
Person of Interest's Kevin Chapman
Gotham's Ben McKenzie, David Mazouz and Camren Bicondova
Blindspot's Jaimie Alexander
and the entire cast of iZOMBIE: Rose McIver, Malcolm Goodwin, Rahul Kohli, Robert Buckley and David Anders.
And feel free to share YOUR three words for Comic-Con on social media! Use #WBSDCC so we won't miss it.