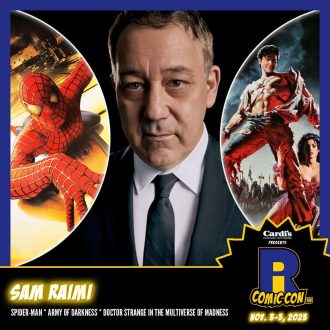 Please welcome Sam Raimi to Rhode Island Comic Con, presented by Cardi's Furniture & Mattresses, November 3-5 at the Rhode Island Convention Center & Amica Mutual Pavilion! Buy tickets at ricomiccon.com.
Sam is best known for directing the Spider-Man trilogy and the Evil Dead franchise. He also directed the superhero film Darkman, the western The Quick and the Dead, the crime-thriller A Simple Plan, the supernatural thriller film The Gift, the supernatural horror film Drag Me to Hell, and the Disney film Oz the Great and Powerful. His latest film, from the Marvel Cinematic Universe, Doctor Strange in the Multiverse of Madness was released on May 6, 2022.
Sam has also produced several successful television series, including Hercules: The Legendary Journeys and its spin-off Xena: Warrior Princess.