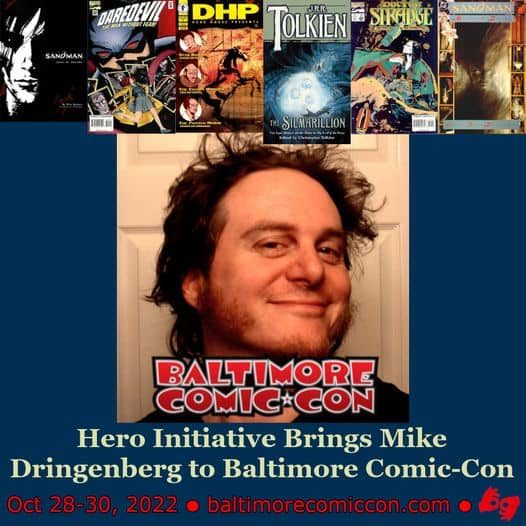 This year's Baltimore Comic-Con just got a little more special with the addition of an important and very rare guest.
Artist Mike Dringenberg will make an incredibly rare signing appearance at the Hero Initiative booth, #1501, at the convention. The signing will take place on Friday, October 28, 2022 at 4pm. Autographs will cost $10 each, with graded items at $20. There is a strict limit of five autographs per person, and all proceeds will benefit the Hero Initiative charity.
Mike will be be in attendance for a very limited time. This is, therefore, an event where numbered tickets will be distributed at the Hero Initiative Booth starting Friday when the show opens to the public at 1pm. Numbered ticket holders may return to the monitored line as early as 3:30pm. We expect great demand, so plan ahead!
You can fit one million Mike Dringenbergs on the head of a pin. Or so he'd tell you.
He'd also tell you it's the fantasist's profession to give you brain cramps.
With fellow artist Sam Kieth and best-selling British fantasist Neil Gaiman, he co-created the hugely popular and critically successful Sandman series of graphic novels, and shares creator credit for the spin-off series, Lucifer. Subject of a surprising number of books, awards, and now an acclaimed Netflix series, Sandman has been translated into more than 20 languages and is distributed worldwide.
Beginning in the mid-1990s, he produced numerous card illustrations for Magic the Gathering, and later focused on painting book jackets, producing notable covers for authors Kage Baker, Kij Johnson, and Charles DeLint, and works by J.R.R. Tolkien.
Mike studied illustration and graphic design at the University of Utah, illustrating books and comics before graduating, and thereby successfully extending his collegiate lifestyle well beyond any reasonable point for anyone not in academia.
Dringenberg is perhaps best known for being one of the creators of DC's Sandman, and a co-creator of Death from the Sandman universe. His art graced the pages of Sandman #1-4, #6-11, #14-16, #21 and #28. Dringenberg was also a prominent artist on DC's Doom Patrol and a renowned illustrator for Magic: The Gathering.
Dringenberg has done only two signing appearances in the last 21 years, and fans are encouraged to arrive early.
Visit baltimorecomiccon.com/tickets for more information and to purchase your advanced tickets!
In the coming weeks, look for more announcements from the Baltimore Comic-Con. We are looking forward to highlighting our guests, the Ringo Awards, industry exclusives, and programming. The latest developments can always be found on our website, Twitter, Instagram, and Facebook pages.