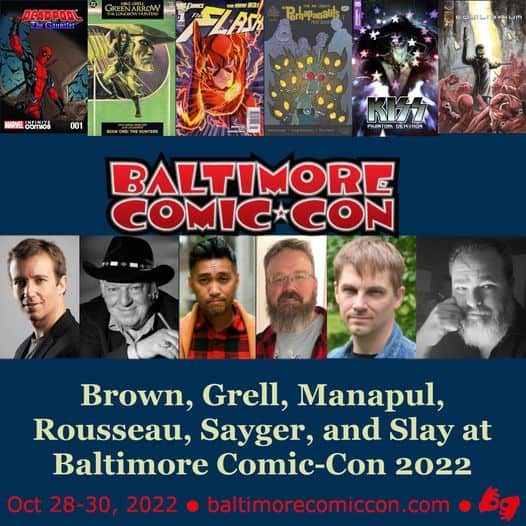 Don't miss the Baltimore Comic-Con coming up this October 28-30, 2022 at the Inner Harbor's Baltimore Convention Center. The Baltimore Comic-Con is pleased to announce the addition comic artists and cartoonists Reilly Brown, Mike Grell, Francis Manapul, Craig Rousseau, Stuart Sayger, and Matt Slay. Tickets for admission and VIP experiences can be found online now.
New Jersey native Reilly Brown is a best-selling comic book artist and writer for Marvel and DC Comics, known for bringing a sense of character and personality to the projects on which he works, balancing a combination of light-hearted humor with fast paced superhero action. These talents have been on full display in the pages of Amazing Spider-Man, Incredible Hercules, Batman/Fortnite, and many other comics, perhaps most notably Deadpool, Marvel's infamous, rapid-healing merc-with-a-mouth! He is also a pioneer in digital storytelling, utilizing new ways of making comics for tablets and smart phones with his creator-owned series Power Play, as well as several stories for Marvel, including Deadpool: The Gauntlet, Slapstick, and several others. Reilly currently works with Fabian Nicieza on their creator-owned series Outrage, which can be found online Webtoon.
Mike Grell is a writer/artist with a uniquely cinematic style of storytelling. His creations include:
The Warlord
Starslayer
Jon Sable, Freelance
Shaman's Tears
Bar Sinister
Maggie the Cat
These, along with successful runs on such features as Superboy and the Legion of Superheroes, Green Lantern, Green Arrow, Batman, Iron Man, X-Men Forever, James Bond: Permission To Die, the Tarzan Sunday comic strip, and the internationally acclaimed, Eisner Award- Nominated Green Arrow: The Longbow Hunters, have won him the comic industry's coveted Inkpot Award For Outstanding Achievement in Comic Art. His graphic novel series Jon Sable, Freelance was adapted for TV by ABC in 1987. Grell has been voted to Wizard Magazine's Top Ten List of Comics Writers and was recently named to Wizard World's Hall of Legends and the Overstreet Comic Book Price Guide Hall of Fame. It was recently announced that, beginning in 2023, the widely acclaimed Shaman's Tears will become an "audio movie" podcast on The Fantasy Network, produced in conjunction with Native Voices under the artistic direction of DeLanna Studi out of the Autrey Museum.
Francis Manapul is a New York Times best seller and an award-winning artist and writer based in Toronto, Canada. Best known for his work relaunching The Flash for DC Comics and following it up with the company's namesake title, Detective Comics, he is currently the co-creator and artist of Clear, a Comixology Original series. In the past, he has written and illustrated Trinity, which stars Superman, Batman, and Wonder Woman. He has also illustrated Justice League, Legion of Super-Heroes, and Adventure Comics, accompanied by a prolific career as a cover artist. In the past, Francis has also dabbled in the world of television as one of the hosts on History Channel's Beast Legends, which combined globetrotting adventures and challenging art projects.
Craig Rousseau has been working in the comics industry for over 2 decades, working for all the major publishers, including DC (Impulse, Batman Beyond, Harley Quinn, Batman '66) and Marvel (Iron Man Armor Wars, Captain America and the Korvac Saga, Spider-Man Loves Mary Jane). Besides Young Hellboy from Dark Horse Comics, he's currently working on the latest adventures of his creator-owned book, The Perhapanauts (with Todd Dezago) at Black Caravan… and a few other things.
Stuart Sayger is a professional illustrator who works primarily in the comic book industry. Known for his moody atmospheric art, Sayger first broke into the industry as the creator of Shiver in the Dark, producing the comic independently from start to finish. Recent projects include producing covers for GI Joe, Dejah Thoris, Jeepers Creepers, Vampirella, and he is currently working on covers for KISS and Bloodshot. Past comic book projects include: Walking Dead, X-Files, 30 Days of Night, Xena Warrior Princess, Lego Bionicle, Micronauts, and Rom. Sayger has also produced art for the "Man of Steel" Superman movie as well as many other Warner Bros. Batman/Superman/Wonder Woman projects!
Matt Slay has worked in comics for 15 years, but quickly made a name for himself painting variant covers for IDW's Teenage Mutant Ninja Turtles. His dark and earthy watercolors bring a grown-up sense of danger to any character. Born in St. Michaels and raised in Easton, the Maryland native now paints for the sci-fi anthology series Time Traveled Tales with authors such as Timothy Zahn. Matt has generated production art for Marvel Premiere as well as Iron Man 3, and has since provided covers for Six Gun Gorilla and American Mythology's Equilibrium while writing his own book and cartoon series, 3 Story Dungeon. Matt is represented by Comic Art House.
"These are some stunning artists," said Marc Nathan, show promoter for the Baltimore Comic-Con. "We love bringing artists with amazing skills to show off their chops at our event. Whether they're bringing comics to get signed or commissioning a piece of art, we know their fans will be thrilled to interact with them!"
Visit baltimorecomiccon.com/tickets for more information and to purchase your advanced tickets!
In the coming weeks, look for more announcements from the Baltimore Comic-Con. We are looking forward to highlighting our guests, the Ringo Awards, industry exclusives, and programming. The latest developments can always be found on our website, Twitter, Instagram, and Facebook pages.