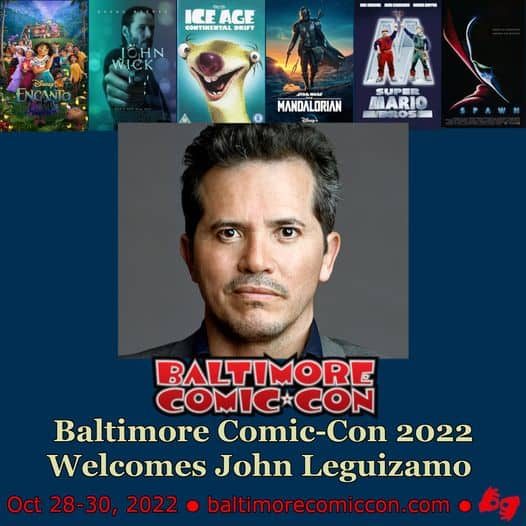 The Baltimore Comic-Con returns to the Inner Harbor's Baltimore Convention Center on October 28-30, 2022 for its 23rd year. The Baltimore Comic-Con is pleased to announce the addition of media guest John Leguizamo. Tickets for admission and VIP experiences are now available online!
John Leguizamo is a multi-faceted performer and Emmy Award-winning actor who has appeared in over 100 films, with a career that defies categorization. He has also been nominated for multiple Emmys and Golden Globes. John has performed in movies, television, and on stage, and has also produced and directed movies and documentaries. He has shown incredible versatility as an actor, with starring roles in Carlito's Way, Romeo and Juliet, Moulin Rouge!, and the amazing John Wick franchise, and has also appeared on the Broadway stage in a series of one-man shows including Freak, Mambo Mouth, Ghetto Klown, and Latin History for Morons. However, John might be best known to comics fans for his appearances as Luigi in Super Mario Bros. and as the Violator (Clown) in Spawn. His voice over work includes Sid the Sloth in the Ice Age franchise, the Riddler in Batman: The Audio Adventures, Gor Koresh on The Mandalorian, and playing a character in Encanto that we can't talk about (shhh…it's BRUNO). John has also starred in many television series, including Miami Vice, House of Buggin', ER, Bloodline, and Waco.
In addition to his film and television work, John is also a published author. His memoir, Pimps, Hos, Playa Hatas, and All the Rest of my Hollywood Friends, was released in 2006, and his first graphic novel, Ghetto Klown, was published in 2015 by Abrams ComicArts and was nominated for an Eisner Award. Recently, he teamed up with Image Comics to create PhenomX, a new Latin superhero. Upcoming projects include the TV series The Power, the movie Violent Night, and the musical Kiss my Aztec. This is John Leguizamo's first time at Baltimore Comic-Con.
"To add Encanto's Bruno to the Disney princesses we have at the show is amazing for us," said Marc Nathan, show promoter for the Baltimore Comic-Con. "John is an amazing actor with such a broad range of talent on his resume, from hard drama and action to comedy and animation, and he works in comics to boot. We're thrilled to have him with us for our 2022 event!"
Visit baltimorecomiccon.com/tickets for more information and to purchase your advanced tickets!
In the coming weeks, look for more announcements from the Baltimore Comic-Con. We are looking forward to highlighting our guests, the Ringo Awards, industry exclusives, and programming. The latest developments can always be found on our website, Twitter, Instagram, and Facebook pages.