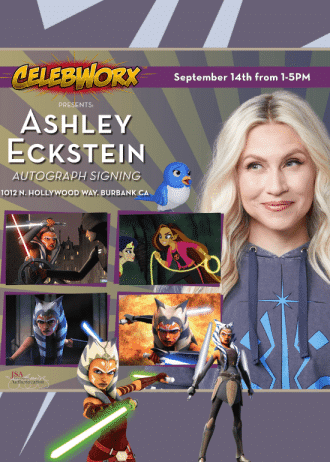 Ashley Eckstein & Ahsoka Tano Fans! We have an exciting announcement for you!
Ashley will be joining us at our Burbank store next week, September 14th, for a special live signing!
Get your FREE line pass and secure your spot to meet her! Autographs and selfies will be available for purchase on site.
There are limited spots! So get yours today at the link.
Ashley Eckstein has been widely recognized and honored as an actress, entrepreneur, author and Fangirl trendsetter. Most known as the voice of Ahsoka Tano in Star Wars, Ashley also founded Her Universe in 2010 – the groundbreaking fangirl fashion and lifestyle brand. Ashley is an accomplished actress and host and can be heard as the voice of Ahsoka Tano in Star Wars The Clone Wars on Disney+.
CelebWorx
1012 N. Hollywood Way, Burbank, CA 91505