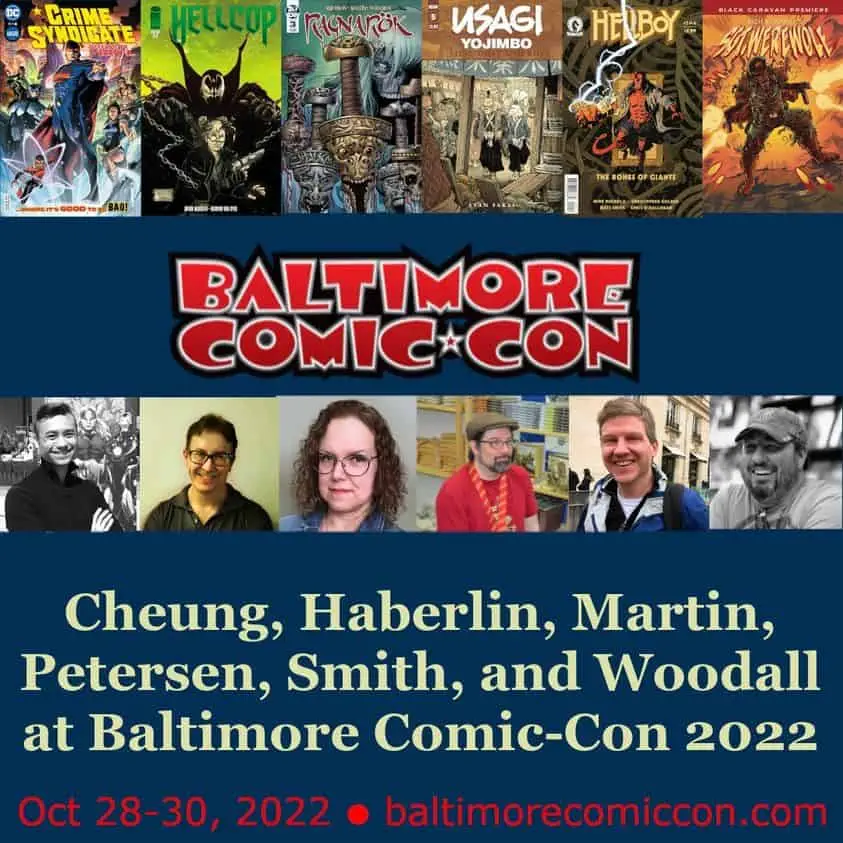 Baltimore Comic-Con is pleased to announce comics creators Jim Cheung, Brian Haberlin, Laura Martin, David Petersen, Matt Smith, and Rich Woodall to our 2022 event. Tickets are available now and can be purchased online now.
Jim Cheung originally hails from the sunny land of Great Britain, and landed his first professional penciling job at Marvel UK in the mid 90s. From there, he went on to establish himself on titles such as Iron Man and X-Force for Marvel US, and in 2000, he moved to the US to co-create and launch Scion for Crossgen Comics. After Scion, he worked exclusively for Marvel Comics for over 15 years, creating titles such as Infinity, which spawned the Avengers: Infinity War movie, and the award-winning Young Avengers! Jim is currently working on various covers for Marvel and DC. Past credits include Justice League for DC Comics, and numerous titles for Marvel Comics, including Spider-Man: The Clone Conspiracy, Avengers vs. X-Men, New Avengers, Illuminati, and Original Sin. Further credits include work for The New York Times, ESPN, Mattel, Blizzard Entertainment, The Royal Mail, Amazon, Skybound Entertainment, Todd McFarlane Productions, IDW, The Village Voice, Dorling Kindersley (DK Books), The Daily Mirror, Dynamite Comics, The Folio Society, and Upper Deck.
An award-winning comic book artist, writer, editor and producer, Brian Haberlin began his career in comics working at Top Cow Productions, where he co-created the Witchblade franchise. He co-founded Avalon Studios, which published many successful fantasy and sci-fi titles, including: Stone, Aria, and Area 52. Brian also served as Editor in Chief of Todd McFarlane Productions and penciled and inked its flagship title, Spawn. After co-founding Anomaly Productions, he's published Anomaly (and Anomaly: The Rubicon), Shifter, Creative Creature Catcher (augmented reality children's book), and a number of comics published through Image Comics (Faster Than Light, Sonata, The Marked). He currently writes and illustrates the comic Hellcop. Brian teaches comic art at the Minneapolis College of Art and Design and his work is in the permanent collection at the Smithsonian Museum.
Laura Martin is one of the comics industry's most lauded colorists. Recipient of Harvey, Eisner, Eagle, Squiddy, and Comics Buyer's Guide Awards, Martin is regularly assigned high-profile and event-oriented comics on which to bring her palate to bear. Her work can be found in DC, Marvel, Image, Dark Horse, Virgin, and CrossGen comics through the years, and she is lately working on Bad Idea's Eniac, DC's Nubia: Queen of the Amazons, and Marvel's Hulk.
David Petersen is a cartoonist and children's book illustrator who launched his career with a self-published issue of his series Mouse Guard in 2005, when it was then picked up by Archaia, who continues to publish the Eisner and Harvey Award-winning series. Petersen has also worked on covers for Teenage Mutant Ninja Turtles and The Dark Crystal. He's illustrated an edition of Kenneth Grahame's Wind in the Willows for IDW and his artwork also graced the cover for the 2012 Baltimore Comic-Con program, as well as the show-exclusive t-shirt.
Matt Smith is the author/illustrator of the Icelandic Saga-inspired Barbarian Lord for Houghton Mifflin books. Matt worked with Nathan Fairbairn on Lake of Fire for Image Comics and with Matt Kindt on Folklords for BOOM! Studios. Currently, he's working on Hellboy for Dark Horse (The Bones of Giants, Hellboy in Love).
Rich Woodall is the Co-Publisher of Black Caravan, a Scout Comics Imprint. He is also the creator or co-creator of The Electric Black, Gods of Brutality, Kyrra: Alien Jungle Girl, Johnny Raygun, Sgt. Werewolf, Space Force, and Zombie Bomb! Woodall has also worked on covers for Teenage Mutant Ninja Turtles, The Last Ronin, The Powerpuff Girls, Masters of the Universe, Crossover, and Phantom Starkiller.
"We've got some spectacular guests coming this year," said Marc Nathan, show promoter for the Baltimore Comic-Con. "From award winning creators to industry publishers, these folks have worked on some of the best comics out there (and continue to do so!). Comics fans won't want to miss it!"
Visit baltimorecomiccon.com/tickets for more information and to purchase your advanced tickets!
In the coming weeks, look for more announcements from the Baltimore Comic-Con. We are looking forward to highlighting our guests, the Ringo Awards, industry exclusives, and programming. The latest developments can always be found on our website, Twitter, Instagram, and Facebook pages.