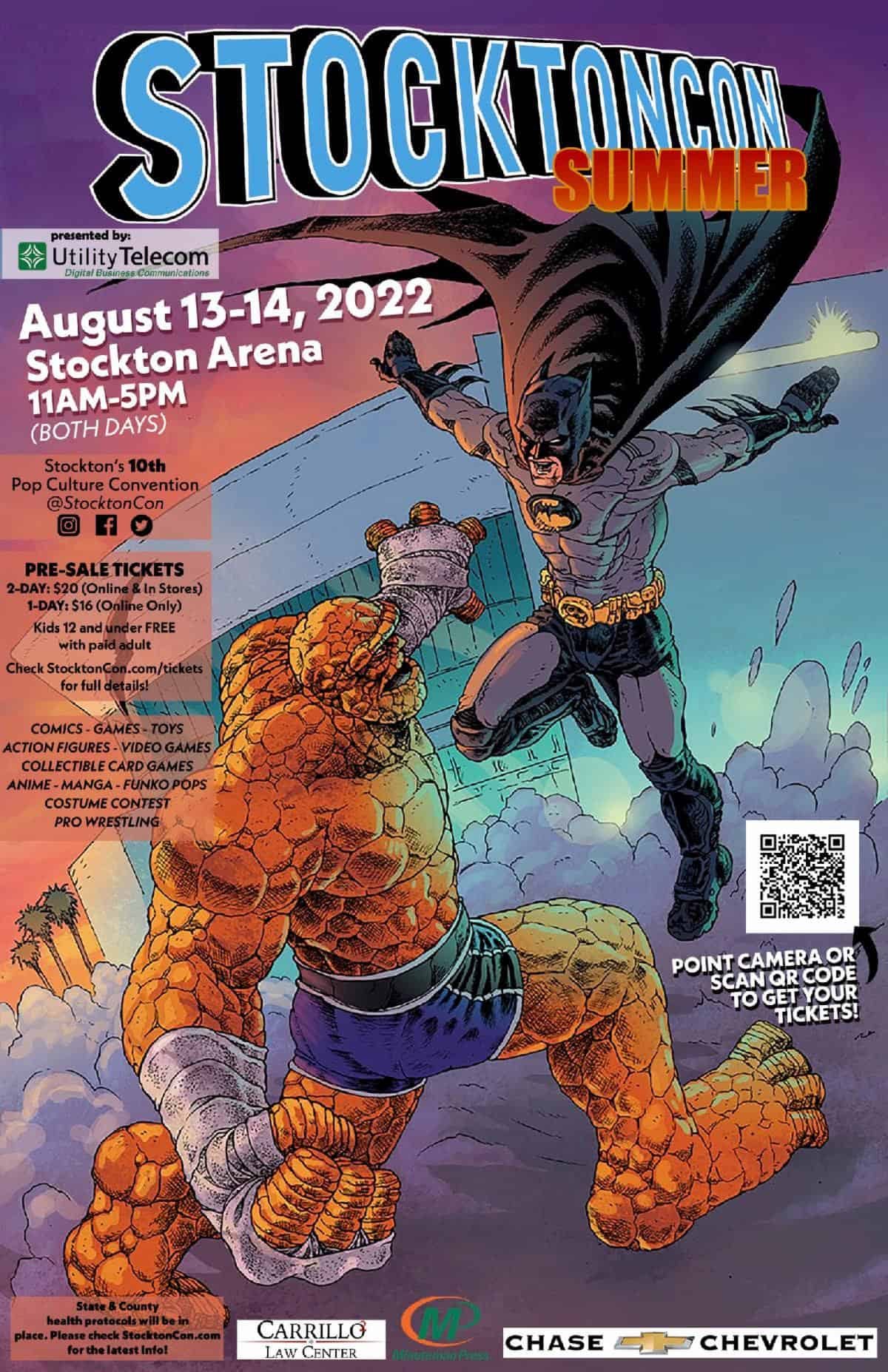 StocktonCon Summer – Saturday and Sunday – August 13-14, Stockton Arena – 11am-5pm both days
10th Anniversary – StocktonCon.com for tickets – Masks are not required, but strongly recommended – Vaccination card or negative test are NOT required – Kids 12 and under FREE with a paid adult
This year is the 10th Anniversary of StocktonCon, presented by Utility Telecom on August 13th and 14th!
Pre-Sale 2-Day tickets are on sale online for just $20! You can get more information at https://stocktoncon.com/tickets-2/ which will include a link to purchase online and other information. You can also pick up 2-Day Pre-Sale tickets for $20 at local locations, but only until August 12th – so get your tickets early!
Pre-Sale 1-Day tickets are available online only, for $16. Kids 12 and under get in FREE with a paid adult!
Overwhelming fan support helped StocktonCon move from a one-day event at University of the Pacific in 2012, to one of the top pop culture events on the West Coast, bringing thousands of fans to Stockton Arena each year. A large array of artists, exhibitors and special guests will once again be in attendance at StocktonCon. More than 200 exhibitors and artists will be a part of the fun – with fans in attendance able to find lost treasures and art commissions among other treasures.
There will also some other outstanding events in addition to the fun at Stockton Arena. The StocktonCon Costume Contest will once again take place on Saturday (August 13) at 4pm and the Kids' Costume Contest is Sunday (August 14) at 4pm. Supreme Pro Wrestling also returns with squared circle action outside of the Arena. There will be Super Smash Bros. video game tournaments along with Collectible Card Gaming including Magic the Gathering and a coloring area.
A portion of the proceeds from StocktonCon goes to local charities.
2022 StocktonCon Special Guests
Ron Perlman (Hellboy, Sons of Anarchy) – Saturday Only
Ryan Hurst (Sons of Anarchy, Walking Dead)
Jon Heder (Napoleon Dynamite, Blades of Glory)
Ed Begley Jr. (Young Sheldon, Better Call Saul) – Sunday Only
Nick Diaz (UFC) – Sunday Only
John Layfield (JBL – WWE Hall of Fame)
Mickie James (WWE Hall of Fame)
Johnny Gargano (WWE NXT)
Thunder Rosa (AEW Women's Champion)
Maria Canals Barrera (Wizards of Waverly Place, Justice League)
Debbe Dunning (Home Improvement, Leprechaun 4)
Karyn Parsons (Fresh Prince of Bel Air)
Grey Delisle (Simpsons, Scooby Doo)
Irene Bedard (Pocahontas, Smoke Signals)
Brianna Knickerbocker (Demon Slayer, Genshin Impact)
Victor Rivers (Blood In Blood Out, Justice League)
Barry Bostwick (Rocky Horror Picture Show, Spin City)
Francois Chau (Lost, The Expanse, The Tick)
Eric Vale (My Hero Academia, Fire Emblem)
Dameon Clarke (DragonBall Z, Borderlands 2)
Jenny Yokobori (Hello Kitty, The Simpsons)
Melendy Britt (She-Ra, New Adventures of Batman)
Ming Chen (Comic Book Men)
C Andrew Nelson (Star Wars Episode 1)
Ricco Fajardo (My Hero Academia)
Mike Vaughn (Scream – TV, Super Mario)
2022 StocktonCon Special Guest Creators
Arthur Adams (Fantastic Four, Batman)
Bill Morrison (The Simpsons, Futurama, Roswell)
Tim Bradstreet (Punisher, Hellblazer)
James O'Barr (The Crow)
Tony Fleecs (Stray Dogs, My Little Pony)
Amy Chu (Poison Ivy, Red Sonja)
Ramon Villalobos (What If Age of Ultron, Secret Wars)
Justin Greenwood (Last Siege, Stumptown)
Dan Brereton (Batman, Nocturnals
Aubrey Sitterson (No One Left To Fight, Beef Bros)
Drew Johnson (Godzilla, Wonder Woman)
Lee Kohse (Star Wars)
Mel Smith (Becoming Frankenstein, Dead Ahead)
Chris Marrinan (Nova, Wonder Woman)
Landry Walker (Last Siege, Batman)
Lonnie Millsap (New Yorker, Bacon)
Thomas Yeates (Prince Valiant, Conan, Tarzan)
Dan Parsons (Star Wars, Avatar: The Last Airbender)
Bordin Marsinkul (Hyperbooster Studio)
StocktonCon at the Stockton Arena comes with enhanced health, safety and hygiene procedures in place. Please note that any public location where people are present provides an inherent risk of exposure to COVID-19. All persons present at StocktonCon, including but not limited to, attendees, guests, exhibitors, volunteers, contractors and staff voluntarily assume all risks related to exposure to COVID-19.
As of April 1, 2022, the California Department of Public Health has lifted its mandate requiring anyone attending large indoor events to provide proof of vaccination or negative test. StocktonCon will NOT be requiring proof of vaccination or negative test to attend StocktonCon Summer 2022. It is strongly recommended that all attendees wear Masks when indoors.
More information on the 2022 event is available at http://stocktoncon.com/ and http://facebook.com/stocktoncon.
Facebook: http://facebook.com/stocktoncon
Twitter/Instagram: @StocktonCon