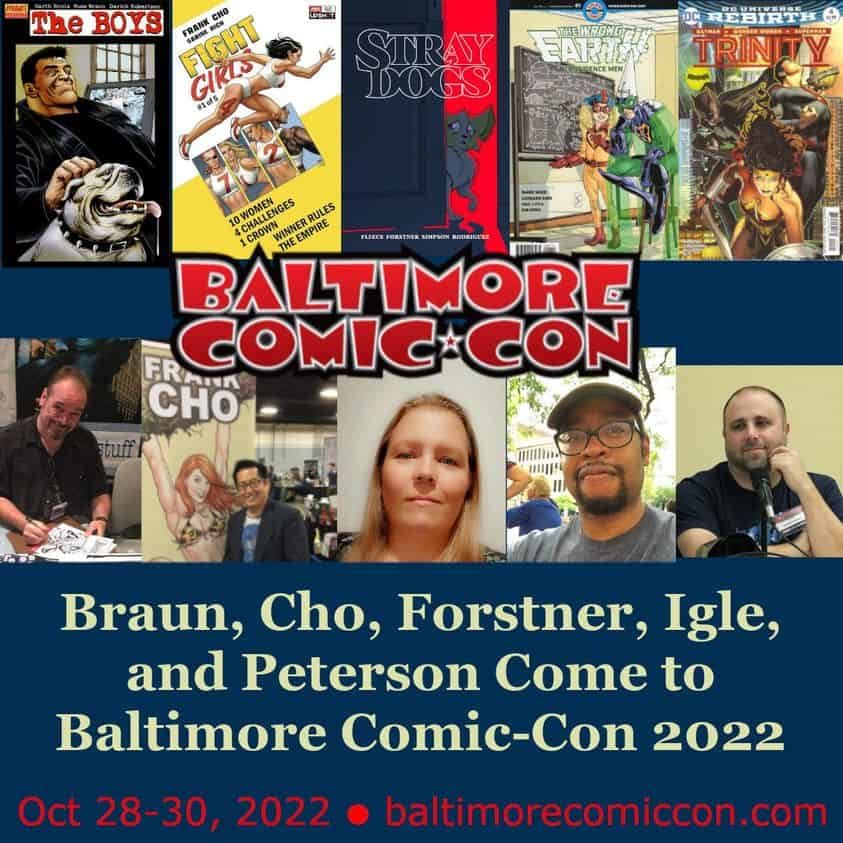 BALTIMORE, MARYLAND – August 4, 2022 – The Baltimore Comic-Con comes back to the Inner Harbor's Baltimore Convention Center the weekend of October 28-30, 2022. The Baltimore Comic-Con welcomes comics artists Russ Braun, Frank Cho, Trish Forstner, Jamal Igle, and Brandon Peterson to our 2022 event. Tickets are available now and can be purchased online now.
Russ Braun has been drawing comics for 30 years, with a 7-year break for a stint with Walt Disney Feature Animation. He's worked for most of the major comics publishers on everything from Batman, Swamp Thing, and Fables for DC/Vertigo to Son of Satan and Where Monsters Dwell for Marvel. He is perhaps best known for his frequent collaborations with Garth Ennis, on their creator-owned Jimmy's Bastards, The Night Witches, Sixpack, and Dogwelder, and particularly on The Boys, now a hit TV series on Amazon. You can find him on Facebook and Instagram at russ.braun.589 or at his website russ-braun.com.
Ringo Award winner and Harvey and Eisner Award nominee Frank Cho launched his career as a comic strip artist at the University of Maryland-College Park student newspaper, penning University2, which was the predecessor of his creator-owned syndicated strip and comic series, Liberty Meadows. His body of work also includes Marvel Comics' New Avengers, Mighty Avengers, Shanna the She-Devil, New Ultimates, and X-Men: Schism, as well as Jungle Girl for Dynamite Entertainment. His recent work can be seen on covers from DC's Harley Quinn.
Trish Forstner is from Baltimore, Maryland and is a relative newcomer to the comic industry but brings a lifetime of experience in creating fun, lovable characters. She's been drawing since she could hold a pencil. Trish loves classic animation and has drawn influence from many sources, particularly classic 80s and 90s toons. Her love of expression and emotion is on full display in any work she creates. You've most recently seen her artwork in the Eisner Award-nominated Stray Dogs from Image Comics and IDW's My Little Pony comic series, as well as a plethora of variant covers for various independent titles.
A recipient of the 2011 Inkpot Award for Outstanding Achievement in Comic Art, Jamal Igle is the writer/artist/creator of Molly Danger for Action Lab Entertainment. The co-creator of Venture with Dynamo 5 creator/writer Jay Faerber and the penciller/co-creator of The Wrong Earth for AHOY Comics, Jamal is a comic industry veteran. Jamal's detailed pencils have graced books as varied as The Narrative of the Life of Frederick Douglas and the all ages action miniseries Race Against Time, as well as mainstream hits such as G.I. Joe, Iron Man, Spider-Man, and Green Lantern. Jamal has served as the series artist for popular runs on Firestorm the Nuclear Man, Nightwing, Tangent: Superman's Reign, Superman, Supergirl, and Zatanna for DC Comics, Noble Causes for Image Comics, and a four-issue run on New Warriors for Marvel Comics. He's done just about everything from acting on the small screen and voiceovers for commercials, packaging books for Scholastic, and serving as storyboards artist for Roughnecks: Starship Trooper Chronicles and Max Steel: MX1 for Sony Animation. Jamal is also a popular guest lecturer on the subjects of comics and animation. Jamal worked on White, the sequel to the hit series Black from Black Superpowers/Black Mask Studios in late 2019.
Brandon Peterson has been a professional illustrator for over 20 years, working primarily as a penciller and inker, but often as a colorist, writer, editor, and art director. He has done a great deal of work at Marvel Comics, as the artist on books like AvX, Avengers, The Ultimates, Ultimate Vision, Ultimate Extinction, Ultimate X-Men, Astonishing X-Men, X-Men, and Uncanny X-Men. Brandon was also VP of Special Projects and Art Director of the now-defunct CrossGen Comics, where he created titles like Mystic and Chimera. He is also a veteran of Top Cow Productions, having worked on Codename: Strykeforce, Cyberforce, Ripclaw, Medieval Spawn/Witchblade, and his own book, Arcanum.
"Fans of art are in for a treat this year," said Marc Nathan, show promoter for the Baltimore Comic-Con. "We've got some of the greatest artists to grace the industry throughout the years, and their bodies of work are much-loved and sought out. From original art to sketches to signatures on comics, their fans are going to be thrilled to meet them at our show in October!"
Visit baltimorecomiccon.com/tickets for more information and to purchase your advanced tickets!
In the coming weeks, look for more announcements from the Baltimore Comic-Con. We are looking forward to highlighting our guests, the Ringo Awards, industry exclusives, and programming. The latest developments can always be found on our website, Twitter, Instagram, and Facebook pages.