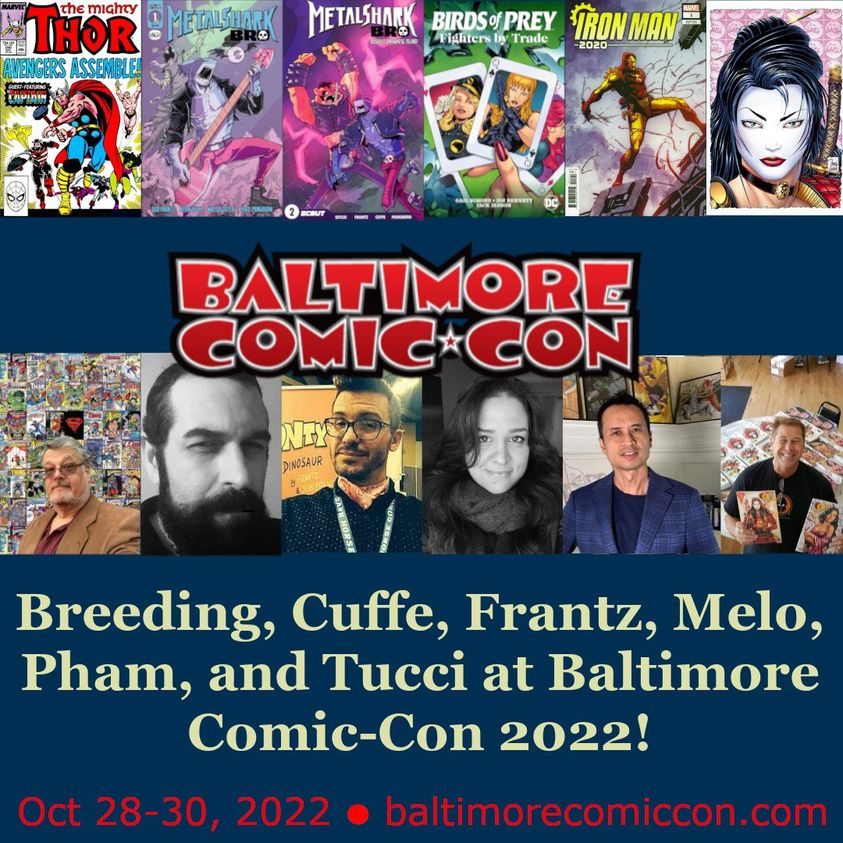 The Baltimore Comic-Con returns to the Inner Harbor this October 28-30 at the Baltimore Convention Center. The Baltimore Comic-Con welcomes comics creators Brett Breeding, Kevin Cuffe, Bob Frantz, Adriana Melo, Khoi Pham, and Billy Tucci to our 2022 event. Tickets can be purchased online now.
Brett Breeding has enjoyed more than forty years as a comic book artist, illustrating and creating characters for Marvel and DC Comics. Primarily known for his finished inks over pencilers George Perez, Ron Frenz, Kerry Gammill, and Dan Jurgens, Brett has also done penciling, and traditional and computer coloring, as well as story development and plotting. He is a co-creator of DC Comics characters Doomsday, Blaze, Lord Satanus, and Shadowdragon. Brett has worked on many titles for Marvel and DC Comics, but is most recognized for his work on the Superman titles, notably the "Death of Superman" storyline, as well as the Spider-Man titles, The Mighty Thor, The Avengers, and West Coast Avengers. While working on Thor #390 with Ron Frenz, Brett originated the idea that Steve Rogers would be worthy to wield Thor's hammer Mjolnir, and Ron and writer Tom DeFalco made it a key part of the story. Over 30 years later, Brett's idea would be immortalized on the big screen as a key moment in Marvel's Avengers: Endgame. Brett's recent works include licensing art for DC and Warner Brothers Consumer Products along with children's books and digital interactive iPad apps featuring Superman and Batman for WB Global Publishing.
Kevin Cuffe is a father, a warlock, and a Ringo Award-winning comic book author. When not podcasting with Bob Frantz or protecting the universe from malicious extra-dimensional entities, he is usually writing, playing D&D or watching AEW. Kevin lives in Williamsburg, Virginia with his lovely partner, Danielle and their three spawn.
Bob Frantz is a Ringo-nominated writer who resides in Cincinnati, Ohio with his amazing wife and two Pokemon-obsessed children. When he isn't writing funny books such as Metalshark Bro or The Dust Pirates, Bob is preparing a snack for his kids who haven't touched their dinner. You can also check out the Word Bros podcast with his co-writer Kevin Cuffe.
Adriana Melo has worked for Marvel, DC, Image Comics, and Titan Comics. Some of the books she has worked as a penciler/artist are: Fantastic Four, Iron Man, Silver Surfer, Amazing Spider-Man, Amazing Spider-Man Presents: Jackpot, Star Wars: Empire, Rose & Thorn, Witchblade, Miss Marvel, Birds of Prey, Catwoman, Harley Quinn and Poison Ivy, Female Furies, Plastic Man, Dr. Who: New Adventures of the Ninth Doctor, Harley and Ivy Meet Betty and Veronica, Marvel Voices, and Trial of the Amazons. You can find her most recent work in the DC Comics series Wonder Girl with Joelle Jones, and in Superman: Action Comics.
Khoi Pham is an artist and mentor. His artworks include DC's Teen Titans, Marvel's Mighty Avengers, X-Men Legacy, Scarlet Spider, Spider-Man, Daredevil, Chaos War, Incredible Hercules, Gambit, Mighty Thor, and X-Factor, and Top Cow's Cyberforce. He has done numerous cover illustrations for various publications. Khoi was an attorney and venture capitalist prior to switching to art and mentoring. He has a law degree from the University of Pennsylvania and an MBA from Saint Joseph's University.
Billy Tucci is an award-winning cartoonist best known for his modern-day samurai fable, Shi. Through Billy's Crusade Fine Arts, the multi-Eisner Award-nominated Shi has been printed in five languages and sold more than 3 million comic books. He has also worked on a litany of projects for DC Comics, including Sgt. Rock, Harley Quinn, Flash Vs. Superman, and Batman. His earnest retelling of the Christmas story, A Child Is Born, has quietly turned into an international blockbuster after winning the Christian Small Publisher Book of the Year Award. 2021 celebrated Billy's 27th Anniversary in comics with the release of the Shi: Return of the Warrior, Shi: Haikyo, and the Shi: Omnibus Vol. 1. He also illustrated Wonder Woman: Angel of Battle for DC Comics and wrote the comics return of June Tarpe' Mills' golden age icon, Miss Fury for Dynamite Entertainment.
"What a strong group of creators," said Marc Nathan, show promoter for the Baltimore Comic-Con. "From newer award winners to absolute legends of the industry, these creators exemplify the breadth of talent you will find at our 2022 event. We're thrilled to have each of them in the room with us this year, and we know their fans will be too!"
In the coming weeks, look for more announcements from the Baltimore Comic-Con. We are looking forward to highlighting our guests, the Ringo Awards, industry exclusives, and programming. The latest developments can always be found on our website, Twitter, Instagram, and Facebook pages.