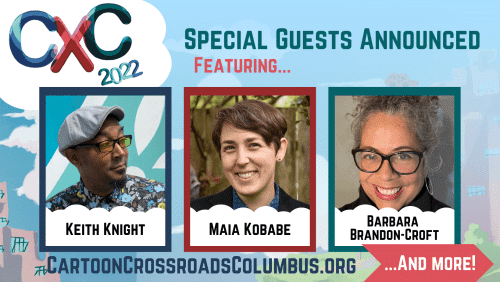 Save the date! Cartoon Crossroads Columbus (CXC) returns October 6-9, 2022.
The Billy Ireland Cartoon Library & Museum (BICLM) is proud to partner with comics-loving institutions and individuals across Columbus to bring the city-wide CXC festival to life for the eighth year.
CXC 2022 special guests include Keith Knight, Trina Robbins, Tom Gauld, Ed Piskor, Maia Kobabe, Paul Jenkins, Trung Le Nguyen, Lee Mars, MariNaomi, Ingrid Ochoa, Ron Wimberly, Frederik Schodt, Steenz, and many more!
BICLM's sponsored guests for 2022 are Peter Gallagher (Heathcliff), Barbara Brandon-Croft (Where I'm Coming From) and Paige Braddock (Jane's World)! All CXC programming is free and open to the public.
For more information, visit cartooncrossroadscolumbus.org or contact cxcfestival@gmail.com.