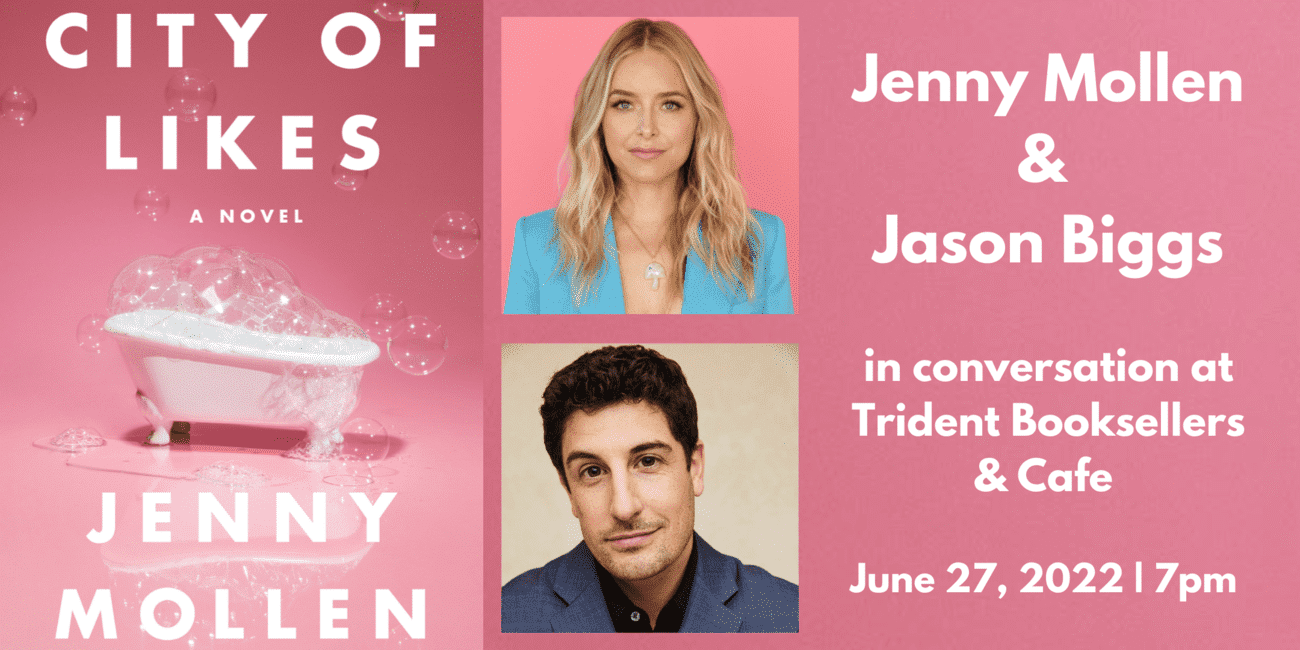 Trident Booksellers & Cafe invites you to join New York Times bestselling author, actor, and humorist Jenny Mollen in conversation with her husband, actor Jason Biggs on Monday, June 27th at 7 p.m. in our upstairs cafe.
Your ticket INCLUDES a hard cover copy of Mollen's novel "City of Likes" – available for pick up in store or shipping anywhere in the U.S.
ABOUT THE BOOK
The story centers on Megan Chernoff, a talented but unemployed copywriter in an identity crisis after the birth of her second child. Seeking a fresh start, she and her family move to New York City, where she meets Daphne Cole—a gorgeous, stylish, well-known "mom-fluencer." To Meg's surprise and delight, Daphne shows an inordinate amount of interest in Meg, showering her with compliments, attention, gifts, and all the perks that come with having a massive digital platform. Before she knows it, Meg finds herself immersed in Daphne's world—hobnobbing at exclusive power mama supper clubs, partaking in fancy wellness rituals, and reveling in the external validation she gets from her followers who grow daily by the thousands. Her friendship with Daphne, as well as the world she's been granted access to, is all-consuming. But is it authentic? When Meg realizes she's losing track of what matters most—her relationship with her sons and her husband—the deep cracks in Daphne's carefully curated façade are finally exposed. It's up to Meg to find her way back to her real life. But first she must determine what "real" even means.
Written with Jenny Mollen's signature razor sharp wit, CITY OF LIKES is a compulsively entertaining and unforgettable satire of the seductive allure of social media, as well as an unsettling portrait of female relationships, motherhood, and our "pics or it didn't happen" culture.