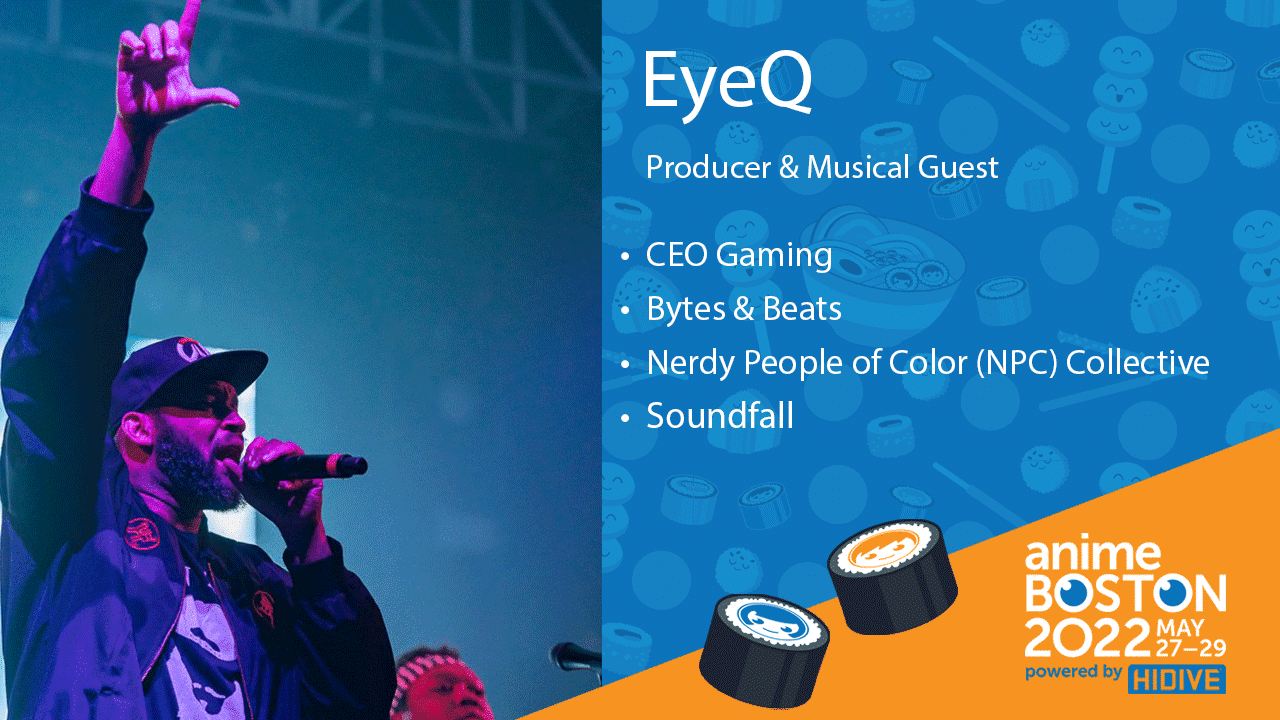 Anime Boston, the largest anime convention in New England, announced its latest Musical guest today. Producer and Emcee EyeQ will be appearing at Anime Boston at the Hynes Convention Center, Boston, Mass, on May 27 through 29, 2022.
EyeQ is an Orlando-based emcee, entrepreneur, event coordinator, content curator, and inspirational force of nature who consistently enraptures audiences around the U.S. and internationally with his passionate live performances and powerful lyrics. Merging his wide assortment of musical influences and loves into one powerhouse performance, EyeQ has developed his own reputation as an esteemed hip-hop artist, winning awards and dominating main stages and after parties for some of the most important pop-culture conventions.
EyeQ co-curates the official soundtrack for CEO Gaming, one of the most prolific fighting game conventions in the U.S., and coordinates events for numerous conventions and organizations, most notably the Library of Congress. He is the founder of Bytes and Beats and a co-founding member of the Nerdy People of Color Collective. In the collective, EyeQ works with indie rap and gaming hip-hop pioneer Mega Ran and WWE superstar Xavier Woods, as well as numerous other talented influencers, to advocate and create spaces for marginalized groups in nerd and geek spaces around the country.
With over 25,000 attendees in 2019, Anime Boston is an annual three-day Japanese animation convention held in Boston, Mass. Anime Boston 2022 is scheduled for Friday, May 27 through Sunday, May 29 at the Hynes Convention Center and Sheraton Boston Hotel. More information about Anime Boston can be found at animeboston.com.