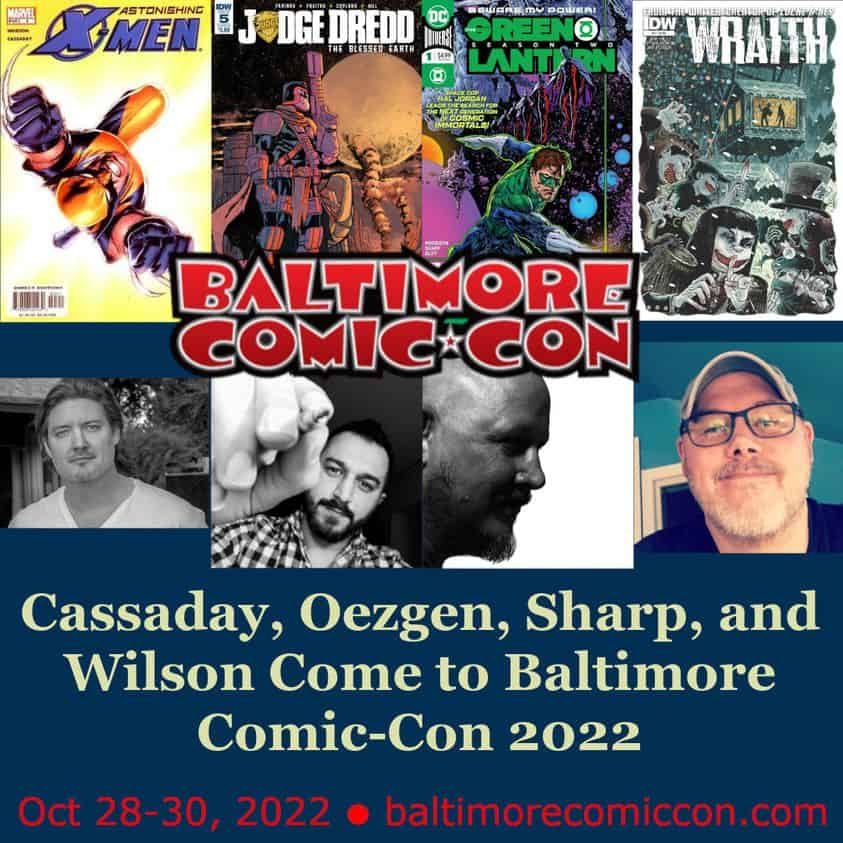 Baltimore Comic-Con is October 28-30, 2022 at the Inner Harbor's Baltimore Convention Center. The Baltimore Comic-Con welcomes artists John Cassaday, Sedat Oezgen, Liam Sharp, Charles P. Wilson III to our 2022 event. Tickets are available online now.
John Cassaday is the Eisner Award-winning artist best known for co-creating the acclaimed DC/Wildstorm series Planetary, Marvel's best-selling Astonishing X-Men, and the launch of the Star Wars on-going series from Marvel. Cassaday's work has been exhibited in Hong Kong, Paris, New York City, and the Smithsonian Institute in Washington, DC.
Sedat Oezgen is a German comic book artist who was born in Batman, Turkey. In 1985, Sedat migrated to Germany where he discovered his love for comic books and art. He graduated from the University of Applied Science in Munster, Germany in 2008. Sedat's first professional work was published in 2009 for Moonstone Books USA. Sedat's work has been published by IDW, Valiant, Image, Zenescope Entertainment, Moonstone Boos, PKMM Entertainment, Planet Me Productions, Devil's Due Publishing, and others. His portfolio of work includes covers, sequential, and pin-up art. Currently, he is working on the 2nd arc of Quandary for American indy publisher PKMM Entertainment. Sedat works as an illustrator and commercial artist in the medical field, where he creates medical illustrations, illustrated presentation, and helps to visualize solutions for new ideas in the medical field.
Liam Sharp is an award-winning British writer and artist living in California with his family and the cat that adopted them. Liam has worked for all the major comic companies, but is primarily known for his work at DC, where he drew the best-selling Wonder Woman: Rebirth series arcs, "The Lies" and "The Truth" written by Greg Rucka, an issue of Justice League – a Dark Knights Metal tie-in written by Rob Venditti, and the acclaimed Brave and the Bold: Batman and Wonder Woman series, which he also wrote. He recently finished an epic 24-issue run drawing Green Lantern, scripted by the legendary Grant Morrison, and Batman: Reptilian for DC's Black Label imprint, scripted by the great Garth "The Boys" Ennis. He is currently working on his own creator-owned series for Image Comics, Starhenge, an epic sci-fantasy saga based on the legend of Merlin.
Charles P. Wilson III is the illustrator and co-creator of the New York Times Best-Selling Graphic Novel The Stuff of Legend (published by Th3rd World Studios), and illustrator for Wraith (with Joe Hill, IDW Publishing). His drawings can also be found in the pages and on the covers for X-Files, Teenage Mutant Ninja Turtles, Tales from the Darkside, Goosebumps, Superman, Captain America, The Shadow, and others.
Visit baltimorecomiccon.com/tickets for more information and to purchase your advanced tickets!
In the coming weeks, look for more announcements from the Baltimore Comic-Con. We are looking forward to highlighting our guests, the Ringo Awards, industry exclusives, and programming. The latest developments can always be found on our website, Twitter, Instagram, and Facebook pages.