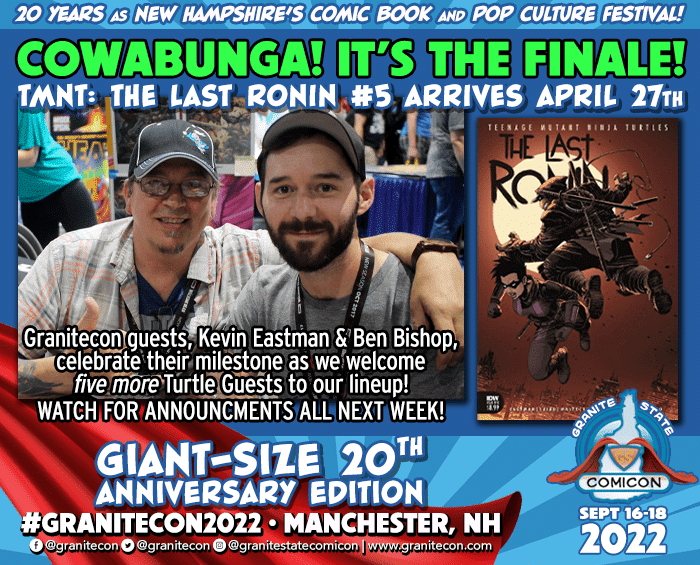 Graniteers! Last week was Turtle Week at Granitecon, as we celebrated the 5th and final issue of The Last Ronin from IDW Publishing! Our guests, Kevin B. Eastman and Ben Bishop, will be joined by FIVE NEW TMNT GUESTS!
Mateus Santolouco is a comic book author better known for his acclaimed work with IDW's Teenage Mutant Ninja Turtles. His most recent work is IDW's "Shredder in Hell", a five issues mini-series that Santolouco wrote and drew.
After he graduated art school, a fortunate series of events came together, and that odd confluence led Jim Lawson to be introduced to the creators of the Teenage Mutant Ninja Turtles- Kevin Eastman and Peter Laird. That strange event was the beginning of Jim's career in comics, which now has spanned nearly 35 amazing years- 25 of them with Mirage Studios as a writer and artist on the original black and white Turtle comic.
Tom Waltz is the Manager, Creative Development/Senior Editor for premiere comic book publisher IDW Publishing, as well as the writer of critically-acclaimed Teenage Mutant Ninja Turtles: The Last Ronin
Stephen Lavigne was the very first artist employee hired by Kevin Eastman & Peter Laird (co-creators of TMNT/Mirage Studios) back in 1985. He and Kevin Eastman attended high school together and it has been revealed in various interviews with Eastman, that Michelangelo's personality is actually based on Steve.
Ciro Nieli is an American director, producer and designer of animated television series. And was the showrunner and executive producer of the computer-animated series Teenage Mutant Ninja Turtles (2012).
For more information, please go to the website: granitecon.com