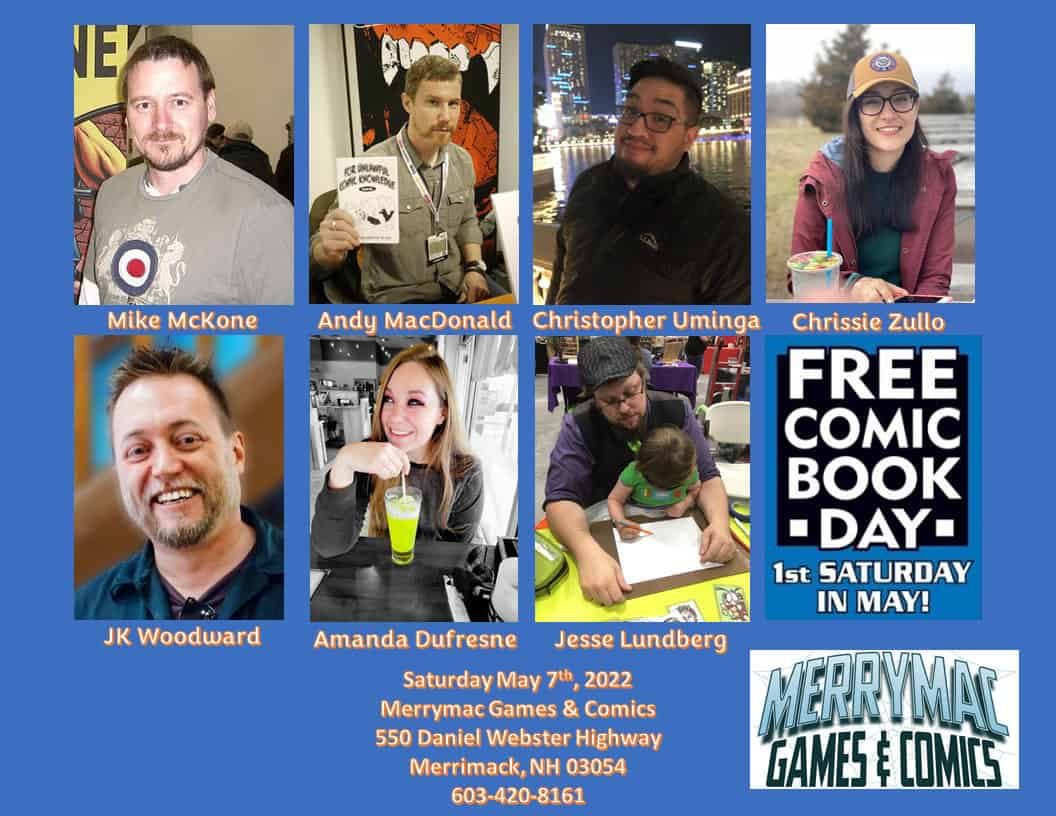 Mike McKone, Andy MacDonald, Chrissie Zullo, Christopher Uminga, JK Woodward, Amanda Dufresne, and Jesse Lundberg appear at Merrymac Games & Comics on Saturday, May 7, 2022 to celebrate Free Comic Book Day.
Hailing from England, Mike McKone's first published work was for DC Comics' Justice League of America and Marvel Comics' Punisher series. In the years since he has illustrated almost every major character for the big two publishers, including lengthy runs on Teen Titans, Amazing Spider-Man and Fantastic Four. Recent projects were the Avengers graphic novel: Endless Wartime and Justice League United. Now residing in the US, McKone is working on a creator owned project while providing covers and merchandising illustrations for clients such as Marvel, DC, Dynamite, Valiant, Dorling Kindersley and Converse.
Andy MacDonald is a veteran comic book artist who has worked with virtually every major comic book publishing house. He likes making comics and doesn't have time to go on the epic quest this magic ring he found is compelling him to go on. He lives in an orbiting sentient space station with multiple personalities. You can follow him on twitter via @andymacdeez.
J.K. Woodward started illustrating comics in 2003 and has worked with Marvel, IDW CSI NY, G.I. Joe Cobra, Star Trek Next Generation, BOOM! Studios Eureka, POE, Zombie Tales, Top Cow, DDP and Archaia. When Peter David was re-launching his creator owned series Fallen Angel at IDW, James was a natural choice for Peter's dark world of magic, violence and redemption. In 2008, his painted work caught the attention of Marvel who chose him to illustrate X-Men Origins: The Beast.
Chrissie Zullo is a comic book artist whose notable works include the covers for Cinderella: From Fabletown with Love. She works on pencils and traditional media and colors her work in Photoshop.
Chris Uminga is an artist who has worked with DC Comics, IDW Publishing and Disney to name a few companies. Chris has provided covers for Teenage Mutant Ninja Turtles and Star Wars.
Born in New Hampshire, USA, Amanda Dufresne is an independent, self-published artist and partnered Twitch broadcaster. An artist since her earliest memories, Amanda has an extensive background in selling her artwork at comic conventions before she made the move to crafting her artwork live and taking daily commissions.
Jesse Lundberg is a Graphic Designer and Illustrator with a Bachelor of Fine Arts degree. He specializes in bold, eye-catching styles that have earned him clients from institutes for higher education to local businesses and professional individuals.
Merrymac Games & Comics
550 Daniel Webster Highway, Merrimack, NH 03054
603-420-8161