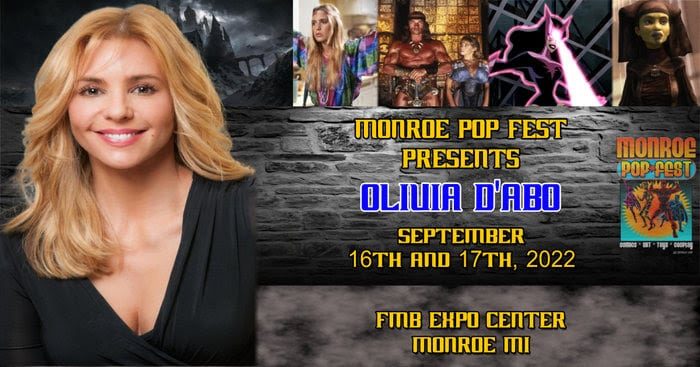 We are super excited to announce actress, singer and Princess Olivia d'Abo will be a guest at the 2022 Monroe Pop Fest 10!
With over 100 credits as an actress d'Abo's film debut was the supporting role of Princess Jehnna in the classic hit movie Conan the Destroyer along side Conan himself Arnold Schwarzenegger. Two months later, she appeared in the supporting role of Paloma the peasant girl in Bolero. She can also be seen in Wayne's World 2 as Betty Jo!
With all of the tv and movie roles d'Abo may be best known for her role as Karen Arnold in the ground breaking hit ABC comedy-drama series The Wonder Years. In 1992, she also guest-starred in the Star Trek: The Next Generation episode titled "True Q" as Amanda Rogers.
In animation, d'Abo provided the voices of Sonya Blade in Mortal Kombat: Defenders of the Realm, Melanie Walker/Ten in Batman Beyond, Star Sapphire in Justice League, Morgaine le Fey in Justice League Unlimited, Tak in Invader Zim, Jane Porter in The Legend of Tarzan, Jedi Master Luminara Unduli in Star Wars: The Clone Wars which she reprised the character in the cameo role in Star Wars: The Rise of Skywalker, Carol Ferris in Green Lantern: First Flight and Natalia Romanoff in Ultimate Avengers, and Ultimate Avengers 2: Rise of the Panther.
Come see Olivia and all of our amazing guests this September 16-17 at the 2022 Monroe Pop Fest 10!
Also announced Power Rangers Blake Foster and Claire Blackwelder, pro wrestling legend Al Snow, Detroit Red Wing legend Darren McCarty, comic guests Bill Morrison, Arvell Jones, Don Simpson, Jason Moore, Dirk Manning and so many more TBA!