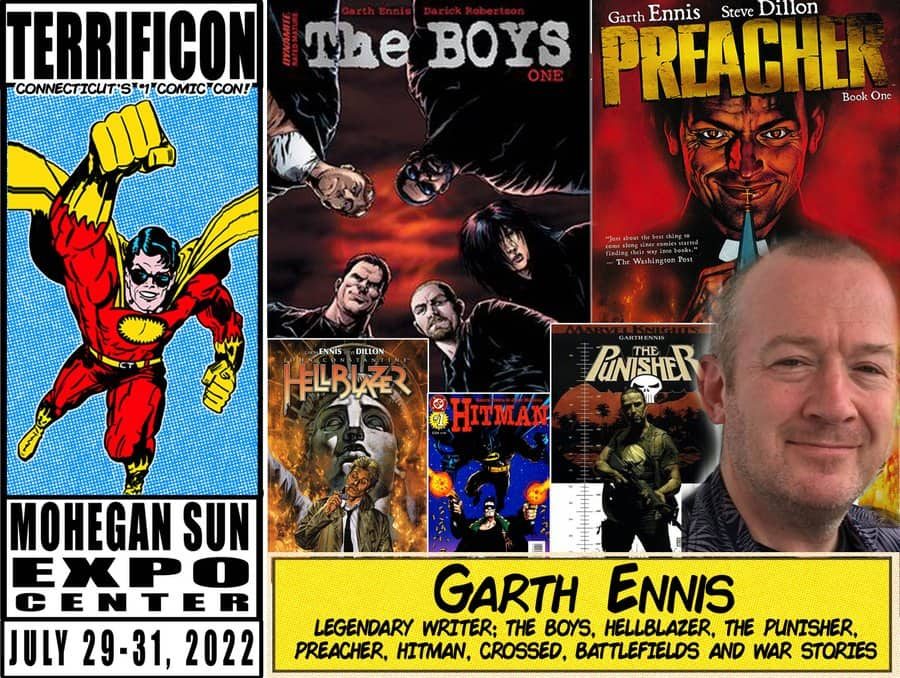 TERRIFICon is thrilled to welcome our latest guest, writer GARTH ENNIS to Mohegan Sun on July 29 – 31!
Mr. Ennis will be part of the largest gathering of comic book writers and artists in all of New England for the annual TERRIFICon, alongside actors from TV/film/animation for three days of comic con fun. Dealer booths, artist alley tables and tickets are all on sale NOW! Visit terrificon.com for more details.
More about Garth Ennis
Best known for the Vertigo series Preacher with artist Steve Dillon, his nine-year run on Marvel's The Punisher franchise, and The Boys with artist Darick Robertson. He has collaborated with artists such as Dillon and Glenn Fabry on Preacher, John McCrea on Hitman, Marc Silvestri on The Darkness, and Carlos Ezquerra on both Preacher and Hitman. His work has won him recognition in the comics industry, including nominations for the Comics Buyer's Guide Award for Favorite Writer in 1997, 1998, 1999, and 2000.
In 2008, Ennis ended his five-year run on the MAX imprint's Punisher series to write the Marvel miniseries War Is Hell: The First Flight of the Phantom Eagle. Illustrated by Howard Chaykin, it featured the little-used character Phantom Eagle, a World War I pilot. Other series Ennis wrote for Marvel include Where Monsters Dwell, Spider-Man, Ghost Rider, The Incredible Hulk, Thor, and a series of Goran Parlov-illustrated Nick Fury stories under the MAX imprint.
Ennis has also done both creator-owned and commissioned work for Dynamite Entertainment, most notably The Boys. Mainly illustrated by co-creator Darick Robertson, who Ennis previously worked with on the Marvel series Fury: Peacemaker and Punisher: Born, The Boys ran for 72 issues before concluding in 2012. This creator-owned extended series was a superhero satire, bringing the genre to places far darker than Ennis had before, by not only portraying superheroes as ridiculous, but also amoral, malevolent, and deviant. Announced in 2006 and originally published by DC's Wildstorm imprint, The Boys was initially cancelled after six issues. Ennis later explained that this was because DC Comics were uneasy with the anti-superhero tone of the work. The series was subsequently picked up by Dynamite Comics. The series was successful and spawned spinoffs, including a mini-series focused on the anti-hero Billy Butcher. In 2019, The Boys was adapted into a TV series by Amazon.com.
Meet Mr. Ennis at TERRIFICon – Connecticut's #1 comic con this summer!