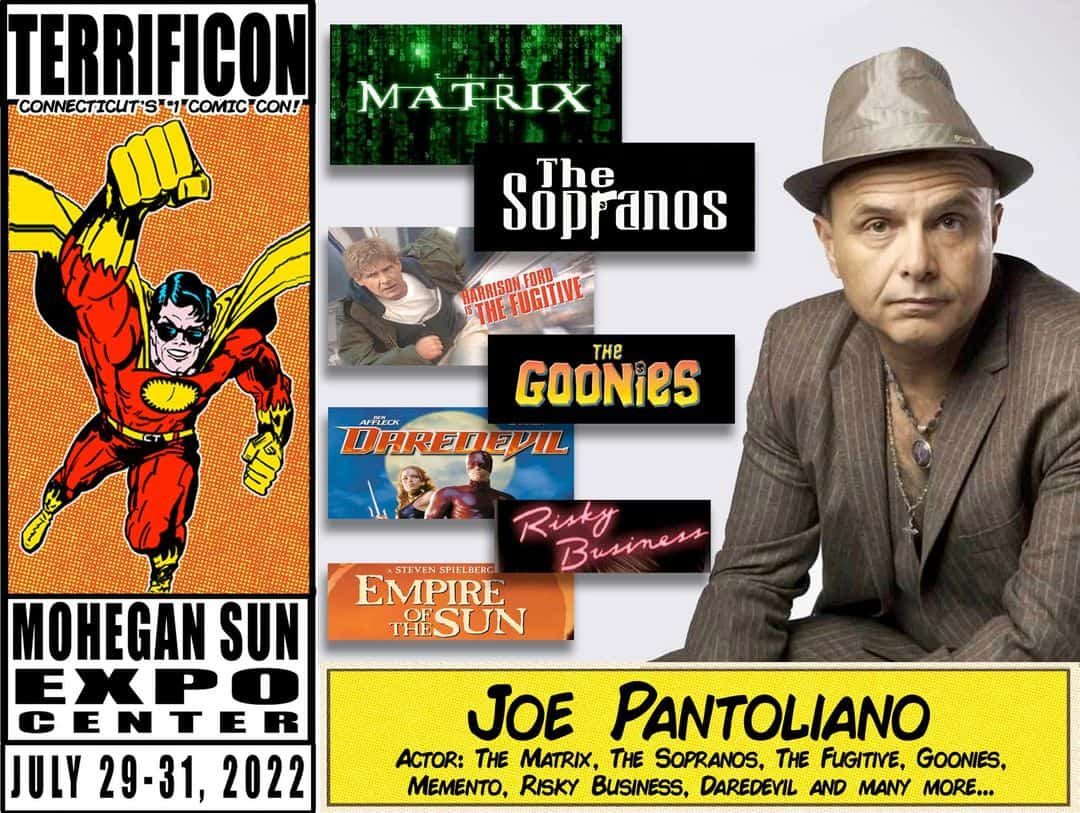 TERRIFICon is thrilled to announce our next guest, award winning actor; Joe Pantoliano who will be joining us at Mohegan Sun on July 29-31, 2022!
Join Joe and your favorite stars from TV/Movies/animation, alongside the largest gathering of comic book artists and writers in New England for TERRIFICon! Tickets, Dealer and artist alley spaces and hotel rooms are on sale now! Visit terrificon.com for more information.
With more than 100 film, television and stage credits to his name, Joe Pantoliano is a prolific American character actor who has played many diverse and memorable roles, from Guido in Risky Business (1983) to Eddie Moscone in Midnight Run (1988), Cosmo Renfro in The Fugitive (1993), Cypher in The Matrix (1999) and Teddy in Memento (2000).
Born in Hoboken, New Jersey, Joe started his career as an actor early on. After four years in Manhattan that included auditions, acting classes, waiting tables and a role as Billy Bibbit in the touring production of "One Flew Over the Cuckoo's Nest", Joe Pantoliano moved to California to pursue television and film acting. Joe was successful in landing a number of television roles on MASH, Hill St. Blues, Trapper John MD, and many more before getting his feature film debut in The Idolmaker (1980), but his true Hollywood breakthrough came with his turn opposite a 21-year-old Tom Cruise as ruthless pimp Guido in 1983's Risky Business (1983). A wide array of TV and film roles followed that have led Joe to work with many of Hollywood's brightest talents, both on-screen and off, including Richard Donner, Steven Spielberg, Lilly Wachowski & Lana Wachowski, Harrison Ford, Tommy Lee Jones, Wesley Snipes, Christopher Nolan and many others.
His other films include The Goonies, Empire of the Sun, Eddie and the Cruisers, Bad Boys, Bad Boys 2, US Marshals, Daredevil, Deep Impact and many more. Joe has also been a voice over actor on many animated programs including Godzilla, Hercules, and The Simpsons and video games; Call of Duty, Grand Theft Auto, and others.
Winner of a primetime Emmy for his work on HBO's The Sopranos (1999), for which he also received two SAG Award nominations. From 2015-2018 he played Michael Gorski in the Watchowski sisters' Netflix series, Sense8.
See Joe at this summer's TERRIFICon on July 29-31, 2022 only at Mohegan Sun in Uncasville, Connecticut!