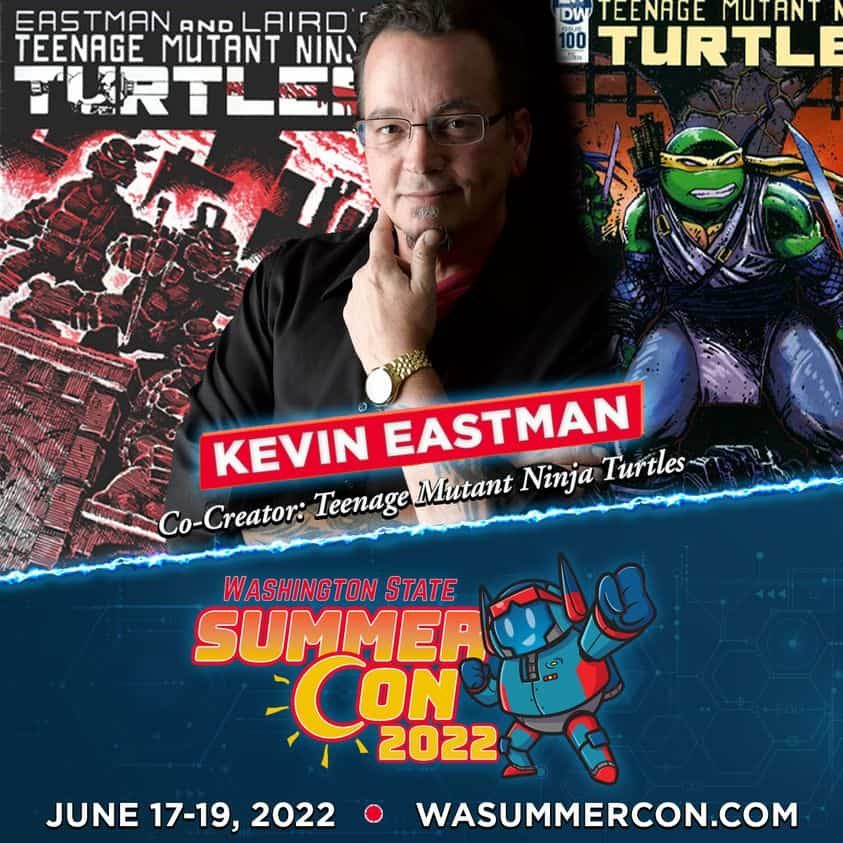 Our first guest announcement for 2022 is an artist, writer, editor, publisher, and the co-creator of the Teenage Mutant Ninja Turtles. We are proud to welcome Kevin Eastman to the Washington State Summer Con in Puyallup June 17-19, 2022.
In 1982, while trying to sell some of his illustrations to local fanzines, Kevin met Peter Laird in Northampton, Massachusetts and the partnership studio; Mirage Studios was formed. Less than a year later in the middle of a late night drawing session, Eastman doodled a new character he dubbed a "Ninja Turtle" to make Laird laugh—several sillier sketches and a final drawing of four characters later "Eastman and Laird's Teenage Mutant Ninja Turtles" had officially entered the universe!
Self published in May of 1984 the first issue sold out of its 3000 copies overnight and quickly became a fan favorite. Catching the eye of Merchandising Agents and Hollywood Producers, Eastman and Laird maintained full control of their creations while guiding them through Toy Licensing, TV Series adaptation, as well as Feature Film exploitation, and by 1989 the TMNT's were number one in all three categories.
Stay tuned, as we have plenty of great opportunities, other guests, and activities that we are building around Kevin and Team Eastman for Summer Con that we will announce in the coming months.
Kevin Eastman will be with us on June 18th and 19th, meeting his fans, signing autographs, taking photos, and speaking on a panel. Kevin doesn't sketch during conventions as the lines will build up quickly. Don't miss your chance to meet Kevin this summer.
The Washington State Summer Con is June 17-19, 2022 in Puyallup. Tickets will go on sale March 1st.
For more information please go to the website: wasummercon.com