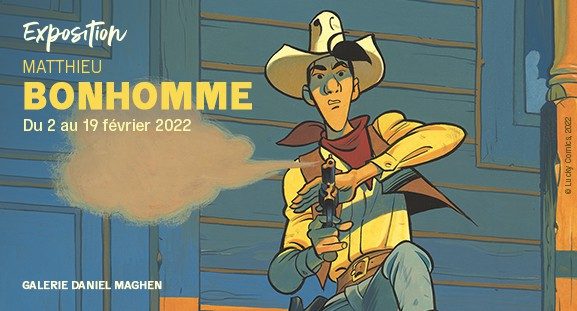 Matthieu Bonhomme exhibition runs from February 2 to 19, 2022
Following the success of the auction dedicated to Matthieu Bonhomme last November, the Daniel Maghen gallery has the honor of devoting an exceptional exhibition to him, from February 2 to 19, 2022.
More than 200 original works will be presented in the exhibition which retraces the last 20 years of Matthieu Bonhomme's career. From Lucky Luke to Empress Charlotte, via Le Marquis d'Anaon, Esteban, and Texas Cowboys, this drawing adventurer has become an essential author of Franco-Belgian comics. He surrounded himself with the best screenwriters: Trondheim for Texas Cowboys, Vehlmann for Le Marquis d'Anaon, and Nury for Charlotte Empress, while developing his own stories with Esteban and his two Lucky Luke albums. In its pages, nothing is the result of chance. And for good reason, this drawing genius demonstrates an exceptional mastery of composition, cutting and narration. Never fixed, his line twirls and gives life to strong characters, both female and male, and breathtaking landscapes. Undeniable assets that make his boards and his illustrations collector's items. The exhibition therefore comes at the right time to discover the immense talent of this now classic of the 9th Art.
Daniel Maghen and Matthieu Bonhomme are happy to invite you to the opening of the exhibition on Thursday February 3rd at 7 p.m. Details at the link.